Home & Garden
20 retailers giving back to the LGBTQ community for Pride Month
These brands are helping make a difference.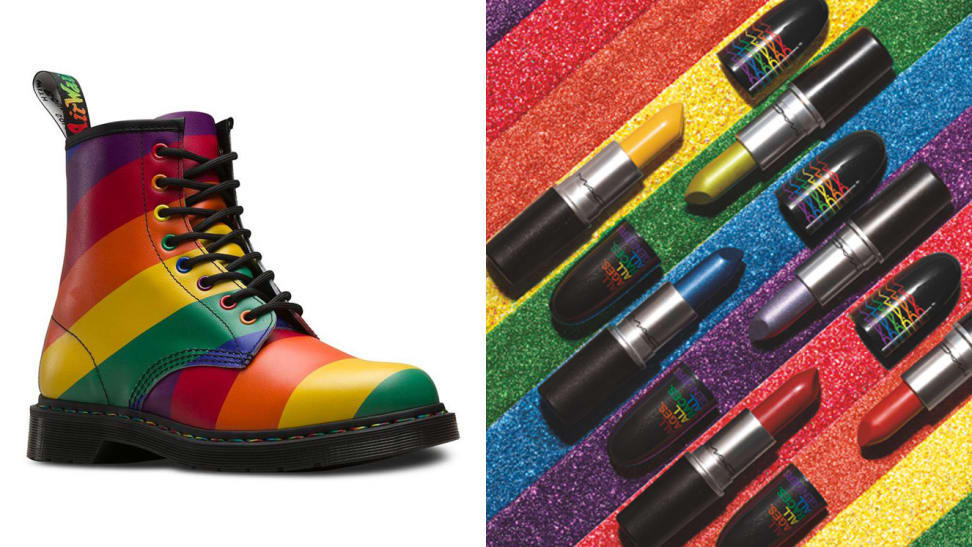 Credit: Dr. Martens / MAC Cosmetics
Pride Month is finally here, and there's never been a better time to show your love and support for the LGBTQ+ community. Celebrated every June around the world, this year is especially significant since it also marks the 50th anniversary of the Stonewall Riots.
Because of that, we're expecting this to be one of the most joyous and celebrated Pride Months ever, with parades, marches, parties, and events galore. While being in a sea of glitter and rainbow-themed stuff is fun and all, everyone shows solidarity differently. One easy way to get involved if you're not going to party (but you want to take part as much as you can) is to donate to organizations that benefit LGBTQ+ folx and support retailers that do.
Several major brands, including Disney, American Apparel, Hunter Boots, Nike, and more have launched Pride-themed collections in honor of this momentous month, and they're giving back to the community in a big way. Here are 20 of our favorite fashion retailers and companies to shop during Pride Month.
Editor's Note: Reviewed.com does not earn any revenue from the links posted in this article.
1. UGG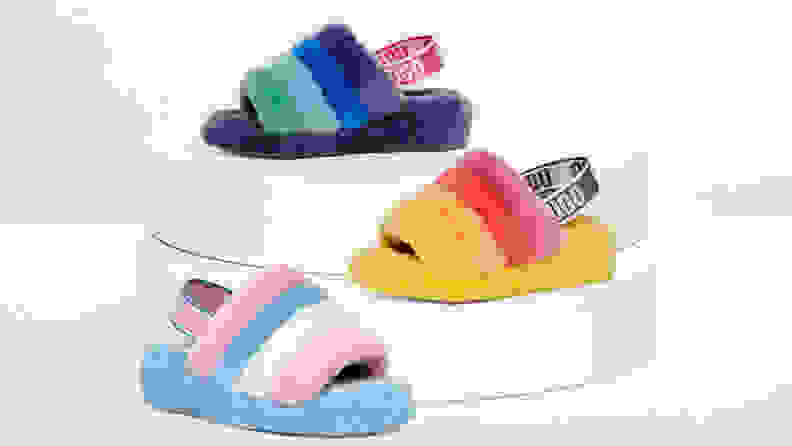 UGG launched its first-ever Pride collection this year, and it's clear that the wait was worth it. The company has issued three shades of its best-selling Fluff Yeah slides, with versions in yellow and purple, which are out now. The third set, in stripes, is coming out on June 14, and they retail for $100. UGG donates 25% of the proceeds to the Born This Way Foundation, which was founded by Lady Gaga and strives to improve communities and provide better access to mental health services.
2. ASOS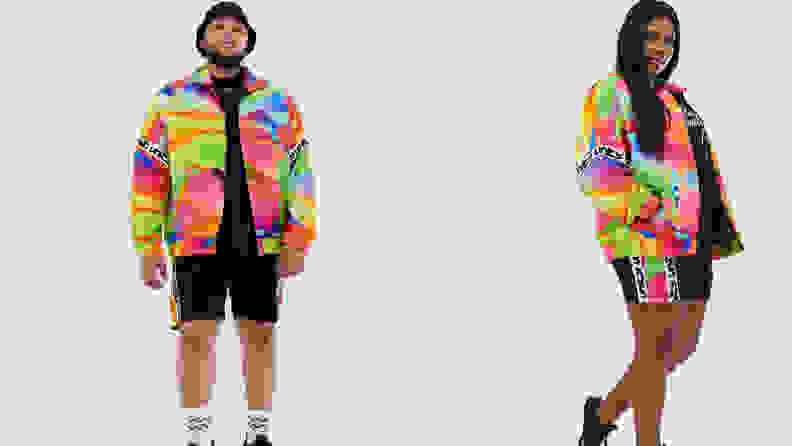 ASOS has paired up with GLAAD again (like they did for Pride Month in 2018) for this 50-piece collection, which includes snakeskin sunglasses, Day-Glo jackets, sleeveless shirts, cropped sweatshirts, and other fun apparel, all under $75. All proceeds go to benefit GLAAD, which helps bring more accurate and diverse LGBTQ+ narratives to the media.
Shop the ASOS x GLAAD collection
3. Fossil
Need a new watch? Right now, Fossil is celebrating Pride Month with this special edition watch featuring a three-handed, stainless steel dial offset in rainbow hues, and you can match it with a nylon rainbow strap or opt for an 18mm silicone band instead. The watch is $75 and bands start at $20. All proceeds from the watch case are going to benefit the Hetrick-Martin Institute, which offers community, education, health, career services, and basic needs help to thousands of LGBTQ+ youth a year.
Shop the Fossil Limited Edition Pride collection
4. Urban Decay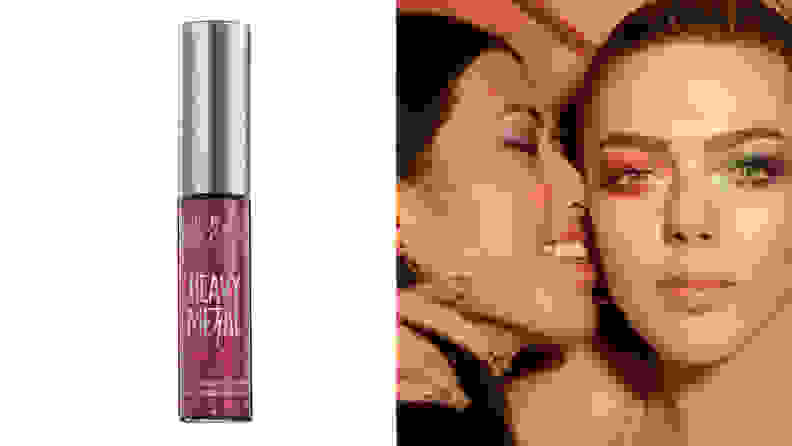 This year, Urban Decay is commemorating the 50th anniversary of the Stonewall Riots by donating 25% of the proceeds of its red Heavy Metal Glitter Eyeliner shade (aptly named "Stonewall") to the Stonewall Community Foundation, which supports New York City's LGBTQ+ community through scholarship programs, grants, projects, and more.
Get the Heavy Metal Glitter Eyeliner in Stonewall for $21
5. Nike
Another company that's commemorating the 50th anniversary of the Stonewall Riots is Nike. With their #BETRUE collection, the company is paying homage to late activist and artist Gilbert Baker, who designed the iconic rainbow flag in 1978. With prices up to $180, the collection includes a number of classic Nike sneakers, like the Air Max 720 and Zoom Pegasus Turbo. The company will support more than 20 organizations through grants administered by the Charities Aid Foundation of America.
Shop the Nike #BETRUE collection
6. MAC Cosmetics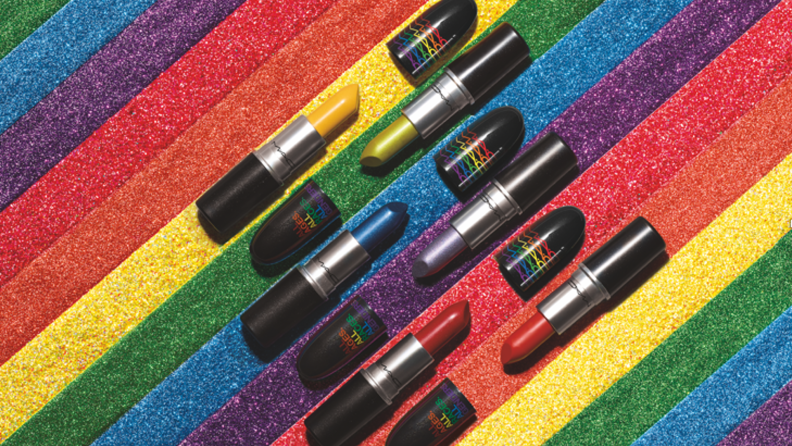 MAC is showing its love for the LGBTQ+ community this season with this incredible collection, which includes lipstick (not just the popular Viva Glam lipstick, of which 100% of the proceeds go to support those living with HIV/AIDS), eyeshadow, glitter, and more. If you spend more than $25, you can get a free rainbow bag, and during the month of June, if you buy any lipstick, MAC will throw in their limited edition Pride cap. In honor of the 25th anniversary of Viva Glam, MAC is also donating $500,000 TO GLAAD over the next two years.
Shop the MAC LOVES PRIDE collection
7. TOMS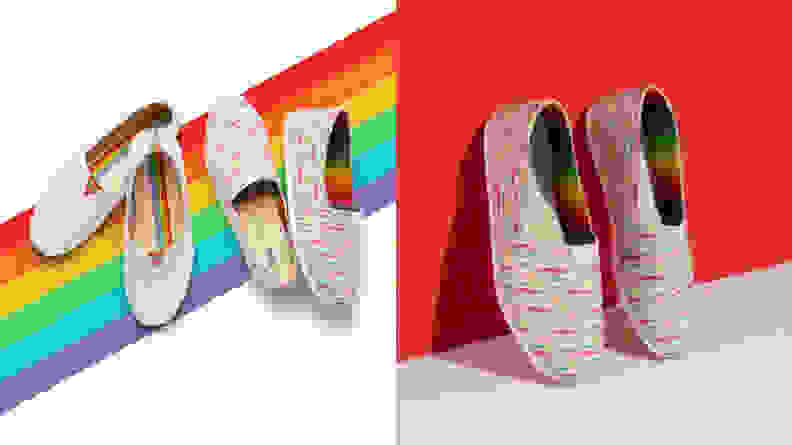 TOMS put a fun spin this season on some of its most popular styles with the Unity collection. Throughout the month, you can grab rainbow-colored eyewear and a pair of their Pride-themed alpargatas, with prices starting at $59.95. Sales benefit the Helen Keller International's Childsight Program, which offers free eye care for homeless youth in NYC and LA, 40% of whom identify as part of the LGBTQ+ community.
Shop the TOMS Unity Collection
8. Dr. Martens
Launched in 2017, these rainbow emblazoned Dr. Marten's 1460 boots demand to be seen—and they make a pretty big statement in the process. A portion of the sales go to benefit The Trevor Project, which provides crisis intervention and suicide prevention for LGBTQ+ youth under 25. Even better? This season, you can grab glittery boots for kids, Pride socks, and more from Dr. Martens.
Shop the Dr. Martens Pride collection
9. American Apparel
American Apparel has partnered up with celebrity hairstylist Andrew Fitzsimmons for the "How We Love" capsule collection, which includes six limited edition graphic t-shirts. All of the net proceeds go to benefit the Los Angeles LGBT Center and its Trans-Cosmetic Donations Drive, which was started by Fitzsimmons.
Shop the American Apparel "How We Love" collection
10. Warby Parker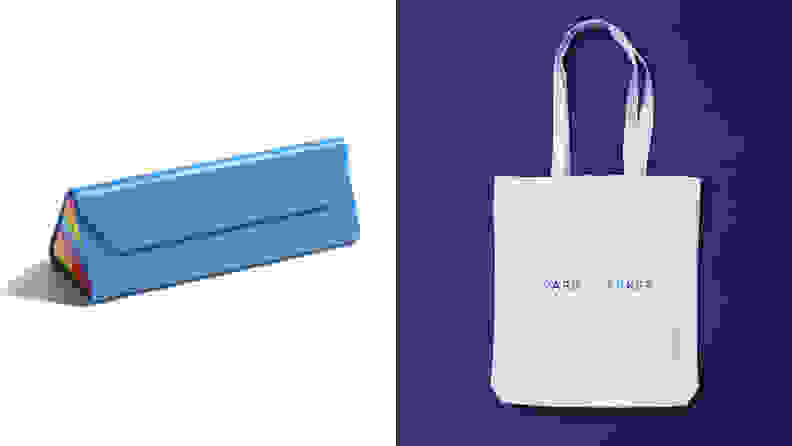 If you're shopping for a new set of frames that are as fabulous as you, Warby Parker is a good spot to check out this month. This month you can get a limited-edition Parker Case in Blue Prism online or in stores for $15, while supplies last. All in-store purchases made in June also get a rainbow Warby Parker tote, so it's an awesome time to shop there. The company is also making special donations to The Trevor Project and Lambda Legal, the latter of which works to improve the civil rights of LGBTQ+ folks and those living with HIV/AIDS.
Grab the limited-edition Parker Case in Blue Prism at Warby Parker
11. Disney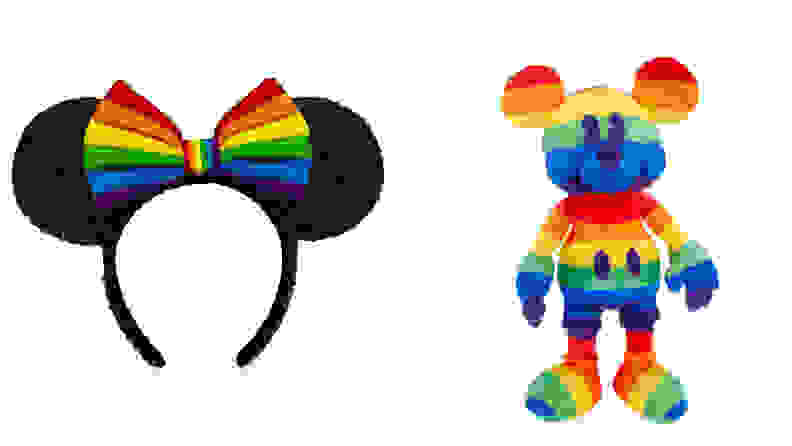 Disney is honoring Pride month with the Rainbow Disney collection. With more than 50 products to choose from, including t-shirts, backpacks, stuffed animals, rainbow Mickey Mouse ears, and more, it's a great opportunity to share the love and support with family members of all ages. From now until June 30, Disney is giving 10% of its proceeds to GLSEN, which helps to make schools around the country safe and inclusive for LGBTQ+ students from grades K-12.
Shop the Rainbow Disney collection
12. American Eagle Outfitters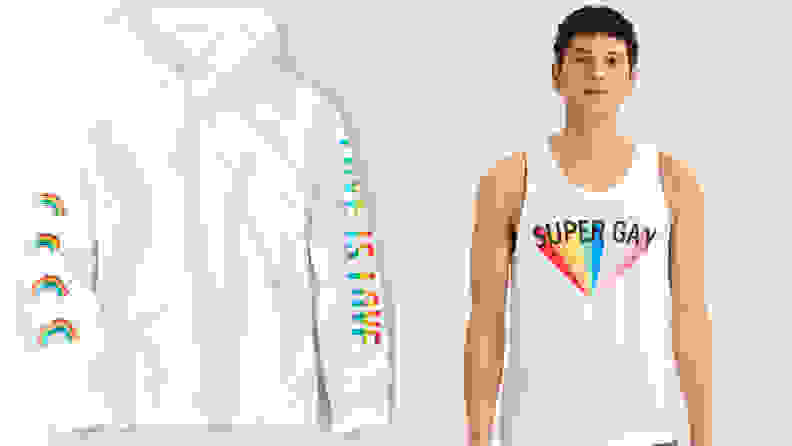 Partnering with the It Gets Better Project, American Eagle is doing their part to help at-risk LGBTQ+ youth communities around the globe. The company is offering a capsule collection featuring a coloring assortment of apparel, shoes, and accessories, and 100% of the proceeds are going to benefit the It Gets Better Project.
Shop American Eagle Outfitters Pride collection
13. Converse
You can never have too many Chucks, and right now you can grab a pair from the Converse Pride Collection, which goes to benefit LGBTQ+ groups like the It Gets Better Project and OUT MetroWest, both of which go to build communities for LGBTQ+ youth. Whether you prefer low-tops or hi-tops, you can find plenty of eye-catching pairs that are perfect for any party or march this month.
Shop the Converse Pride Collection
14. Ralph Lauren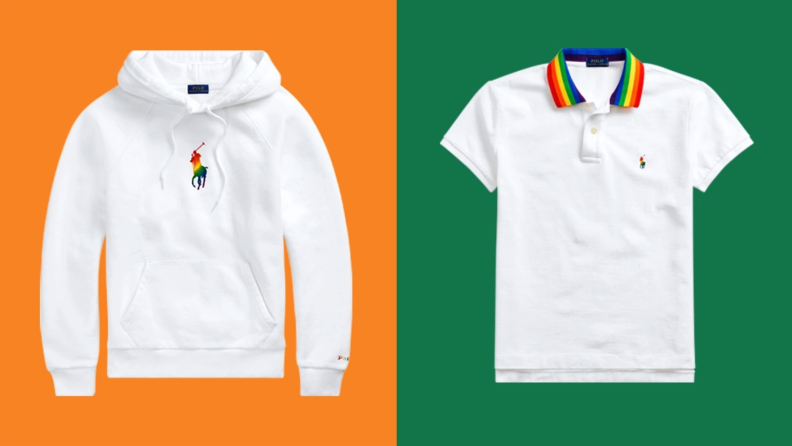 In honor of Pride 2019 and the 50th anniversary of the Stonewall Riots, Ralph Lauren has designed a gender-neutral collection with five pieces, including a graphic t-shirt, hat, tote, hoodie, and polo shirt. The campaign for this collection features prominent celebs like Josie Totah, Jacob Bixenman, Harper Watters, Gus Kenworthy, and Patti Harrison. In addition, all the proceeds of the graphic tees and 50% of the proceeds of everything else will go to benefit the Stonewall Community Foundation.
Shop the Ralph Lauren #RLPride collection
15. MeUndies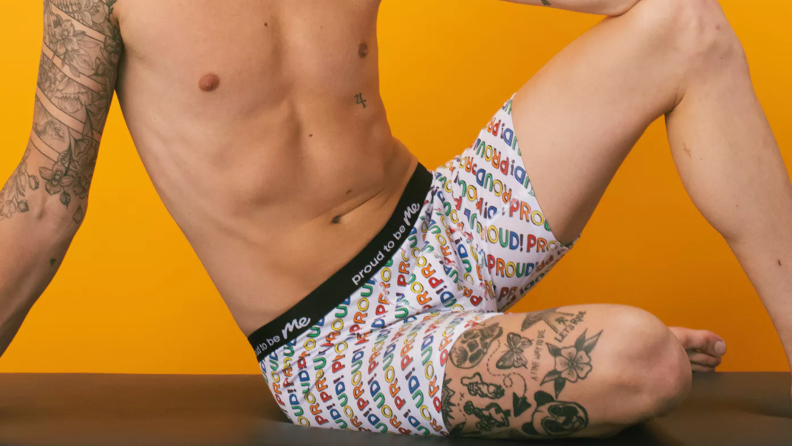 MeUndies worked with GRiZ this season to bring about this vibrant and totally joyful collection of underwear for Pride. Whether you're shopping for t-shirts, socks, underwear, or onesies, this is the perfect choice to celebrate this month. A dollar from every sale goes to benefit the Happy Hippie Foundation, a nonprofit founded by Miley Cyrus to help at-risk LGBTQ+ youth and those facing homelessness.
Shop the MeUndies Pride collection
16. Levi's
For Pride Month, Levi's is the place to shop for trucker jackets, cutoff shorts, and other iconic denim looks, starting at $34. All of the proceeds from Levi's Pride capsule collection are going to benefit OutRight Action International, which advocates for LGBTQ+ rights around the world.
Shop the Levi's Pride collection
17. Hunter Boots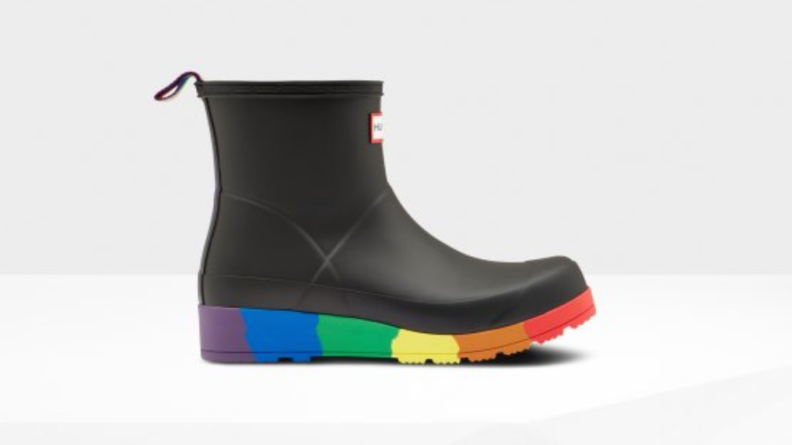 Hunter Boots is celebrating Pride in a big way with a special edition rainbow boot, and they're giving to not just one charity, but many. The company is working with five prominent LGBTQ+ activists, each of which has chosen a personal charity to work with, including The Outside Project, the first UK-based LGBTQ+ crisis and homeless shelter and community center; NAZ, a sex health charity in London; akt (Albert Kennedy Trust), which benefits LGBTQ+ youth facing homelessness and housing insecurity; Mermaids, which supports transgender and gender diverse children and their families; and MindOut, a mental health service for LGBTQ+ folx. Hunter Boots is donating all the proceeds of this special edition boot and splitting them across these five charities.
Shop the Hunter Boots Pride collection
18. Todd Snyder x Champion
Todd Snyder New York has partnered with Champion for this collection, which features a mix of hoodies, t-shirts, and of course, those legendary (and super on-trend) Champion sweatshirts. If you shop this collection, 20% of the proceeds are going to benefit the Stonewall National Monument via a donation to the National Parks Foundation.
Shop the Todd Snyder x Champion collection
19. Reebok
In honor of Pride Month, Reebok is giving back. From now until June 30, Reebok is giving up to $50,000 of the proceeds from its Pride Pack collection to Fenway Health to support the healthcare and education needs of Boston's LGBTQ+ community. The shoes in this collection, including the Freestyle Hi, Classic leather, and Club C shoes, will display the Pride flag.
Shop the Reebok Pride collection
20. Bubly
PepsiCo's sparkling water brand Bubly just launched the All for Love Pride Pack, which comes with 18 colorful cans of seltzer, packed with six different fruit flavors, including Cherry, Mango, Blackberry, and others. Unlike certain other companies—like Listerine, which recently released a rainbow bottle—Bubly's pack isn't leaving a bad taste in everyone's mouths. A big reason for that is because the brand's commitment to the LGBTQ+ community is strong—the company supports the Stonewall Community Foundation and will be involved with the NYC Pride parade, which is happening on June 30.
Get the bubly Sparkling Water, All for Love Pride Pack for $10.99
The product experts at Reviewed have all your shopping needs covered. Follow Reviewed on Facebook, Twitter, and Instagram for the latest, deals, product reviews, and more.