Home & Garden
The 12 most popular grilling recipes on Pinterest
Give the people what they want at your summer BBQs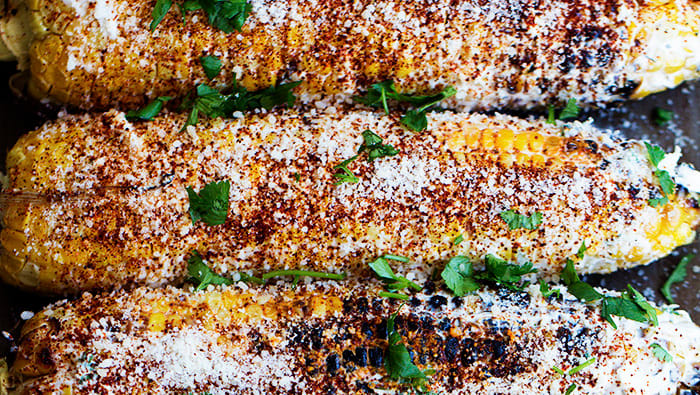 Credit: The Recipe Critic
Summer is right around the corner and that means it is time to fire up the grill. It is the perfect excuse to invite friends and family over for a barbeque. Want to impress your guests? I went on Pinterest to roundup 15 of the best grilling recipes. Make these delicious and unexpected recipes that aren't as basic as the grilled chicken, hamburgers, and hot dogs that are normal barbeque fare. And there is something for everyone, whether you love meat, are a vegetarian, pescatarian, vegan, gluten-free and, importantly, if you have a major sweet tooth.
1. Mexican-inspired chicken kebabs
These kebabs have a bit of a kick. The jalapeño, chili powder, and cumin make Well Plated's fajita chicken kebab recipe much more interesting than a plain chicken breast. For best results, serve it with guacamole, salsa, and sour cream. Use a clever kabob contraption to keep your kabobs from sticking to the grill and reusable skewers to help the environment.
Get the UNICOOK Heavy Duty Stainless Steel Barbecue Skewer Shish Kabob Set on Amazon for $12.99
2. A gooey grilled appetizer
I mean, how good does this sweet and savory honey thyme and sweet cherry grilled brie from Half Baked Harvest look? Her grilled brie is topped with pan roasted cherries with butter and bourbon and drizzled honey with thyme and a pinch of sea salt. You can use our pick for the best electric grill, the George Foreman Electric Grill, indoors and outdoors so it's perfect whether you live in an apartment or a house.
Get the George Foreman Electric Grill Indoor/Outdoor Electric Grill on Amazon for $79.99
3. An essential side of corn
Your guests will expect corn on the cob, but they might expect a simple corn on the cob with butter. This is even better. The Recipe Critic's grilled Mexican street corn is made with a mayonnaise and sour cream cilantro mixture, parmesan cheese, lime juice, and chili powder. You'll need a large cast iron skillet and, luckily, our best overall cast iron skillet comes in 15-inch.
Get the Lodge 15-Inch Pre-Seasoned Cast-Iron Skillet on Amazon for $49.90
4. A hot dog that has it all
You get all the flavors with every single bite. Butter Your Biscuit's bacon wrapped cheese stuffed hot dogs with crispy onions and jalapeños is a family favorite, and I can see why. Make sure your crispy onions don't get stuck to your pan as you fry them by using a nonstick pan. We did the guesswork for you by testing seven of the top nonstick pans and The Calphalon Contemporary Nonstick Omelette Pan was the clear winner.
Get The Calphalon Contemporary Nonstick Omelette Pan on Wayfair for $31.99
5. Customizable pizzas for everyone
Everyone loves a pizza party! Make grilled DIY pizzas that your guests can create with all their favorite toppings like pepperoni, sundried tomatoes, feta, sausage, prosciutto, and veggies. (You can even substitute cheese for a vegan cheese.) Cooking Classy's grilled pizzas are as close as you can get to a stone-fired oven taste without having a stone oven. You'll just need a great grill like our favorite Napoleon Rogue 425 in Stainless, which has both charcoal and propane options so you don't have to choose between the two.
Get the Napoleon Rogue 425 in Stainless AJ Madison for $899
6. A caprese salad, minus the salad
Fact: Everything tastes better when you add cheese. Closet Cooking's caprese balsamic grilled chicken is marinated in balsamic vinegar and topped with melted mozzarella cheese, ripe tomatoes, and basil. If you don't have outdoor space, you can make it in the oven with a cast iron skillet. Our favorite is Lodge's cast iron skillet, the brand has been making them since 1896 and they are durable and less expensive than other brands.
Get the Lodge Cast Iron Skillet at The Home Depot for $24.97
7. A tasty taco
A fish taco is a perfect light meal. Hapa Nom Nom's fish taco with sriracha aioli slaw is packed with flavor. (And best paired with a margarita or beer with lime.) You'll need a grilling pan like Lodge's, which has 3,499 customer reviews on Amazon and counting!
Get the Lodge Cast Iron Square Grilling Pan on Amazon for $18.92
8. A classic crowd pleasing cheeseburger
You can't have a barbeque without hamburgers or veggie burgers. Make Simply Delicious' classic bacon cheeseburger with a side of french fries. If you are vegetarian, vegan, or gluten-free, you can make it with a veggie burger, dairy or non-dairy cheese, a gluten-free bun, and vegetarian bacon. Our favorite frying pan is All-Clad's, which makes perfectly seared steaks, burgers, meatballs, and more.
Get the All-Clad 4112 Stainless Steel Tri-Ply 12-inch Fry Pan on Amazon for $123.53
9. A salty and sweet s'more
S'mores are synonymous with summer. If you are a fan of peanut butter cups, brownies, marshmallows, and the salty and sweet combination, you need to try Goodcook's grilled peanut butter brownie s'mores. (It has all the things!) Use a mixer so you can make the brownies without getting in an arm workout. We winnowed down a list of 27 mixers and the KitchenAid Artisan mixer came out on top. It's quiet, has 10 speed settings, multiple attachment options, and you can choose from multiple colors.
Get the KitchenAid Artisan Tilt-Head Stand Mixer on Amazon for $279
10. A dessert that could double as breakfast
People eat doughnuts for breakfast all the time — therefore you can totally eat a strawberry shortcake donut for breakfast, right? Right. Half Baked Harvest combined some of my favorite things into one amazing barbeque dessert (or breakfast). To make homemade brioche doughnuts, topped with sweet strawberries and whipped ricotta cream, you'll need a baking sheet like our favorite Nordic Ware Baker's Half Sheet, it's lightweight, large enough to fit more than a dozen cookies, and distributes heat well.
Get the Nordic Ware Baker's Half Sheet on Target for $10.99
11. A sweet banana nutella sandwich
You had me at nutella. Healthy Nibbles and Bits' grilled banana nutella sandwich takes five minutes to make and you'll probably eat it just as fast. Get five tools for the price of one with this Cuisinart countertop unit that works as a contact grill, panini press, full grill, full griddle and half grill and half griddle. It is Amazon's Choice and has more than 7,000 reviews.
Get the Cuisinart 5-in-1 Griddler on Amazon for $75.24
12. A peachy dessert
It ends up there is something more refreshing than biting into a juicy peach—a grilled peach. Center Cut Cook's cinnamon grilled peaches with cinnamon caramel sauce are sweet, and practically healthy. It's fruit, afterall. You'll need a griddle like this one from one of our top-ranked brands, Lodge.