Home & Garden
The 7 most popular Funfetti recipes on the internet
Today's hottest cooking craze happened once already
Pillsbury. They're the ones that started this.
The company wasn't the first to package rainbow sprinkles with its white cake mix, but it was the first to call them "Funfetti." The sprinkles weren't toppings back then, they were mixed into the batter instead, dotting the white cake with rainbow colors. According to New York Times food reporter Julia Moskin, Funfetti "instantly made plain cake obsolete for a certain demographic: kids." "It was as if chocolate and vanilla no longer existed," said baker and blogger Molly Yeh in Moskin's interview.
Years went by, those kids grew up into millennials, and those millennials grew up into the largest living generation in America, surpassing Baby Boomers just this year. And like, it seems, everything millennials loved growing up, funfetti has exploded back onto the scene.
These days, if you take to the internet in search of funfetti ideas, you're positively spoiled for choice. Pinterest alone is home to literally thousands of recipe ideas. Here are the best ideas we've found.
Funfetti White Russian
Step one for every recipe in the world: wash your hands and pour yourself a drink. And if you want to get right into the funfetti spirit—so to speak—how about a Funfetti White Russian?
It's brought to us by Gina Matsoukas at SheKnows, and while we're not sure The Dude would approve, we will admit to partaking in the guilty pleasure of cake-flavored vodka once or twice.
This is one of the easiest recipes on the list, too. Cake vodka, Kahlua, whipped cream, moisten the rim and dip it in sprinkles. Done.
Get the full recipe at SheKnows.com
Funfetti Buttermilk Pancakes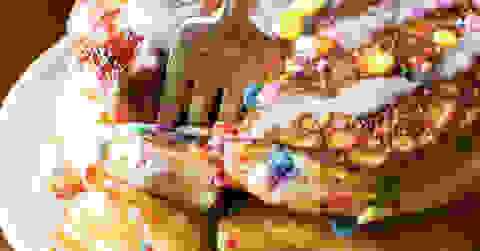 If you insist on starting your day with a Rainbow Brite digestive tract, you can make it happen with funfetti pancakes, courtesy of Sally's Baking Addiction.
Sally's buttermilk pancakes call back to the original intent of Pillsbury Funfetti: to melt into white or yellow batter, dotting and streaking it with all sorts of color. Sally goes the extra mile with a sugary glaze (maple syrup just wouldn't fit the aesthetic) and, like most pancake recipes, we think this one will be tough to mess up.
Get the full recipe at SallysBakingAddiction.com
Loaded Funfetti Dessert Nachos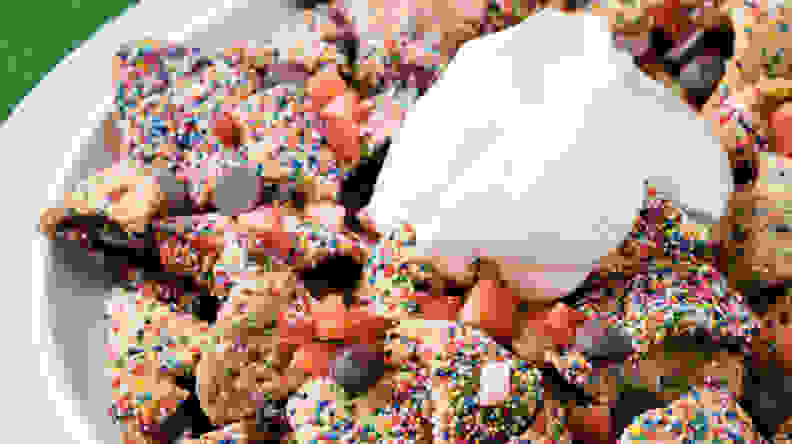 While we all wish we could have funfetti for breakfast, lunch, and dinner, you might think funfetti on taco night just isn't feasible. You might think that... if you're a quitter. You're not a quitter, are you? Quitter.
Stef at Cupcake Project brings some color to your fiesta with Loaded Funfetti Dessert Nachos, found in her aptly named Crazy Stuff from Scratch section. For this recipe you'll be making your faux tortilla chips out of curled, flat cookies, glazing them, then coating them in nonpareils. After that, simply load up the nachos with chocolate chips, diced strawberries, and "sour cream" meringue. Delicioso.
Get the full recipe at CupcakeProject.com
Dunkaroo Dip
If Hollywood taught us anything in the last decade, it's that we have a lot of room in our hearts for childhood nostalgia. We also have a lot of room in our stomachs for cake frosting, and this recipe offers both.
Dunkaroos—those dip-friendly snack packs in 90's lunch boxes around the U.S.—came out right after Funfetti itself, and the vanilla version famously featured, you guessed it, rainbow sprinkles. Dunkaroos have since come to symbolize part of the resurgent funfetti craze, but you'll need to get yours from Canada now that they're off the market in America.
Or, surely the much quicker option is to try this recipe at Spend with Pennies, where only three ingredients and a few minutes separate you from your upbringing.
Get the full recipe at SpendWithPennies.com
Rainbow Mirror Glaze Cupcakes
Nobody's disputing the "fun," but "fetti?" Like confetti? Like the stuff they shoot in the air at parades? We understand that sprinkles and confetti are both small and multicolored, but wouldn't it be nice to find a funfetti recipe with a little more fanfare? Like real confetti?
It would and we did. Check out The Scran Line's Rainbow Mirror Glaze Cupcakes, the only funfetti cupcakes in our long search that actually burst open with a shower of sprinkles. Just like a parade, but you get to eat it.
Get the full recipe at TheScranLine.com
No Churn Cake Batter Ice Cream with Funfetti
Homemade ice cream is such a pain, right up until the moment you find a perfect no-churn recipe. Oh, here's one!
Kelly at Life Made Sweeter puts the funfetti sprinkles back where they belong: with ice cream. Her four-ingredient recipe is whipped so it achieves the right consistency in a regular 'ol freezer—no oversized ice cream machine required, mercifully.
By the way, should you ever want to experiment with flavors other than funfetti, Kelly's no-churn base can be used for whatever taste you dream up.
Get the full recipe at LifeMadeSweeter.com
Ultimate Birthday Cake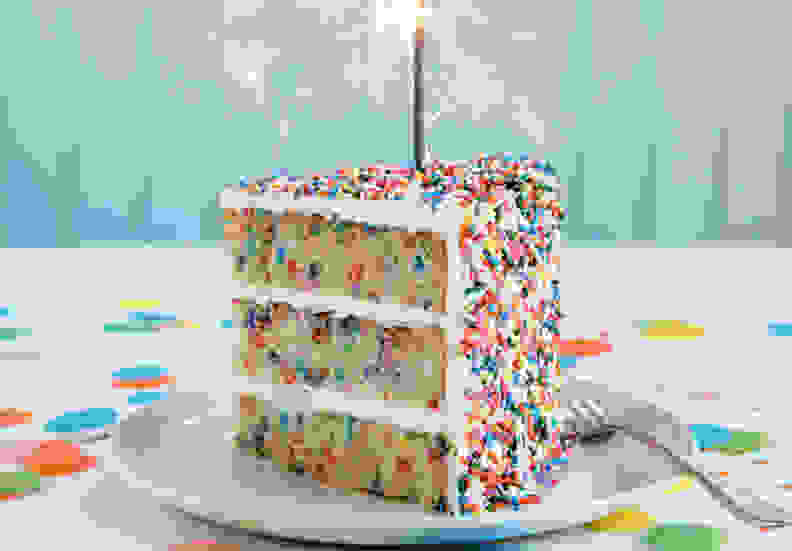 In the office, we use reputed cooking blog Serious Eats to put a swift and decisive end to whatever food argument cropped up last. As scientific-method product testers ourselves, we've come to respect Serious Eats' science-based approach to cooking and optimizing recipes.
So for the final funfetti fare, we recommend the Ultimate Birthday Cake, which came to Serious Eats via the Baked Occasions cookbook.
This triple-layer vanilla cake is simply the most quintessential funfetti recipe we could find. Please go make one, then invite us to your birthday party.