Home & Garden
Got a tax refund? Spend it on these new kitchen appliances
These are the best appliance packages to upgrade every kind of kitchen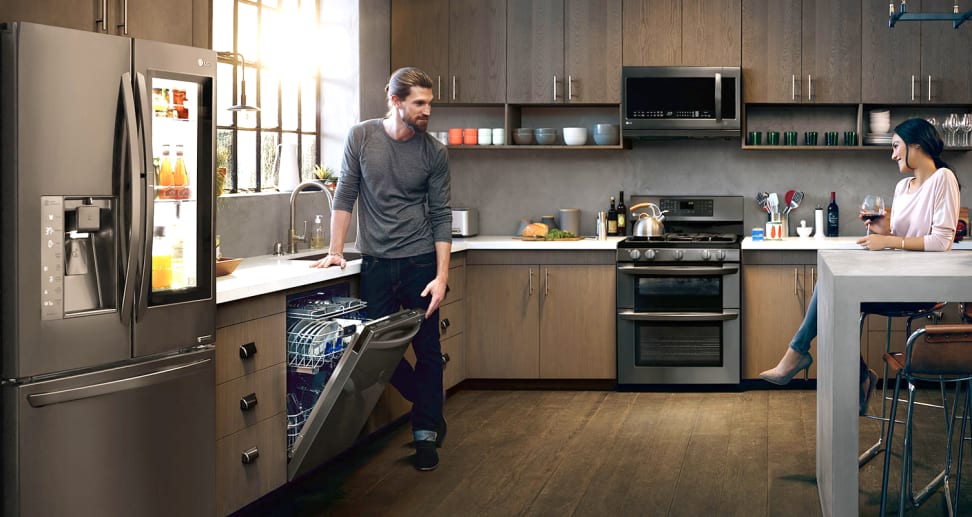 Credit: LG
It's that time of year: A tax refund left you flush with some extra cash, and those dreams of remodeling your outdated kitchen seem a bit closer to reality. After all, getting rid of that old, inefficient bisque refrigerator won't just make you happy—it'll also reduce your energy bills and increase your home's resale value.
The experts at Reviewed.com have tested thousands of home appliances in our Cambridge, MA labs so we can tell you which ones are worth your money. As appliance editor, I've closely tracked sale prices so I can share good deals.
For a remodel, it might be a good idea to buy a matching suite of appliances from the same manufacturer. You get handles and finishes that match, and you can also save money. That's because manufacturers often give additional discounts if you buy a set.
If you're looking to buy a suite of home appliances, these are the ones to get.
Stainless and stylish — Whirlpool suite at Home Depot for $2,202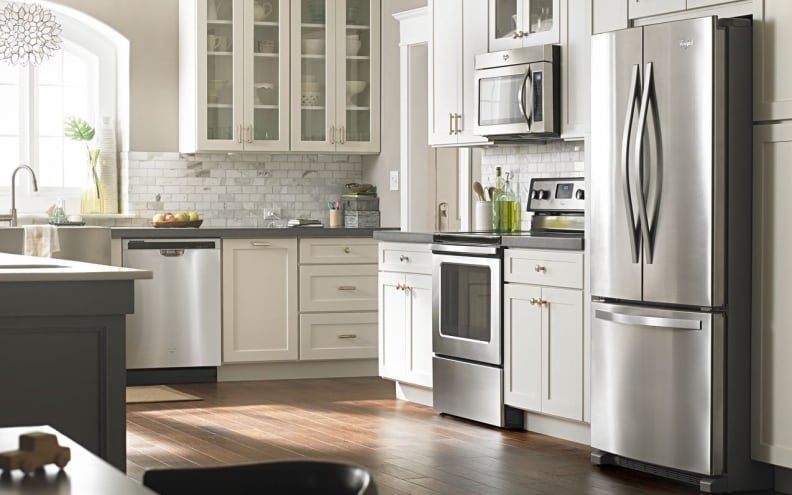 Whirlpool's entry-level stainless steel appliances are attractive, efficient, and get the job done. They're also a lot more affordable than you'd expect. What more could you ask for? In fact, that's why I bought a similar matching suite from Whirlpool for my own kitchen.
Through April 12th, Home Depot has a package on sale that features a $997 French door refrigerator, a front-control dishwasher, microwave with sensor, and 6.4 cu. ft. electric convection range. But I recommend swapping out that range for a less-expensive model.
The Whirlpool WFE530C0ES is our top pick for an affordable convection range, and still matches the rest of the set. Compared to the model in Home Depot's package the 530 lacks a few features—an upgraded thermostat, extra interior space, and an extra high-powered burner—but we don't think those extras are worth $260.
With the WFE530C0ES, the whole stainless steel package will set you back just $2,202.
• Buy the Whirlpool WDF520PADM dishwasher for $397.80 at Home Depot—lower price shown in cart • Buy the Whirlpool WRF535SMBM refrigerator for $997.20 at Home Depot • Buy the Whirlpool WFE530C0ES electric range for $549 at Home Depot • Buy the Whirlpool WFE530C0ES gas range for $598.50 at Home Depot • Buy the Whirlpool WMH53520CS microwave for $258.00 at Home Depot
Our upgrade pick — up to $1,000 off from GE Café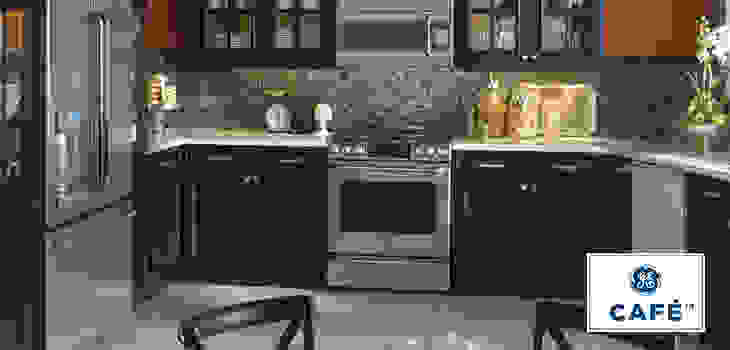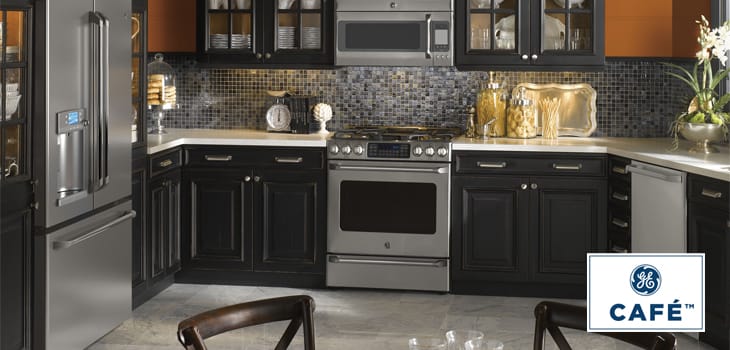 GE Café appliances might have a high-end look and feel, but they aren't as expensive as true luxury models from Sub-Zero, Miele, and Monogram. I think they're a great value for people who enjoy cooking but don't want to spend a fortune on a remodel.
Right now, GE is offering a mail-in rebate for a free dishwasher if you buy three or more eligible GE Café appliances between January 1, 2017 and July 31, 2017. I think that's a great deal—especially since GE's latest dishwashers are packed with cool features and kind of awesome.
We are also big fans of GE's Alexa-connected CT9050SHSS wall oven, which won our Best of Year award in 2016. And a GE Café French door fridge has been our top pick for four years.
The only appliance we wouldn't recommend is an overpriced Café over-the-range microwave—which can cost twice as much as a plain GE model for not much added benefit. Stick with a plain range hood and get a countertop microwave—or better yet, spring for the awesome Advantium.
The catch? GE says that purchases from Lowe's, Best Buy, Home Depot, Sears, Menard's, and JCPenney are not eligible for this rebate promotion. However, it appears that purchases from nationwide retailers like PC Richard, Abt, and AJ Madison are still valid, and their prices are on par with other major retailers.
• Buy our top-rated GE Café CFE28TSHSS French door fridge at AJ Madison for $2,783.10 • Buy our top-rated GE Café CT9550SHSS double wall oven at AJ Madison for $3,323.10 • Buy our top-rated GE Café CGP650SETSS 36-inch gas cooktop at AJ Madison for $1343.10 • Get a GE Café CDT835SSJSS dishwasher for free with mail-in rebate
Tech savvy and elegant — Black stainless and features from LG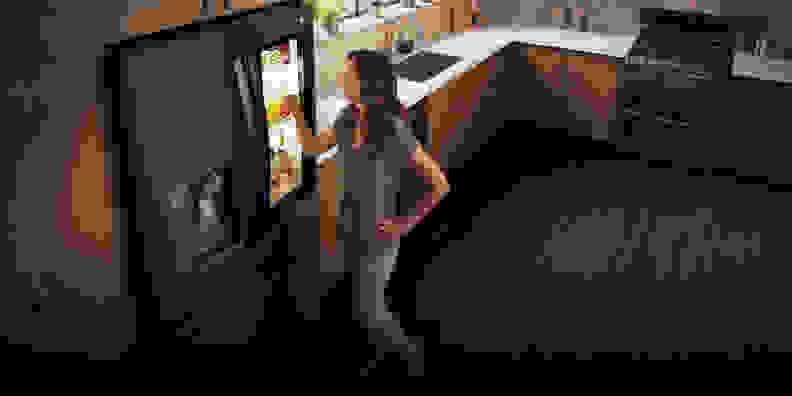 If you watched March Madness, you probably saw all those LG commercials featuring appliances that look like nothing else out there.
If they caught your eye, good news: Those see-through fridges, black stainless exteriors, and awesome gas convection ranges are all on sale through April 12.
Black stainless suites start at just under $4,000—we found this set for $3,946 at Lowe's. If you're a Costco member, you might be able to save even more.
• Buy an LG LFXS30796S InstaView refrigerator for $2,797.20 at Home Depot • Buy an LG LSE4613BD gas range with ProBake convection at Home Depot for $1,597.50 • Buy our Editors' Choice winner, the LG LDF5545ST dishwasher, at Home Depot for $547.20
Related Video