Home & Garden
These 23 weird products could be the next big thing on Amazon
Random or genius? You be the judge.
Credit: Shayna Murphy / Reviewed / Amazon
You can buy quite literally anything on the internet these days. Want 1,500 live ladybugs? Order them on Amazon. Looking for pads to neutralize your smelly farts? You can get those too.
While there are many random products available to buy online, not all of them have what it takes to be a hit. However, there are some serious hidden gems to be found if you know where to look, and we think these 23 weird items on Amazon have potential to be the next big internet obsession.
1. A special toaster for your taco wraps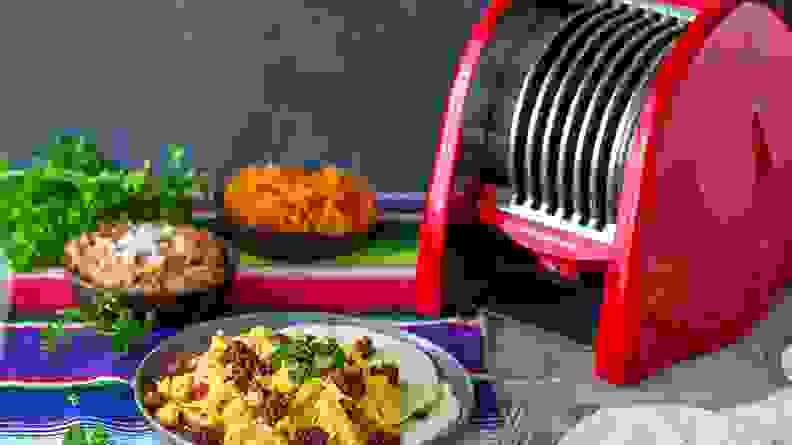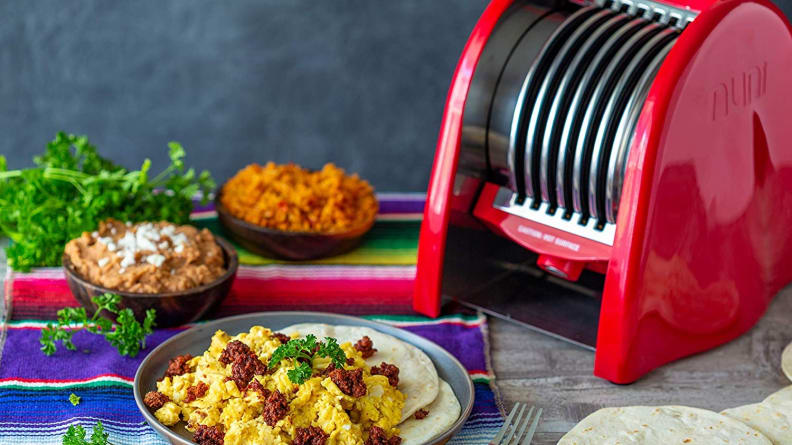 I don't know about you, but I'm pretty bad at cooking tortillas in the microwave. They usually turn out overly crispy and then crack when I'm trying to wrap up my burrito. The struggle is very real, which is why I love the idea of a tortilla toaster!
The NUNI Tortilla Toaster can warm up to six 6-inch tortillas at a time and you can even set how toasted you want them. Your taco shells will be ready to go in under a minute, and reviewers say it works phenomenally. If taco night is a regular occasion at your house, this gadget is a must-have.
Get the NUNI Tortilla Toaster on Amazon for $59
2. This floating bedside shelf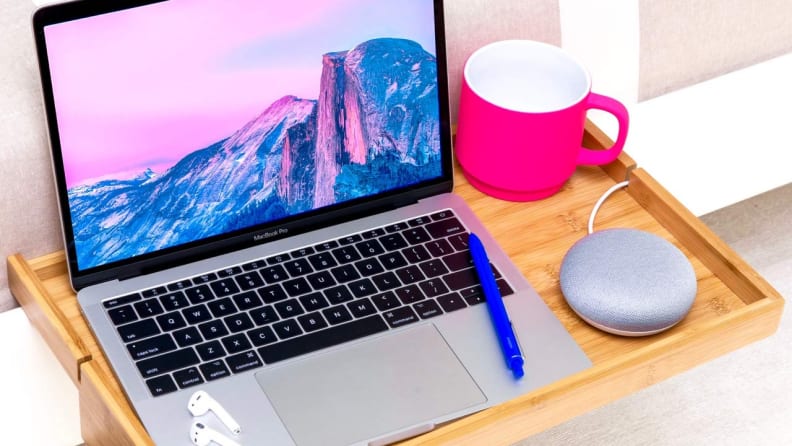 Tired of always losing the remote when you're watching TV in bed? The Bed Shelfie provides you with convenient storage since it clamps onto the side of your bed frame. It's the perfect spot to store your phone, laptop, remote, drink, snacks, and whatever else you might need within reach. Plus, it even has built-in wire slots where you can keep charging cables. Seriously, this thing is so ingenious, you might want to get two.
Get the Bed Shelfie on Amazon for $49.99
3. This coffee… made with mushrooms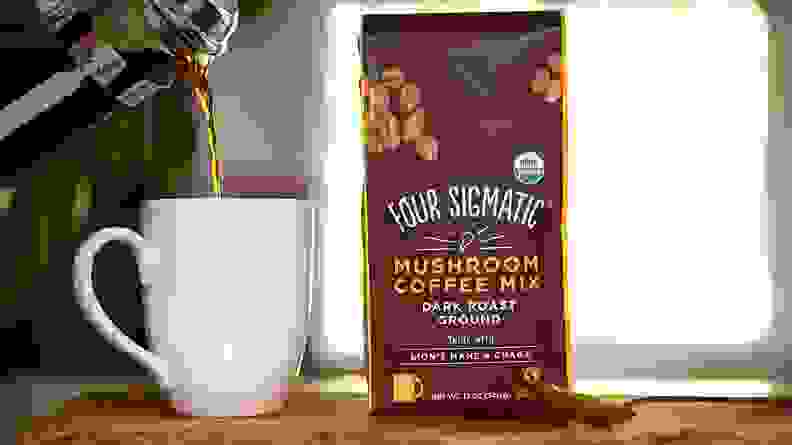 OK it sounds weird, but hear me out. Apparently this mushroom coffee tastes like your regular cup o' joe and provides you with the same energy boost, but the mushrooms give it additional benefits, like antioxidants and improving your focus and concentration.
Reviewers confirm that this coffee does, in fact, taste like regular coffee, and many say it provides them with more energy than regular java. So if you can get over the mental obstacle of drinking mushrooms, this cool product may very well become part of your new, improved morning routine.
Get Four Sigmatic Mushroom Ground Coffee on Amazon for $20.42
4. This fancy stackable fish tank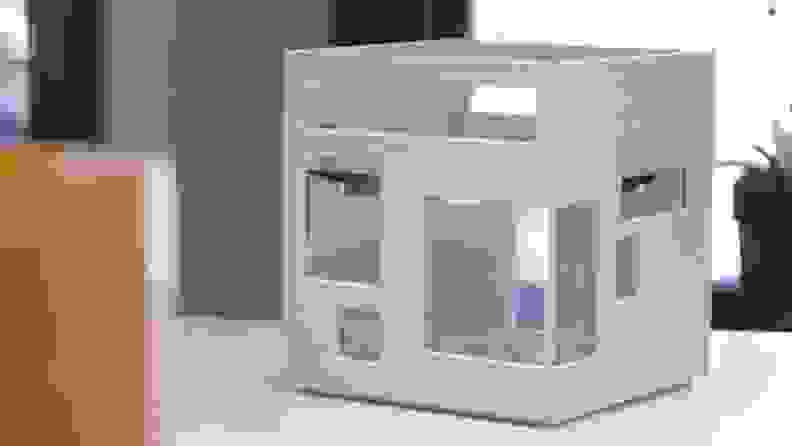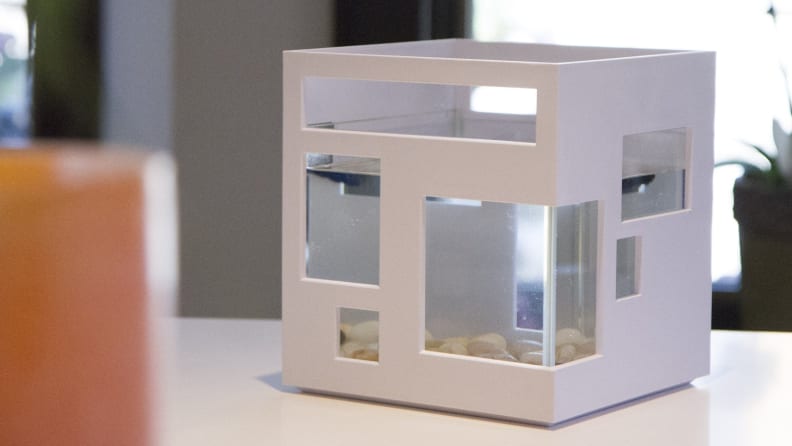 Fish bowls are so last season. Instead, let your goldfish live in a lap of luxury with this cool, modern fish hotel. The design basically has an inner glass bowl surrounded by a plastic outer shell, which makes it look like there are windows. The best part is that you can stack multiple tanks on top of each other to create a fish highrise. BRB, buying myself a fish.
Get the Umbra FishHotel Mini Aquarium on Amazon for $28
5. This countertop ice cube maker
If you're a diehard hostess or ice-chewer, you know that not all ice is created equal. That's why people are kind of obsessed with this countertop ice maker, which produces soft, chewable nuggets of ice in just 20 minutes.
The Opal Nugget Ice Maker can make up to a pound of ice per hour, and it's even Bluetooth-connected so you can set an ice-making schedule from your phone. Sure, it's a little pricey, but it'll be a total hit at your BBQ this summer.
Get the Opal Nugget Ice Maker on Amazon for $474.99
6. A cute timer for the whole family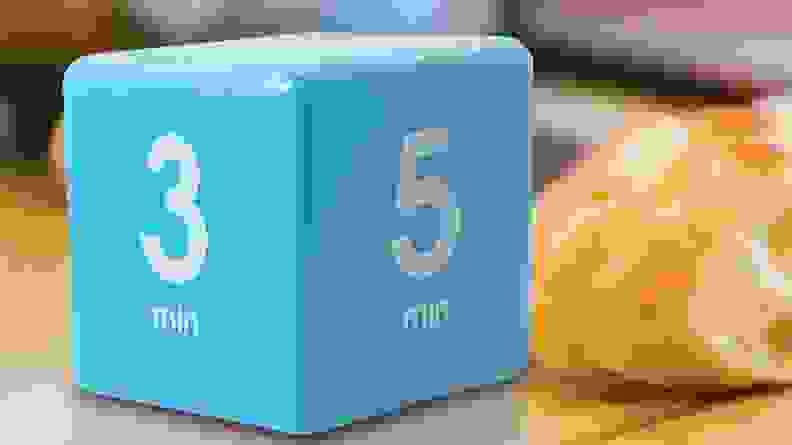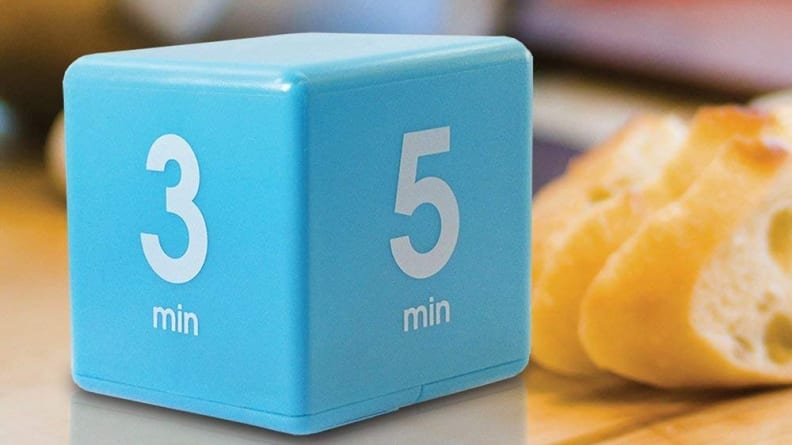 This little gadget is pretty clever, especially if you have kids. Instead of fumbling to set a timer, the Miracle TimeCube is preset with several automatic timers and all you have to do is tip it onto the labeled side with your desired amount of time.
There are just so many uses for this: hand washing, tooth brushing, doing homework, working out, and the list goes on. Plus there are a number of different models available with timers ranging from 30 seconds to an hour, so you can customize it for any task.
Get the Miracle TimeCube Timer on Amazon for $18.99
7. This sleek all-in-one cooler and portable speaker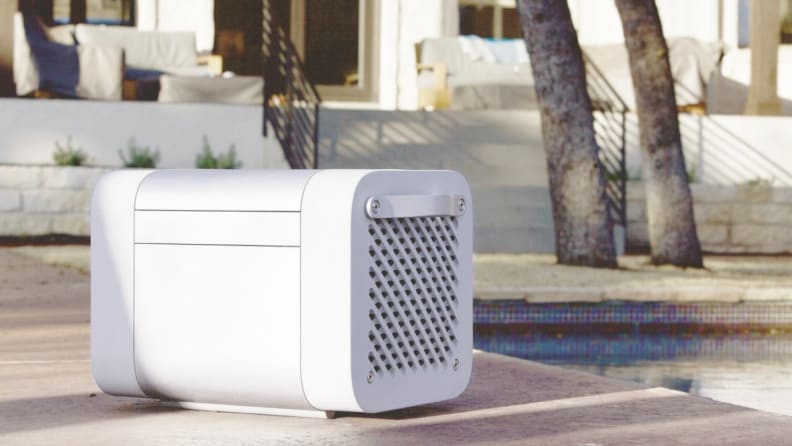 Whether you're hosting a backyard barbecue, pool party, or boating day, there are two things you're going to need: cold drinks and music. You can check both these essentials off your list with KUBE, a wireless speaker and cooler rolled into one.
The sleek design features 122dB output speakers so you can hear it in outdoor areas, and the cooler has a push-activated, self-opening lid with fade-in illumination… because that's cool. Reviewers say the sound quality is amazing and the design itself is beautiful, so yeah, we can totally see this product becoming a hit.
Get the KUBE: Wireless Speaker & Cooler on Amazon for $699.99
8. A better way to store your Macbook charger
Laptop chargers can be quite cumbersome, especially the ones from Apple. That big brick in the middle makes them a pain to store, which is why the Side Winder is such a great idea. You just put the brick in the middle of the device, line up the cords, and boom. Just like that, all you have to do is twist the center to wind up your power charger and get going.
The only downside is that the Side Winder doesn't work with certain chargers, such as the new USB-C cables, so make sure to check that your model is supported before you buy one.
Get the Side Winder on Amazon for $27.99
9. This massage roller that looks like a spaceship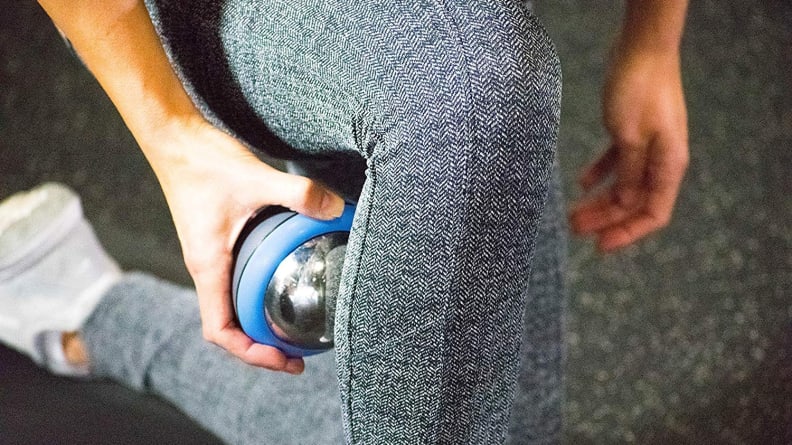 It's a spaceship! It's a magic ball! No, wait—it's a massage roller. This wacky-looking product might look like it's from outer space, but it's actually designed to be frozen, then used on sore muscles. The outer shell allows you to grip it easily without freezing your hand, and it can also be removed so you can roll your foot over the ball. The best part is that the Recoup Cryosphere Cold Massage Roller is compact, allowing you to toss it in your workout bag and go, which is something you can't generally do with foam rollers.
Get the Recoup Fitness Cryosphere Cold Massage Roller on Amazon for $39.95
10. A set of adorable summer popsicle molds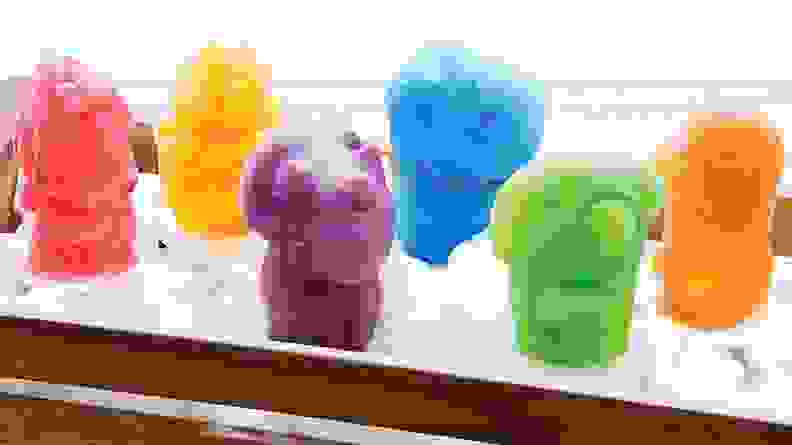 Everyone love popsicles in the summer—kids, adults, pets, you name it—and they're sure to get a kick out of these super-cute dinosaur-themed molds, to boot.
The silicone mold has six fun designs, complete with plastic sticks, and you don't have to worry about wrestling the pops out, either, since they're easy to release. So go ahead—make some fruity pops for your kids or boozy pops for your adult friends (we won't tell anyone).
Get the Zoku Dino Pop Molds on Amazon for $21.58
11. A campfire in a tin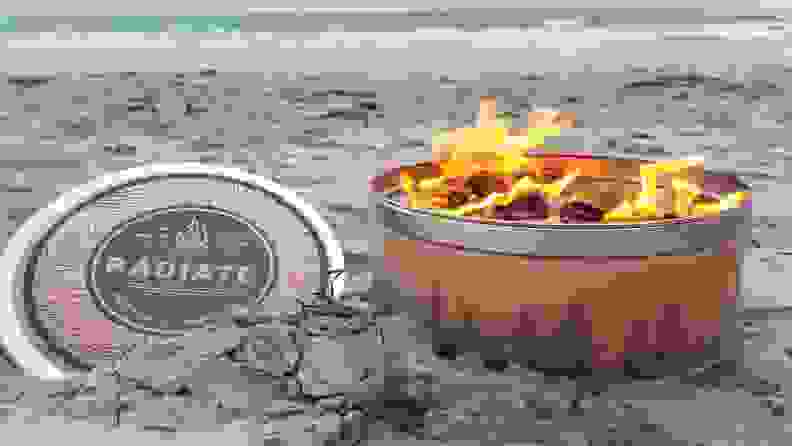 Scavenging for wood is a thing of the past thanks to the Radiate Portable Campfire. It looks like those tins of cookies your grandma used to have every Christmas, but inside, it's actually everything you need for a fire, and then some.
The tin is filled with soy wax and recycled paper, allowing you to quickly light it up into a small fire. It will burn for three to five hours, making it easy to have a cozy campfire just about anywhere. Just toss it in your bag and you're ready for your next adventure.
Get the Radiate Portable Campfire on Amazon for $27.99
12. These blue light glasses that'll help boost your mood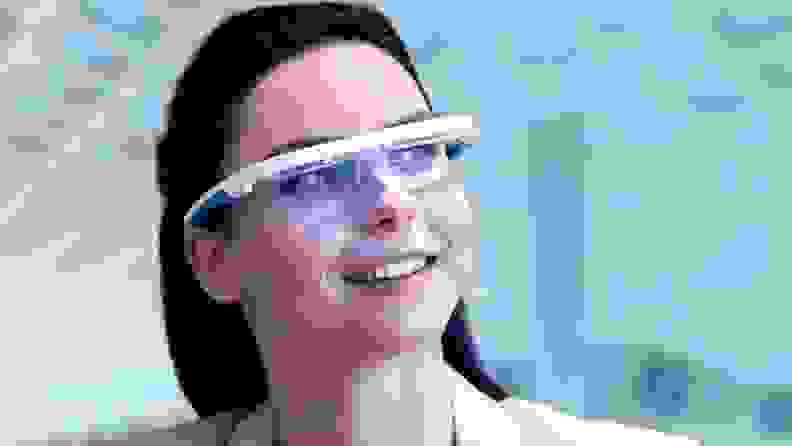 If these fancy glasses could be a total game-changer. These AYO blue LED light-based smart glasses are like getting light therapy on the go, and claim to give you energy, help you sleep, and even reduce the effects of jet lag. The blue light is supposed to help optimize your body's internal clock, and the connected app includes programs for sleep, energy and travel. A lot of reviewers swear these AYO glasses work, helping them to sleep better and feel more energized throughout the day, with one even raving: "Ayo really re-energizes me and helps me have evenings full of life, just like I always wanted!"
13. This innovative light that can help you fall asleep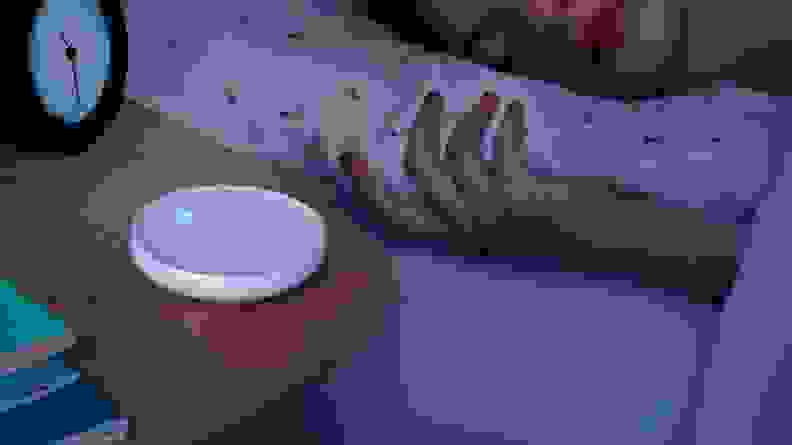 Lots of people have trouble sleeping, which is why there are so many gadgets out there geared toward helping you drift off into Snoozeville. One of the newcomers on the scene is Dodow, a sleep aid light that helps you calm your breathing and fall asleep faster. It basically projects a circle onto your ceiling that you can sync your breath with, and many people say Dodow works well for them, helping them to slow down racing thoughts and fall asleep more readily.
Get Dodow on Amazon for $59.90
14. A moldable glue that can do basically anything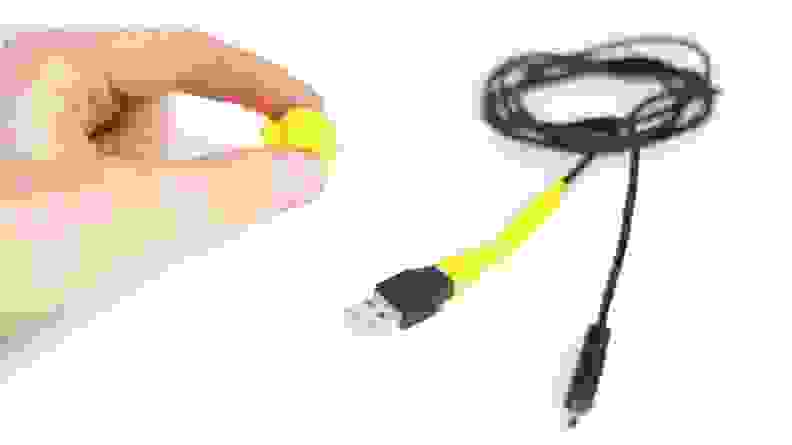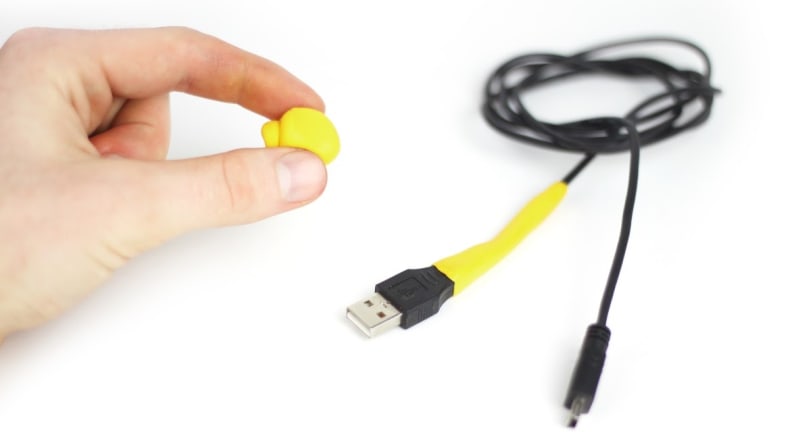 What are you supposed to do when the sole of your shoe starts falling off? I know I've faced this dilemma, which is what makes Sugru Moldable Glue so intriguing.
It starts out as a putty, and when it's exposed to air, the material turns into silicone rubber, which can be used to bond and seal all sorts of materials. Sugru works on glass, ceramic, wood, metal and most plastics, and you can use it to do, well, anything. Need to fix that shoe? This glue is a go-to. Want to hand something in a hurry? It works for that too, and reviewers say it's useful and easy to work with.
Get Sugru Moldable Glue on Amazon for $19.99
15. This frying pan with a removable handle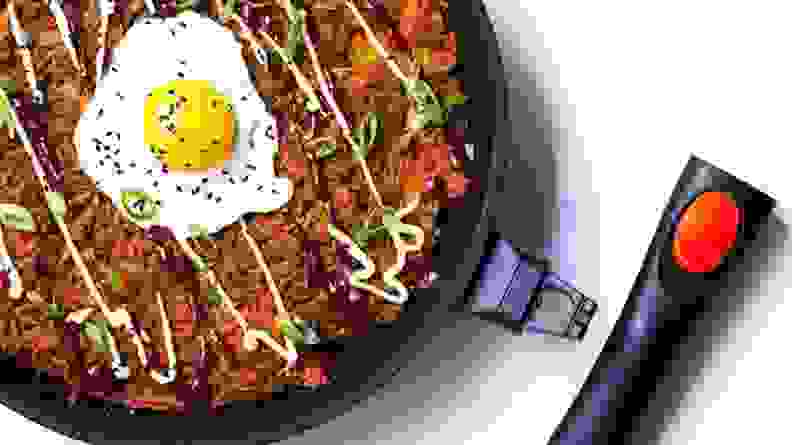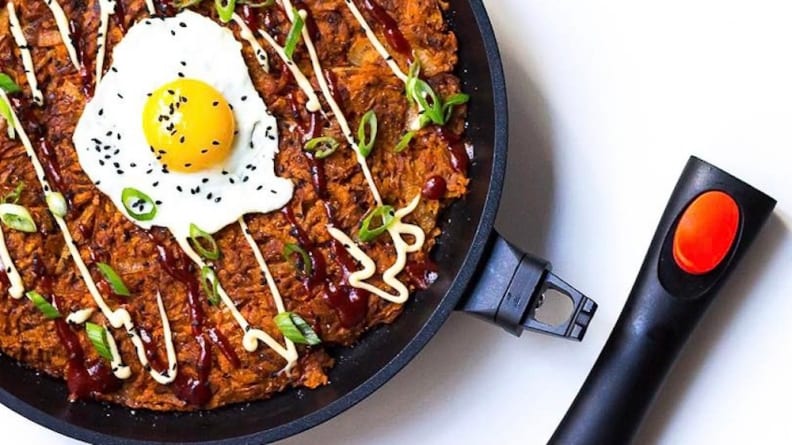 Frying pans are a pain to store thanks to their awkward handles, but what if you could take said handle off? It would make life so much easier, and honestly, I'm surprised this idea isn't more common. This nonstick fry pan from Cleverona has a detachable handle that makes it infinitely easier to wash and store. Plus, reviewers say it's a top-quality pan in terms of performance as well.
Get the Cleverona Nonstick 11-Inch Fry Pan with SecureSnap Detachable Handle on Amazon for $27.99
16. A set of dip holders that clip to your plate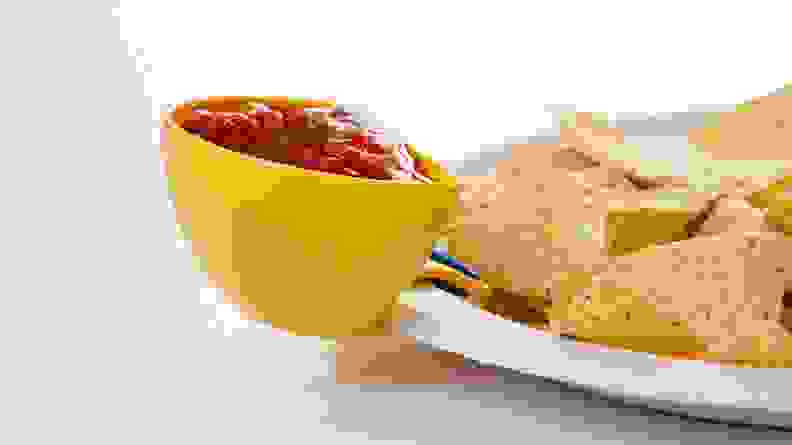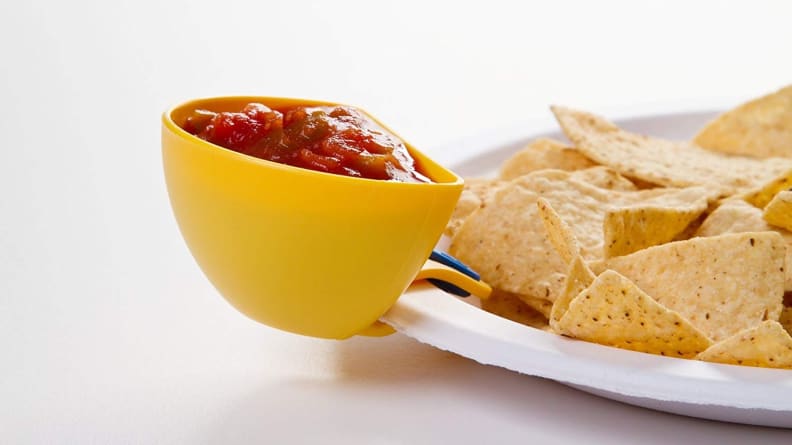 If you're going to get yourself some salsa to eat with nachos, you can either pour it onto your plate and have it run everywhere or get a small bowl that will slide around the whole time. Neither is really ideal, which is why these dip clips are bound to be a hit. Just pop one on the side of your plate and get ready to enjoy that guac, sour cream, salsa or whatever you love with minimal mess and clean up.
Get the Prepworks by Progressive Assorted Dip Clips, 4-Pack on Amazon for $6.88
17. An all-in-one travel razor
It's pretty awkward when you're wearing your favorite sundress to work, only to notice during your commute that you missed a spot shaving. You could give yourself razor burn trying to shave it off dry—or you could invest in a Sphynx Razor to keep in your purse. This compact, discrete device includes a water spritzer, a pre-shave moisturizing bar and razor all in one, allowing you to touch up just about anywhere and anytime—no bathroom needed.
Get the Sphynx Razor for Women on Amazon for $17.99
18. A better way to store your T-shirts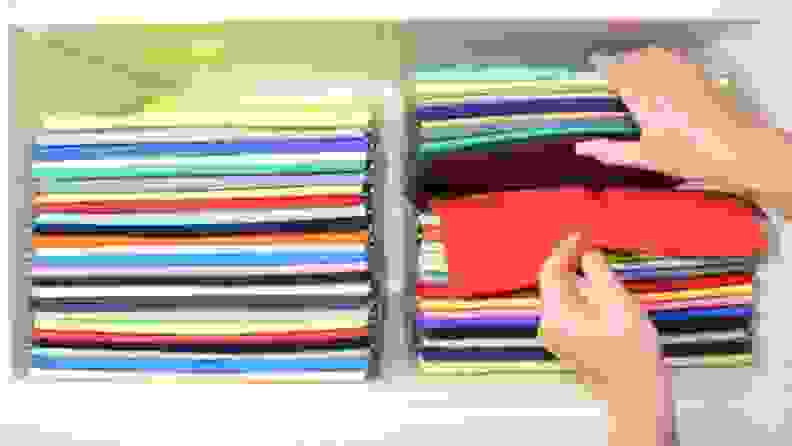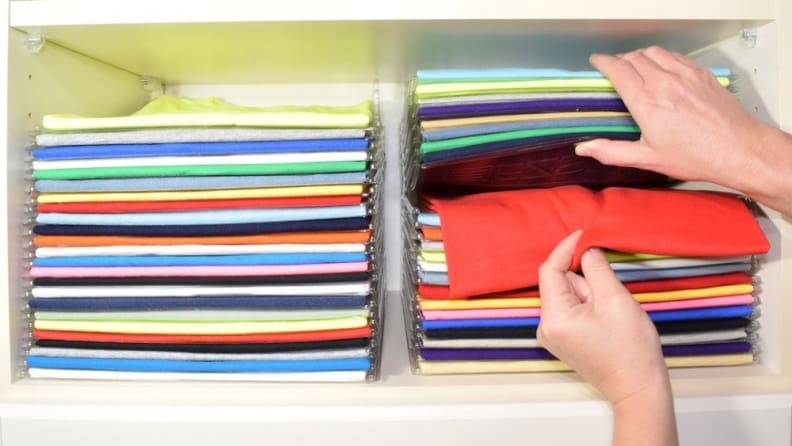 There's really no good way to store T-shirts, if you ask me. You can fold and stack them in drawers, but then you inevitably mess them up with you try to pull one out from the bottom. Alternatively, you could hang them up in your closet, but that seems like overkill.
This conundrum is solved by these unique clothing organizers, however. They kind of look like a file organizer—you basically stack your T-shirts on the thin plastic shelves, which flip up to allow you easy access to the exact shirt you want. And those messy drawers? Ancient history.
Get the EZSTAX Clothing Organization System on Amazon for $21.99
19. This spoon holder that'll put a smile on your face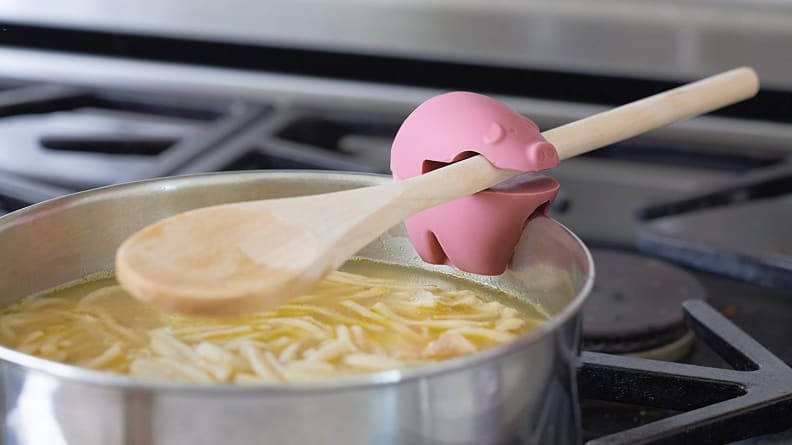 On first glance, I had absolutely no idea what this cute little piggy did. However, after seeing it in action, I'm convinced it would be a useful tool to have in the kitchen. You just pop him on the side of your pot while cooking, and he'll hold your spoon for you! This will help you keep your kitchen from turning into a total sty and you'll never misplace another utensil you're cooking with again.
Get the Fox Run Pig Pot Clip/Spoon Holder on Amazon for $6.73
20. This kit to grow weird vegetables
Instead of gifting your plant-loving friend a boring herb kit this year, get them this funky vegetable instead! With this kit from Plant Theatre, they'll be able to grow purple carrots, red Brussels sprouts, striped tomatoes, and other fun produce. It comes with everything they'll need to get their unconventional garden going, and reviewers say it makes a great gift—or a fun activity for yourself.
Get the Plant Theatre Funky Veg Kit on Amazon for $18.99
21. A face cream made from real snail slime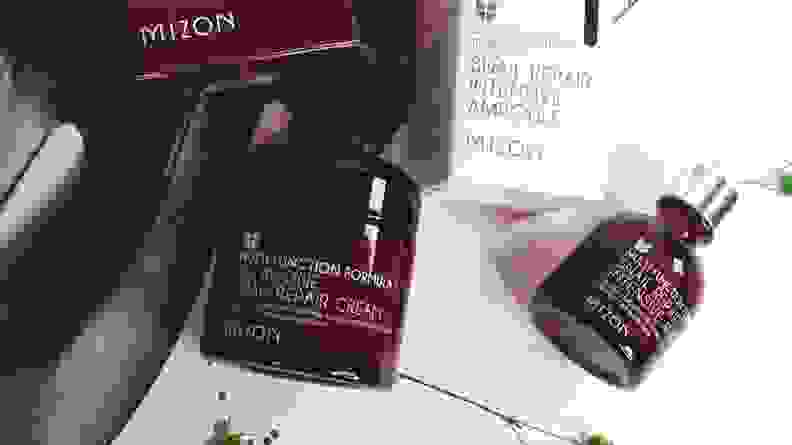 How far would you go for beautiful skin? Would you rub snail slime on your face? Believe it or not, this gross ingredient is supposed to be beneficial for your complexion, which is why these snail-slime skin care products are quickly becoming popular. People swear the Mizon Snail Care products leave your skin plump and hydrated, helping to get rid of wrinkles, acne and other common issues.
Get the Mizon Snail Care Two Birds with One Stone Set on Amazon for $30.89
22. This elliptical that goes under your desk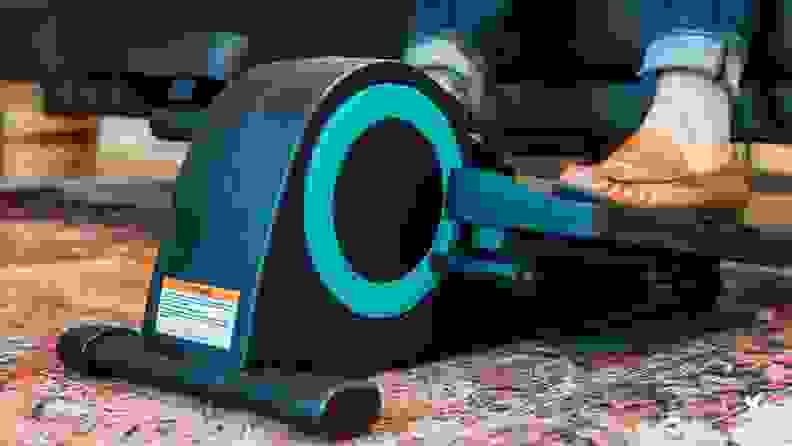 It's common to get antsy during the work day, especially if you have to sit at a desk for eight hours. If you want to get some exercise while you fill out those spreadsheets, you might like the Cubii Jr. Desk Elliptical.
This exercise machine fits right under your desk, allowing you to pedal as you sit. It works your glutes, hamstrings, quads, calves and more, all with low impact on your joints. Plus the machine is quiet, so you won't bother your neighbors as you get your sweat on.
Get the Cubii Jr. Desk Elliptical on Amazon for $249
23. A baby sock that monitors heart rate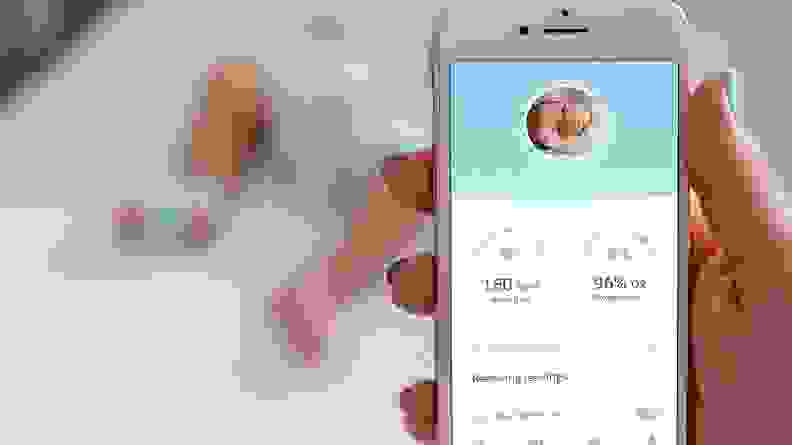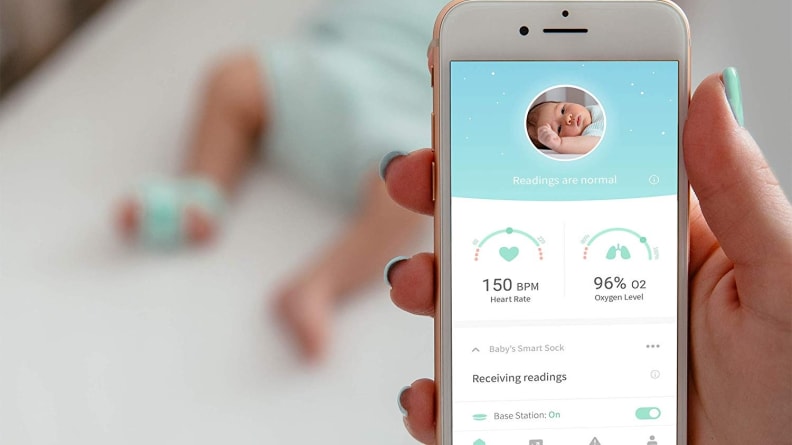 Do you find yourself worrying about your baby after you put him or her down for a nap? Lots of parents have concerns about their little ones, and you can put your mind at ease with this cute little baby sock.
It looks unassuming, but the Owlet Smart Sock actually tracks your baby's heart rate and oxygen levels while they sleep, providing the data to your phone and letting you know if anything is concerning. Pretty cool, right?
Get the Owlet Smart Sock 2 Baby Monitor on Amazon for $199
The product experts at Reviewed have all your shopping needs covered. Follow Reviewed on Facebook, Twitter, and Instagram for the latest, deals, product reviews, and more.
Prices are accurate at the time this article was published, but may change over time.