Home & Garden
Finally—a veggie burger that you can cook on the grill
It grills just like the real thing.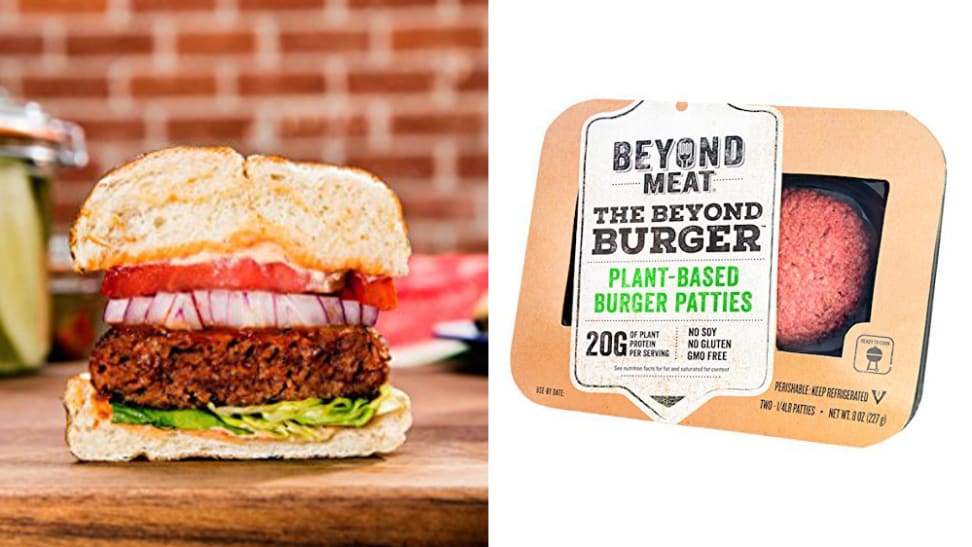 Credit: Beyond Meat
Being a vegetarian at a barbecue can tough. You often have to deal with the snide comments from carnivores about not eating meat like, "Just have one bite. It won't kill you," and people shoving carcasses of meat products in your face. Cue the eye roll and involuntary gagging.
Once those shenanigans have been overcome, you need to figure out what to eat. Usually, there are plenty of sides to enjoy—the potato salads, the pasta salads, the salad salads. And if you're lucky, there might be some grilled veggies too. But the vegetarian options typically end there.
Now, I'm not saying, "Wah. I'm a vegetarian. Stop what you're grilling and cater to me." (Though it would be nice to be catered to.) If I want to eat a dang burger like everyone else, you better believe I will arrive with a box of frozen veggie burgers in tow. But since most veggie burgers will completely fall apart on the grill, I usually have to resort to cooking them inside, forcing me to miss out on the general camaraderie of everyone grilling and enjoying the sunshine. It's honestly the one thing that might make me miss eating meat.
Why this veggie burger is different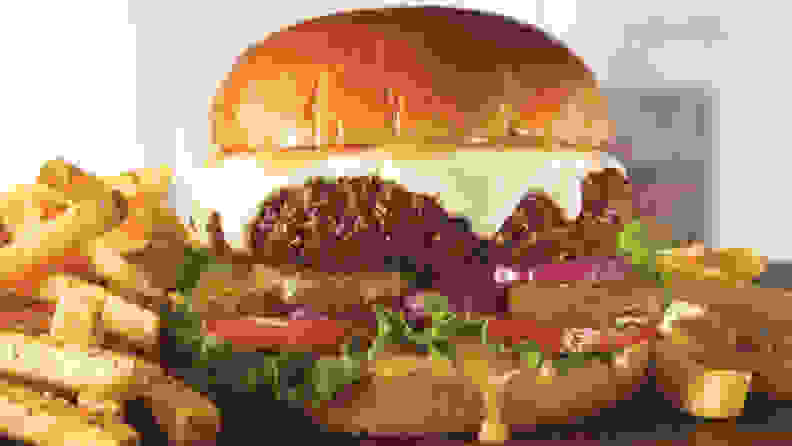 Enter the Beyond Burger from Beyond Meat—a veggie burger that claims to look, cook, and taste like meat and it just may be the answer to my cookout prayers. I was definitely skeptical at first and I already had a few go-to veggie burgers in my rotation, but I decided to give it a go. It won't kill me, right?
Unlike most veggie burgers, the Beyond Burger looks straight-up like ground beef (gross, in my opinion). It is pink and meat-like, and apparently has just as much protein as a burger. I had my dad toss one on the grill, and he was honestly pretty excited to finally grill something for me. He's attempted to grill other frozen veggie burgers on the past, only to say, "This isn't working," and send me back to the kitchen to use the stovetop.
When it was done, the Beyond Burger (available via Amazon Fresh and at most Whole Foods locations) was thick and moist enough to stay together on the grill. Although it was still a little pink when it was fully cooked, it wasn't something that necessarily bothered me. After loading it with typical toppings, I took a bite and was shook.
Why it works for a cookout
The Beyond Burger tasted more like the real deal than any other home-cooked veggie burger I've tried. It held up between the bun and had that iron-y, meaty taste, which, as a long-time vegetarian, frankly scared me a little. It was almost too real. I now know that I don't actually really miss, or frankly care for, the flavor of meat anymore, so this veggie burger isn't my favorite in terms of taste.
Even though I'm not obsessed with the flavor of the Beyond Burger, I have no trouble calling it the only veggie burger I will bring to cookouts from now on. That "realness" makes it perfect to almost fit in with the carnivores' menu. I can cook it on the grill and I can load with burger toppings that usually wouldn't taste good on my go-to veggie burgers, like sweet potato and masala.
It may not be my favorite veggie burger overall, but the Beyond Burger helps bridge the gap of the cookout culture that I crave. Plus, with a flavor not unlike the real thing, maybe I'll be able to show all you meat eaters that being vegetarian isn't that bad.
Prices are accurate at the time this article was published, but may change over time.
Watch me try the ultra-similar 'Impossible Burger'!