Home & Garden
Is this Walmart tumbler as good as the Yeti?
The results may surprise you.
Credit:
Yeti tumblers are hailed as outdoorsman's chalices. They're a symbol of an aspirational outdoorsy, rugged lifestyle—and if you can't go fishing, then you might as well have a mug that says you would if you could. Seriously, you can't go to a tailgate, a campsite, or the beach without at least seeing one of these filled with water, coffee, or booze.
People swear by their Yetis and with good reason. They actually keep your drinks cold, ice unmelted, and seltzer bubbly for hours. Plus, the insulation and large size make them perfect for outdoor activities. In fact, we named a Yeti the best outdoor water bottle for its durability and insulation.
Other than my Yeti Lilly Pulitzer Koozie, I'm not particularly attached to the Yeti brand or the rugged lifestyle it's associated with (hence the Lilly). But I do love a good insulating tumbler. After researching products with a cult following at Walmart, I discovered that reviewers were swearing that this $9 Ozark Trail tumbler works just as well as a similar $35 Yeti model—at a fraction of the price.
Because of the price difference, I was a bit skeptical. I could understand a $10 difference with the mark-up in price coming from the Yeti brand name. But with the massive $25 disparity between the Yeti and the Ozark Trail tumbler, I found it a little hard to believe they could perform so similarly.
What the Yeti and Ozark Trail tumblers claim to do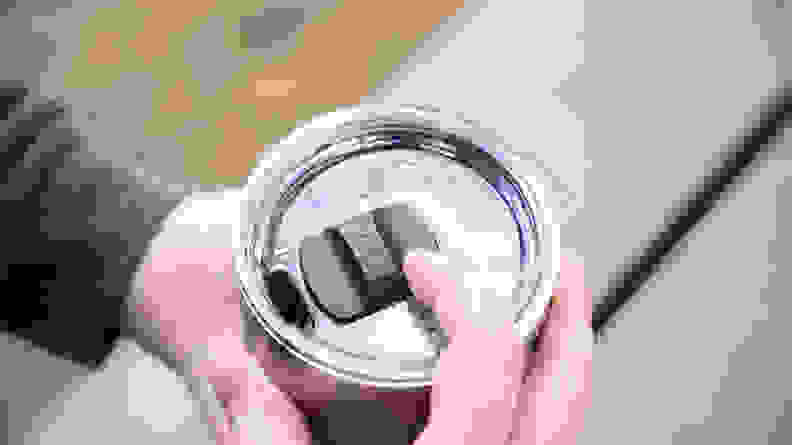 The Yeti Rambler tumbler is made with kitchen-grade stainless steel and has double-wall vacuum insulation. This allows hot drinks to stay hot and cold drinks to stay cold, and it's "MagSlider Lid" helps prevent heat or cold from escaping but won't entirely prevent spillage. It's claims to be BPA-free and has a "no sweat" design, which keeps fingers dry.
The Yeti is also dishwasher safe, but you should never clean it with bleach or put it in the microwave or freezer. It comes in a few fun colors and there's also a five year warranty that comes with every Yeti purchase.
The Ozark Trail tumbler, on the other hand, is made of high-grade, double-walled stainless steel and is vacuum-sealed—so pretty much the same as the Yeti. It's also BPA-free and has a "no sweat" design, but doesn't have a slider on the lid. The Ozark Trail is not dishwasher safe and also shouldn't be cleaned with bleach or put it in the microwave or freezer. You do get a few color options with the Ozark Trail and it comes with a lifetime warranty to boot.
To see if the Ozark Trail tumbler actually was just as impressive as the Yeti, I decided to pit the two against each other in a few tests.
How we tested the tumblers
To test these bad boys beyond just drinking out of each one, I decided to find out how long they would keep cold water cold, how long they would keep hot water hot, and how long it would take for ice to melt.
For the temperature tests, I filled each tumbler with the same amount of hot water from our office coolers and recorded the temperatures over a 24-hour period using these super cute little data temperature loggers. Then I did the same test with cold water from the same coolers.
To determine how long it takes ice to melt in insulated tumblers, I put 30 ice cubes in each tumbler along with the data temperature loggers and monitored the temperature each mug maintained as the ice melted over a roughly 15-hour period. I also took into consideration how cold or hot to the touch each tumbler was when filled with liquid and tipped each one over to see if they would leak.
How the Yeti and the Ozark Trails tumblers stacked up
Putting them side by side, the Yeti and Ozark Trails tumblers look exactly alike. They're the same size and shape, are made of stainless steel, and have similar sip tops. The only real physical differences are that Yeti has a slider on the lid and they have different logos adorning the cups (obviously).
After extensively reviewing the data from the travel logger, we found that—drumroll, please—the two tumblers performed exactly the same. I'll pause for shock value, but there's no real difference between the two other than the price tag and that the Yeti is dishwasher safe.
As seen in the graph above, although the two tumblers started at different temperatures for the hot water test, they decreased in temperature at a similar rate, dropping about 3-4 degrees every 10 minutes. So you honestly might have to wait closer to an hour for your hot drink to actually be drinkable (around 135 degrees). The water in the Yeti tumbler did cool down slightly slower than the Ozark Trail one, but not enough to cause a significant difference in experience between the two.
Also, once the water reached about 80 degrees, both mugs were able to maintain that temperature for a few hours, meaning you can enjoy your tea or coffee for a long time.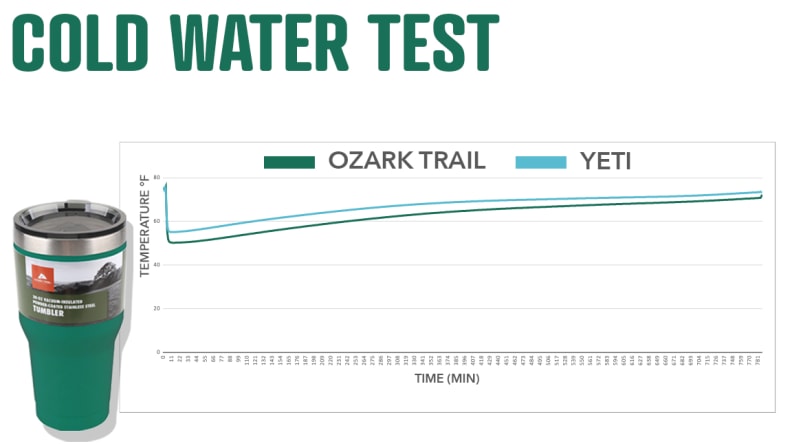 Not surprisingly, both tumblers were better at maintaining cold temperatures than hot with the cold temperatures rising at a much lower rate. Even though the tumblers had slightly different initial temperatures, it took both cups approximately 45 minutes to raise 1 degree.
These tests proved to us that not only do both the Yeti and the Ozark Trail mugs do an incredible job at insulating cold drinks, but they perform nearly identically.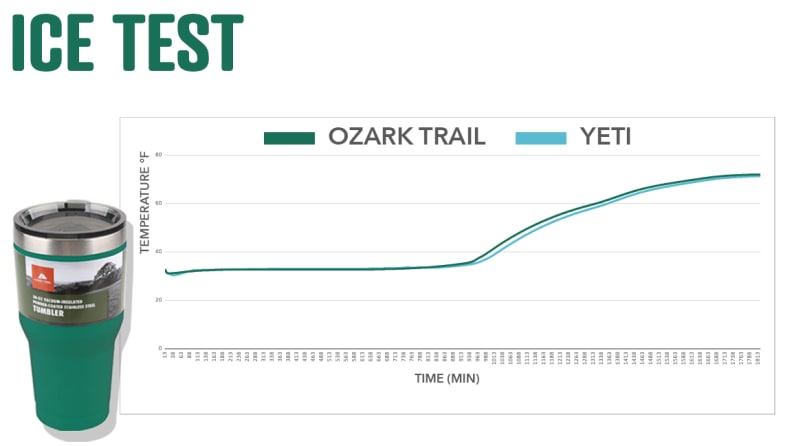 Watching ice melt was probably the most difficult task of the tests I performed—only because it seemed to take forever for the ice to melt in each tumbler. I started the test first thing when I got to the office and was waiting for hours on end. By the time I left the office about eight hours later, the ice still wasn't entirely melted and the water levels in both tumblers seemed to be at the same level.
Thankfully because of the temperature data loggers, I was able to get a good idea of when the ice melted for each. Spoiler alert: it happened at the exact same time. The temperature started to rise significantly for each tumbler after about 15 hours, which is when we can assume the ice finally finished melting. Frankly, that is an insane amount of time for ice to not melt, and your drink will surely stay cool for several hours beyond that.
All in all, both mugs do an incredible job at insulating both hot and cold drinks for hours on end. Additionally, when holding each tumbler, I couldn't feel any heat or chill through the material, which makes either ideal for drinking exceptionally hot or cold drinks.
The one thing the Yeti really has over the Ozark Trail mug, in terms of performance, is the slider on the lid. Although it didn't seem to prevent any additional heat or cold from escaping, it did stop more liquid from spilling out when tripped over compared to the Ozark trail model, which was not immune to leaking—though a small amount of water did still escape from the Yeti too.
Which one should you buy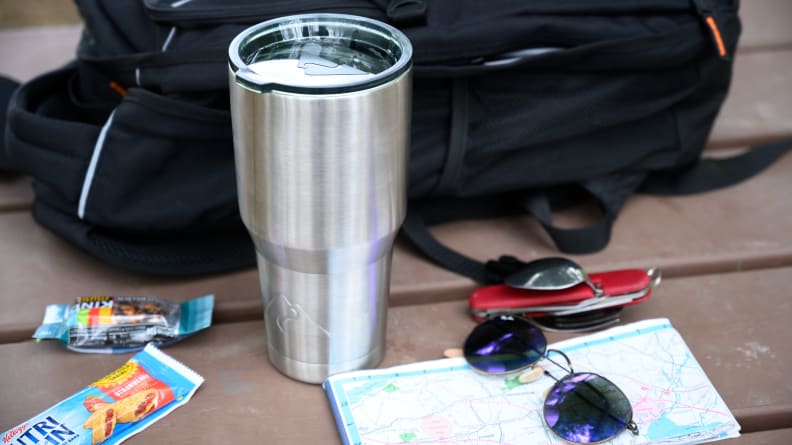 You really can't go wrong with either mug, to be honest. They both work very well at keeping hot drinks hot and cold drinks cold.
If you don't care about brand names and are pretty careful with spills, I would go with the Ozark Trail tumbler. Other than the lid, it works nearly identically to the Yeti tumbler at a much lower price. However, it's worth noting that Walmart's tumbler is not dishwasher safe whereas the Yeti is, so if that matters to you, you might want to invest the extra money in the Yeti.
And if you really want to Ozark Trail tumbler but the lid really bothers you, you can just buy the Yeti Magslider Lid for $10 to use with the Ozark Trail tumbler, and it would still be $15 less than buying the Yeti tumbler.
Get the Ozark Trail 30-Ounce Tumbler at Walmart for $8.74
Get the Yeti Rambler 30-Ounce Tumbler at Amazon for $34.99
The product experts at Reviewed have all your shopping needs covered. Follow Reviewed on Facebook, Twitter, and Instagram for the latest, deals, product reviews, and more.
Prices are accurate at the time this article was published, but may change over time.