Home & Garden
Warmed sangria is the winter drink that's been missing from your life
How the Sangria stole Christmas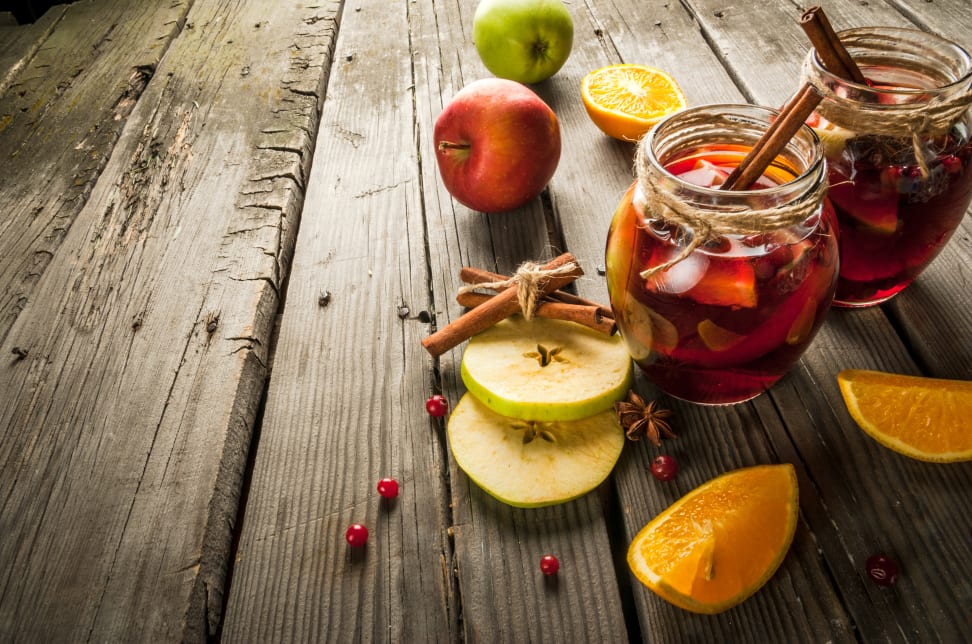 Credit: Getty Images / Rimma_Bondarenko
It's wintertime, the time for holiday parties and delicious family dinners. Everyone will be shopping for the right ciders and wines, but no one thinks much about winter sangria. In fact, sangria doesn't always get the respect it deserves. Sure, some wine enthusiasts may see sangria as a waste of good, pure vino, but that doesn't mean you shouldn't see it as a worthwhile drink.
Sangria is often thought of as an exclusively summer beverage, and for good reason—it's refreshing and light, and there's something inherently playful about its blend of wine and hand-picked fruit. However, it may surprise you to know that sangria, because of its blended nature, offers loads of potential for cold-weather flavoring.
With the right recipe, Sangria can be a warming, classy drink and I've found one of the most delicious winter sangria recipes out there.
First, a little history: According to Food and Wine, the word sangria stems from "blood" in Latin (sanguinem) and the beverage likely finds its origins in the Middle Ages, a time when drinking alcohol (in this case, red wine) was safer than drinking water. Thank you, modern-day sanitation systems!
Sangria is beloved in many countries (namely Spain, Portugal, Mexico, Cuba, and the Dominican Republic, among others) but it originates in Spain, where it literally means "fruit and wine." Its even got its own type of glass.
After it was served up at the 1964 World's Fair in America by the Spanish, the fruity drink caught on—and stuck. Today, everyone has their own take on Sangria. Much like a Bloody Mary, which can't be boiled down to the same ingredients by any one mixologist, the basic components of sangria are wine and fruit or sangria mix, which make it easy to dress up, dress down or seasonally reinvent.
First, you'll want to pick up some of your favorite red wine. This is where you can get pretty playful. For the most part, any wine will do, but you probably don't want to invest in a very expensive older wine or a wine high in tannins. Tannins, if you're not sure, make red wine taste extremely dry and astringent, which can be a bit difficult to swallow if you're trying to enjoy an easy sangria. Just ask your local shop for a good fruity red. Hint: go for a simple Grenache or Tempranillo.
The recipe calls for the below ingredients — many of which you probably have in your cupboard right now.
1 bottle of Dry Red Wine
1 Orange, thinly sliced
1 Lemon, thinly sliced
1 Red Anjou Pear, diced
2 oz Orange Liqueur

2 oz Spiced Rum
6 oz Mulling Spice Syrup
1 cup Apple Cider
As the recipe states, you can make your own mulled spice syrup by blending brown sugar with water, cinnamon sticks, allspice berries, cloves, and nutmeg. Later on, you'll combine the mulled spices with red wine and a garnish of delicious fresh pear slices.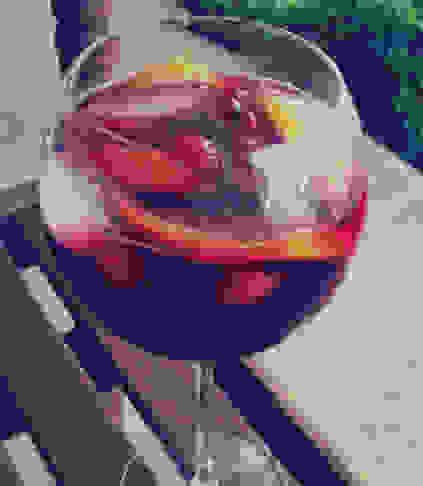 What makes this gorgeous holiday sangria so stand-out is its clever mix of autumn-inspired mulled wine and fruity sangria. It blends two popular drinks into one, with a focus on those tasty winter spices.
The coolest part of this recipe? You're able to warm it up or serve it chilled. Cheers!
---
Related Video