Home & Garden
Sephora's brand new 'mini store' will change the way you shop for makeup
Prepare to be blown away
Sephora just debuted its boutique Studio concept in Boston, MA with plans to open more in 2018. What sets a Sephora Studio apart from the other stores? It's the smallest Sephora in the nation—but it packs brand new technology, cutting-edge tools and features, and tailored one-on-one experiences with highly-trained beauty experts.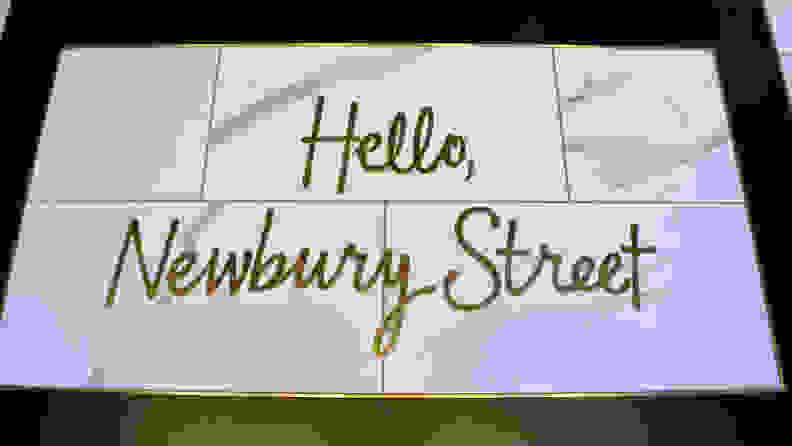 Boston's Newbury Street is notorious for its high-end stores, specialty boutiques, and curated shopping experiences, so it's no surprise that Sephora introduced the Studio concept here. Naturally, I had to pop in for a closer look at North America's only Sephora Studio, a true treat for any beauty junkie. Here's what sets it apart from the rest.
How big is the Studio?
Sephora Studio is the brand's first freestanding, smallest footprint store. It's less than half the size of a typical Sephora at a mere 2,000 square-feet, and has just 24 top-trained employees (or "cast members" in Sephora-speak). It boasts eight Beauty Studio seats and four sinks for makeovers and facials and general makeup playtime.
The smaller size gives it a more boutique feel, but can also get pretty tight as crowds move through the one-of-a-kind space. With just two dozen employees, it can be difficult to grab someone's attention for that personalized experience on bustling weekends.
How is the Studio different?
Brand reps swear that the intimate design fosters a highly individualized experience. For starters, each cast member has the highest level of certification employees can earn, meaning one employee can greet you, guide you through color matching, assist you with a facial, teach you to complete a smokey eye, and cash you out. It's also the most digitally enhanced store to-date.
As a consumer, this streamlined approach makes for a much better shopping experience. You'll never be shuffled from one employee to another as you search for the right products, and you will literally never have to wait in a cashier line. I didn't realize how that I was missing these conveniences, but now that I've experienced them, it's hard to go back.
What's so special about this new technology?
Cast Device—Each cast member is armed with an iPhone 7 Plus filled with the below customized apps.
Sephora Virtual Artist—This one's my favorite. It allows shoppers to try on virtually (heh) any product, from lipstick to false lashes, using 3D imaging.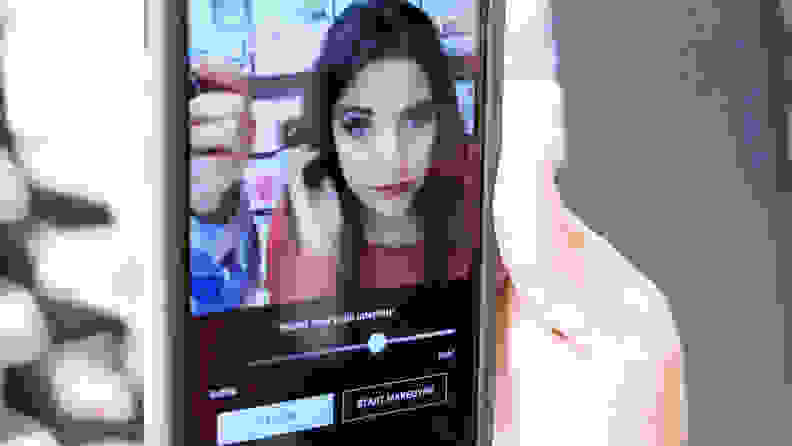 Digital Makeover Guide—Sephora's first interactive face chart that records services received, products used and recommended, and application tips.
Digital Client Check-In—Allows cast members to check clients in for services and classes.
Digital Skincare Guide—Sends clients a personalized skincare regime after a skincare consultation or mini facial.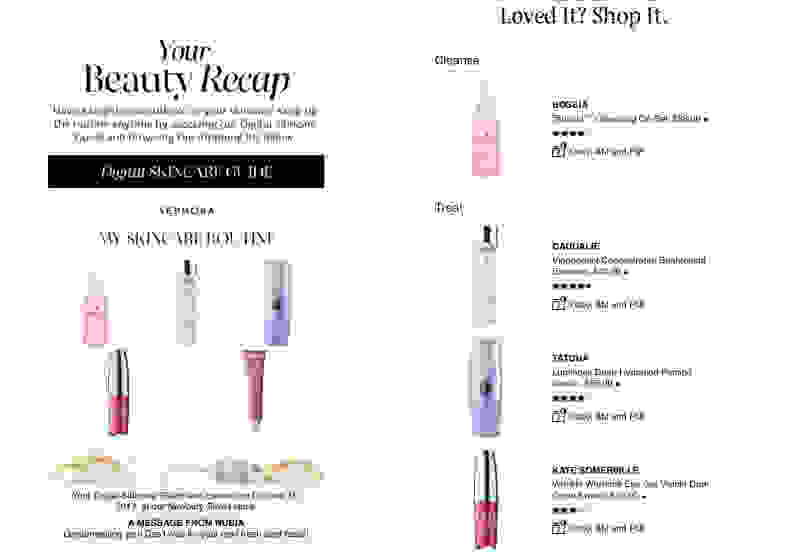 Mobilized Checkout—Using a cast device, any cast member can complete a transaction. I found this to be an efficient use of space in the small store as it eliminates bottlenecks at a register. That also means you won't impulse-buy the enticing minis they cleverly stock in the cashier line.
Cool, but what beauty services are offered exclusively in the Studio?
The Custom Makeover Plus is a 75-minute makeover that offers a standard makeover as well as the choice of skincare consultation or mini facial. It's free with a $100 purchase, which as any Sephora shopper knows, is quite easy to do.
However, keep in mind that a 1-hour custom makeover only runs you $50 in product, and 15-minute mini facials and skincare consultations are free. If you manually separate the package, I'm not sure the jump in price is worth the service.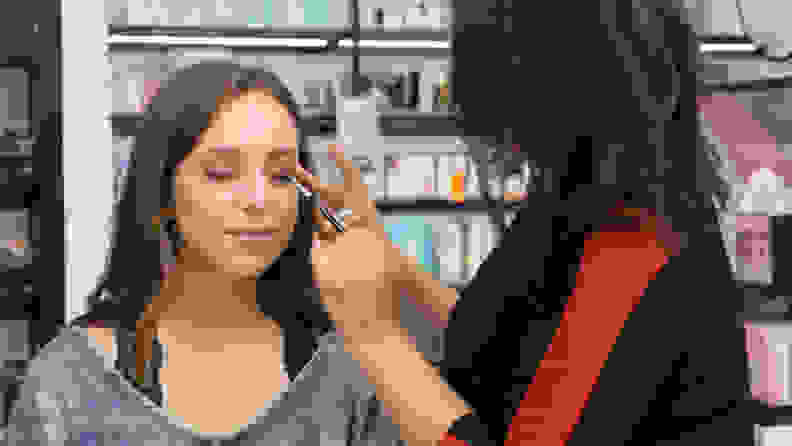 The Fresh Start Facial is a 2-step facial that utilizes Perk technology created by the doctors who invented the Hydrafacial. First, a suction tool exfoliates and removes impurities, and then a rollerball tool with antioxidants nourishes and really hydrates—my Moisture Meter Reading jumped 40 points after the treatment! It's free with a $75 purchase (a.k.a. one or two skincare products).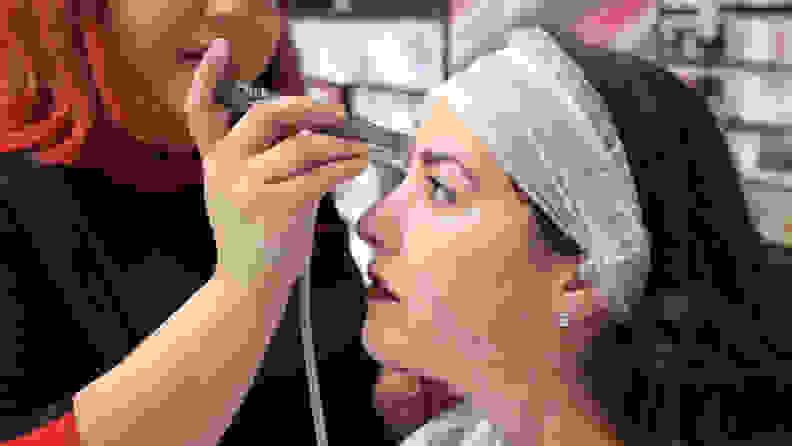 The service is recommended once per month, which would likely become too pricey for most, but it's definitely a treat if you're already planning on buying $75 worth of skincare or cosmetics product.
Other complimentary favorites are also available, including Pantone Color IQ for scientifically precise color matching, Moisture Meter to assesses skin type and a custom regime, and one-on-one services like mini facials and custom makeovers.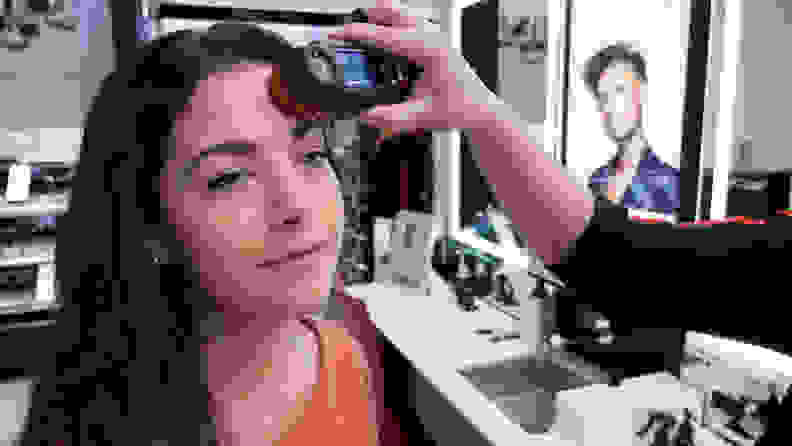 What if the very-small Studio doesn't have my product in stock?

The Studio carries a more curated selection than bigger stores, and 60% of inventory is dedicated to cosmetics. To compensate, The Studio allows you to order in store and also offers in-store pickup in partnership with the Sephora at the Prudential Center a half-mile away. An excuse to go to a second Sephora in one day? Touché, Studio.
What's the most popular product in the Studio?
According to Mary Beth Laughton, Sephora's Executive Vice President of U.S. Omni Retail, complexion and foundation are hot at the Studio. Trending brands are Sephora Collection, Fenty Beauty and Huda Beauty.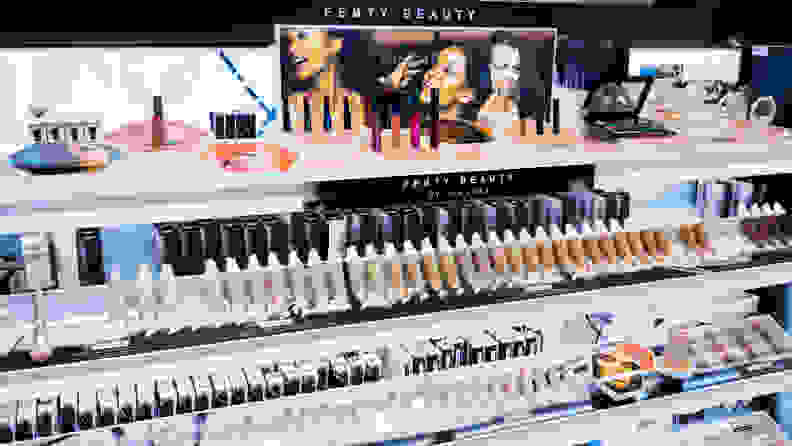 Always-satisfying face masks are also popular at the Studio, says Laughton. Top picks include Tatcha (my personal favorite), Glamglow and Drunk Elephant.
I don't live in Boston, where else can I go to a Studio?
NOWHERE...yet. Studios are slated to open in Hoboken, N.J., Brooklyn, N.Y., and Washington, D.C. in 2018. Until then, you'll have to join us in Beantown if you want a custom makeover plus, a Perk facial, or see these impressive Cast Devices in action.

Related Video: Giraffe Halloween Makeup