Home & Garden
10 geek-chic items every grown-up nerd should rock in their wardrobe
It's time to level up your look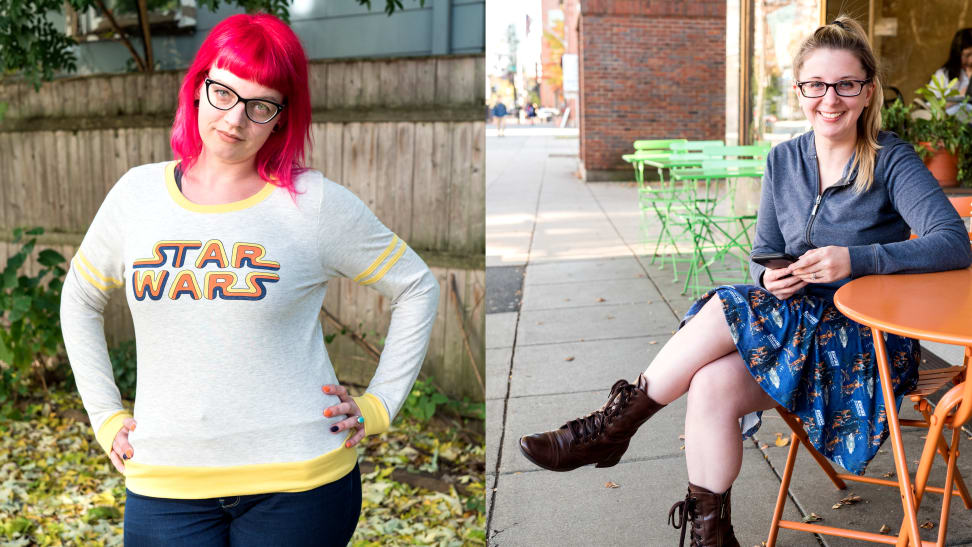 Credit: Reviewed.com / Jackson Ruckar
Geeks have it tough in the corporate world. Unless you work in Silicon Valley, you usually can't roll into your office wearing beat-up chucks and a vintage Dune shirt.
But while many businesses allow casual wear these days, sometimes it's a little plain. So what do you do with all that pent-up passion for your favorite geeky subject? You find fashion companies that expertly blend work and play, that's what.
Fortunately, there are some styles out there that will satisfy nerdy office-goers without coming off as overtly geeky. If you're hunting for something that'll play at work—while still expressing your individuality—these geeky clothes and accessories might just be the droids you're looking for.
1. Represent your fandom with these Star Wars-themed work clothes
Run by Ashley Eckstein, the voice of Ahsoka Tano in Clone Wars and Star Wars Rebels, Her Universe is a fashion company that designs sophisticated-looking clothes for fan girls. The actress recently paired up with ThinkGeek, an online retailer that specializes in geeky gifts like the Death Star waffle maker and Tetris LED desk lamp, to release her new line of Star Wars-themed work clothes for women. The collection includes Vader leggings, an R2-D2 dress, a Rebel Alliance infinity scarf, and much more.
These business casual clothes are the perfect blend of work and play, as the subtle design really sees to that. Take the black and white blazer, for example. From a distance, it looks like a stylish article of clothing, perfect for meetings or interviews. If you roll up the sleeves, however, the inner lining shows recognizable Star Wars symbols like the Empire's insignia. What can I say? A dash of nerdiness really goes a long way.
2. These cufflinks would impress the Queen of Thorns
Inspired by the Hand of the Queen clip from Game of Thrones, these classy cufflinks are the perfect accessory for die-hard fans of the series. It's a piece that represents the second most powerful figure in the Seven Kingdoms. That's quite the title. If anything, they're a great conversation starter. Plus, as the above picture shows, they look phenomenal against a dark suit and crimson tie.
3. This colorful dress is chemistry-chic
Shenova Fashion is a company that produces STEM-inspired dresses and accessories, and it's a personal favorite of mine. In other words, Shenova makes science look good (damn good). The clothes are pretty expensive, but they fit well and don't crumple. They're also really unique. I mean, where else are you going to get a dress with the periodic table on it?
4. Channel your inner Princess of Power with this elegant ring
I've never seen a single episode of She-Ra, the popular 80's cartoon, but I know she's a strong-willed warrior princess and that's something I can get behind. The ring, which comes in silver or gold brass, resembles her epic headdress. The entire thing is carved by hand, too. It may be a throwback to an old cartoon, but in this day and age, female empowerment is more relevant than ever.
5. This solar orbit necklace is a nice (but subtle) addition to any outfit
If you're a science teacher or budding astronomer, you're going to love this necklace from ThinkGeek. It not only features the sun and all the planets (even Pluto!), but also the moon and the asteroid belt between Mars and Jupiter. This piece of jewelry is really colorful, so it will probably pair well with any outfit. It also comes in sterling silver, too.
6. Light up the night with this LED constellation scarf
Shenova Fashion strikes again! Seriously, I can't get enough of this company.
If you like wearable tech, you're going to love this 72-inch fleece scarf. Not only does it look super cozy, it lights up too! The string of LED lights inside the scarf give it a starry night effect, which is great when you're out on the town. You can even remove the lights via a zipper when it's time to throw it in the wash. If you're not a fan of the constellation print, the scarf comes in white as well.
7. Get cozy with these JavaScript leggings
These polyester/spandex leggings might be a little too casual for most business environments, but they're cute as hell. You might be able to dress them up a little with a skirt and blouse, but why ruin an already perfect thing? If anything, they're great for those rainy work-from-home days.
8. Show off your love of 8-bit characters with this cute handbag
If you're a fan of retro games, you'll love this satchel-style handbag from ThinkGeek. Not only does it look like a designer purse without the designer price tag, it's roomy enough for the essentials too. Colorful and quirky, the bag is also available in black or white.
9. This Death Trooper bag makes the dark side look good
What can I say? Black never goes out of style, which is why this Death Trooper bag from ThinkGeek is a true classic. It's big enough for your tablet and fashionable enough for the workplace. The neon green accents are a nice touch, too.
10. These Darth Vader flats have just the right amount of sparkle
These adorable flats would look fabulous with ankle-length dress pants. They'd also match most outfits. However, according to user reviews, these shoes run a little small, so you might want to order the next size up. Oh, and did I mention the heels are sparkly?
Related Video