Home & Garden
10 popular neon signs to brighten up your space with
They're bound to make a statement.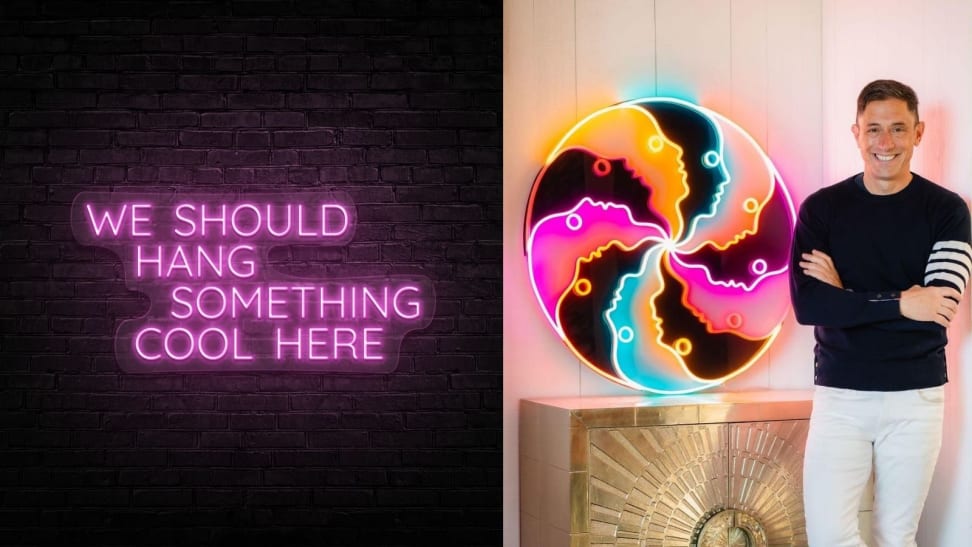 Credit: Neon Mama / Yellowpop
If you've been on Instagram lately—or if you've ventured out to a trendy cafe, restaurant, or bar—there's a very good chance you've come in contact with more than a few head-turning neon signs. You know, the ones with fancy cursive and a witty saying, like "you're like really pretty." Heck, they're even becoming a reception staple at 2021 weddings.
If you're looking for an instant way to create eye-catching allure to your space (or event), a neon sign will certainly do the trick. Of course, you'll want to make sure you buy one that's built with care and will glow for years to come. To help you out, we've rounded up 10 popular neon signs.
1. A 'This Must Be The Place' neon sign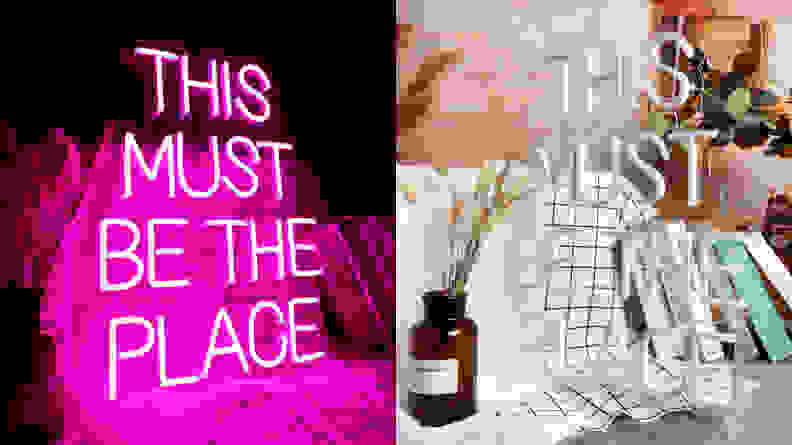 Neon signs with the phrase "This Must Be The Place" are all over Instagram and trendy restaurants, and this sign is perfect for any space in your home you enjoy spending most of your time. It's sold in five sizes and 12 colors, and Etsy reviewers remark how fast the sign arrived. But if you'd prefer to create your own witty sign, the seller offers custom signs, too.
Get the Neon Artisans 'This Must be The Place' Neon Sign from Etsy for $180
2. A trippy round neon sign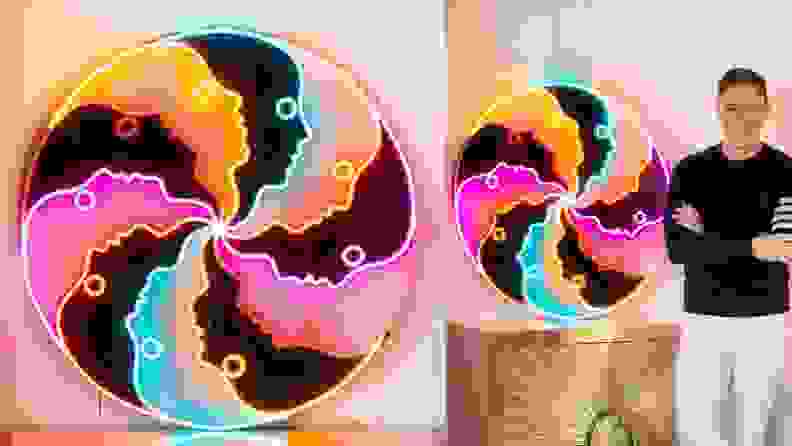 Interior designer Jonathan Adler is renowned for his mid-century modern- and pop culture-inspired design pieces, not to mention hefty price tags to match. Thanks to Yellowpop, though, now fans of the designer can snag elements of his signature style for a bit less with this neon sign collaboration. The collection includes eight signs ranging from $290 to $1,490. This large round neon, in particular, is sure to be a conversation starter. It's an additional $10 for mounting strips and $29 for a convenient remote control dimmer.
Get the Atlas Round, LED Neon Sign by Jonathan Adler from Yellowpop for $1,490
3. A colorful 'Happy' neon sign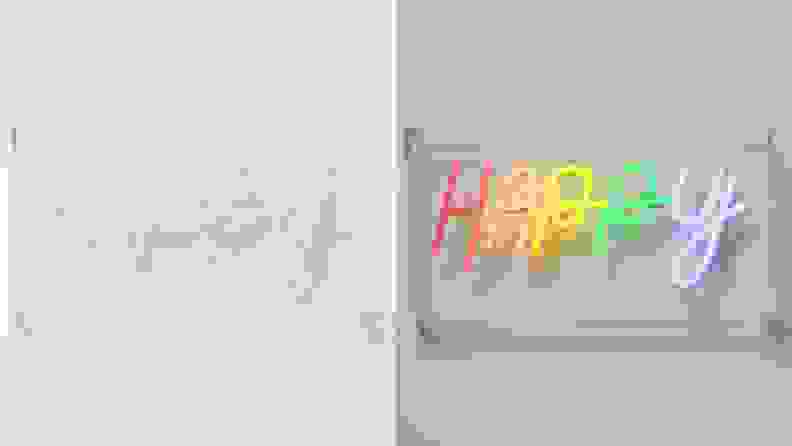 Not all neon signs need to be extremely expensive. Case in point? This compact neon from Dormify. Perfect for Pride or anytime you need a colorful optimistic reminder, this "Happy" sign will come in handy. It comes with a USB cable and measures just under one foot long. Since it's mounted on acrylic, it can be hung on a wall or placed on a shelf.
Get the Happy Neon Sign from Dormify for $59
4. A trendy Sarah Bahbah-designed neon sign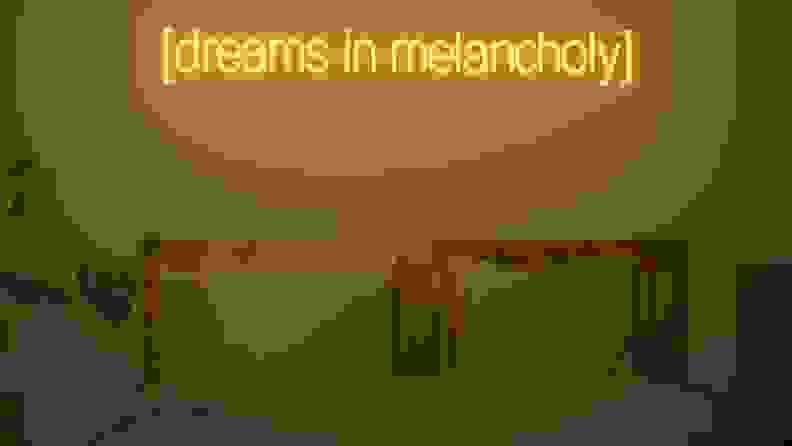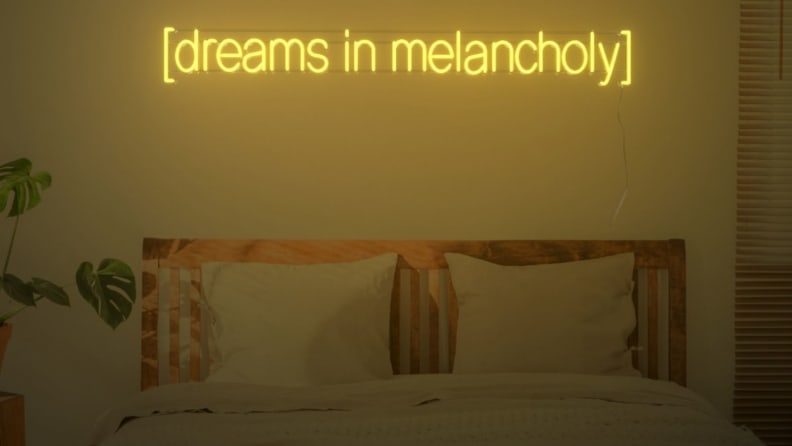 Sarah Bahbah is an artist and director living in Los Angeles and is known best for her photographs with unique captions overlaid onto them. Most recently, her "Fool Me Twice" series featuring Noah Centineo and Alisha Boe has earned endless praise and the likes on Instagram to match. You can bring her signature melancholy vibe to your home with her Yellowpop collaboration.
Get the Dreams in Melancholy LED Neon Sign by Sarah Bahbah from Yellowpop for $590
5. A reminder to treat yourself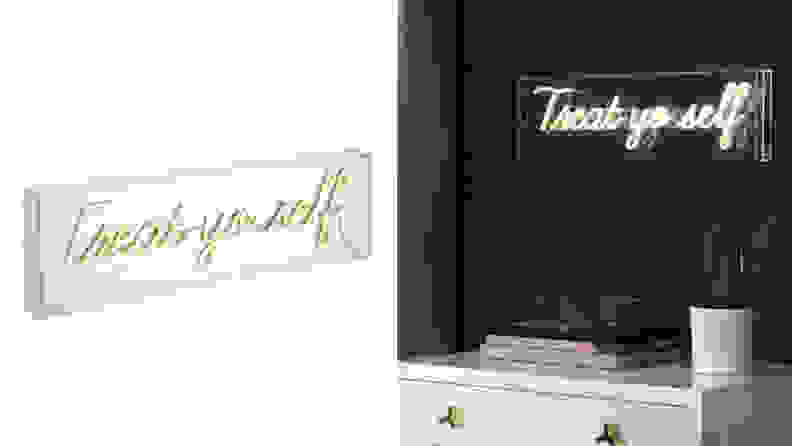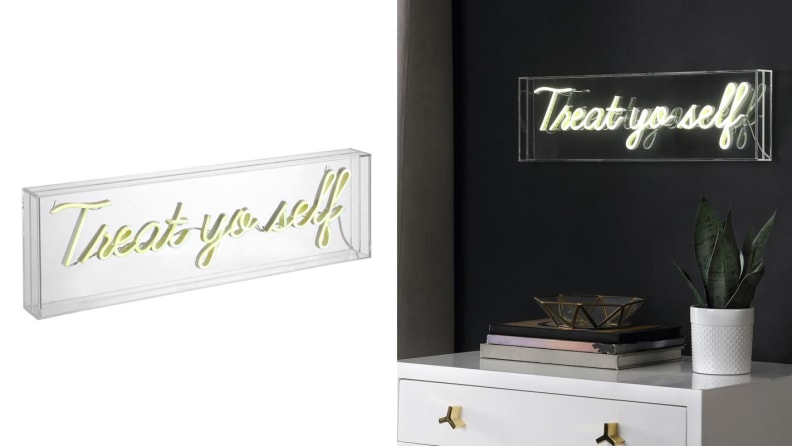 Fans of Parks and Rec will absolutely adore this neon sign that reminiscent of "treat yoself 2011." At 20 inches long, it's the perfect size for a dorm room and can either be hung or placed on a bookshelf. It's powered through a USB cable, meaning you'll have to plug it into one of the spare power blocks you have lying around.
Get the Jonathan Y Treat Yo Self 20" Glam Acrylic Neon Light from HSN for $95
6. A neon sign that's for the girls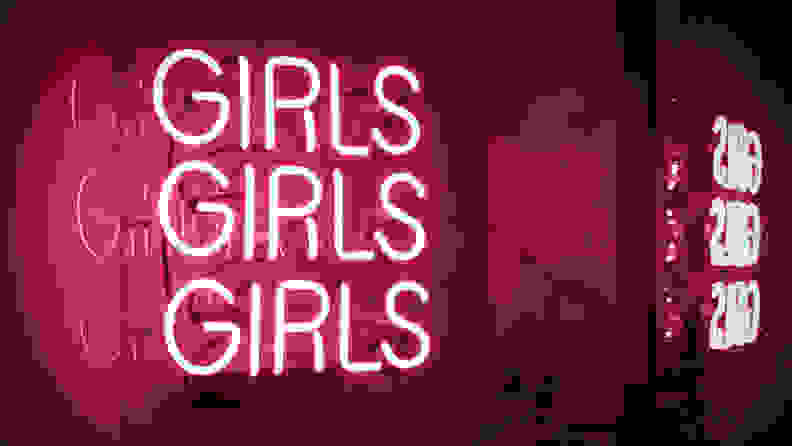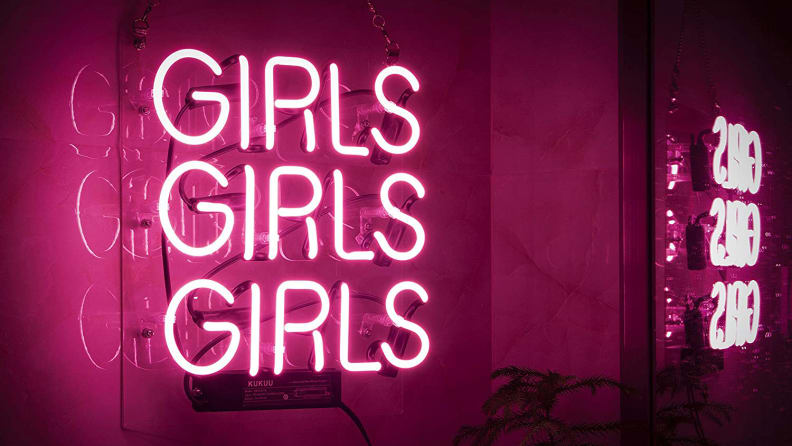 At 12 inches by 10 inches, this "Girls Girls Girls" sign is perfect for the girls. The glass tubes of this bright pink neon sign are filled with real neon and offer up to 100,000 hours of use. While on the smaller side, reviewers appreciate the quality and how easy it was to mount.
Get the Kukuu Girls Girls Girls Neon Sign from Amazon for $65
7. A welcoming neon sign
California-based hand-lettering artist Caren Kreger has partnered with Yellowpop to create some pretty unique neon signs. The colorful allure paired with the retro font stands out from traditional signs, and while pricier, it's completely worth it for the quality. You also have the option to purchase the sign in monthly payments to make things easier on the wallet.
Get the Come As You Are by Caren Kreger LED Neon Sign from Yellowpop for $1,290
8. A 'Normal Gets You Nowhere' neon sign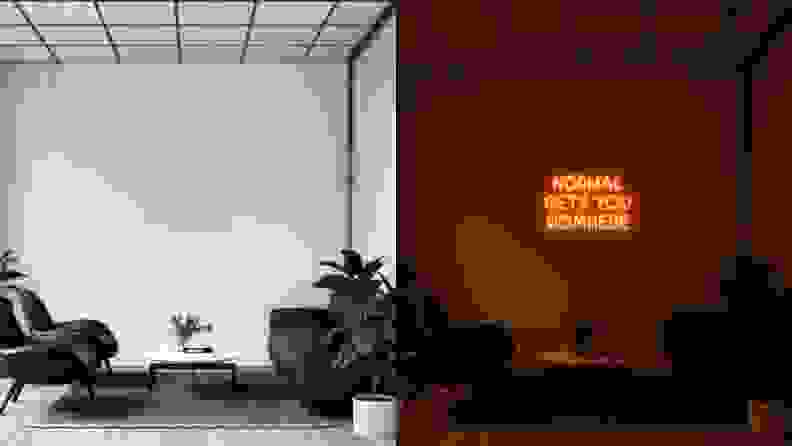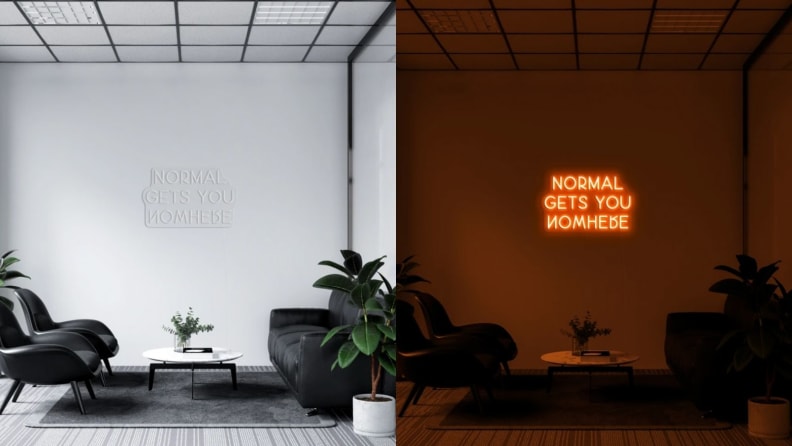 Neon signs with quotes are incredibly popular right now. This one that says "normal gets you nowhere" is a great motto, and with inverted letters, it will offer extra intrigue to any space you hang it in. You can choose between eight colors, seven sizes, three color types, and indoor/outdoor usage options. Reviewers love the quality and say the customer service was extremely responsive to any questions.
Get the Normal Gets You Nowhere LED Neon Sign from Neon Beach for $274
9. An ironic neon sign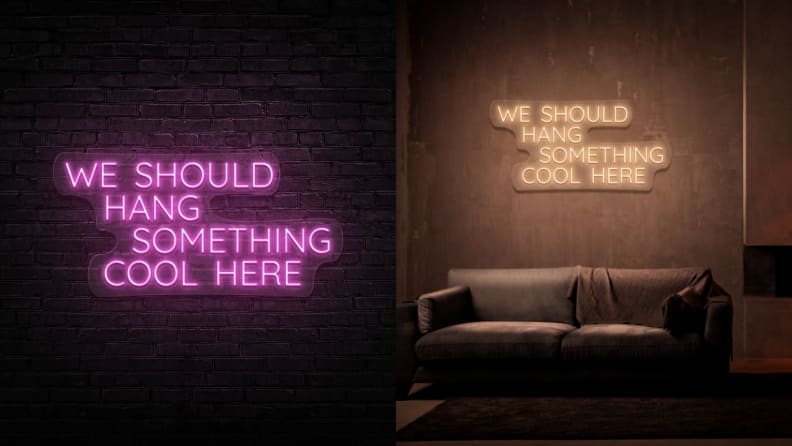 Looking to be a little more meta? Rather than opting for a quote or a work of art, consider this ironic "We Should Hang Something Cool Here" neon sign. My friends have this in their apartment and it always makes for great conversation and photo ops. It's sold in five sizes, eight colors, and outdoor/indoor usage options, as well as the option to change colors with a remote. Plus, if you need it by a specific date, you can even place a rush order for it.
Get the We Should Hang Something Cool Here Neon Sign from Neon Mama for $330
10. A custom neon sign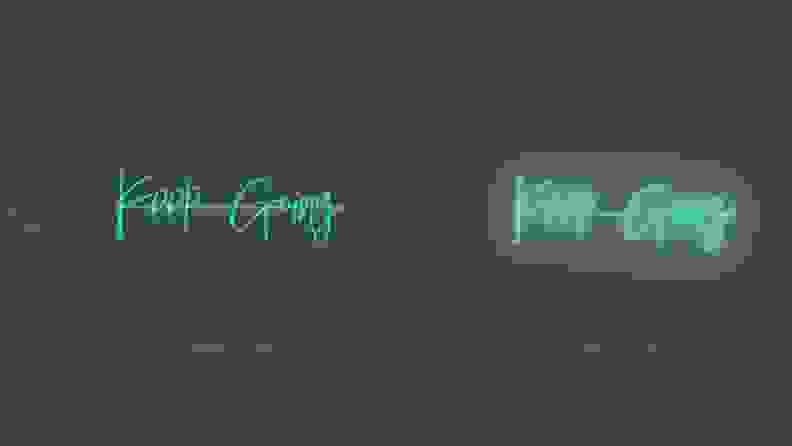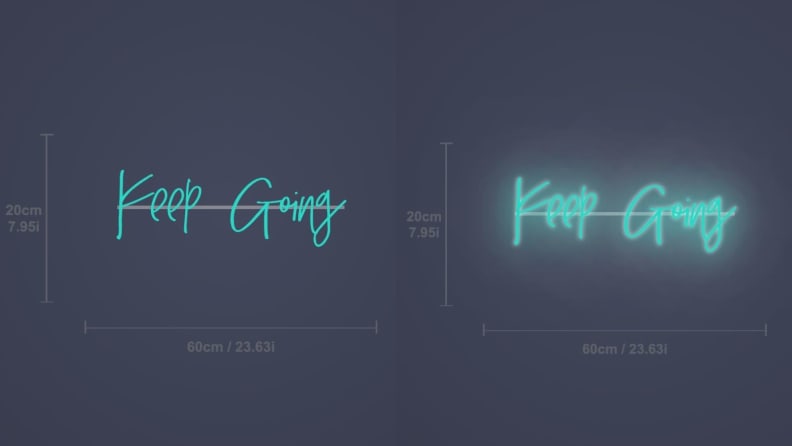 Yellowpop has some incredible collaborations, but the brand also allows shoppers to create their own designs through its customization lab. With 23 fonts, 13 colors, two types of neon, four sizes, four support styles, and indoor/outdoor usage options, the combinations are endless. Stick-on mounting and a remote control can also be added for an additional charge. Plus, while designing your creation, you can see how it looks in the light and dark, so you'll have a good idea of what you're getting.
Get the Custom LED Neon Sign from Yellowpop starting at $235
The product experts at Reviewed have all your shopping needs covered. Follow Reviewed on Facebook, Twitter, and Instagram for the latest deals, product reviews, and more.
Prices were accurate at the time this article was published but may change over time.