Home & Garden
12 apps that will transform your mind, body, and spirit
You're on your phone all day anyway—use it for something really meaningful!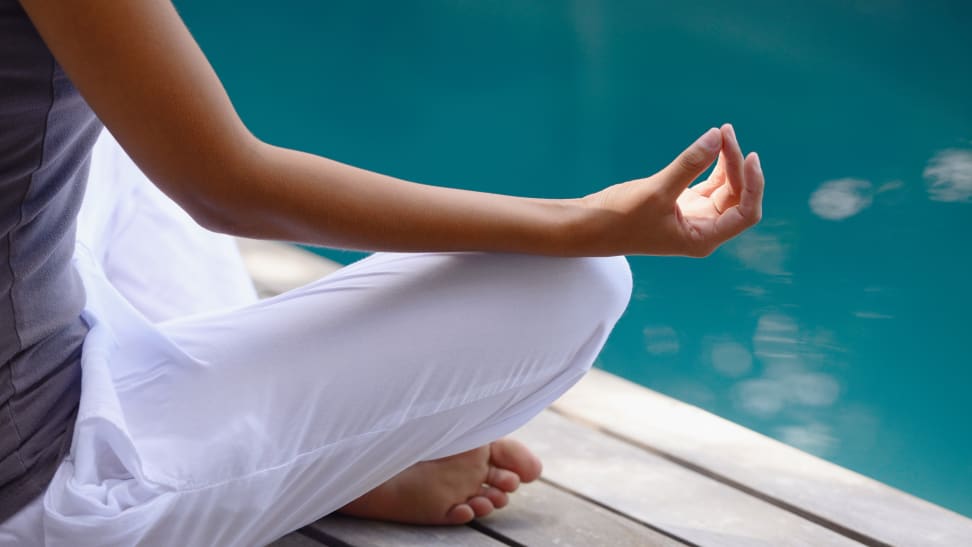 Credit: PeopleImages / Getty Images
We all know we're supposed to brush our teeth twice a day, get a moderate amount of exercise every week, eat healthy, drink water, get enough sleep, etc., etc., etc. But if you're anything like me, and I'm willing to bet you are, you are far from perfect. And it's not your fault, dear reader. Life is busy, and it's short, and we often don't have time (or, truthfully, don't make enough time) for our personal wellbeing.
But since I already know you're like me, I also know you want to be better about taking care of yourself. You do try, and sometimes you do great, but maybe you could use some extra help developing healthier habits. Not surprisingly, there's an app for that. All of it.
I asked around the office to find out what my coworkers are using to improve their daily lives and got some great ideas I think you'll like too. This is by no means an extensive list, so comment and let us know what your favorites are!
1. Recenter yourself with Headspace
Making time for meditation is a great way to fight or prevent stress, and with Headspace, your sessions stay on track. This is the perfect app for guided meditations that'll make you feel tranquil, calm, and worry-free whether you have 10 minutes or an hour to spare for yourself.
Stay calm and collected with Headspace for free on iOS or Android
2. Ease your worries with 10% Happier
Like Headspace, 10% Happier is all about your mental health. This app is a bit less new-agey, touted as a meditation app for skeptics. Don't believe me? Give it a try and find out if meditation is for you. You might be surprised.
Improve your mood with 10% Happier for free on iOS
3. Create your own zen soundtrack with Bloom
Bloom is a one-of-a-kind interactive music app co-developed by ambient music pioneer Brian Eno. Essentially, it allows users to create patterns of music by tapping the screen. The tones you create appear visually as a colorful circles that quickly fade like ripples in a lake. Over time, the motifs you create repeat and evolve, turning your iPhone or iPad into an infinite ambient music machine.
Focus up with Bloom for $5.13 on iOS (the Android app is stillin development)
4. Sleep better with White Noise
Most people are not getting enough sleep, but if we were, we'd be healthier and happier. Getting into a healthy sleeping habit is tough, and when you're first starting out, white noise can lull you into a sleepy state and keep you there. It's also great if you travel a lot and have trouble sleeping in unfamiliar spaces.
Stay well-rested with White Noise for free on iOS or Android
5. Gamify your to-do list with Habitica
Decluttering your life is a great way to ease stress and tension, and give you more control over your day-to-day. Habitica takes to-do lists and turns them into games to encourage you to do what needs doing without it feeling like a chore (or at least less chore-like).
Get organized with Habitica for free on iOS or Android
6. Finally get into running with C25K
I used to HATE running with every fiber of my being. I had no stamina, no drive, and certainly never believed in the runner's high. But the couch-to-5K running program, now an app too, makes it easy to develop those skills by gradually increasing the run requirements each week. It's a great introduction to learning to love the run. And once you master the 5K, there are apps for 10K, full marathons, and other physical challenges.
Get the C25K 5K Trainer for free on iOS or Android
7. Move faster with Zombies, Run!
If you prefer a fear-based approach to running motivation, Zombies, Run! can help. Run for your life from brain eaters and you'll be ready to survive the zombie apocalypse. Remember, you don't have to be fastest to survive. You just need to be able to keep going longer than at least one other person.
Avoid being eaten by zombies for free on iOS or Android
8. Challenge yourself to do better more often with Streaks
Stick to all of your healthy habits with the help of an app. Streaks turns daily tasks like meditation, exercising, and even reading in challenges. See how long you can keep a streak going, and then try to outdo your personal best.
Get the Streaks app for $5 on iOS or free on Android
9. Take control of your eating habits with MyFitnessPal
MFP is one of the most popular dieting apps on the market. It's free (and there's a paid version), it's easy to set your own goals and find and log what you eat, and there's a fantastic community element that makes it easy and enjoyable to stay on track.
Get MyFitnessPal free on iOS or Android
10. Jump on the intermittent fasting bandwagon with Zero
If you're an intermittent faster, or you'd like to try, Zero can help. It's a simple app that can help you keep track of your fasts, whether you want to follow a pre-made plan or customize one for your needs. Plus, you don't have to think about whether it's time to eat again or not. The app will remind you!
Get Zero for free on iOS
11. Stay hydrated with Plant Nanny
Good hydration habits can dramatically improve your quality of life from better sleep and skin to weight loss and elevated energy levels. Remembering to drink enough is not as easy as it sounds, but this app encourages you to be more accountable. Every time you drink, you go into the app and water your plant to help it grow. They're so cute you won't want to let them die, and you'll find yourself chugging H2O simply to grow your 'garden.'
Start your own hydration garden for free on iOS or Android
12. Enjoy hassle-free food delivery from Foodler
If you live anywhere that has a food delivery service like Foodler, GrubHub, or Eat24, get the app. Sometimes, whether you've had a long stressful day at work or you want to treat yo'self, delivery is exactly what the doctor ordered.
Check out Foodler for free on iOS or Android
Now you'll just have to decide which apps to delete to make room for the new ones!