Pros
Gorgeous sound

Stylish, retro design

Plug-and-play TV setup
Cons
No EQ

No WiFi

Very rudimentary app
Powered bookshelf speakers are nothing new. They've been the low-key way for audiophile types to dodge awful TV sound and connect audio components for years. Bypassing the need for receivers and simplifying connection, speakers like the SVS' Prime and KEF's incredible LS50 and LSX are meaty soundbar alternatives, and because they're so easily positioned, they're much more flexible for a variety of setups. But until now, none of them let you use one remote (your TV's) to seize your sonic destiny.
Interestingly, while The Fives are the first we've encountered that add HDMI ARC, they lack a major feature of most contemporaries: Wi-Fi connection. That's an odd omission for 2020, and it leads to some quirks for The Fives when it comes to both operation and calibration. Luckily, the flaws aren't fatal as the speakers make up for them with tons of other connection options—not to mention some of the best sound we've heard at their price.
About Klipsch's The Fives powered speakers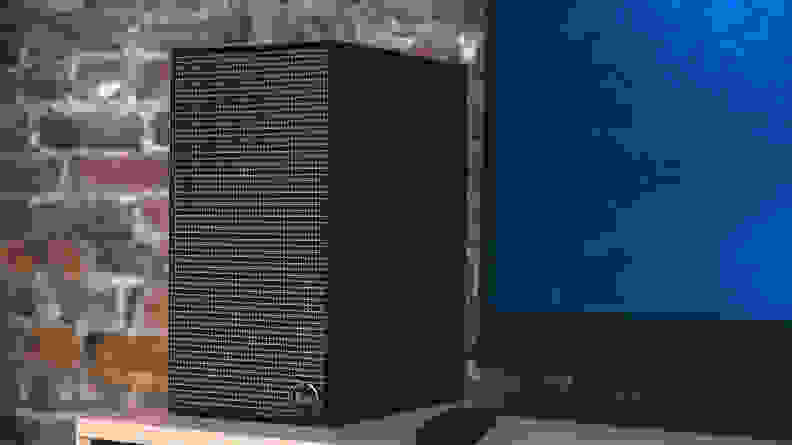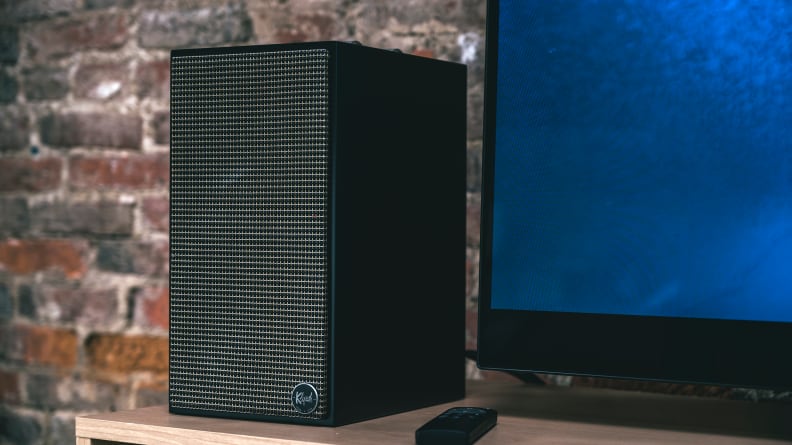 Here are The Fives' basic specs:
Height x Width x Depth: 12 inches x 6.5 inches x 9.25 inches
Weight: 11.8 pounds for master speaker, 10.7 pounds for secondary
Colors/finish: Matte Black and Walnut veneer
Speakers/drivers: 4.5-inch fiber-composite woofer, 1-inch Titanium tweeter with Tractrix horn (per speaker)
Power: 60 watts per woofer, 20 watts per tweeter internal amplification
Frequency response: 50-25,000 Hz
Wireless connection/codecs: Bluetooth 5.0, aptX, aptX HD, AAC, SBC
Wired connection: HDMI ARC, USB, digital optical, RCA (phono/line level), 3.5mm, subwoofer output
Other features: Dynamic Bass digital compression
Apart from Wi-Fi connection, The Fives offer just about every way possible to connect audio sources, from Bluetooth streaming to a built-in phono pre-amp complete with turntable grounding post. Like any good pair of powered bookshelves, The Fives also feature a subwoofer output for creating a 2.1-channel setup.
The speakers ship with all the accessories you'll need, including a four-pin cable to connect them in stereo, a power cable for the master speaker (which also bears the rotary-style volume and source control knobs), USB and digital optical cables, a small remote and batteries, and an HDMI cable to connect to your TV's HDMI ARC port. For most setups, this will allow you to control volume and power with your TV remote.
The Fives are also quite well built, encased in sturdy MDF cabinets with wood veneer in either matte black or walnut. The included magnetic grills snap on for a pleasantly vintage way to cover the speakers' two-way driver configuration. Overall, it's a premium package that rewards your not-insignificant investment right out of the box.
What we like
Stylish, retro design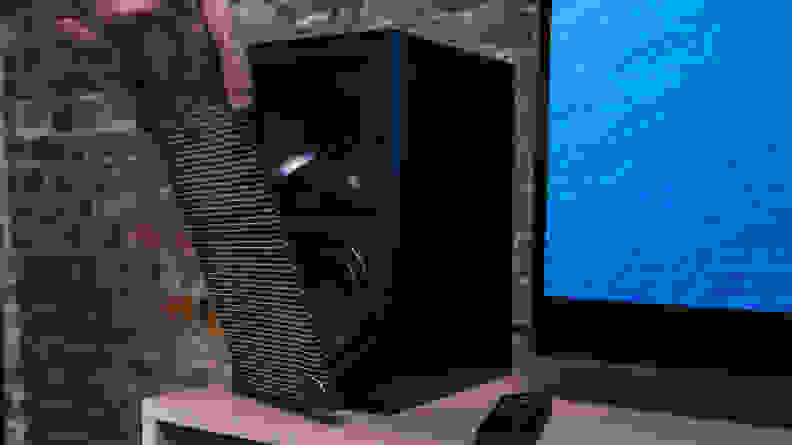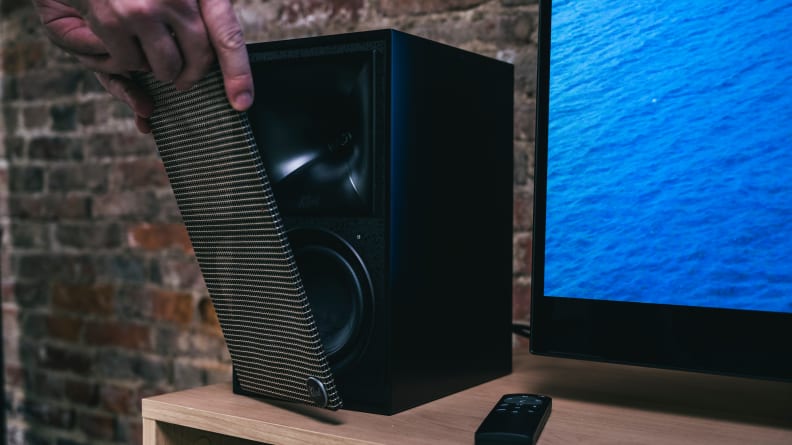 On their own, The Fives look similar to most any standard bookshelf speakers. If you want to turn heads, though, slapping on their woven magnetic grills transforms them into party speakers straight out of the glam-rock era. Atop the right speaker, metallic dials for volume and source control (which also serves as the defacto power knob) add to the aesthetic.
I do wish there was a dedicated power switch on top—while the speakers will power up on their own when your TV is turned on, if you want to fire up other sources without using the dedicated remote, you'll likely need to spin the dial and deal with some delay as the system boots up. One other warning: the black finish is a grease magnet, so you may want to go with the walnut veneer.
Lush, natural—sometimes magical—sound
Perhaps the simplest word to describe The Fives' sound is "lovely." Their sound signature is rich, smooth, and organic, especially when it comes to reproducing acoustic instruments; pianos bloom with glorious resonance, acoustic guitars pop with equal parts woody goodness and lively sparkle, and voices—from crooning to monologues—are drawn with care and precision, as if you're diving into the vocal cords for a closer look a la Fantastic Voyage.
The speakers do well with any instrument, really, from the tactile thump of a bongo to the taut crunch of distorted guitars. Treble effects like bells and triangles are particularly clear and sweet.
The overall experience with The Fives is one of reverie.
It's no surprise that I loved The Fives best for music. Thanks in part to codecs like aptX and aptX HD (which iPhones unfortunately don't support), streaming audio is well represented even over Bluetooth. There are dozens of fine examples to relate, from the gorgeous, dusty-laser tone of the keyboard solo on Snarky Puppy's Go to Ricky Nelson's haunting guitar and vocals in Lonesome Town. Really, just about everything I played stepped up and stood out.
The Fives also do a great job with TV content, of course, from sitcoms to action films. While their curvy bass ports help them get big and bold—with more bass than I've heard from a pair this size—it's the subtler moments where they shine brightest. In fact, they even seemed to step above the ultra-transparent sound of my go-to KEF LSX speakers on occasion when it comes to detail.
I found myself snapped out of my general malaise during comfort-food shows, focusing on the delicate presentation, from the striking piano at the end of a Bob's Burger's episode to the richly drawn dialogue of Jim Halpert as he does his best Stanley impression on The Office. Switching to an assault on a Scars hideout in The Last of Us 2, my ears were flooded with the rushing waters outside the building, and captivated by the metallic clicks and clacks of my rifle as I upgraded it at a workbench.
A ride-along with Batman and co. in The Dark Knight was a great action showcase for The Fives, though it was also here that I wished for a little more control over the sound.
The speakers did swimmingly in creating a wide stereo image, with helicopters swooping across here and bombastic effects spread liberally throughout the soundstage there. However, while bass was impressive, a couple of times it seemed to be either too heavy or too compressed by internal DSP, expounding or dulling some of the impact moments. It was a subtle thing that barely detracted from the experience, but it made me wish I could adjust the compression and EQ—and not for the last time.
Elsewhere, I also noted that the speakers sounded just a tad shouty in the dialogue on a few titles, with the tweeters seeming to bring almost too much presence, but it seemed to only stand out with lesser recordings. The overall experience with The Fives across media and genres is one of reverie. They're brilliantly tuned, offering a delicate but lyrical touch up top and plenty of warmth and power down below.
Plug-and-play setup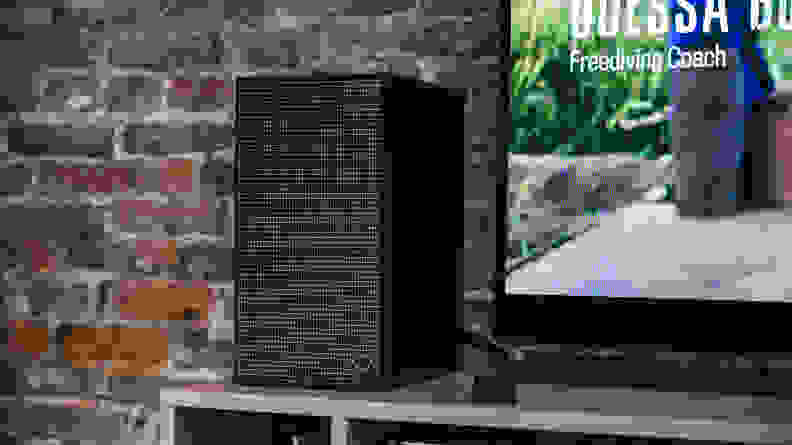 One of the best parts about a soundbar is the ultra-simple setup. The Fives are designed to mimic that convenience but in a hi-fi package—and they do their job well. A few cable connections gets you going, while holding down the Bluetooth key sets the speakers to pair. You won't find many other setups with this kind of simplicity.
The only caveat is firmware updating—without direct Wi-Fi connection, the speakers are a bit of a chore there (more on that below).
Multiple ways to connect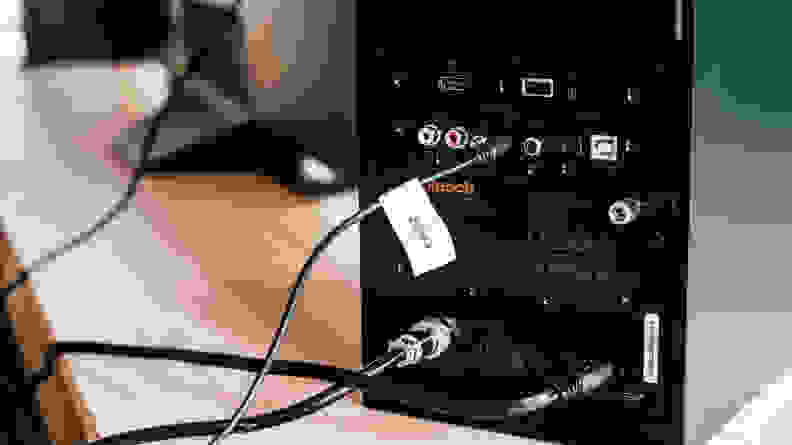 One feature we've started to see newer soundbars excluding is an analog input. While it makes some sense, it's especially unfortunate for those into turntables, as if the bars (and their respective brands) are saying, "If you've got a record collection, this is not for you."
With dual analog connections, including a built-in phono-preamp to connect a turntable directly, The Fives rail against this with all their being. There's even a toggle switch at the back that allows vinyl fans to use their own preamp. As mentioned, there's also a USB-A input for computer connection at up to 24 bit/192 kHz resolution—though this seems more in lieu of high-resolution streaming.
Connecting to The Fives' subwoofer port also automatically adjusts low-frequency output, allowing your subwoofer to handle the sub-bass and freeing up the upper registers. This raises the experience by not only digging up more punch in the lowest frequencies, but also adding more control—while the included remote doesn't offer EQ, it does provide subwoofer level adjustment.
What we don't like
No Wi-Fi, some problems
As mentioned, the Bluetooth connection sounds quite good from my aptX-ready phone. In addition, the signal was extremely stable, never hiccuping in an entire week with The Fives.
Still, there are reasons Wi-Fi is such an integral part of so many modern audio setups. Apart from the ability to stream at higher resolutions, Wi-Fi is independent of your phone's other audio settings, meaning that unlike Bluetooth, you won't be dealing with extra blips or interruptions. Many Wi-Fi speakers allow you to change inputs and control other parameters right from the app, often with just a few taps, and WiFi also makes updates and new features dead simple.
KEF's LSX Wi-Fi connection even allows them to connect to each other wirelessly, without the need for a separate cable.
No EQ, weaksauce app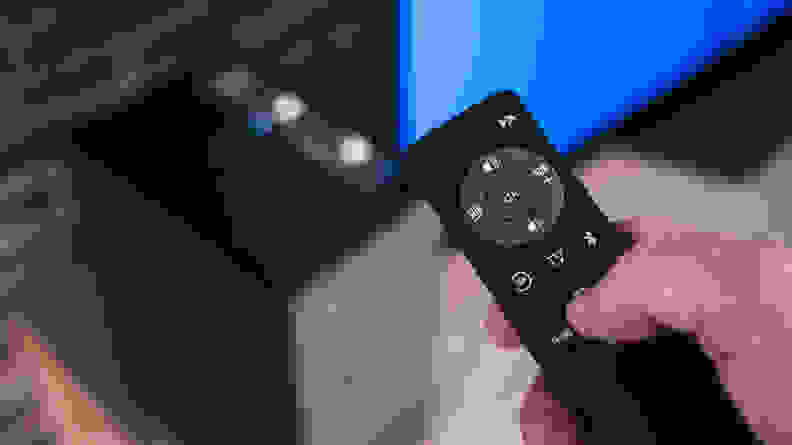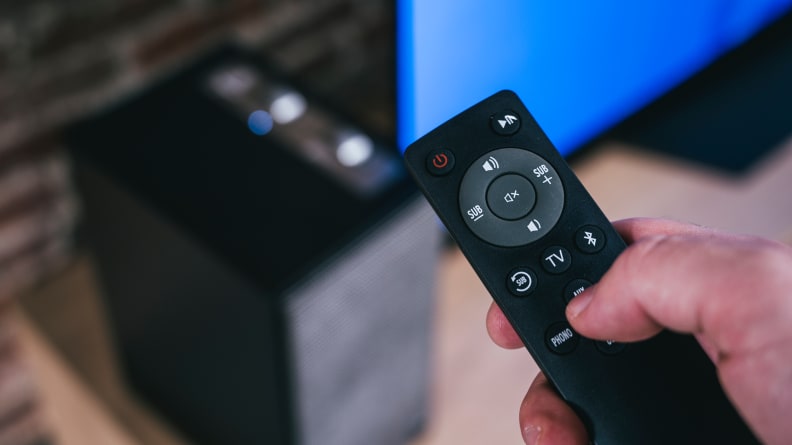 While The Fives have a Bluetooth-connected app, it's essentially for updates only at present. What's more, you've got to leave your phone undisturbed the entire update—including not locking the screen. And even after I updated the firmware, I was told I needed another, this time with my computer wired in.
Compare that to KEF's LSX app, which not only updates with a couple of clicks, but also allows for a menagerie of audio adjustments, from controlling inputs and playback to setting the distance of your speakers to the wall (which affects bass response) and EQ. It's not that The Fives' app coudn't potentially do more—Bluetooth apps for wireless headphones offer all sorts of features, and Klipsch told us some form of EQ control is coming. But for now, you're left with virtually no way to adjust sound besides speaker placement.
The one exception is Dynamic Bass, which can be turned on and off by holding the "Sub" key on the remote. It's designed to ramp bass up and down via compression regardless of volume level. But in practice it seems more like a bass boost, and I usually just kept it off. A quick bass control key would have been a nice inclusion, let alone multi-band EQ.
Stereo or bust
The other point to make about these, and most powered bookshelf speakers is that, unlike traditional wired speakers or even many soundbars, you can't upgrade to surround sound down the line. If you're sure you never want to build out your system, no big deal. But if you think you might want to add something more than a subwoofer, you'll want to think twice before committing.
Should you buy them?
If you demand fabulous plug-and-play sound, and you don't mind skipping WiFi, probably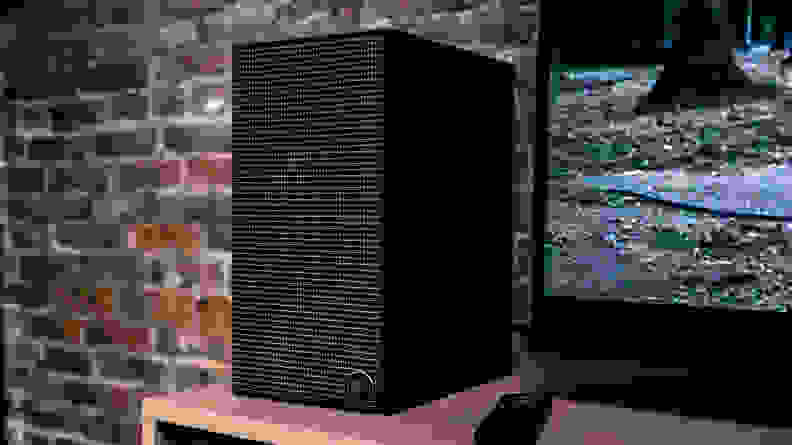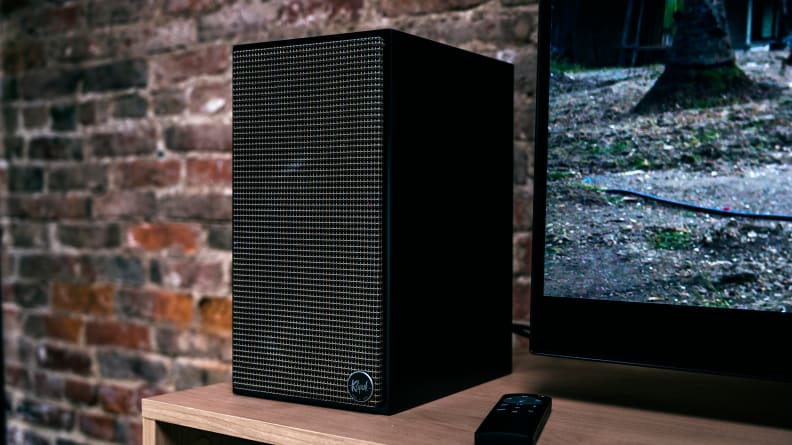 Klipsch's The Fives speakers are almost perfect. They offer gorgeous sound, a slick design that's at once retro and modern, and tons of inputs. Their versatility in placement allows those with wall-mounted TVs more flexibility than soundbars to allow for both style and utility. I adored having them in my house for a week, and especially loved using a single remote for hi-fi TV sound.
That said, at $799 The Fives are a serious investment lacking some key features, so alternatives are worth considering.
You can get a similarly glorious pair of speakers in KEF's astonishingly transparent LSX speakers, which also come with Wi-Fi streaming and a brilliant app to adjust nearly every parameter. Of course, you'll also be paying at least $200 more (on sale), and you'll still have to use a secondary remote.
More appealing for most will be Sonos' Arc soundbar. For the same price, the Arc brings Wi-Fi connection through Sonos' feature-packed app—including the ability to group multiple speakers or set them up in surround—along with powerful Dolby Atmos sound. In addition, its eARC input means you can source higher quality sound from newer, premium TVs. The Arc doesn't sound as good for music, though, and it also offers no way to easily connect a turntable.
The Fives offer equal parts niche features and mainstream convenience. While they aren't for everyone, if you find yourself with a foot each in the past and present—and you adore great sound—The Fives are a fantastic all-in-one option. And hopefully, as their features improve, they'll be even more enticing down the line.
The product experts at Reviewed have all your shopping needs covered. Follow Reviewed on Facebook, Twitter, and Instagram for the latest deals, product reviews, and more.
Prices were accurate at the time this article was published but may change over time.
Meet the tester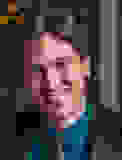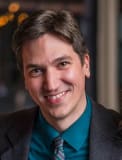 Ryan Waniata
Managing Editor - Electronics
@ryanwaniata
Hailing originally from Montana, Ryan parlayed his time working as a musician and audio engineer into a career in digital media in 2012. Since then he's had extensive experience as a writer and editor, including everything from op-eds and features to reviews on TVs, audio gear, smart home devices, and more.
Checking our work.
Our team is here for one purpose: to help you buy the best stuff and love what you own. Our writers, editors, and lab technicians obsess over the products we cover to make sure you're confident and satisfied. Have a different opinion about something we recommend? Email us and we'll compare notes.
Shoot us an email