While some gamers love a colossal rig like the Dell Inspiron 15 (7567), it's just not feasible to lug something like that around. The Blade is a little over four pounds and measures less than 20 mm thick, making it the slimmest gaming laptop to date. Though it looks identical to the 2016 model we reviewed last year, this one comes equipped with a faster processor. So, in other words, you're getting loads of power in a super-thin chassis.
That's not to say we didn't have any nitpicks, though. Drawbacks like constant fan noise, a somewhat juvenile aesthetic, and an excessive price dampen my enthusiasm for the Blade a bit. That said, if you've got the capital and want the best game-on-the-go machine around, Razer's got you covered here.

The Blade is more of a modest update than a full-on redesign. Aside from a slimmer chassis, it looks near-identical to the late 2016 model we reviewed last year. The difference lies beneath the hood. The 2017 version, outfitted with an Intel Core i7-7700HQ processor, is powerful enough for virtual reality experiences, but light enough to bring on a daily commute.
I reviewed the $1,899 entry-level model, which is armed with the following components: Intel Core i7-7700HQ processor, NVIDIA GeForce GTX 1060 graphics card, 16 GB RAM, and 256GB SSD. My only gripe is with the storage, as it's not enough for gaming. If you really want the ultimate gaming experience, you may want to spring for the 1TB PCIe SSD ($2,399.99) version.
Display: 14-inch 1920x1080 IPS Matte Display
GPU: NVIDIA GeForce GTX 1060 6GB
CPU: Intel Core i7-7700HQ 2.8GHz
Memory:16 GB RAM
Storage: 256GB SSD PCIe M.2
Ports: USB-C/USB 3.0/Thunderbolt/HDMI
Battery: 70 W-h
Weight: 4.1 pounds
The Blade is available in a couple of different configurations. The $1,899 entry-level model gets you 256GB SSD and a full HD display, while the next step up gets you 512GB SSD for $2,099.99 or 1TB for $2,499.99. Both of these models have the same 1080p screen.
If you're really looking for the best of the best, the Blade comes in two 17-inch 4K touchscreen configurations. These ones are very expensive and weigh slightly more than the full HD display variants. They're about as high-end as you can get. The 512GB SSD option is $3,799.99 and the 1TB is $4,399.99. Woof.
It's really lightweight for a gaming computer
When it comes to gaming laptops, there's a fair amount of compromise. Whether it's cutting corners with the display or ports, powerful machines aren't usually lightweight machines. But Razer managed to find a good balance, as the Blade doesn't sacrifice much computing power for a thin chassis.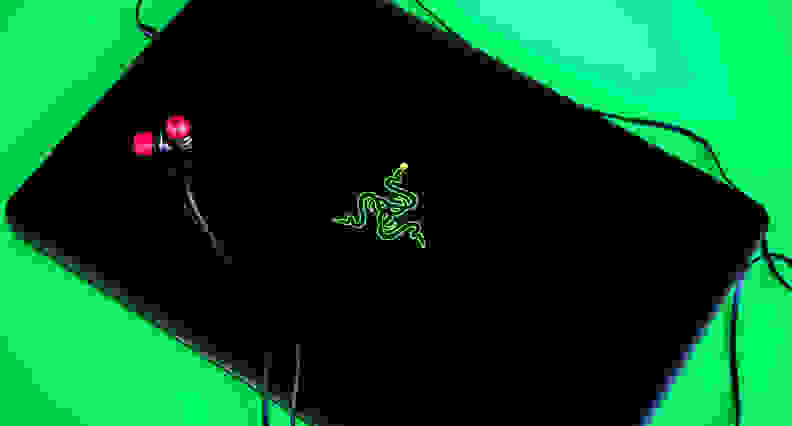 Unlike the Dell Inspiron 15 (7567), which weighs about six pounds, the Blade is a little over four. The slim body is great for portability, especially if you're looking to get a game in between classes. It's not as light as an ultraportable, but it doesn't feel like you're lugging around a massive brick either.
The display produces vibrant colors and is plenty sharp
Some people say you can't get good color from a matte screen, but that's just not true. When I watched the IT trailer, Pennywise's famous red balloon really popped (ha). Even Georgie's yellow rain jacket was noticably bright against the grey, glum-looking background. Plus, it resists glare like a champ.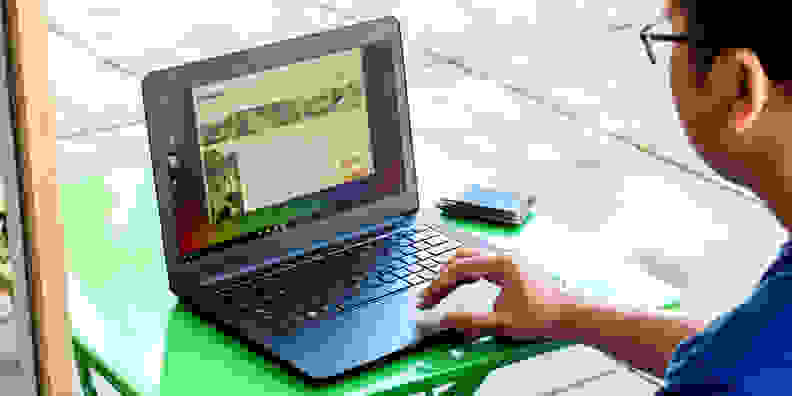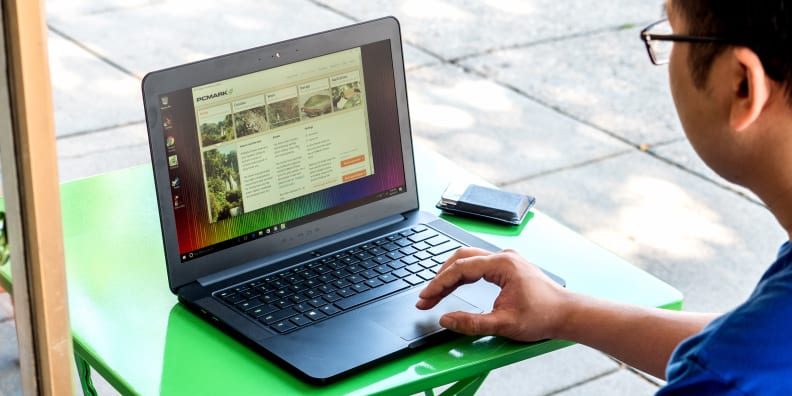 My only complaint is the bezel size. If it weren't for the massive bezels, there would've been enough room for a larger display. Razer missed an opportunity here, as a 15-inch display would've been a sight to behold.
You're getting near-seamless performance
I have to say, the guts are on point. Between the Intel Core i7-7700HQ processor and NVIDIA GeForce GTX 1060 graphics card, it can handle most mainstream games on high or ultra settings. I was able to play Overwatch, a competitive esports game, on high settings with zero lag. Even when the opposing team ambushed me out of nowhere, the gameplay was smooth.
It works well as a productivity machine, too. Whether you're fine-tuning that presentation, surfing the web, or editing a video, it's powerful enough to handle most of your computing needs. The GTX 1060 generates a lot of heat, though, so you may not want to keep the machine on your lap for extended periods of time.
The fans are loud and spin constantly
If you're playing a graphically-demanding game, chances are your laptop is going to heat up. You can expect a fair amount of fan noise with gaming laptops, especially if they're under a heavy workload. After all, the hardware needs to cool down in order to work properly.
But the Blade's fans spun relentlessly, even when I was just doing simple tasks like checking my e-mail and chatting with a coworker on Slack. At one point, my fiancé, annoyed by the whirring sounds, sarcastically asked if I had a computer or a rocket ship on my lap.
The fans, maddeningly loud as they are, do what they're supposed to do.
The Blade doesn't get excessively hot, though. The fans, maddeningly loud as they are, do what they're supposed to do. Whether you're drowning in open tabs or taking down random players in Grand Theft Auto V, the fans keep the hardware plenty cool. It might not be the best laptop to bring to class, given the noise, but it's not going to overheat on you.
It's expensive, but you get what you pay for
There's no beating around the bush here. The Blade's $1,899 price tag is pretty steep and, personally, way out of my price range. Unless you're working with a flexible budget, it may not be the most feasible option. Still, it's about as high-end as gaming laptops come and, for the price, it's packed with loads of power. Like I said, you're getting what you pay for.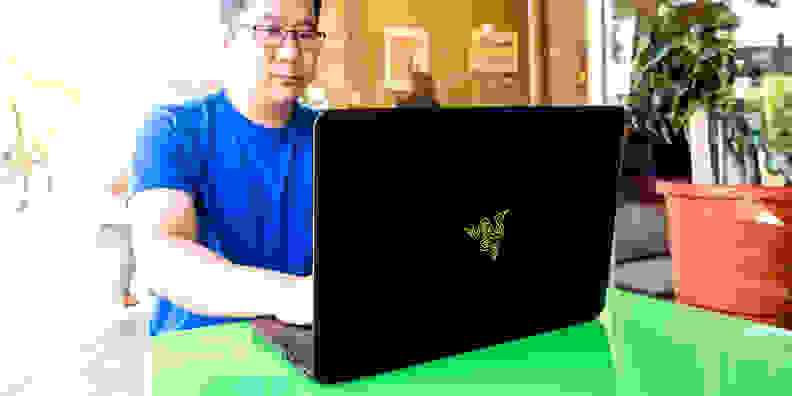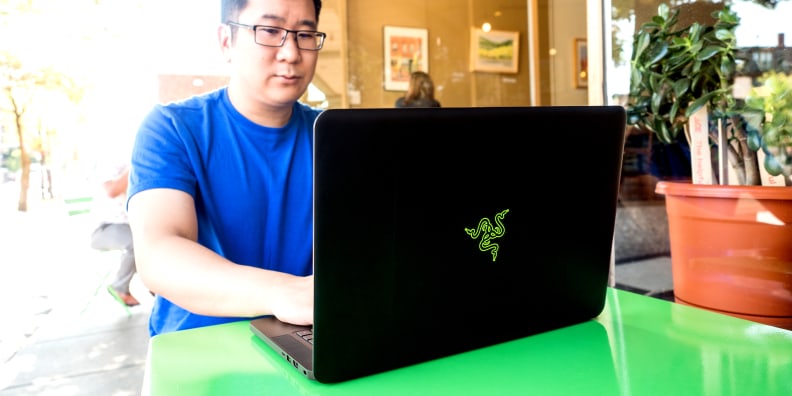 If you're looking for cheaper alternatives with similar specs, we'd recommend the ASUS Strix GL702 or the MSI GS63VR Stealth Pro. These laptops are about $200-$300 less than the Blade, but just as powerful. The only drawback is that they're not as lightweight or well-built as Razer's laptop.
The aesthetic isn't my cup of tea, but it might be yours
I find that most gaming rigs look more like Cylons, the toaster-like robots from Battlestar Galactica, than computers. Aesthetically speaking, they tend to follow a similar blueprint: bold design, alien accents, and bulky as hell. Unfortunately, the Blade, with its neon green three-headed snake logo and glowing keyboard, screams gamer. I'm not saying it's a bad thing, as it boils down to personal preference, really, but I prefer a more sophisticated and subdued look.
Yes, especially if you like to game on-the-go
If you like to game on-the-go, you can't get much better than the Blade. Between the slim profile and top-tier components, it not only packs serious computing power, it's also one of the most portable gaming laptops I've ever seen. Whether you're tweaking that presentation at the airport or watching Stranger Things on your morning commute, it's the type of laptop that works well as a productivity machine too.
While the Blade has a lot going for it, given its impressive hardware and sharp display, its not without drawbacks. The fans are annoyingly loud and spin constantly, so it might not be the best laptop for a classroom environment. Though it's a well-constructed machine that stays cool under heavy workloads, I'm not a fan of the gaming laptop aesthetic, with its neon green ports and three-headed snake logo. It's not my cup of tea, but it might be yours!
Unless you're working with a flexible budget, the expensive price tag is another thing to consider. The Blade ($1,899) doesn't come cheap, but you're also getting some seriously powerful components beneath the chassis. If you're serious about gaming or productivity, then you may want to nab one for yourselves.
Meet the tester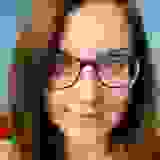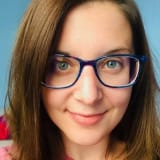 Ashley Barry-Biancuzzo
Editor
@awitchdidit
Ashley Barry-Biancuzzo is a valued contributor to the Reviewed.com family of sites.
Checking our work.
Our team is here for one purpose: to help you buy the best stuff and love what you own. Our writers, editors, and lab technicians obsess over the products we cover to make sure you're confident and satisfied. Have a different opinion about something we recommend? Email us and we'll compare notes.
Shoot us an email