The build quality is excellent. It has a metal frame encircling the chassis, so it feels more expensive than it actually is. In addition to the robust build, this 2-in-1 also comes with a keyboard cover that attaches magnetically and a pressure-sensitive stylus. This is cool because, as standalone accessories, they can be pretty expensive. But we couldn't ignore some of the flaws.
The Switch is great for light use, but it's not a high-performance machine, as it has Chromebook specs. If you're a power user, someone who jumps from tab to tab, this may be an issue. The kickstand is finnicky, too. Forget about trying to use it on your lap. This laptop really wobbles. Though this 2-in-1 stands as an affordable alternative to the Surface Pro, it may not be the best option for the heavy multitasker.
About the Acer Switch 3
The Switch comes in just one configuration. Equipped with an Intel Pentium N4200 CPU and 4GB of RAM, it's well-suited for standard tasks like browsing the web or watching videos. For just $439, this affordable 2-in-1 includes a keyboard cover that snaps on magnetically and a pressure-sensitive stylus. That's not bad for the price. You can check out the specs inside our test unit below:
CPU: Intel Pentium N4200 Quad
GPU: Intel HD Graphics 505 with Shared Memory
Memory: 4GB RAM
Storage: 64GB eMMC
Weight: 2.8 pounds
The included keyboard cover and pen is nice because they can be expensive as standalone accessories, but we'd like to see more configuration options, as the 64GB of flash storage is a bit tight. I tend to be a power user, someone who has a zillion tabs open, so I constantly ran of space. I didn't like that I had to be so picky with what I wanted to download. We would've liked to have seen a configuration option with 128GB of flash storage, at the very least.
What We Like
It comes with a keyboard cover and pressure-sensitive pen
The keyboard cover and pressure-sensitive pen are included, which is great because they're expensive as standalone accessories. A standalone stylus, for example, can cost you $150 and that's a lot of cash to cough up. Plus, I like having the option of using a stylus with a touchscreen. What I like even better is that it's not going to burn a hole in my wallet either. While the Switch's pen works well enough, it's not phenomenal.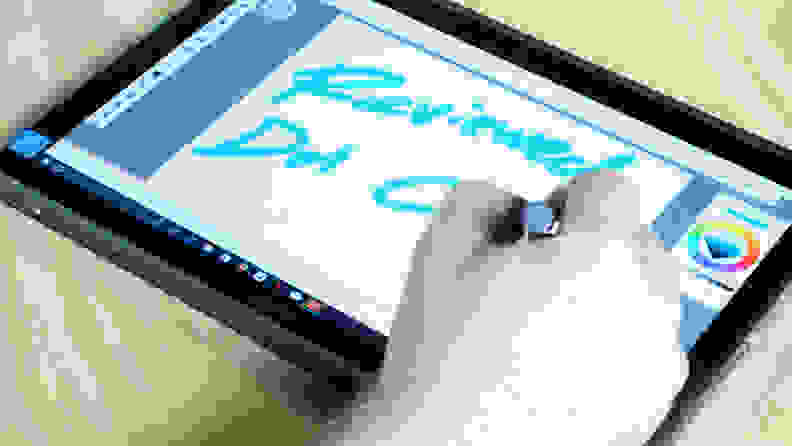 At times, I felt the touchscreen responded better to my finger than the pen. With the pen, I had to press the tip down on the screen harder than I liked. If I tried to open an app or select the back button on a webpage, I found myself tapping the screen at least three or four times. Again, the pen is perfectly serviceable, but I usually ended up ditching it for my trusty finger.
It feels sturdier than you'd think
For the price, the Switch is surprisingly strong and robust. The metal frame surrounding the chassis really gives it the kind of stiffness you'd expect from a premium product. This laptop really feels like it can endure the daily abuses of life. Even the keyboard cover, made of matte fabric, is pretty durable. It looks more like a high-end machine, too.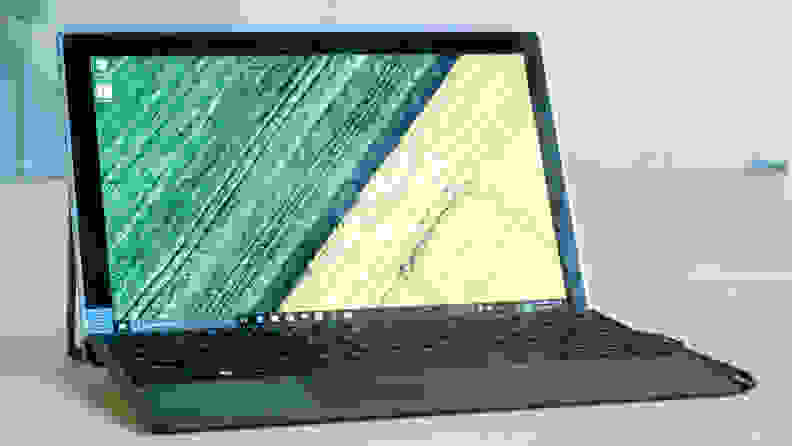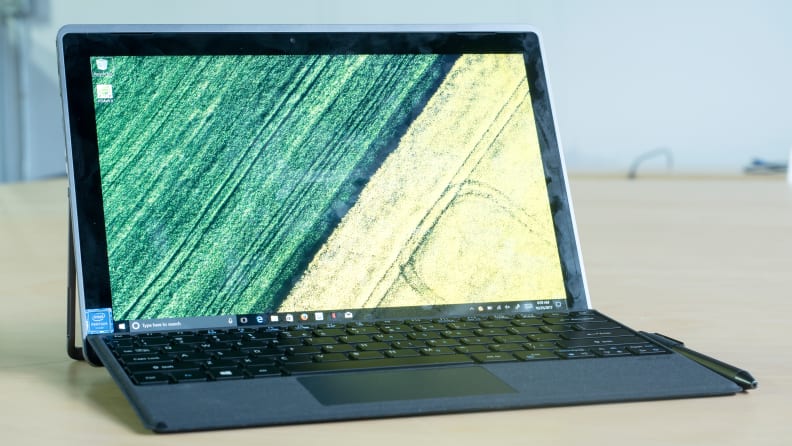 The black and gray design may be unassuming, but it works. With its subtle highlights and titanium-gray case, this convertible is sophisticated enough for classroom or business environments. My only gripe is with the lid, which tends to collect thumbprints. I had to keep wiping it down with a microfiber cloth. It was annoying to deal with, but ultimately not a deal breaker.
The display is bright and details are crisp
The display is lovely. When I watched the latest Black Panther trailer, I really could see intricate details of T'Challa's futuristic suit. Even as the King of Wakanda soared through a dark city landscape, shadows never lost definition. The image quality really surprised me, given that it's a $439 machine. Acer didn't cut corners with the screen at all.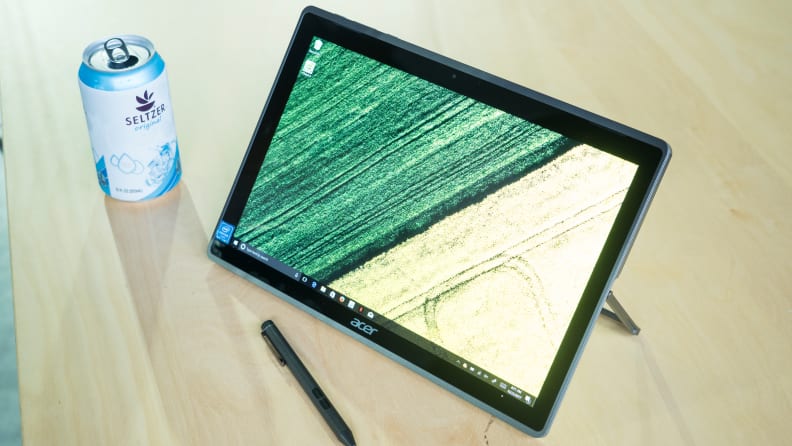 What We Didn't Like
The u-shaped kickstand is awkward to deal with
As for the metal kickstand, well, I knew we were in for a rocky relationship the moment I started playing with it. You actually have to pull it out from the back of the tablet, which isn't very intuitive. Though I eventually figured it out, I spent some time clumsily groping the machine at first. Maybe I'm just all thumbs. Anyway, I really struggled with this thing.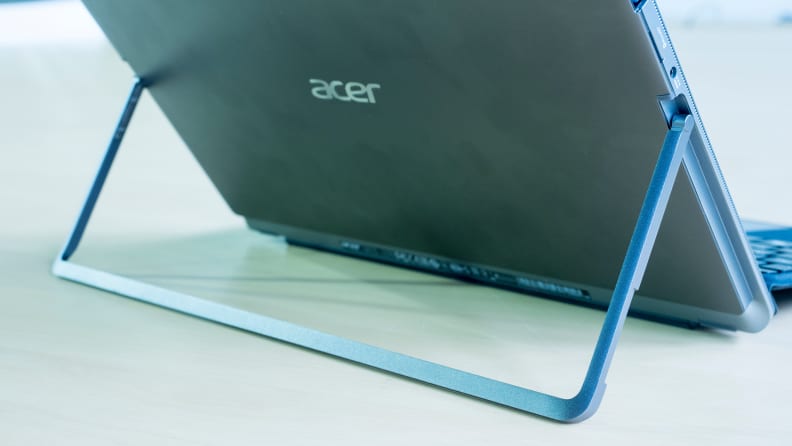 When the Switch is in laptop mode, there's no way to comfortably use it like you're supposed to. The machine, propped up by the u-shaped kickstand, felt unsteady on my lap, often wobbling whenever I shifted my legs. It's best to keep it off of your lap. Unless you're using it on a flat surface like a table or desk, in which case the balance is fine, the Switch really works best in tablet mode.
It's not a high-performance machine
With its Intel Pentium N4200 CPU and 64GB of eMMC flash storage, the Switch is really only designed for light or casual use. It can handle basic tasks like checking email and surfing the web, but that's about it. I definitely noticed some lag when switching between six open tabs in Google Chrome.
You may want to steer clear of downloading too many demanding apps or games, as it's easy to overwhelm this machine. We'd recommend opting for something with roomier storage. It's a good option if you're looking for a low-cost, travel-friendly convertible, but it's far from a powerhouse.
Should You Buy It?
Maybe, but only if you're looking for an alternative to the Surface Pro
The Switch is more affordable than the Surface Pro, but if it's a high-performance machine you're after, you may need to look elsewhere. Still, with its robust build and bright display, this 2-in-1 has a lot going for it. Not only is the price tag reasonable, you're also getting a keyboard cover and pressure-sensitive pen. This is great because these items (as standalone accessories) can be expensive, sometimes costing up to $150. Though the Switch is one slick machine, it has a couple of drawbacks.
Between the Intel Pentium N4200 CPU and 64GB of flash storage, performance can be sluggish at times. The 2-in-1 can handle light tasks like writing papers and checking email, similar to a Chromebook, but it's not a powerhouse. You're not going to want to play games on this thing. The u-shaped kickstand is awkward to deal with, too. The laptop balances fine on flat surfaces, but not on your lap.
If you've got the cash to spend, I'd recommend opt for more powerful machines like the Acer Switch 5 or the Surface Pro 4. Not only do they have better specs, they're both convertible 2-in-1's, so you're still getting that versatile design. The Switch 3 still stands as an affordable option for students on a tight budget, but depending on your computing needs, you may need to invest in a laptop with better specs.
Meet the tester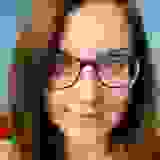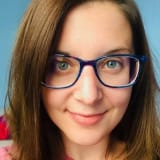 Ashley Barry-Biancuzzo
Editor
@awitchdidit
Ashley Barry-Biancuzzo is a valued contributor to the Reviewed.com family of sites.
Checking our work.
Our team is here for one purpose: to help you buy the best stuff and love what you own. Our writers, editors, and lab technicians obsess over the products we cover to make sure you're confident and satisfied. Have a different opinion about something we recommend? Email us and we'll compare notes.
Shoot us an email