That was the case with Apple's new 13-inch MacBook Pro (Mid-2015) (MSRP: $1,299, $2,199 as tested). On the outside it's the same unibody aluminum design as last year, with the same gorgeous Retina display. The inside is the same story, but the next chapter. The 13-inch Pro has been given a nice refresh with updated processors, better graphics, and the all-new Force Touch trackpad.
While the MacBook Air is ideal for portability and the 15-inch MacBook Pro is a powerhouse, the 13-inch Pro falls lightly in-between them. It's lightweight and portable enough to be used on the go while powerful enough to lend itself well to content creators.
Design
Same old, same old
If you only go skin deep, the latest 13-inch MacBook Pro isn't very impressive. In fact, other than the brand new Force Touch trackpad everything else on the surface is no different than what you'd find in last year's model.
×
Itsa Tour!
It still has the clean aluminum unibody construction and comes in at a cool 3.48 pounds. If you take a look on the sides, you'll find a healthy dose of ports to handle most of your needs: two Thunderbolt 2 ports, two USB 3 ports, an SDXC card slot, a full-sized HDMI input, and a headphone jack. Thunderbolt is the Swiss Army knife of ports and the 13-inch Pro packs two so you connect even more devices. With the right adapter you'll be able to connect to ethernet, an external display, and even hard drives or daisy-chain multiple devices without needing a bulky hub. On the inside, you'll find the same backlit, chiclet style keyboard, the new Force Touch trackpad, and a 2560x1600 Retina display.
Retina display was a pretty big deal when it first hit the market. The new Pro packs 227 pixels per inch into its display. Your photos and videos are going to look gorgeous on the display, while text remains crisp and clear to your eye. While this was impressive when Retina was first announced, competitors like the Dell XPS 13 come with a 3200x1800 display that barely has a border. Apple might not need to upgrade its screen, but it wouldn't hurt either.
Force Touch
A trackpad that touches back
That being said, the one new feature—the trackpad— is pure awesome. If you want a taste of the new features of the upcoming 12-inch MacBook, the 13-inch MacBook Pro—not the 15-inch version—comes with the brand new Force Touch trackpad. It still has the same smooth glass touch surface that's one of the best on the market, but underneath it are built-in force sensors that measure how hard you press and give you haptic feedback.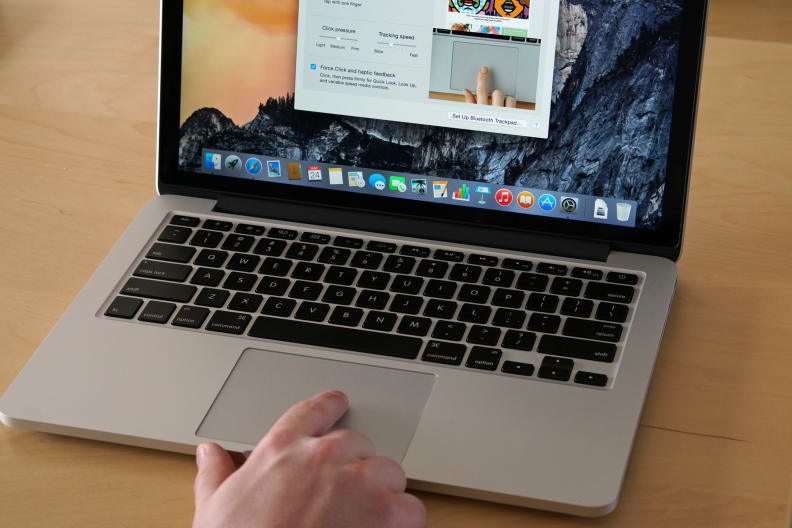 When we first used it, we were surprised at just how much it felt the same as a standard trackpad click—albeit a little softer. It even makes the same sound. Now, you can "click" anywhere on the surface of the trackpad instead of only along the bottom. It moves down ever so slightly, but feels substantial.
The trackpad also has built-in pressure sensitivity that translates different levels of force for different tasks. After the first click, if you press a little harder the trackpad will register a Force Click. Depending on where you enable Force Click it could pull up the definition of a word, open a preview of a file, or even increase the rate at which you fast-forward a video. Plus, with the pressure sensitivity, users can create different stroke weights on the drawings they make using the trackpad.
While it may not seem revolutionary at first—a new click, big deal—Force Touch opens loads of possible uses down the road. Apple has already begun integrating it into some of their programs. Now, in iMovie, when you drag to the end of a video clip you get a little "bump" that feels like you've reached the end. It's a little spooky at how well a few timed vibrations can fool your senses. It's a technology that will only get more impressive as time goes on and developers start to think of new, creative ways to use it.
Software
Yosemite and the Apple Ecosystem
When it comes to buying a new laptop you usually have to go through the process of getting rid of the junk that software manufacturers package in with the system. But, that's a problem reserved for Windows computers. Apple is content shipping you a system that only has a few pre-installed programs—most of which are actually pretty great to use, if you're invested in its ecosystem.
OS X Yosemite—the latest operating system from Apple—is designed to work especially well with iOS 8 (the operating system of your iPhone or iPad). With an iPhone, you'll be able to take phone calls and send/receive text messages all through your computer. Plus, Handoff lets you start something on one device and pick up where you left off on the other. While the main support is for Apple-supplied apps—Pages, Mail, Calendar, and so on—there are a few third-party apps that support this feature as well.
×
OSX
The new MacBook Pro also comes bundled with apps that are especially useful for creative types. iMovie lets you edit and create videos, GarageBand is built to create and export your own music, while iPhoto can be used to edit and view your pictures. Basically, there's everything you need to handle the basic tasks and few extra for those looking to do a little content creation.
Investing in the Apple ecosystem can be a little pricey, however. While there are plenty of non-Apple options that offer the same functionality, having a unified ecosystem of products and apps definitely has its perks.
Performance
It's what's on the inside that counts.
While the MacBook Pro's physical design and software are essentially the same as last year's model, the hardware inside has seen a healthy refresh. The new 13-inch MacBook Pros come with the latest fifth-gen Intel Core processors and a new GPU that combine to help user take advantage of the content creation capabilities of the MacBook Pro.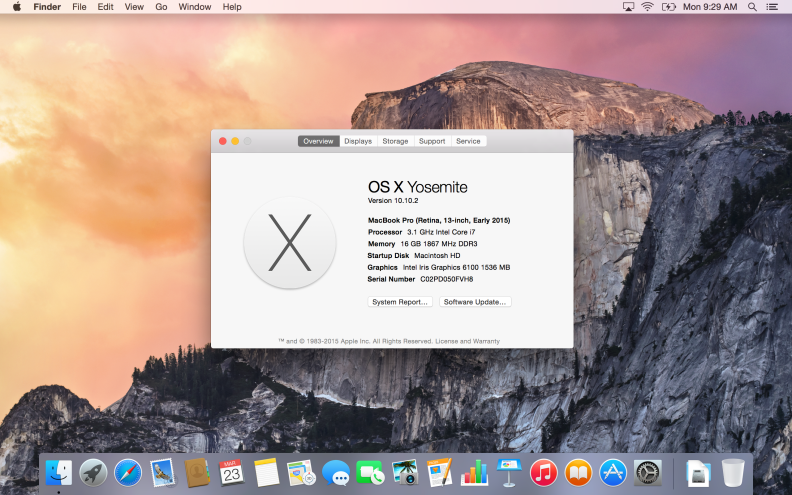 The 3.1GHz Dual-core Intel Core i7 processor that came in our review unit is an extra $240, but truth be told, it's probably not entirely worth it without upgrading to the 15-inch Macbook Pro and taking advantage of the Iris Pro GPU. No matter if you go with the i5 or the i7, you'll still be able to handle almost anything a program could throw at you without slowing down. We did opt for 16GB of RAM—another $240—that helped manage the influx of tasks made possible by this processor.
When it comes to graphics the 13-inch MacBook Pro comes with an Intel Iris Graphics 6100 GPU. The 6100 doesn't quite reach the same levels as the Iris Pro GPU in the 15-inch MacBook Pro, but it's good enough to handle most of what you want to do, unless you're a power user, in which case you're probably looking at the higher specced 15-inch version anyway. On high settings, Metro: 2033—a graphically intense game we use to push a computer to its limits—isn't playable with an average of 8 frames per second. While you could play Metro if you dropped the settings to Medium or lower, you'd be better off playing older or less intensive games.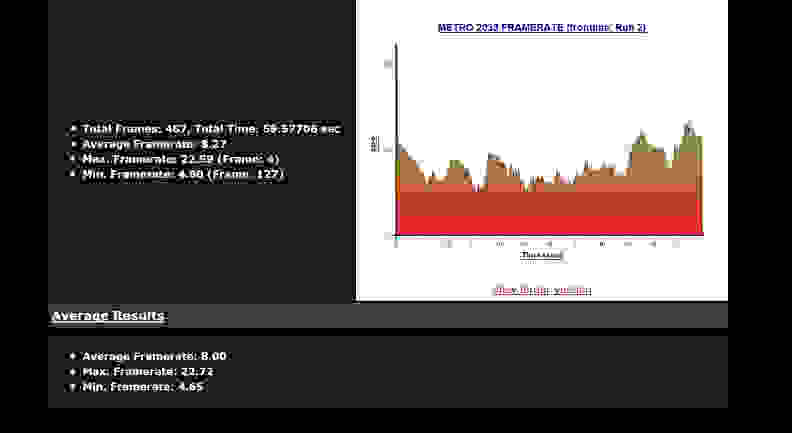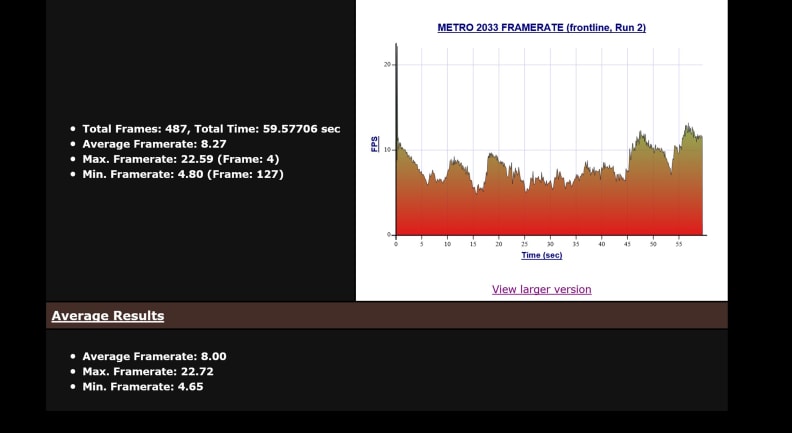 Our review unit also came with 512GB of flash storage, a $650 extra over the base model that only has 128GB. It's not upgradeable either, so think carefully before you buy, because whatever you choose you're stuck with—unless you are okay with using external storage options. Each option is PCIe-based, which results in faster read/write and boot times compared to older SATA SSDs.
Overall, the performance of the new MacBook Pro doesn't quite match up to its costly cousin, the 15-inch MacBook Pro with Retina Display (Iris Pro). But if you're more interested in portability, the 13-inch does get the edge when it comes to battery life. In our punishing rundown test the 13-inch Pro lasted about 4.5 hours, while the 15-inch managed just a hair over three.
Both are beat soundly by the MacBook Air and the new Dell XPS 13, but it's a respectable result for the 13-inch Pro nonetheless. You'll be able to get a full day of light usage out of any of these models, of course, but nobody ever complained about having too much battery life.
Conclusion
You can't go wrong if you're ready to take a bite into Apple, but it's pretty expensive.
The 13-inch MacBook Pro is Apple's answer for users who are looking for a little more power and functionality but don't want to forfeit the advantages of a laptop. It doesn't have the same levels of portability as the MacBook Air, but what it sacrifices in slimness it makes up for in its gorgeous display and its ability to handle intensive tasks.
If you need a little more power and you enjoy content creation, the MacBook Pro is a hard machine to beat. Along with the apps that come bundled with the system, the Pro has been updated with the latest Intel Core processors and GPU. So long as you don't try to use the Pro as your primary gaming rig, you shouldn't have a problem.
×
In USE
If money isn't an object and you need something that's ready to handle everything you could possibly throw at it, the specced out MacBook Pro with Retina Display (Iris Pro) should be your go to if you want to stick with OS X. But keep in mind, an update for the 15-inch version is most likely coming pretty soon, so you might want to hold out for now.
But, to its detriment, the 13-inch MacBook Pro looks much the same as it has for the last few years. Where it has remained static, other manufacturers have pushed ahead and, in some arenas even surpassed Apple. The Dell XPS 13 (MSRP: $799, $1,399.99 as tested) offers similar performance and far outstrips the Pro in terms of portability, fitting a 13-inch screen into a case typically reserved for 11-inch laptops.
But for everything that the XPS 13 has, it doesn't have nearly the same established track record and usability as the MacBook Pro. This is still a laptop that feels nicer to use during daily tasks, and that's only made better if you own other Apple products and can take advantage of the full ecosystem. For creative types who aren't looking to empty their bank account, the 13-inch MacBook Pro (Mid-2015) makes a compelling case.
Meet the tester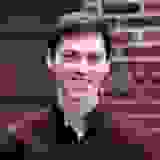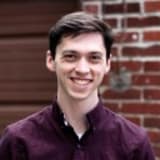 Nick Schmiedicker
Former Managing Editor
@@nschmiedicker
Coming from Buffalo, NY, Nick studied media production and arts journalism. When he's not writing about tech Nick can be found playing video games and keeping up on the latest in pop culture.
Checking our work.
Our team is here for one purpose: to help you buy the best stuff and love what you own. Our writers, editors, and lab technicians obsess over the products we cover to make sure you're confident and satisfied. Have a different opinion about something we recommend? Email us and we'll compare notes.
Shoot us an email