Sporting an Intel Core i7 processor with both an integrated Iris Pro GPU and Nvidia GeForce GT750M, this 15-inch MacBook Pro with Retina Display (Starting at $2,599, MSRP $2,799 as reviewed) is decked to the nines with high-end hardware. Ample RAM, a solid-state drive, and a beautiful screen makes this laptop a force to be reckoned with, perfect for creatives who need an extremely powerful laptop on the go. Despite its improved internals, Apple also trimmed the fat a bit to keep the MacBook Pro a tad more svelte—without sacrificing best-in-class performance.
And when we say best-in-class, we mean it. Every so often, we get a product in our labs that moves the goalposts on our scoring to an unsettling degree—and the new MacBook Pros crushed almost everything else on the market that we've tested. This is a top-of-the-line laptop with performance to satisfy even true power users who need the best of the best. Though the Iris Pro version rates higher for us thanks to better battery life, this is an incredible machine.
Of course, with a Retina-quality display, discrete graphics, and clad in a space-age finish, the price of this unit is astronomical. It may not set you back as much cash as a gaming rig like the Asus ROG G750JZ-XS72, but it's up there. The question is: Does this $2,500+ laptop justify the cost?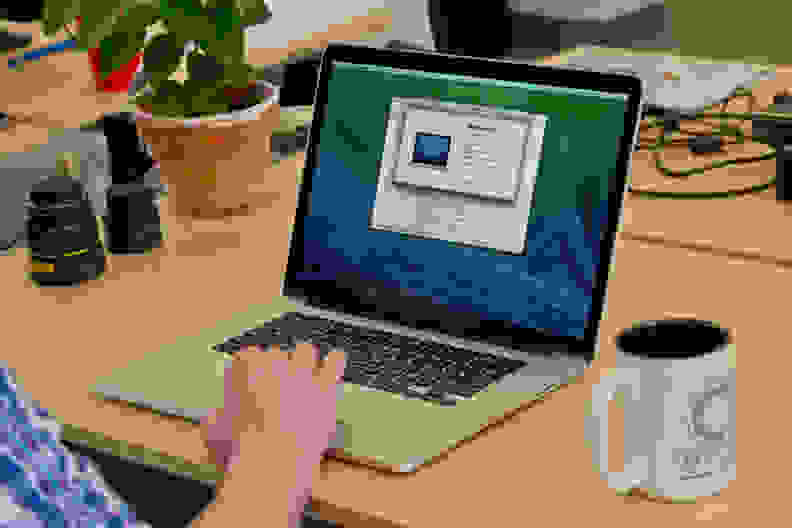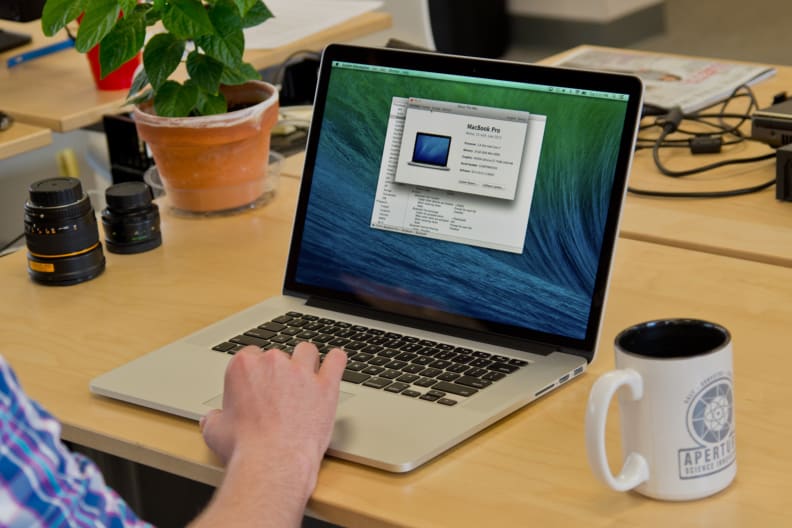 Apple's top dog is also Best In Show
It's tough to say something that hasn't already been said about Apple's design. It's shiny aluminum, it's minimalist, it's modern, it's slick... all of these things are true and more. Though it's sporting a very similar casing to the ever-popular MacBook Air, the MacBook Pro is a completely different animal. The Air might have made its name on battery life, but this thing does it on power.
Refreshed last fall, this new generation of 15-inch MacBook Pros is lighter and thinner than the first generation of Retina MacBook Pros. It's larger than the MacBook Air, of course, but for how much power is included, it's still remarkably light. It's very portable, and the screen is just gorgeous. The unit we tested for this review is just 4.46 pounds and 0.7 inches thick.
This MacBook is much more portable than desktop replacement laptops of the past.
As with other Apple products sporting the "Retina" designation, this unit has a very high resolution screen. Its 15-inch, 2880x1800 LCD is so pixel-dense that a human with 20/20 vision should be unable to resolve individual pixels; they're too small for your retina to differentiate from one another. By making use of a specific type of LCD called IPS (In-plane switching), you can also enjoy fairly wide viewing angles, with the added benefit of using slightly less juice for a better image than what you'd get on older TN LCDs. It's a minor feature, but one important to professionals who need to show off their work.
Under the hood, this computer is all muscle. Though you can configure it to your heart's content, the unit we tested is the top of the line model. It features an Intel Core i7 processor with Iris Pro graphics, as well as up to 16 gigabytes of RAM, 512GB of solid-state drive space (you can up it to 1TB for $500 more), and an NVIDIA GeForce GT 750M graphics card—everything you need to power through just about any task you throw at it. It's not the best graphics card on the market, however, so hardcore gamers may want to look elsewhere. But by any measurement this is a powerful laptop.
For users who need more monitors at work, the MacBook Pro can extend its desktop without breaking a sweat.
If futureproofing is your worry, buyers of the MacBook Pro can take comfort in the fact that this computer has a lot of forward-looking features and some notably great software support. It'll be able to run the latest versions of OS X for a long time due to its specced-out hardware, and the device performs at a level that's beyond most current desktops on the market. Two USB 3.0 ports, twin Thunderbolt 2 ports, a full HDMI port, and an SDXC card slot ensure that removable media and peripherals will be functional for years to come.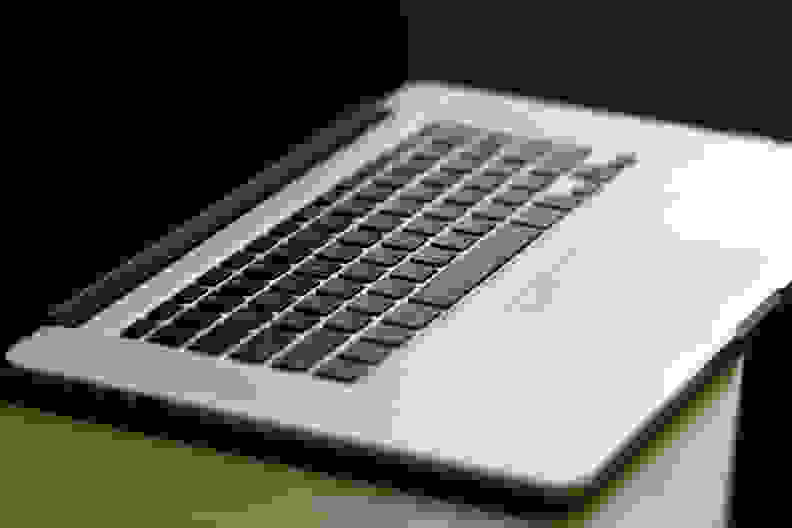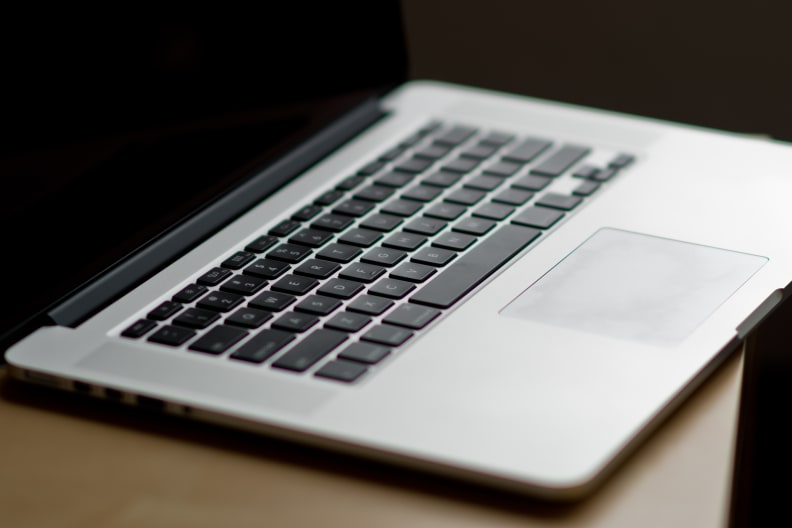 For users who need more monitors at work or edit on a larger workstation, the MacBook Pro is able to extend its desktop without breaking a sweat. You can output via HDMI to a 3840 x 2160 display at 30Hz, a 4096 x 2160 display at 24Hz, a 1080p monitor at 60Hz, or on both the built-in display and up to two 2560 x 1600 displays simultaneously. It's worth noting that these output options are available on all the new MacBook Pro with Retina Displays, even the $1,299 13-inch version.
Has the horsepower to handle even the most demanding tasks
As the top of the line MacBook Pro, this laptop is designed to be a complete replacement for a desktop setup. In just about every benchmark, the MacBook Pro posted scores among the top 1% of all laptops tested in our labs. Over and over again we set up the MacBook Pro to run a test, and it knocked it out of the park. Graphics, processing, storage—all accomplished with blistering speed and efficiency.
Read/write speeds are among the best in its class.
Maybe it's the Iris Pro chip, maybe it's the GeForce GT 750M card, but video games and other GPU-intensive loads are handled without incident. Even read/write speeds are among the best in its class—leaving you with a serious machine any way you slice it. Trouble spots are few and far between, and they exist only when splitting hairs among the cream of the laptop crop. For example, the graphics card doesn't use SLI; that may make a hardcore gamer groan, but isn't really all that much of a problem for anyone else.
If you don't believe me, that's fair, but it should be mentioned that this wasn't the only MacBook we tested. Before we published this review, we actually tested a practically identical version of this MacBook with only the Iris Pro chip and without the NVIDIA GT 750M. Though integrated graphics chips almost never do well in benchmarks, the Iris Pro laid waste to the competition. It sets up an interesting choice, between going with just the Iris Pro or opting for the extra horsepower the Nvidia card provides for a few hundred dollars.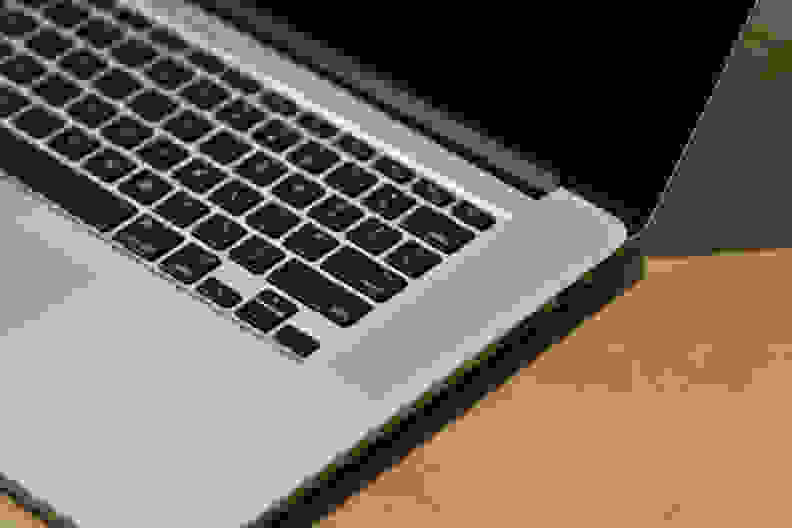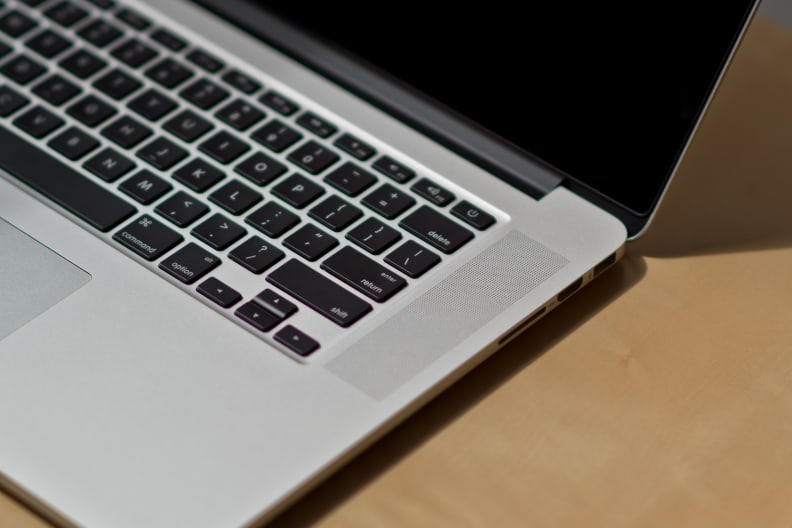 One caveat with the Nvidia-packing version: the battery life isn't anywhere nearly as good. And both versions are nowhere near the MacBook Air or even the i7-packing Asus UX301LA. Considering just how hyper-powered the insides of the MacBook Pro are, that's not surprising in the least—but you should know that there were sacrifices made in the name of computing power. Without its power cable, the battery lasts an average of just 3 hours, 8 minutes with casual use. It may not be terrible for a desktop replacement, but it's definitely on the low end of acceptable.
Considering just how hyper-powered the insides of the MacBook Pro are, bad battery life isn't surprising in the least.
While the battery may struggle to keep up with the rest of the device, the screen does not. With the combination of great color and contrast performance, the MacBook Pro has a stellar screen. This is perfect for photographers and videographers who need the absolute best displays for content creation.
After a few hours of taxing the computer, you will notice that the keyboard gets a bit toasty, and the bottom of the unit may benefit from a cooling pad. Though most laptops struggle to dissipate heat well, it becomes a problem when the surface temperature of the keyboard breaks 110˚. It's not enough to burn or maim you, but if you're not working at a desk, this could become uncomfortable.
A content creator's playground
When you buy a computer direct from its manufacturer—such as with Apple—chances are really good that you're going to get next to no bloatware. When it comes to Apple computers, the Cupertino computer company is famed for its draconian focus on maintaining a "walled garden." No unapproved third-party software is allowed on its retail units, and all of the software included with the operating system is from Apple itself (or one of its partners).
OS X Mavericks checks all the boxes associated with good OS design.
While that may seem like a strange way of going about things, it does give Apple the freedom to make sure that its stock software is obsessively curated to prevent compatibility hangups or other issues from rearing their ugly heads. Anyone who's bought a bargain-bin laptop from a big box store knows exactly what I'm talking about: Terrible software optimization, loads of excess processes running in the background, and never-ending headaches.
Thankfully, the opposite is true with the latest Apple operating system: OS X Mavericks (10.9.3). Not only does the operating system do a fantastic job with getting out of users' way in accomplishing basic tasks, but it checks all the boxes associated with good OS design. Low interaction cost? Check. Easy to navigate and learn? Check. Capable of meeting users' insane demands? Check. It's extremely difficult to do anything that will irreversibly damage your computer, but it's also difficult to find something that the operating system prevents outright.
Content creators will love this machine because most of the software used by this crowd is made with a Mac in mind. Though I don't think I need to make the sale to industry insiders, students looking to get their foot in the door with graphic design, video editing, or 3D modeling should be looking to grab a MacBook Pro if they need a laptop. Though Windows machines are perfectly capable, it's best to learn with the preferred tools for the job—and that's currently the MacBook Pro with Retina Display.
Though software available to Macs is limited in some ways (gaming, especially), if you really need Windows you can install it on a drive partition using the Boot Camp Assistant and a bootable disc image. The process isn't without its hangups, but it's a functional alternative.
You know you want it
This is the computer you take home to meet your parents. Though there are options out there that are more fun, more bad-boy, or great for cheap thrills, this is the clean-cut professional computer with the total package. With the lone exception of battery life, the 2014 MacBook Pro with Retina Display and Nvidia GT750M is the gold standard by which all other desktop replacement laptops are currently judged—and for good reason.
On paper, this is an impressive specimen: It bests the rest of the laptop market in raw performance and specs, with a screen designed to meet the high standards of creative professionals.. Really, the only way you're getting a more pixel-dense screen on a laptop is by picking up a $1,199 Yoga 2 Pro, and that's not even in the same class. There are a few minor rough edges, but the MacBook Pro with Retina Display benefits greatly from its manufacturer's attention to detail. There's simply very little to complain about.
However, not everyone is made of cash, and that's where this product gets a little ugly. Shelling out the better part of three grand for a laptop is an investment, and is by no means a value purchase. If this computer is on your radar, you're looking for a workhorse that can do it all. Though the MacBook Pro we tested is more than enough for even professional modelers, photographers, and videographers, it doesn't quite match the best gaming machines when it comes to modern games at the highest settings. Also, to keep size and weight down the MBP makes due with a relatively slim battery, good for just over three hours of juice.
You might decide that some things don't matter to you as much. If you're okay with a lower res screen and don't need a veritable juggernaut—but still want a Mac—you can save yourself some money by grabbing a MacBook Air, which starts at just $799. The Air is just fine for most photographers and some videographers, but if you're doing a lot of high-end work or want a Retina-quality display, the Pro line is the way to go. You can shave some money off by going without the Nvidia card, which will also improve battery life significantly.
And if you need to run Windows? There are very few laptops that can come close to the MacBook Pro, and only a couple of them run Windows. The $1,999 Asus UX301LA comes the closest; as an ultraportable it doesn't even have Iris Pro graphics, though it has far better battery life and a similar processor for much less money. It may be pricey, but for now this Nvidia-packing 15-inch MacBook Pro with Retina Display is the best you can buy.
Meet the tester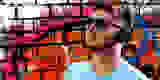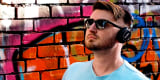 Chris Thomas
Staff Writer, Imaging
@cthomas8888
A seasoned writer and professional photographer, Chris reviews cameras, headphones, smartphones, laptops, and lenses. Educated in Political Science and Linguistics, Chris can often be found building a robot army, snowboarding, or getting ink.
Checking our work.
Our team is here for one purpose: to help you buy the best stuff and love what you own. Our writers, editors, and lab technicians obsess over the products we cover to make sure you're confident and satisfied. Have a different opinion about something we recommend? Email us and we'll compare notes.
Shoot us an email