Then there's the Asus ROG G501 Gaming Laptop (MSRP: $1,599.00). With a sleek—and more importantly thin—design, the G501 will easily slide into your bag as you dash to your next fragfest. Throw in an Intel Core i7 4720HQ processor, 8GB of RAM, and an Nvidia GeForce GTX960M GPU. The G501 has the power to tackle video editing, photo editing, and gaming with ease.
While the G501 is outperformed by other gaming laptops on the market, it's about half the price of the top-of-the-line systems. If you're a diehard PC gamer who's stuck on a budget, the G501 is a handy alternative to a bulky desktop—as long as you're willing to compromise on raw power.
Design
Large and slim, the G501 is the best of both worlds
The G501, like other gaming laptops, is a large and imposing piece of hardware that still has a touch of style. Asus opted for a red and black color scheme, including a keyboard that features an ominous red backlight. It's a neat touch that sets the G501 apart from the crowd. It's flashy, but as with most gaming hardware, austerity isn't the name of the game—it's meant to stand out.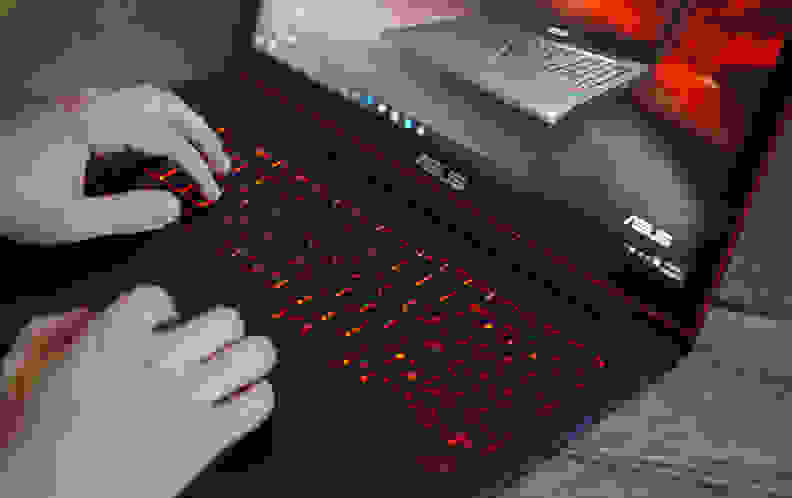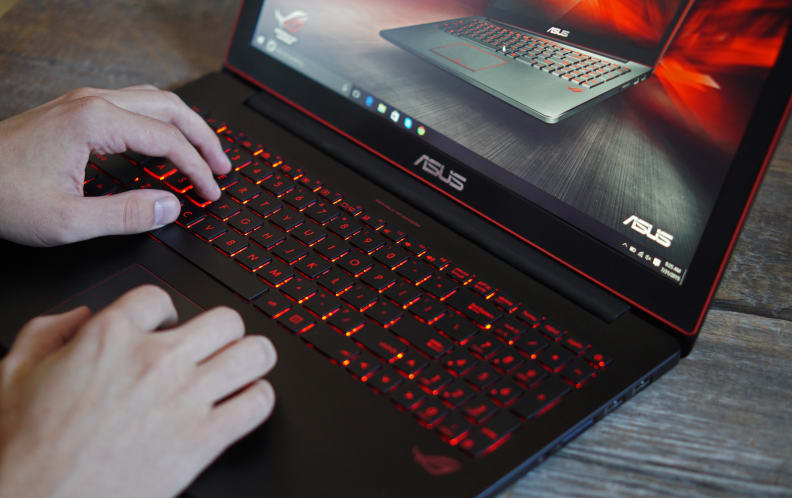 The black case has a finish that resembles wood grain. It can only be seen when the light hits it just so, but it's still a nice touch. An Asus logo and a large "Republic of Gamers" shield emblazon the back of the lid, which keeps things simple yet adds a nice visual break. On the sides you'll have full access to three USB 3.0 ports, a 2-in-1 card reader (SD/MMC), an HDMI port, a mini Display Port, and your standard audio port.
The 15.6-inch, 4K/UHD (3840 x 2160) resolution display requires a large footprint, with the G501 coming in at 15.1 x 10.0 inches—not exactly small. But, at less than an inch thick, it's ideal to slip in your bag with the rest of your gear. Thin or not, it does weigh a hefty 4.54 pounds—without the charger.
With that much real estate, Asus had enough room to include a full numpad alongside the backlit keyboard—a great addition if you're coming from a full keyboard of a desktop PC. And, if you weren't already aware that this was a gaming laptop, the WASD (standard movement keys for games) are highlighted with a red band to denote their importance. It's not just a band of color that sets these keys apart, though; Asus also used "Hyper Cool" technology, which is a fancy way to say the components have been designed so heat is directed away from the parts of the laptop most often used by gamers—like those WASD keys.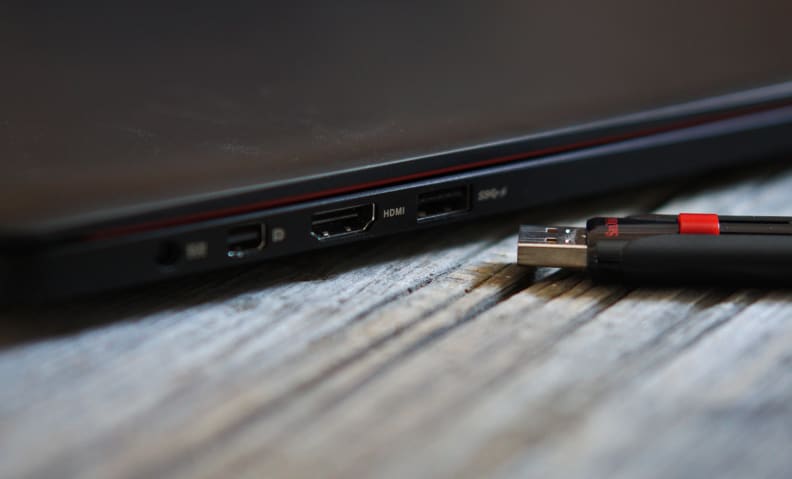 Windows laptops are notorious for sub-optimal trackpads, but the G501 is one of the worst we've used. Using the default settings, the mouse is sluggish and clicking anything becomes a trial in patience. It also occasionally kicked us out of what we were doing and sent us to the fullscreen live tiles of Windows 8.1—although this seems to have been fixed with an update to Windows 10. The good news is that you can tinker with the pointer speed and the amount of delay on clicks to help alleviate these issues. Our recommendation though? Stick to a separate mouse. Not only is it a better choice for gaming, but you won't ever have to rage-quit from trying to open an app using the trackpad.
Software
Windows 8.1/Windows 10 plus Asus Gaming Apps
It's practically a guarantee that when you purchase a new Windows PC you're also going to get some bloatware—useless or redundant software that's pre-installed by the manufacturer. Some manufacturers are worse than others, but with the G501, the pre-installed software actually turned out to be pretty handy.
Arguably the most important is GeForce Experience. It's a handy piece of software that lets users stream to an Nvidia Shield, auto-optimize the graphics settings of their games, record gameplay and stream to Twitch, and update your graphics drivers as soon as they're pushed live by Nvidia. Sure, there are plenty of other ways to handle this kind of stuff, but by streamlining it into a single program Nvidia has cut out the middle-man and made the experience much more enjoyable.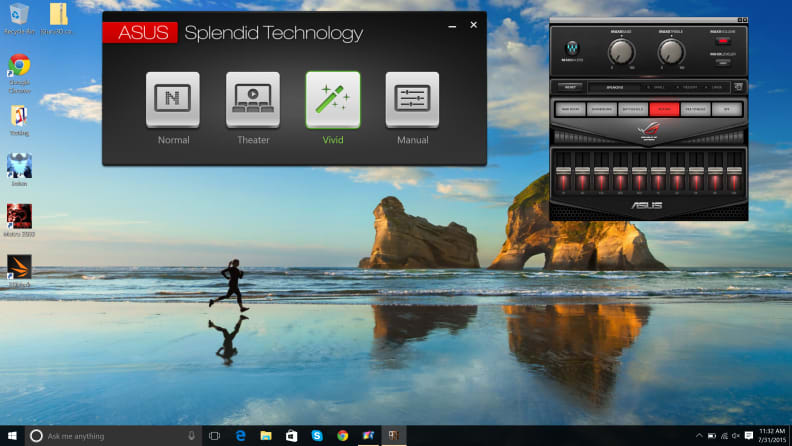 Then there's Asus Splendid and ROG AudioWizard, each of which are filled with presets for picture and audio settings respectively. Splendid adjusts your picture settings and comes with presets for Normal, Theater, and Vivid modes with another tab that gives users super fine manual control. AudioWizard comes with five presets for adjusting sound—War Room, Soundscape, Battlefield, Action, and Multimedia— and, just like Splendid, has manual sliders to customize each of the above mentioned presets.
Rounding out the gaming-centric software is ROG Game First III, which gives you control over your online bandwidth. With it, you can dedicate the bulk of your bandwidth to support your games, while still uploading, downloading, and streaming content in the background. That cuts down on lag without having to close every connected program.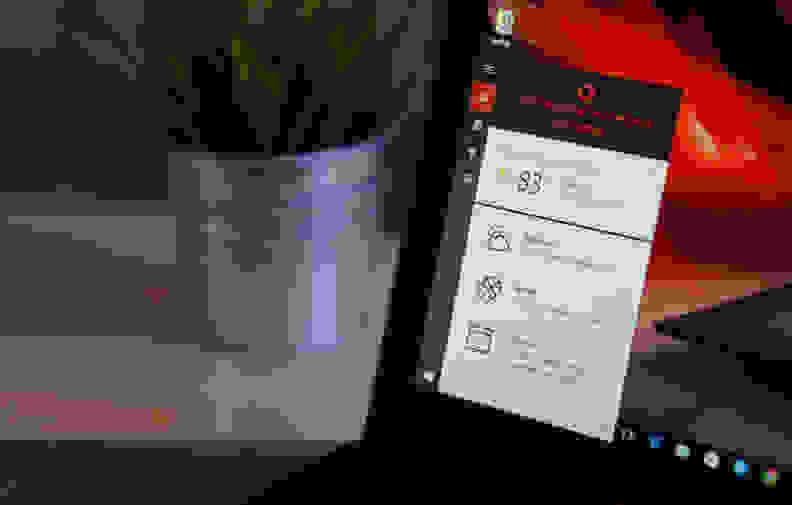 The G501 came to us running Windows 8.1, but seeing as Windows 10 dropped earlier this week, we decided to upgrade and see how the G501 handled the latest from Microsoft. After going through the painless process of updating the OS, everything ran like a breeze.
Except for a Windows 10 driver update that was waiting for us in GeForce Experience, there weren't any problems running any of the aforementioned gaming apps. There also weren't any big performance drops after the upgrade. If you already bought the G501 or were wondering how it'd handle Windows 10, rest easy knowing you won't have any major issues—outside of personal preference for the OS that is.
Performance
Enough performance to get the job, albeit with a few stutters
Unlike other laptops, the G501 can't really be customized beyond the default components. Luckily, Asus packed in enough horsepower that you should be able to play almost any game on the market today—with some tweaking. It won't have the same performance as say, a custom-built desktop, but no laptop will.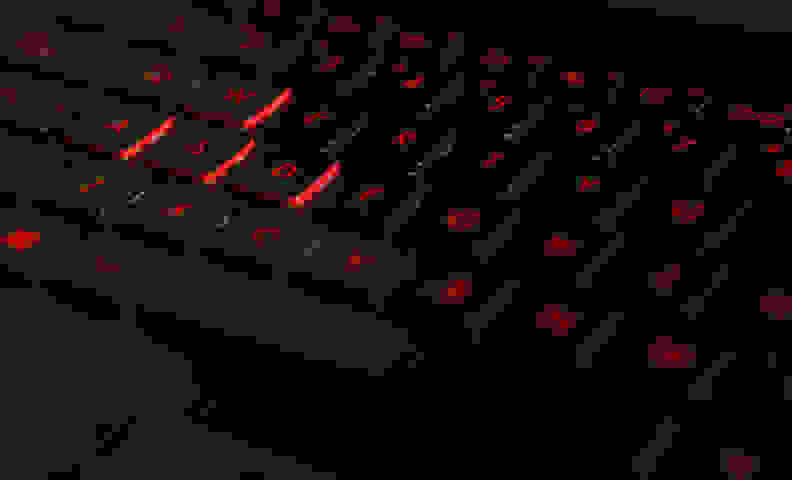 At its core the G501 is powered by an Intel Core i7 4720HQ processor that's clocked at 2.6GHz, with Turbo Boost that can reach 3.6GHz. That's more than enough power to tear through your standard laptop tasks without any stuttering and that same performance will carry over when you switch over to Steam and start playing games. With only 8GB of onboard memory, the G501 won't be able to run a ton of intensive programs at once. But, as long as you aren't trying to run Photoshop, Netflix, and play Rocket League at the same time, you shouldn't have too much of a problem.
Trying to play Metro 2033: Last Light at 4K resolution tops the frame rate at 7fps.
I know what you're really wondering about though: the graphics. The G501 is running an Nvidia GeForce GTX 960M with 4GB of dedicated RAM that's coupled with an Intel HD Graphics 5100 and an Intel HM87 Express Chipset. To test how well a laptop is able to handle games we use Metro 2033: Last Light—a heavyweight of a game—on high settings. The GTX 960M wasn't quite up to the task, with an average frame rate of 20fps—and that was after dropping the resolution down to 1920 x 1080. If you tried to run it on high settings at 4K resolution you'd be lucky to top 7fps.
If there's one place the G501 really surprised us it was the battery. Our battery rundown test cycles through a bunch of tasks and software in a way that's designed to drain the battery as quickly as possible. Even faced with that, the G501 lasted for close to 3.5 hours—an impressive feat considering all of the hardware running under the hood. For comparison, the Razer Blade QHD+ (2015)—another gaming laptop we tested this year—was only able to last 2.5 hours. No matter what though, you'll want to game while plugged in as much as possible. Otherwise your battery time and performance is going to take a serious hit.
Verdict
Save some money without skimping on performance
There's enough power packed into the portable Asus Republic of Gamers G501 that you can rest easy if you want to take your gaming on the road. Sure, you'll have to lower your game settings a bit, but that's true of almost any gaming laptop. A dedicated custom rig would do better, but they can get mighty expensive.
You would have to shell out some serious dough if you want a beast of a machine that can run games like The Witcher 3: The Wild Hunt at peak performance. And while the G501 isn't exactly a bargain pick with an MSRP of $1,599.00, in terms of gaming laptops it's in the middle of the spectrum.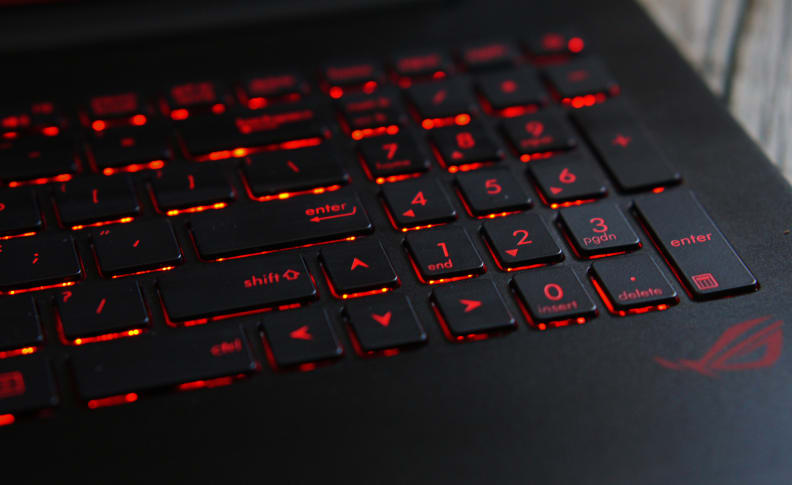 Of course, if you like the design of the G501 but want better all-around performance, we'd recommend checking out the Razer Blade Pro. We haven't spent time with the 2015 edition yet, but we loved last year's model (MSRP: $2,799.99) thanks to its large 17-inch display, programmable hotkeys, and excellent performance. While the price may be a little steep, you can find the 2014 model discounted these days, as long as you're okay with the older Nvidia 860M GPU (a pretty significant drop compared to the G501's NVIDIA GTX 960M).
The G501 is a clear winner for any gamer that needs to be portable.
If your budget will only stretch as far as $1,500 and the G501 isn't doing it for you, you might want to look into the MSI GS70 Stealth. Last year's MSI GS60 Ghost (MSRP: $1,699.00) was one of our favorite gaming laptops and the Stealth has included some much needed updates from last year's model. You'll still have to settle for a slightly less capable GPU—the Stealth uses an Nvidia GeForce GTX 765M—but it offers more options for customization than the G501.
If you don't have the cash to burn, but still want a competitive gaming laptop—the G501 is a compelling choice. While not every game will run on high settings at 4K resolution, the G501's slim and relatively lightweight design means you won't have to break your back going between LAN parties. By putting an emphasis on portability without sacrificing power, the G501 is clear winner for those gamers on the go.
Meet the tester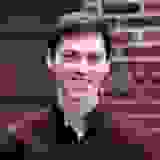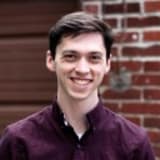 Nick Schmiedicker
Former Managing Editor
@@nschmiedicker
Coming from Buffalo, NY, Nick studied media production and arts journalism. When he's not writing about tech Nick can be found playing video games and keeping up on the latest in pop culture.
Checking our work.
Our team is here for one purpose: to help you buy the best stuff and love what you own. Our writers, editors, and lab technicians obsess over the products we cover to make sure you're confident and satisfied. Have a different opinion about something we recommend? Email us and we'll compare notes.
Shoot us an email