That's where the Asus Transformer Book T300 Chi (MSRP: $699.00, $899.00 as tested) comes in. Moderately priced, the Chi is high-end tablet turned mid-range laptop with the addition of an included Bluetooth dock that connects via powerful magnets. It's portable, lightweight, and has all of the benefits of a tablet with an optional keyboard to help you take advantage of the full Windows experience.
Unfortunately, by trying to have its cake and eat it too, Asus has created a machine that doesn't really find a place of its own to excel in. Overpowered for a tablet and underpowered for a laptop, the Chi may be the perfect storm for some people, but for the rest of us it's just hard to justify.
Leave your desk and get your mitts all over it
From a design perspective, it helps to think of the Chi as two separate components—a tablet and a Bluetooth keyboard dock—that when combined form a passable laptop. As far as a computer goes, all of the power from your Chi is coming from the tablet portion. It's 10.4 by 6.8 inches and is a slim .29 inches at its thinnest point (.64 inches when docked). While the sapphire blue shell is a beautiful color on a laptop—especially when paired with the gleaming steel border—it attracts fingerprints like a magnet. The tablet portion comes in at only 1.2 pounds, which is a good deal lighter than the Surface Pro 3—its closest competitor.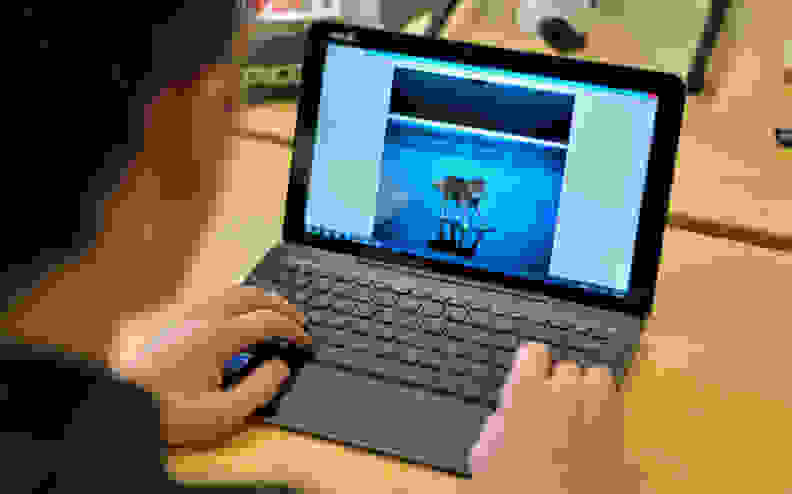 There are two different models of the Chi, the $699 base unit comes with a Core M processor, a 1080p display, 4GB of RAM, and a 128GB SSD. Our review unit is the $899 version and ups that to a higher-specced Core M processor and 8GB of RAM in the same slim package. The enhanced screen is a very respectable 2560x1440, and has a very wide viewing angle that's perfect for Netflix.
The few ports that are on the Chi can all be found on the tablet portion and they've all been scaled down to accommodate its thin frame. You'll find a single micro USB 3.0 port―which can be turned into full USB 2.0 with an included adapter―a micro HDMI port, an audio port, the power adapter port, and nothing else. The truth is, you're going to have to get comfortable with multiple adapters if you plan on expanding your input with peripherals.
As a laptop, the Chi attaches to the included Bluetooth keyboard dock via two metal protrusions secured with very powerful magnets. You can easily pick it up while holding just the keyboard, making it feel like a true hybrid. You don't actually need to connect the dock to the tablet in order for the keyboard to work, however, opening a range of options if you have something to prop up the tablet. The keyboard is much lighter than the tablet overall, though, making for a fairly top-heavy device. The screen also doesn't extend back very far, which leaves you with few options when it comes to adjusting height.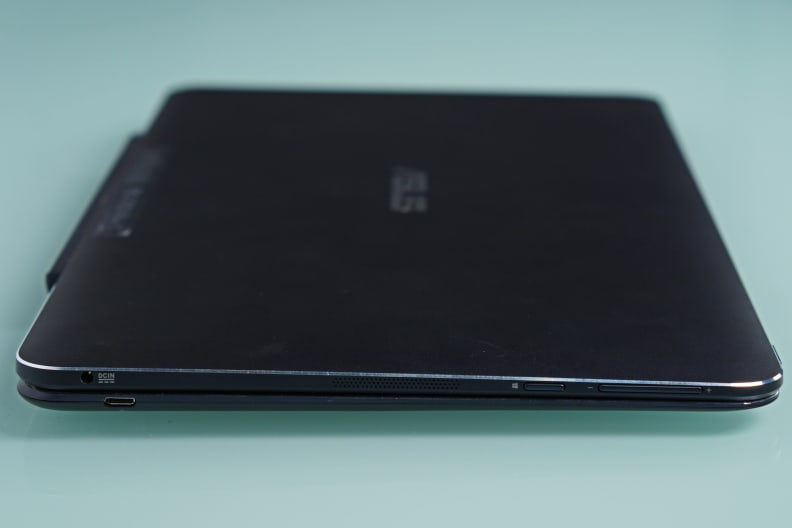 ×
ITSA TOUR!
The dock also has its own battery and it charges via micro USB, so you'll need to carry a separate charger to make sure your dock doesn't die when your on the move. And like most Bluetooth keyboards, there's a notable delay whenever you wake up the Chi before the keyboard connects. There isn't even a good indicator of when the keyboard and Chi have connected, meaning I was often left just idly swiping the touchpad until something happened.
But, once that's out of the way you'll be treated to a surprisingly great keyboard. The keys have a generous amount of travel to them and are spaced far enough that mistakes are few and far between. The trackpad, on the other hand, isn't as impressive. While the small touch-sensitive area has a nice soft feel, the cursor had a nasty habit of disappearing on me while I worked, leaving me to navigate using the keys or via the touchscreen.
You got some of your Asus in my Windows 8.1
If you've handled a Windows computer sometime in the last two years you know the gist of what to expect by now. Windows 8.1 was built to be simple and modular enough to take advantage of touchscreens while still retaining the traditional desktop mode.
The first question every consumer faces when they boot up a new Windows laptop is, "How many useless apps from the manufacturer do I have to uninstall?" Luckily, Asus managed to keep the bloatware to a minimum here.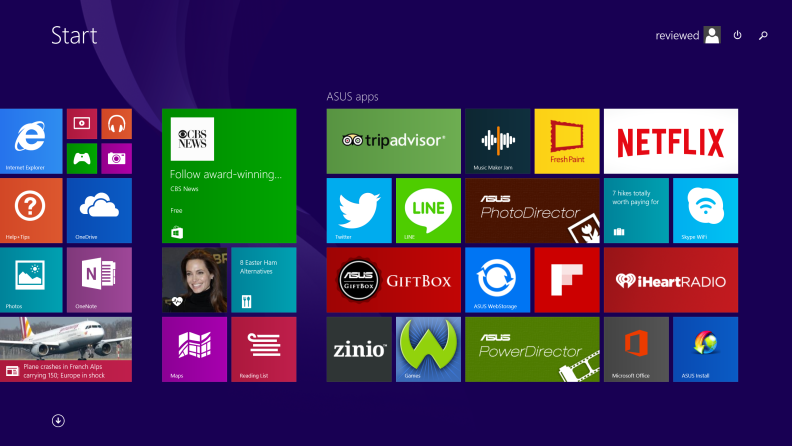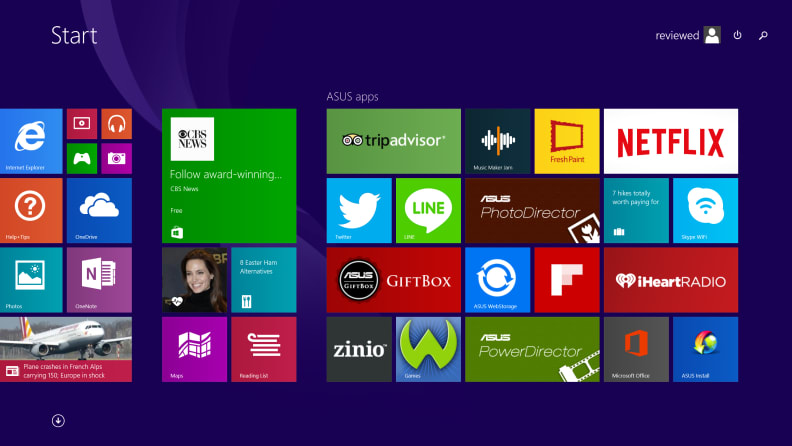 On the start screen you will find tiles for Asus Install, GiftBox, WebStorage, PhotoDirector, and PowerDirector. They're all pretty basic, but I'll give you the rundown on what Asus chose to include.
The Asus branded apps have Windows alternatives that are similar and, oftentimes, better.
First up is Install, which is an installation wizard that has a quick directory of drivers and system utilities to make sure you computer is completely up to date. Giftbox is a small collection of recommended applications sorted by type—many of which are already installed. You can use WebStorage to store files in Asus's own cloud storage solution. PhotoDirector is a—you guessed it—photo manipulation app that lets you edit, frame, collage, or text bubble your photos. And finally, PowerDirector is a basic video editing app that gives you access to tools to add effects, trim, and create a video to share with others.
Along with the Asus apps, you'll find links for other more generic apps like: Netflix, Twitter, Flipboard, iHeartRadio, and more. While Netflix and Twitter are definitely useful and a welcome inclusion, all of the Asus-branded apps have Windows alternatives—like OneDrive—that are similar and, oftentimes, better.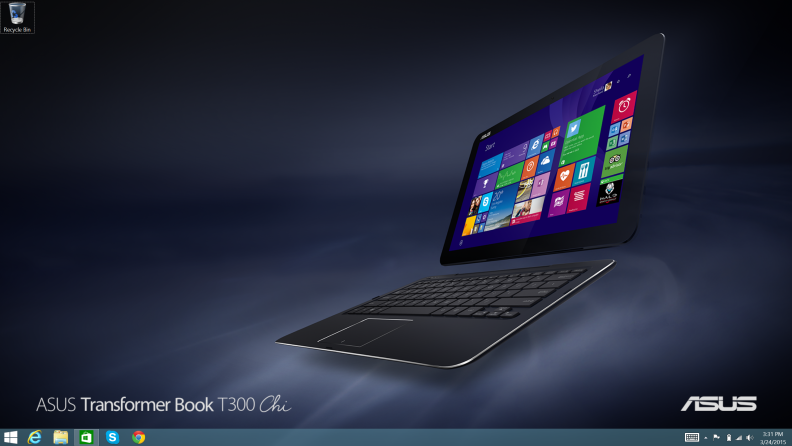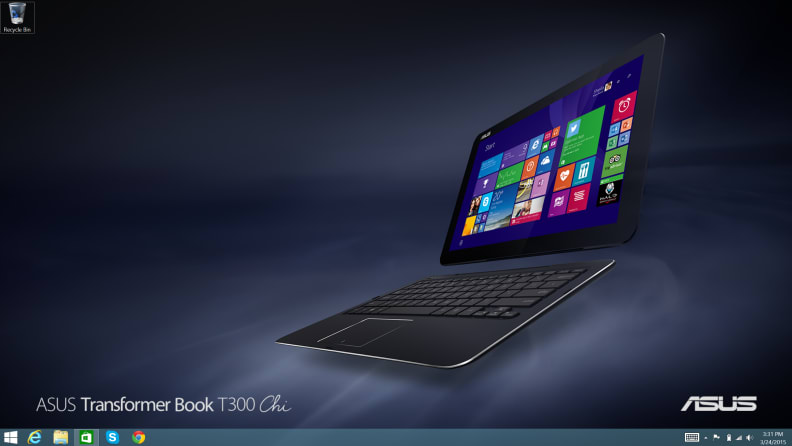 Built for portability, not power
From design right on down to performance, the Chi is positioned as a travel-friendly laptop/tablet hybrid that's great for the average Joe. It's got enough juice from the Core M processor and 8GB of RAM to handle word processing, light photo editing, watching movies, and browsing the web, but it doesn't extend a whole lot further than that.
The Chi is a travel-friendly laptop/tablet hybrid that's great for the average Joe.
The Chi is packing one of Intel's new Core M processors under the hood. Core M was built for the super slim laptops of the future by letting manufacturers ditch the fans typically needed to keep things running cool. Unfortunately, our experience with Core M so far hasn't been all that impressive. Though Core M enables devices to be smaller, from a price-versus-performance perspective something like the 5th-gen Intel core processor in the Dell XPS 13 is a better value.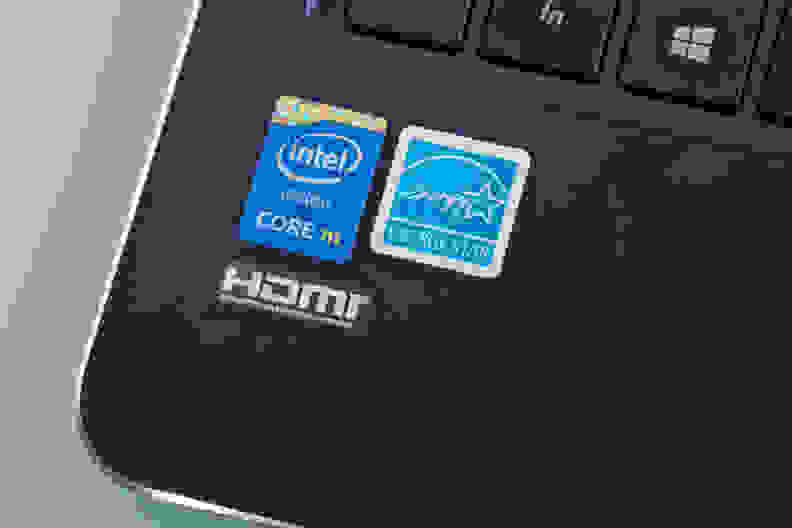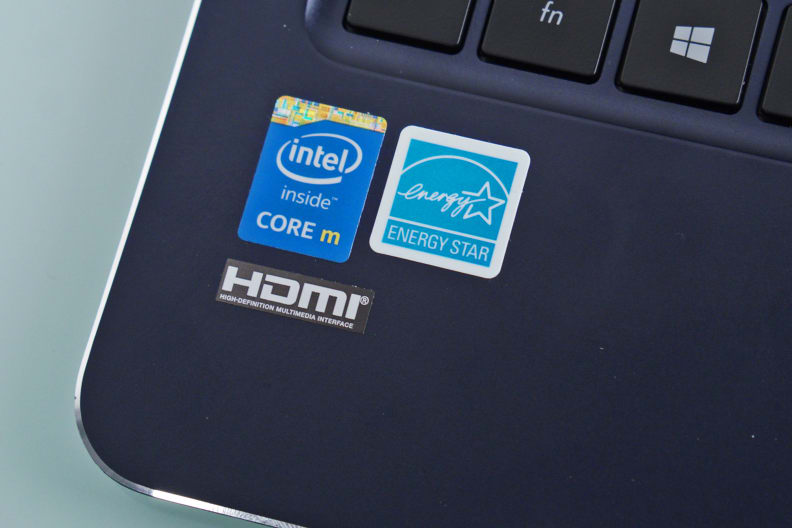 Going off the numbers, the Core M-5Y71 processor in our review unit was clocked at 1.2GHz. While the Chi was able to handle most of my basic computing needs with the 8GB of RAM, it was easy to find its upper limits. True to its size, the Chi finds a balance as an everyman's hybrid, perfect for someone who needs a machine for browsing the web, catching the occasional Netflix show, and editing Word documents.
The Chi will get you through most of your basic tasks, but not much else.
When it comes to the video card, the Chi is packing an integrated Intel HD Graphics 5300 GPU. It isn't packing enough power to do anything intensive, but it will get you through most of your basic tasks without you having to worry about stuttering. Just to bring the point home, Metro: 2033 Last Light―a graphically-intensive game that we benchmark on the "high" quality setting―ran at whopping frame rate of 5 fps. If you plan to do any gaming, you're most likely going to have to settle for those that are flash or browser-based.
So why go with Core M at all? The main selling points are the chip's compact design and ability to extend battery life. Unfortunately, the latter claim didn't hold much water with the Chi. When we put it through our intensive battery rundown test―which constantly cycles through a range of common laptop functions―the Chi only lasted 3.25 hours. That's not a terrible result—the Surface Pro 3 lasted only three hours in the same test—but it's not the massive leap forward Core M was billed as.
Struggling to find a place between tablet and laptop
The Asus Transformer Book T300 Chi (MSRP: $699, $899 as tested) is one more in a long line of hybrid options that attempt to strike a balance between a laptop and a tablet, offering the convenience of on-the-go media consumption and the power of a full laptop in one device. With a stunning design and the new Core M processor, it's safe to say that we had high hopes for the T300 Chi when it debuted at CES this year.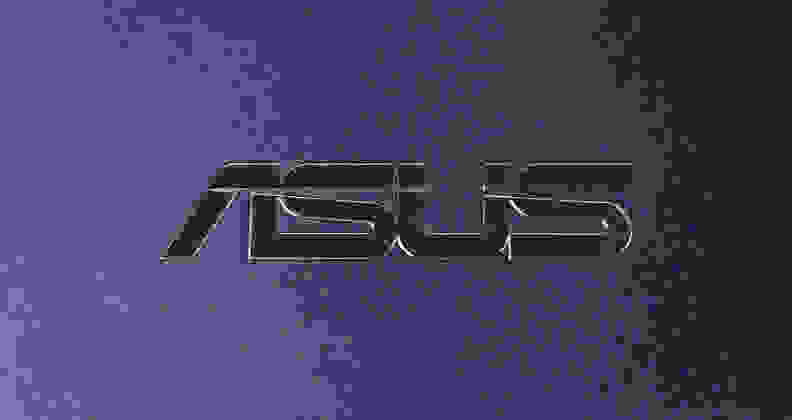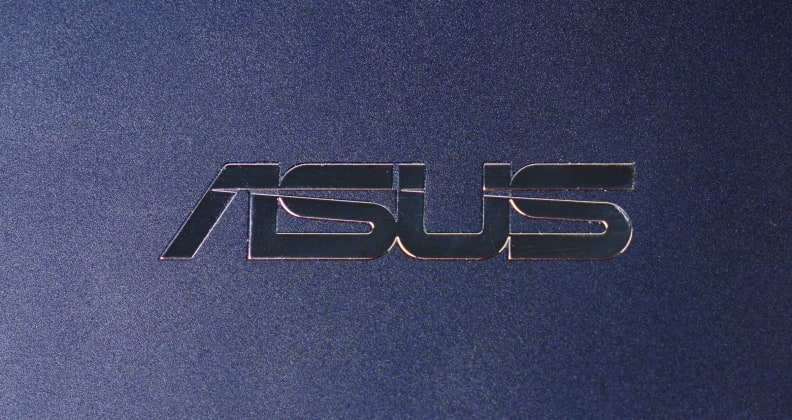 Now that we've had the time to put it through its paces, we have to say that this still falls a little short of our loftiest hopes. While its improved physical design is impressive, we're just not sold on the value proposition of the unit we tested. While it handles daily tasks just fine, for $900 you can get a laptop that has better performance, nearly as good portability, and—crucially—better battery life.
That said, we do have hopes for the base model. While we haven't seen it in action, it is priced to compete with far less capable mid-range laptops and tablets like the 128GB iPad Air 2. And in that weight class the T300 Chi performs like a champ. If your expectations are limited to "anything better than a tablet" then the T300 Chi has the form and functionality to serve you quite well.
If you can sacrifice a little bit of versatility but want more power then we highly recommend the new Dell XPS 13 (MSRP: $799.99). With a 13-inch screen in case that's typically reserved for 11-inch laptops and a Core i3 processor in the entry-level model, the XPS 13 is the new watermark for ultraportable laptops. It'll offer better battery life, better performance, and a similar overall size to the Chi for less money than the unit we tested.
Unfortunately, the Chi's biggest selling point is also its biggest downside.
But, if the idea of being able to switch effortlessly from tablet to laptop has captured your imagination you might also want to take a closer look at the Microsoft Surface Pro 3 (Core i5) (MSRP: $799.99–1,999.99). We prefer Asus' keyboard, but the Pro 3 can be customized to be significantly more powerful if you have the extra money. Neither is the hybrid laptop/tablet of our dreams, but they're closer than anything else we've seen yet.
Meet the tester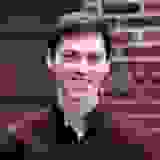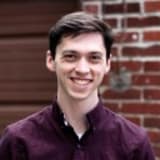 Nick Schmiedicker
Former Managing Editor
@@nschmiedicker
Coming from Buffalo, NY, Nick studied media production and arts journalism. When he's not writing about tech Nick can be found playing video games and keeping up on the latest in pop culture.
Checking our work.
Our team is here for one purpose: to help you buy the best stuff and love what you own. Our writers, editors, and lab technicians obsess over the products we cover to make sure you're confident and satisfied. Have a different opinion about something we recommend? Email us and we'll compare notes.
Shoot us an email