Asus' newest contender in the hybrid category is the Transformer Book Trio (MSRP $1499.99), which offers a twist on the convertible formula: When in tablet mode, you're using Android, not Windows. #HeadExplodes
Yes, the Transformer Book Trio offers two separate user experiences. The first is an 11.6-inch laptop affair, complete with Windows 8.1, a fourth-gen Intel i7 processor clocked at 1.8GHz, 4GB of RAM, 500GB of (non-solid-state) hard drive space, and a 1080p touchscreen display. Then there's the tablet experience, which involves the same 1080p touchscreen, but utilizes completely different components: a separate (and less powerful) Intel Atom processor, 2GB of RAM, and 16GB of flash storage.
Those who purchase the Trio are technically getting two separate devices with a shared screen—but why? What's the point of splitting the experience by offering two operating systems? Almost every other hybrid uses Windows 8 in both laptop and tablet mode, but with the Trio, you absolutely must use Android in tablet mode—sorry, Windows. The result is a disorienting jumble of two great operating systems that don't exactly harmonize.
More operating systems shouldn't mean more weight.
The Transformer Book Trio is an 11.6-inch heavyweight. Seriously—this little laptop is heavier than a 13.5-inch MacBook Air. Part of the reason for this is because the Trio has twice the specs to account for a second operating system, although the majority of the weight comes from the keyboard dock.
As a laptop, the Trio is slightly bulky compared to other PCs in its price range—the sleek Samsung ATIV Book 9 Plus comes to mind. You'll find most standard connectivity options, including two USB 3.0 ports, a micro-HDMI output, a mini DisplayPort, and a headphone port. Noticeably absent is an SD card slot—more on that later.
Once opened, you're greeted by the Trio's keyboard. An 11.6-inch laptop keyboard is going to feel cramped compared to larger models, and that's exactly the case on the Trio. To make matters worse, the actual keys feel stiff while typing.
At least Asus' touchpad fares better. Again, an 11.6-inch laptop will have a smaller touchpad, but the Trio makes good use of the minuscule space under the keyboard. The touchpad feels a bit cheap when you press down to trigger a mouse click, but the sleek surface is incredibly smooth, making for an enjoyable overall experience.
An 11.6-inch laptop keyboard is going to feel cramped compared to larger models, and that's exactly the case on the Trio.
And now we make our way to the touchscreen, or tablet, depending on how you wish to use it. As a 1080p screen for a laptop, it looks fantastic. Text and images are sharp, while colors look properly saturated. And if you want to swipe around Windows 8, go for it—the touch aspect is very fluid.
As a tablet—well, let me back up for a minute. Always keep in mind that the Trio runs both Windows 8 and Android. Got it? Good. When in tablet mode, you are only allowed to use Android. Hoping to use a Windows 8 tablet? Look elsewhere. A button near the bottom of the screen will unhinge the keyboard, so that the screen becomes a tablet. If you do this while in Windows mode, the tablet will immediately switch to Android. There's also a keyboard button located next to F12 that does this. Thankfully, the switch is almost instant.
Just because you're using Android doesn't mean the screen is any worse. Instead of an 11.6-inch laptop with a 1080p screen, you can use an 11.6-inch tablet with a 1080p screen. Where the laptop was heavy, the tablet feels featherweight. It's no iPad Air, but it's light enough.
In tablet mode, the Trio is no iPad Air, but it's light enough.
On the back of the tablet, you'll find the power button and a volume rocker, which is a very awkward place for buttons normally located on a tablet's side. The bottom features a headphone jack, a micro USB port, and... a micro SD card slot. While many tablets feature these slots for increased storage, why couldn't Asus put one on the laptop dock as well? Since the SD card slot is at the bottom of the tablet—where it docks into the keyboard—you won't be able to use it in laptop mode ever. Bummer.
While you could technically upload data from an SD card to your tablet, then dock the tablet into the keyboard, then switch to Windows mode and get your data, we'd prefer less hassle.
As a side note, if you want to use the keyboard and touchpad in Android mode, feel free to—it works pretty well. A two-finger swipe will switch between multiple home screens, and single-clicking on apps launches them. Of course, nothing on Android really needs a keyboard and touchpad, so this is more of a nice novelty. Taking the tablet out of the dock and putting it back in won't affect any apps running, so playing around with the keyboard functionality won't hurt anyone.
Fast CPU + slow hard drive = meh
For the Windows portion of this laptop, Asus bundles a dual-core Intel i7 processor, which is very speedy for most tasks. Indeed, in some of the tests we performed on the Transformer Book Trio, it passed with flying colors. Unfortunately, you won't notice this speed because Asus didn't put a solid-state drive in this puppy, instead opting for a slower disk-based hard drive.
Maybe I'm just spoiled from testing so many ultrabooks with solid-state drives, but the difference in performance is shocking. Think about it: Your hard drive is what reads and writes data. If this device is slow, then everyday tasks like booting up your computer and launching a program will also be slow. The noticeable delay in these actions is extremely annoying, especially since this hybrid retails for $1499.99. That's way too much.
The Transformer Book Trio can power through any task you give it, but struggles with loading things quickly.
Don't think the Trio has terrible performance overall, though. In fact, that's far from the case. The Trio blazed through our Photoshop, Excel, and video conversion tests. Even raw processor tests like Geekbench prove that the little Trio shouldn't be taken lightly. Unfortunately, the majority of our benchmarking tests don't account for slow hard drive performance. That's the yin and yang of this hybrid.
So there you have it: The Transformer Book Trio can power through any task (save for gaming) that you give it, but struggles with loading things quickly. That's all, right? Oh yeah, the tablet portion of this thing uses completely different specs.
When using the Trio as a tablet, forget about the previous four paragraphs.
Asus' latest hybrid utilizes Google's Android 4.2 operating system, a less powerful tablet processor (also by Intel), 2GB of RAM, and—surprise!—flash storage for a lag-free experience.
Launching multiple webpages is quick and pain-free, and movies on Hulu and YouTube load without a hitch. If you feel like playing some games on the Trio, it can handle them. I played a few rounds of Temple Run 2 on this tablet, and while it did have some stuttering issues in the beginning, the experience was mostly pleasant. All in all, this is a solid Android tablet, although I still don't know why you'd want both operating systems on one device. Wouldn't it be easier to bring your Windows laptop experience with you in tablet form?
This is a solid Android tablet, although I still don't know why you'd want both operating systems on one device.
As far as battery life goes, expect close to 8 hours in laptop mode when browsing the internet for funny pictures or whatever it is people do these days (cats and zombies, I think). Playing games will net you a little over 2 hours, although gaming really isn't the Trio's forte. In tablet mode, since less-powerful specs consume less power, users can obviously expect even longer battery life.
And while WiFi performance should never be an issue, there is an oversight on the Trio. When using Windows, you can access both 2.4GHz and 5GHz networks, but in Android mode? Just 2.4GHz networks. The majority of consumers use the 2.4GHz spectrum for their home network, so this isn't the biggest issue. For those of us that do rely on 5GHz networks, though, the lack of support is a letdown.
Dude, where's my Instagram?
Twice the operating systems means twice the apps, right? Well, technically. Because you can run full Windows 8 and Android on the Trio, you have access to more apps than you'll ever need.
Thankfully, though, Asus doesn't clutter up the Transformer Book Trio with lots of unnecessary apps in Windows mode. You'll find the company's terribly-named Power4Gear Hybrid app in Windows mode, which basically switches between high performance and energy saving modes depending on battery life. There's also Asus Console, which gives you at-a-glance statistics for the Trio such as available hard drive space, memory used, and certain sharing settings—pretty nifty for power users.
The Android experience is also relatively clutter-free, too. There are a few Asus-branded apps like Asus Story, which lets you create photo albums, but nothing too crazy.
Still, you won't necessarily find all your favorite apps on the Trio. Your most-used apps, which might include Facebook, Netflix, and Spotify, are in Google's Play Store, but some aren't—like Instagram or the popular game Injustice: Gods Among Us. I'm not entirely sure what the reason is, but I suspect there are compatibility issues with the Intel processor used. Most tablets use processors made by Qualcomm, and because of this, some apps might not recognize Intel's architecture. Aside from the two previously-mentioned apps, there aren't many that don't run on the Trio.
The Trio doesn't run the latest version.
If you're an Android purist, one thing to keep in mind is that the Trio doesn't run the latest version. Asus uses Android 4.2 (aka Jelly Bean), while the latest and greatest from Google is version 4.4 (aka Kit Kat). Aside from differing numbers and desserts, the newest version of Android offers performance enhancements and better integration with Google Now—an incredibly helpful Android app that delivers relevant information to you as if it were reading your mind.
Users aren't missing out on a completely different experience by having a slightly older version of Android, but it would have been nice if Asus shipped the Trio with the most up-to-date offering.
Transformer Book identity crisis
Aside from some performance hiccups caused by a slow hard drive, the Asus Transformer Book Trio is a fairly solid device. You won't get the most comfortable keyboard, but you do get a decent amount of power in an 11.6-inch laptop. And did I mention you also get to use the Trio as an Android tablet?
Who is this for? There aren't any huge benefits to running Windows and Android on one device.
There lies one of the Trio's big issues: Who is this for? There aren't any huge benefits to running Windows and Android on one device. As a work machine, the Windows portion can get almost anything accomplished. As a media consumption device, the Windows portion is also fantastic. The only benefit I can see to having Android is the ability to play some amusing touchscreen games that aren't available on Windows, but that's it. According to Chris Thomas, our tablet guru, Asus seems to have made a solution for a problem that doesn't exist.
The Transformer Book Trio's other big issue is its price. This thing retails for $1499.99, which is absurd. Think about it this way: The recently-reviewed Lenovo Yoga 2 Pro has slightly better specs and can be used as a tablet. You can find it for around $1200. If you really want the Android experience as well, you can purchase the best Android tablet on the market: Google's Nexus 7, which retails for $230. Combined, Lenovo's excellent hybrid and Google's tablet will set you back $1430—still less than the Trio.
According to a reviewer on Amazon, you can buy the Trio from Amazon's Canadian site for under a grand, and still have it shipped to the US. We haven't tried this, but if you're intent on getting a dual-OS hybrid, that seems like the best deal around.
There is something to be said about having everything you need in one package, but I'm not sold on dividing my time between two completely different operating systems on the same device.
Meet the tester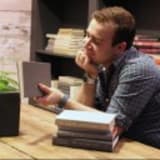 Josh Fields
Staff Writer
@reviewedtech
An enthusiast of all things tech, Josh is one of Reviewed.com's resident television experts. When he's not looking at bright TV screens in a dark room, he's probably reviewing a laptop or finding a new snack at 7-11.
Checking our work.
Our team is here for one purpose: to help you buy the best stuff and love what you own. Our writers, editors, and lab technicians obsess over the products we cover to make sure you're confident and satisfied. Have a different opinion about something we recommend? Email us and we'll compare notes.
Shoot us an email