Want proof? Take a gander at the latest XPS 13 (MSRP $1649.99). With its dark metallic cover and gorgeous 1080p touchscreen, Dell's 13-inch ultrabook oozes style. Of course, beauty is only skin deep. Luckily for Dell, the XPS 13 has what counts on the inside too: Intel's latest Core i7 chip, 8GB of RAM, a 256GB solid-state drive, and Windows 8.1.
Needless to say, this is a very good laptop, but it comes with an exorbitant price tag. While the XPS 13 certainly isn't the best deal for under $1700, it will appeal to consumers that crave design as much as they want performance.
Simply handsome, or handsomely simple
Dell didn't reinvent the ultrabook with the XPS 13, but it did refine the template Apple made with the original MacBook Air.
Starting at the top, you'll notice its dark aluminum cover, which is surprisingly finger-print resistant. We've seen plenty of metallic laptops before, but Dell's stands out because of its color scheme. When opened, you're greeted by a black keyboard and a matte-black base. Coupled with an aluminum trim, the XPS 13 looks even better open than it does closed.
Speaking of keyboards, Dell's is one of the best that I've used. The keys are raised slightly more than most competitors, giving the XPS 13 more travel than normal when pressing the keys. The end result is an incredibly satisfying typing experience reminiscent of excellent full-sized keyboards.
The quality doesn't stop with the touchpad, which has just the right balance of smoothness and resistance. Dell's touchpad gets it right, although I can't help but wish for more surface area like the pad on Apple's MacBook Air.
Speaking of keyboards, Dell's is one of the best that I've used.
When it comes to connectivity options, Dell loses points for omitting an SD card reader. Yes, this $1650 ultrabook needs a separate adapter to read SD cards—sorry, photographers!
Instead, Dell decided to put a battery life indicator on the right-side of the XPS 13. If you're too lazy to open your laptop up and check the battery life, you can press a tiny button next to the USB port. This will cause the five tiny lights on the other side of the button to light up, giving you a rough estimate of how much juice is left. This might be useful if you're playing a full-screen game and need to quickly check your battery life, but I'm still not sold.
Dell also includes an excellent 1080p touchscreen, and the entire thing screen is coated in Gorilla Glass—a flourish that lends extra protection against scratches, but not fingerprints. Using the display as a touchscreen was mostly problem-free, except for a few times when I tried to use some Windows 8 gestures. The XPS seemed to disregard my first few attempts, although once my swipes finally registered, I had no other problems.
Gestures aside, images look sharp and colorful on the XPS 13. The screen also gets modestly bright, so don't be afraid to get some sun while you toil away on the XPS.
Excellent performance, but is it $1650 good?
Any laptop over a grand comes with one basic expectation: snappy performance. Does it navigate the operating system fluidly? Does it launch programs quickly? Are there any noticeable delays in daily use?
As good as the Dell XPS 13 is, it doesn't quite live up to its price tag.
Dell's XPS 13 avoids those performance pitfalls—yes, it's quite snappy. Whether solving mathematical conundrums in Excel or applying complex filters to pictures in Photoshop, I noticed nothing but top-notch performance. Pretty good for $1650, right?
Well... not quite.
As good as the Dell XPS 13 is, it doesn't quite live up to its price tag. Its main problem is that competitors make cheaper ultrabooks with similar specs and nearly identical performance results. Look no further than the Lenovo Yoga 2 Pro, which has the same processor, the same amount of RAM, and the same solid-state storage. Unfortunately for the XPS 13, Lenovo's ultrabook only costs $1200 and has a much higher screen resolution.
How does Dell's svelte laptop stack up next to Lenovo's? Let's take a look:
When converting a .mov video file to a .m4v file, the XPS 13 took 171.63 seconds. The Yoga 2 Pro only took 158.45 seconds.

The XPS 13 took an average of 8.4 seconds to boot up. The Yoga 2 Pro took about 9.3 seconds.

When playing Metro 2033 on high settings, both laptops averaged 6.67 frames per second.
These two laptops are virtually identical based on performance scores, although the Lenovo Yoga 2 Pro holds a slight lead in many categories. Dell's ultrabook does have noticeably better battery life, though: We clocked over 10 hours compared to the Yoga 2 Pro's 7.5 hours.
WiFi was superb on the XPS 13, though. You get access to both the 2.4GHz and 5GHz bands, not to mention wireless AC, the newest wireless standard that promises better range and faster speeds.
No bloatware? Three cheers for Dell!
Props must be given to Dell for including a bare minimum of bloatware, or useless apps, on the XPS 13. The only programs pre-installed are My Dell, PocketCloud, and the Dell Shop. An uncluttered Windows 8 is a good Windows 8.
My Dell is your basic service app. You can look up system info, perform laptop checkups, and backup content. There's also an option to find the latest drivers, but when you click it, you're just sent to Dell's website. HP and Sony have software like this that actually finds drivers for you without sending you to a website—why couldn't Dell implement something as simple?
Since Google includes 15GB of free storage with Google Drive, why would anyone even consider PocketCloud?
PocketCloud is yet another cloud storage solution. You can log in with a Google account and gain access to 2GB of free storage. Since Google includes 15GB of free storage with Google Drive, why would anyone even consider PocketCloud? Next.
Finally, the Dell Shop app doesn't grant you access to more apps: It's actually a portal to buy more Dell stuff. Laptops, tablets, backpacks, printers—the Dell Shop has it all. The interface is well-designed, which is not good for your wallet in case you indulge in some recreational spending. If you need something from the Dell Shop, definitely use the app.
Excellent performance like this doesn't have to be so expensive.
Aside from the omission of an SD card reader—seriously, who does this?—Dell crafted a superb ultrabook in the XPS 13. It's powerful, offers plenty of storage, lasts for a very long time, and has excellent WiFi. On top of this, the screen looks fantastic, the keyboard is amazing, and it's just an overall good-looking piece of hardware.
So where did Dell go wrong?
The biggest strike against the XPS 13—and it's a big one—is its price. Even though you get top-of-the-line ultrabook specs, $1649.99 is still too much. I'd be much more open to the XPS 13's big ticket if Lenovo didn't offer a similar product for over $400 less. Where Dell's laptop has much better battery life, Lenovo's Yoga 2 Pro offers a better screen and an SD card reader. As much as I really like the XPS 13—I really, truly do—I can't recommend it over Lenovo's competitor unless its price is heavily reduced.
Meet the tester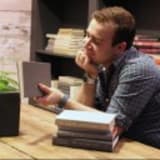 Josh Fields
Staff Writer
@reviewedtech
An enthusiast of all things tech, Josh is one of Reviewed.com's resident television experts. When he's not looking at bright TV screens in a dark room, he's probably reviewing a laptop or finding a new snack at 7-11.
Checking our work.
Our team is here for one purpose: to help you buy the best stuff and love what you own. Our writers, editors, and lab technicians obsess over the products we cover to make sure you're confident and satisfied. Have a different opinion about something we recommend? Email us and we'll compare notes.
Shoot us an email