This convertible is massively powerful. From the grey exterior to the carbon fiber interior, it may not look like a traditional gaming computer, but thanks to its 8th-gen Intel CPU and Radeon graphics, it sure as hell performs like one. Additionally, we love its keyboard and speakers, and the 4K touchscreen display is one of the best we've ever seen.
There were, however, a few trade-offs. Battery life is less-than-stellar, so you'll probably want to keep the power adapter with you. The bottom of the XPS also runs hot, and to compensate, its cooling system can get really loud. Plus, the stylus isn't included and the webcam looks straight up your nose.
Drawbacks aside, the XPS is one of the snappiest laptops we've ever used. So, if you're a hardcore gamer or a photo/video editor, this is a great choice.
The new XPS 2-in-1 comes in a couple of configurations.
The base model ($1,299.99) is armed with an Intel Core i5-8305G CPU, 8GB of RAM, 128GB of PCIe storage, and a 15.6-inch (1920 x 1080) touchscreen. Our review unit ($2,349), however, features an Intel Core i7-8705G CPU, 16GB of RAM, 512GB of PCIe storage space, and a 4K (3200 x 1800) touch panel.
Here's our decked-out loaner in detail:
CPU: Intel Core i7-8705G
GPU: Radeon RX Vega M GL Graphics
Display: 15.6-inch Ultrasharp 4K UHD (3840x2160) InfinityEdge touch display
Storage: 512GB PCIe SSD
Memory: 16GB RAM
Ports: 2x Thunderbolt 3 with powershare, 2x USB-C 3.1, micro SD card reader, headset jack, noble lock slot
Battery: 75Whr
Weight: 4.3 lbs
If you're looking for a budget-friendly alternative, we'd recommend the newly refreshed XPS 15 (sans hinge). Although it's not as powerful as the convertible version, I wouldn't exactly say it's a lightweight. The entry-level model starts at $999 and comes equipped with an Intel Core i5-8300H CPU and a NVIDIA GeForce GTX 1050 Ti GPU—that's not too shabby!
The display is absolutely stunning.
I watched the first episode of The Handmaid's Tale on the XPS 15, and let me tell you: Those crimson-red cloaks really leapt off of the screen. As the camera panned over the handmaidens—who were standing stock-still in perfect circles in the rain—I couldn't help but admire how weirdly beautiful that bleak world was. Not only are colors on the display vivid, shadows never lose definition—I was able to make out even the tiniest details in darker scenes.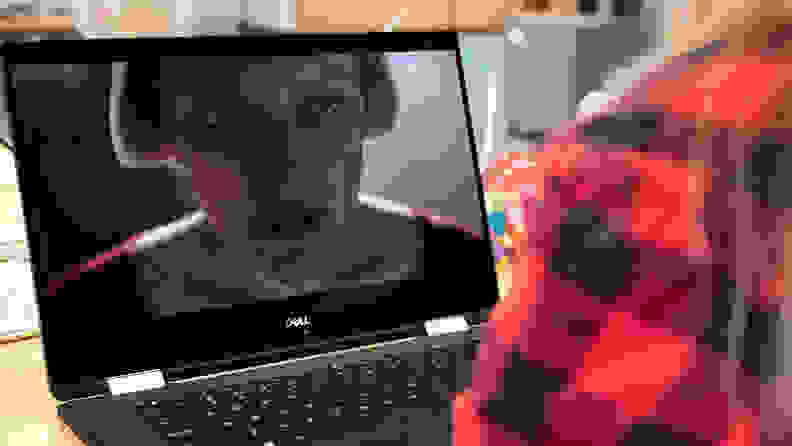 My only real gripe is with the reflection: It's a glossy touchscreen, so natural light bounces right off of it. This makes for an especially difficult time if you're near an open window with sunlight streaming in. I found myself constantly adjusting the screen because I couldn't really see what I was doing. Under artificial lighting, though, the screen is perfectly fine.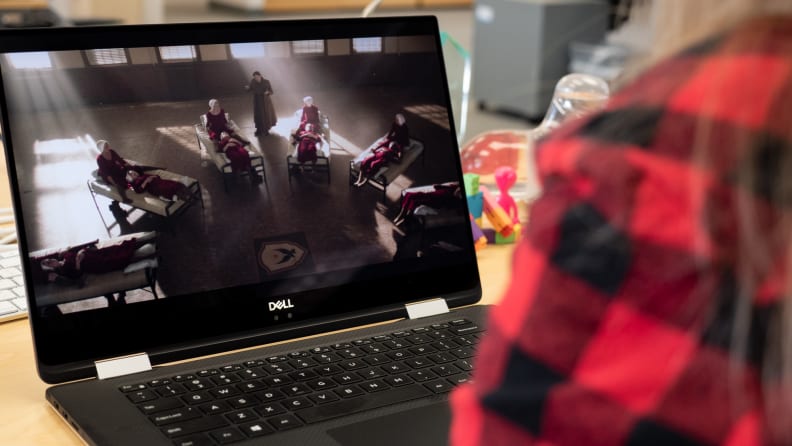 It can handle visually demanding games.
The XPS is one hell of a powerhouse. Between the Intel Core i7-8705G processor and Radeon RX Vega M GL graphics, I was able to play The Witcher 3: Wild Hunt on ultra settings at 25-30FPS, but background details blurred out whenever I spun Geralt around. I saw better frame rates (around 35-40FPS) on high settings. If it's smooth gameplay you're after, we'd recommend lowering the graphics.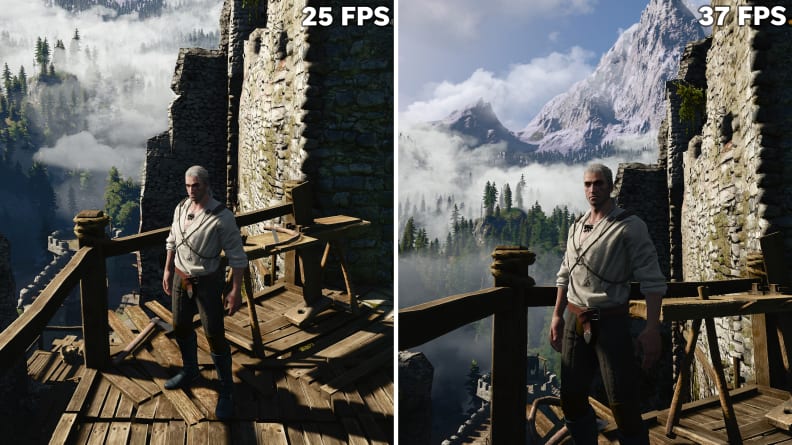 The keyboard is surprisingly comfortable.
The XPS 15 features a slightly different kind of keyboard, in that the individual keys float on a magnet, which creates resistance. I didn't expect to like this experimental keyboard, but after a few hours of acclimation, I was managing about 87 words-per-minute (pretty close to my average of 85 WPM). The keys themselves offer snappy, tactile feedback—if you like Apple's butterfly switch keys, you'll probably like these.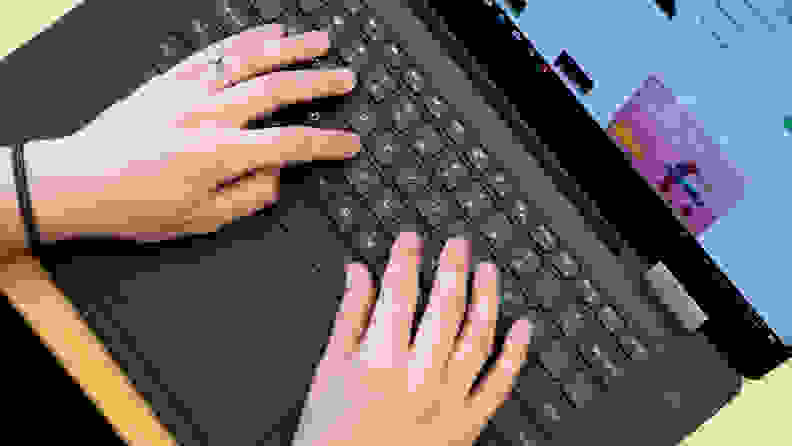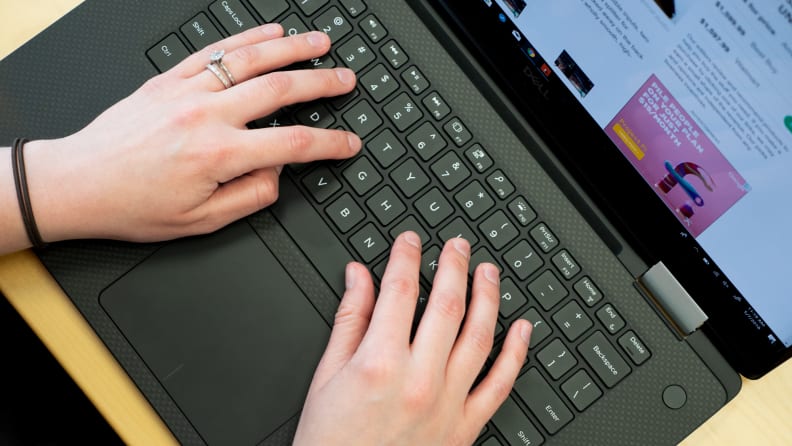 The speakers are punchy.
Laptops aren't known for having spectacular audio. That's because laptop speakers are tiny, meaning they can't reproduce heavy bass or loud volumes. But when I listened to Janelle Monae's Make Me Feel on the XPS, the funky guitar riff was super crisp. The low tones were also as clear as the high ones. Not only that, but the speakers were powerful enough to fill a medium-sized room as well.
Mediocre battery life in the 4K model
There's no dancing around it: Lovely as the 4K touchscreen is, it's a huge drain on the battery. In our primary battery test, which cycles through various power-hungry tasks, the XPS died in a little over two hours. Ouch. That's not great. According to a handful of reviews, the Microsoft Surface Book 2 is similarly powerful and has amazing battery life. Some outlets even claim it gets up to seven hours.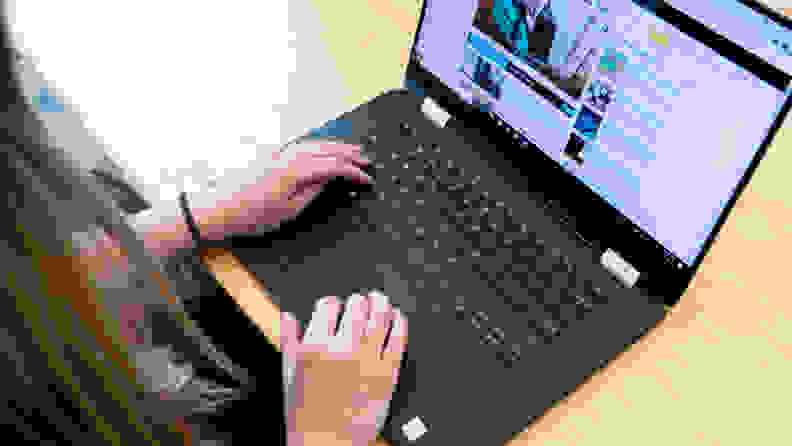 The webcam positioning is...weird.
I know I sound like a broken record, but I'm going to keep saying it until I combust: What's up with that awkward webcam placement, Dell? The barely-there bezels are nice, but the webcam—situated at the bottom of the screen—still looks up my nose (and believe me when I say that nobody wants to see that). I guess if you don't really use a webcam it's not really a deal-breaker, but it definitely annoys me.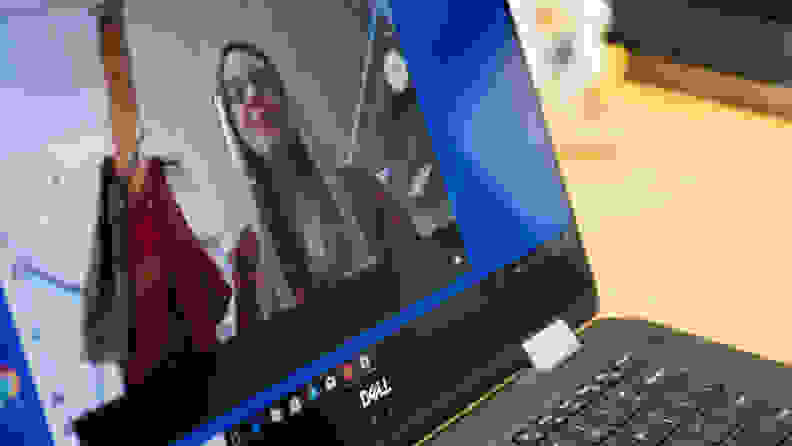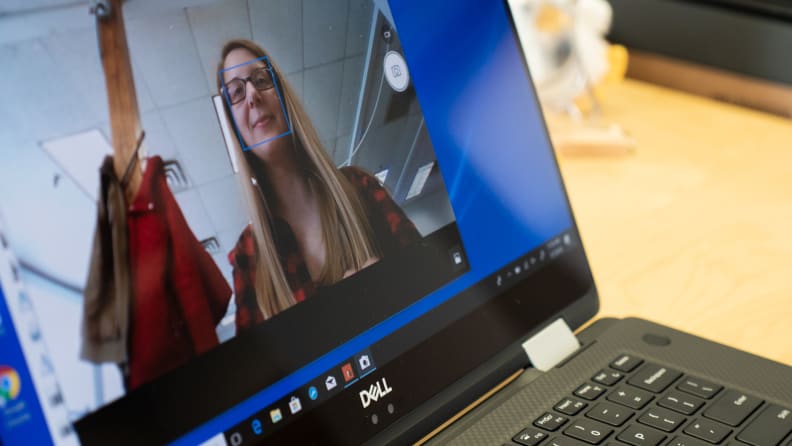 The cooling system is loud.
The XPS is one noisy laptop, but only when it's under heavy loads. While I was playing The Witcher 3: Wild Hunt, the fans were constantly whirring. It's not the worst thing in the world, but depending on the environment, it can be a distraction. The bottom also runs a little hot, and the heat may bother some folks.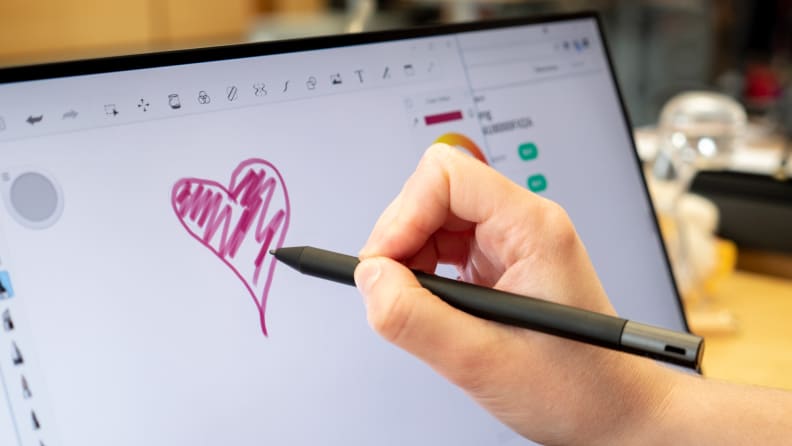 You'll need an adapter.
The XPS only has USB Type-C ports (cue the sad trombone). If you're a gamer, this is pretty disappointing, especially if you want to hook up to an external mouse or monitor. Thankfully, the 2-in-1 comes with an adapter, so not all is lost. If you really need those USB-A ports, we'd recommend the HP Spectre x360 15 as an alternative option, as it has great connectivity options.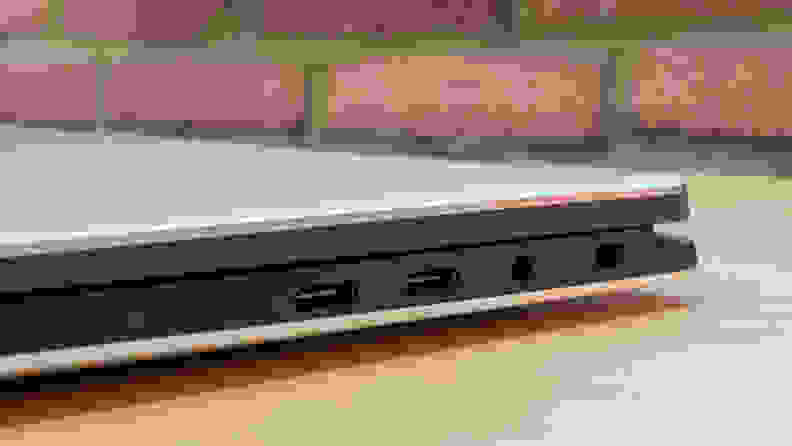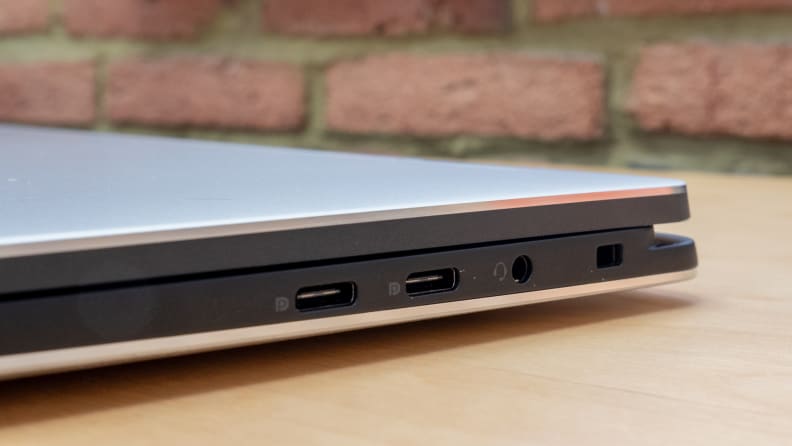 The pen isn't included.
Sadly, the tilt-supporting Dell Active Pen isn't included. Blah. If you want one, you'll need to spend another $99 on top of the price of the laptop. It might not seem like a lot of money in the grand scheme of things, but we really would've appreciated having one in the box. And before you buy a more affordable alternative, be forewarned: The XPS isn't compatible with other pens.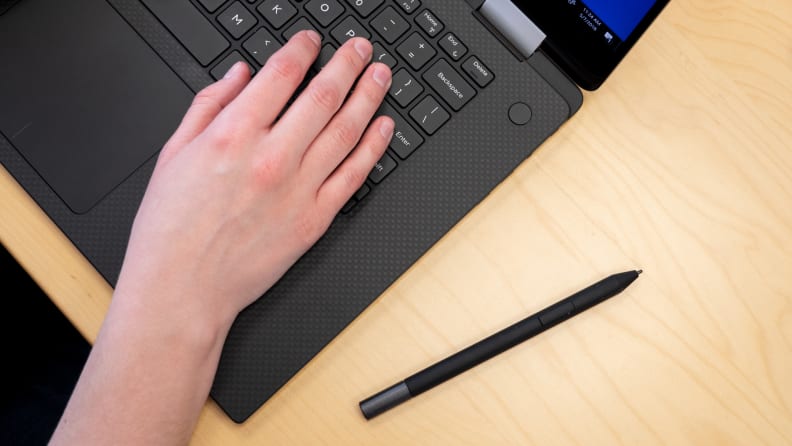 Maybe, but not if you're the everyday user
If you consider yourself a power user, the XPS is the best of the best. Thanks to kick-ass internals, you can play games like The Witcher 3: Wild Hunt on high or ultra settings with stable frame rates. The 4K touchscreen display is stunning, too, making it a great option for creative professionals who spend most of their time in Photoshop. And while we like the keyboard and speakers, we still had a few gripes.
The 4K display is a huge power-suck, so battery life is below average. In addition to subpar battery life, the fans are almost always on and there are zero USB-A ports. The pen also costs extra, and to make things more complicated, the XPS isn't compatible with other styluses.
And then there's that damn webcam that looks up your nose. Why, Dell? Why?
If you don't care about playing games or editing photos, we'd recommend opting for the newly refreshed XPS 15 (sans 360-degree hinge), since it delivers zippy performance for a more affordable price. The other option is the Surface Book 2, which offers better battery life.
The XPS is an absolute beast in the performance department, though. So, if it's power you need, the XPS will certainly deliver.
Meet the tester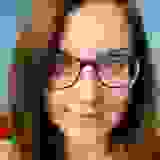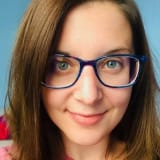 Ashley Barry-Biancuzzo
Editor
@awitchdidit
Ashley Barry-Biancuzzo is a valued contributor to the Reviewed.com family of sites.
Checking our work.
We use standardized and scientific testing methods to scrutinize every product and provide you with objectively accurate results. If you've found different results in your own research, email us and we'll compare notes. If it looks substantial, we'll gladly re-test a product to try and reproduce these results. After all, peer reviews are a critical part of any scientific process.
Shoot us an email