Even though it's got plenty in the way of competition from the likes of Apple's MacBook Pro and the Razer Blade, this Dell is almost in a class of its own. You see, Dell's put together a package that's more configurable and less expensive (sometimes by as much as $800) without skimping on power for things like video editing and intensive Lightroom sessions.
While the corner-mounted webcam remains a bugbear for many, and the XPS 15 seems like a bit of a porker compared to some other 15-inch laptops, there's a lot to like here. Dell's blend of high technology, attractive design, and upgradeability makes a compelling case for it over the MacBook Pro for dissatisfied Apple converts. It's not as svelte and you may prefer macOS to Windows, but it may just be the best 15-inch alternative available.
About the Dell XPS 15 (9560)
Dell might want you to think of its high-performance versions of the XPS 15 when you consider this model, but in fact there's a wide spread of versions. At its cheapest, the XPS 15 has a dual-core Intel i3 processor with integrated graphics, with a hybrid SSD/HDD combo and and HD screen. From there, quad-core i5 and i7 chips reign, with Nvidia graphics joining the ranks. Whether you have $1,000 or $2,500 to spend, Dell's happy to configure an XPS 15 that suits your budget. The version we tested was equipped with the following specs:
•Intel Core i7-7700HQ quad-core processor •16 GB DDR4 RAM •512 GB PCIe SSD •15.6-inch 4K UHD (3840 x 2160) InfinityEdge IPS touchscreen •Nvidia GeForce GTX 1050 graphics with 4 GB GDDR5 VRAM •WiFi AC/Bluetooth 4.1 •97 Whr lithium-ion battery •Windows Hello-compatible fingerprint reader
The version we tested is perfectly assembled for sheer performance, but if you want the best battery life possible, try to configure a version with the HD anti-glare display with the bigger 97 Whr battery.
What We Like
Fast new GPUs and 7th gen Intel quad-core CPUs make short work of most tasks Dell's done a great job updating the XPS 15 for 2017 by putting in the latest Intel chips. You can opt for a dual-core i3 on the low end, and a quad i5 or i7 in the rest of the lineup. Even though most laptops with dual-core processors, like the HP Spectre X360 are plenty quick, nothing quite beats having four powerful CPU cores at your disposal.
That said, the Intel processor isn't the biggest upgrade inside the XPS 15: it's the new Nvidia graphics that are the star attraction.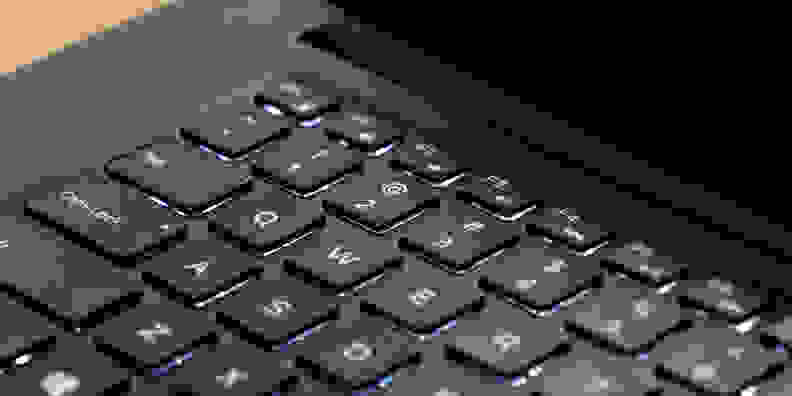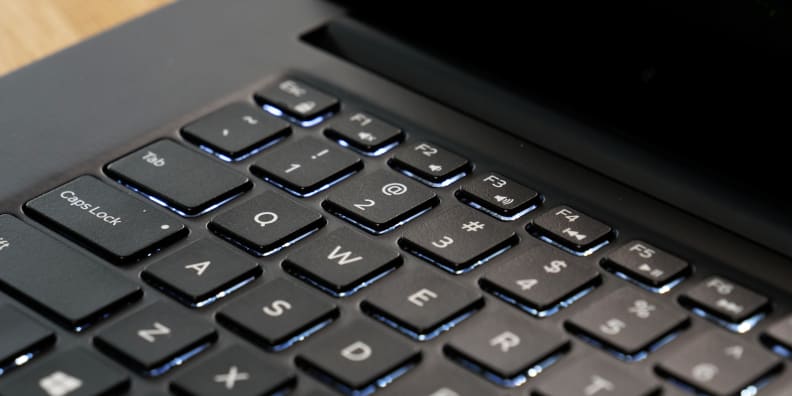 Because inside most of the XPS 15 models you can buy, there's an Nvidia GeForce GTX 1050 chip. This is part of the latest generation of Nvidia graphics, and it gives you a big efficiency boost over previous years' GPU options. Sure, it's not going to game at the highest levels, but when Photoshop or Premiere need a boost, it's ideal.
With the 1050 GPU, you're getting the equivalent of mid- to high-performance from a slightly older GPU but that doesn't use nearly as much power. It's also going to outperform the weaker AMD Radeon chips in the more expensive MacBook Pro 15, where you have to spend $200 extra dollars just to get the same amount of VRAM the Dell comes with in every Nvidia-equipped XPS 15.
Build quality, ports, and creature comforts are top-notch If you were worried that the XPS 15 skimps on the good stuff just because it's less money than the competing MacBook Pro, let me assuage your fears. This notebook is a delicious Oreo of tech, except the cookies are made from aluminum, and the crème is black carbon fiber.
First, there's that screen. Sure, the HD screen is perfectly acceptable and recommended for people who want longer battery life. But the main attraction is Dell's awesome InfinityEdge high-res screen, featuring wide color gamut that is capable of displaying 100% of AdobeRGB for all you color-minded people out there. Built-in software also makes it a snap to preview your content using different color standards.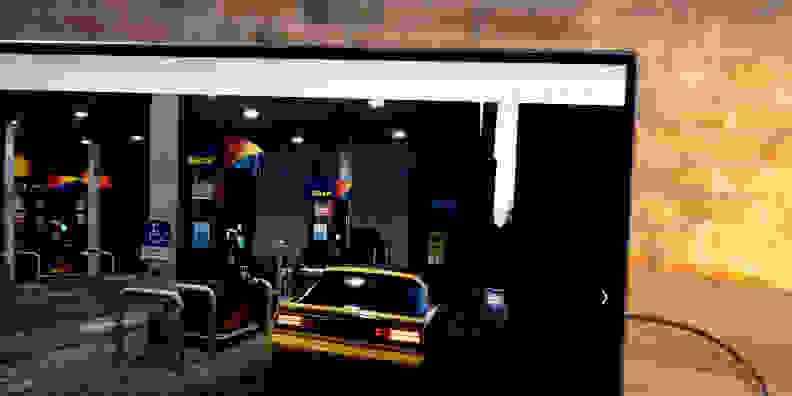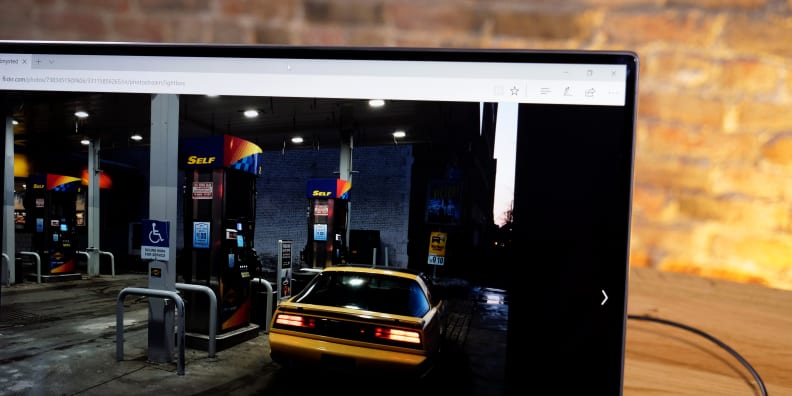 Whether you're watching movies or going through the batch of photos you just shot, I highly recommend the optional high-res touchscreen. What's even cooler is that this is 4K, which is great for video pros who want to view their content at 1:1. Even though Apple puts amazing screens in its MacBook Pros, even the 15-inch MacBook Pro is a lower-than-4K res, so you can't preview what you're editing in quite the same way as this Dell can.
So, the screen's awesome. Thankfully, so are the keyboard and trackpad…and the ports. In fact, there's very little about this Dell that I find objectionable to use. Between its two standard USB ports, a full-sized HDMI port, Thunderbolt 3 port, an SD card slot, and even a handy-dandy external battery meter, you might not even need a single dongle to use the XPS 15 in your day-to-day…which is something I can't say about the newer MacBook Pros.
Surprising battery life for a quad-core laptop Here's an eyebrow-raising fact for you: the Dell XPS 15, for all its powerful processor cores and plentiful pixels, has day-to-day battery life on lock. In our intensive PCMark 8 test, we measured more than four and a half hours from this Dell. That's almost as good as some dual-core laptops with smaller, less amazing displays and it's a commendable feat. In our casual WiFi browsing test, the XPS 15 made it past 6 hours, which bodes well for lighter workloads, too.
And, mind you, this is with the power-sucking 4K display. If you opt for the cheaper anti-glare 1080p HD panel instead, you'll likely see even better battery life. It won't touch Dell's smaller XPS 13 for runtime, but it's pretty amazing if you plan on using your XPS 15 for tasks that are a little lighter on the CPU.
What We Don't Like
This webcam still makes you look funny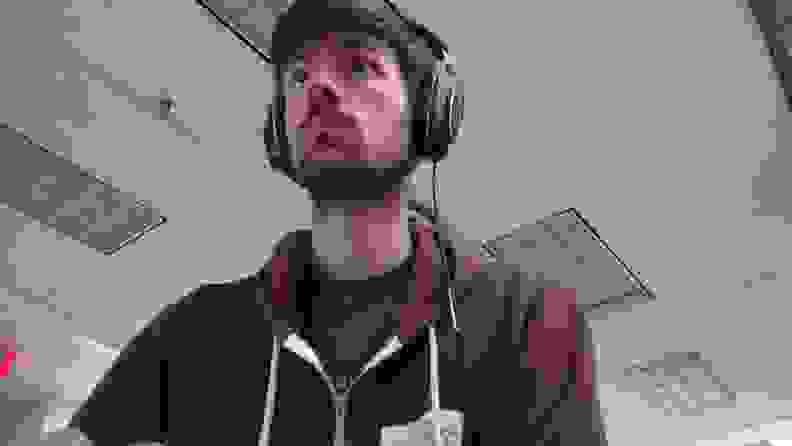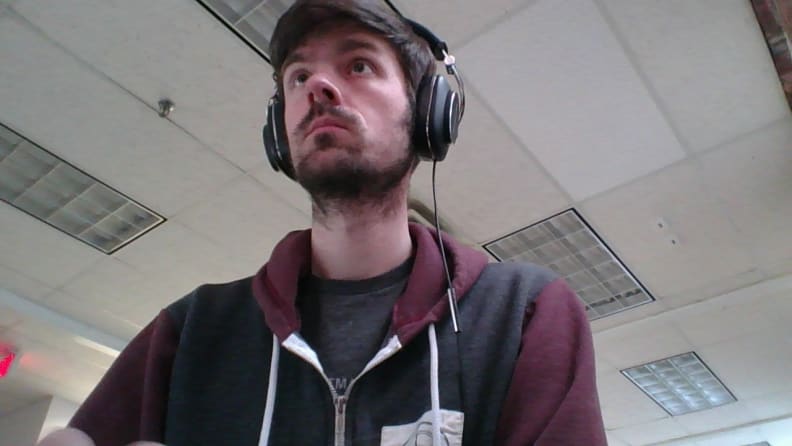 There's one Achilles heel that all these InfinityEdge display-packing Dell XPS models share. It's a problem that you'll either work around or it'll drive you up a wall. Yeah, it's the webcam issue. Because there's no room of a webcam at the top of the display like on every other laptop ever made, Dell had to place its webcams into the lower corner, beneath the screen.
That means you'll look weird on Skype calls. Believe me, nobody looks great from a low angle. If you use Skype a lot, you'll either want to shop for a different 15-inch laptop or just get a USB webcam that can perch on top of the screen when you need it.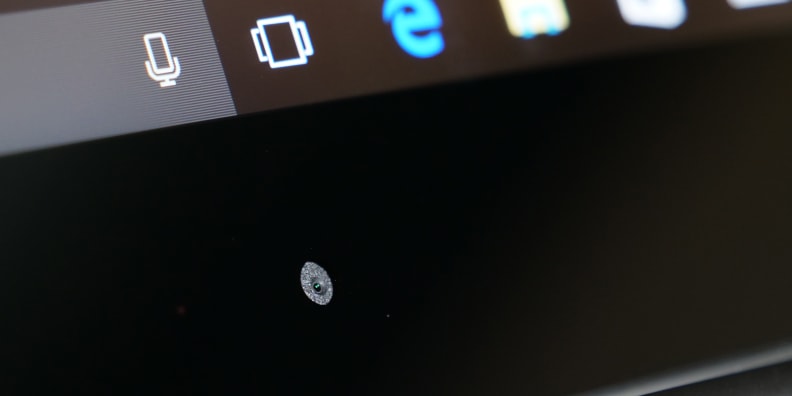 It's a tad heavy compared to its main competition This is a minor complaint, all things considered. But we gotta talk about how heavy the XPS 15 is. While the XPS 13 is a very compact, light system, the 15-inch version is a beefy laptop in 2017. And, compared to laptops that it goes up against, this performance-oriented Dell is the heaviest you can buy. Don't be fooled by its tapered, ultrabook-style design—the XPS 15 is a big notebook.
The XPS 15 when fully loaded is almost four and a half pounds.
The XPS 15, with the 4K touchscreen and its biggest 96 Whr battery is almost four and a half pounds. That doesn't sound too bad on paper, but if you've held a Razer Blade or MacBook Pro recently, you'll think it's a bit overweight. The Razer option is 4.2 pounds, while the Mac is 4 pounds, which is kind of amazing. I'd love for Dell to somehow trim the weight on the XPS 15 just a little bit…but I wouldn't trade its keyboard, trackpad, or ports to make it happen.
Should You Buy It?
If you need a very powerful laptop for creative pursuits, absolutely
When looking at this Dell, it's really hard for me not to compare it to Apple's latest and greatest MacBook Pro 15-inch. Unlike that 15-inch notebook, however, Dell is giving enthusiasts and pros alike what they want—a variety of prices and, amazingly, upgradeability.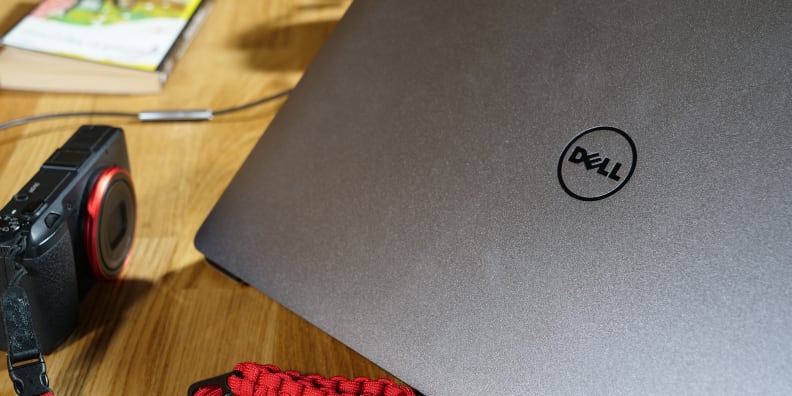 That means if you can't stomach the jaw-droppingly high price of the MacBook Pro 15-inch, but you need a color-accurate, high-res display, you could just buy a Dell. You'd think the difference in price would be minimal given that Apple and Dell use similar processors and expensive displays. But the fact is that while the MacBook starts at $2,400, and a Dell with the 4K screen and quad-core Intel chip start at only $1,650.
Once you bump up the MacBook Pro to match our review unit with 16 GB RAM, a 512 GB SSD, and with 4 GB of VRAM on the graphics card, the difference in price gets even bigger. You're spending almost $1,200 more for getting the Apple option instead. Even though it nets you Apple's new Touch Bar and of course it runs macOS, that's a lot more money for what's essentially the same computer.
The XPS 15 is worth considering before you just reach instinctively for the Mac option—it's that good.
You could even opt for a less expensive XPS 15 now, upgrade its RAM, and even add more PCIe SSD storage later. If you outgrow a MacBook Pro, you're looking at buying a brand-new computer.
The Dell XPS 15 is still an expensive proposition, but there's no doubt that it's worth considering before you just reach instinctively for the Mac option. Just a few years ago, that was almost unthinkable. That's not just because the MacBook Pro is polarizing now, but it's also because Dell's laptops are good enough to mention in the same sentence.
Meet the tester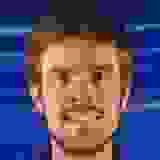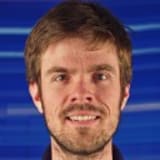 Brendan Nystedt
Contributor
@bnystedt
Brendan is originally from California. Prior to writing for Reviewed.com, he graduated from UC Santa Cruz and did IT support and wrote for a technology blog in the mythical Silicon Valley. Brendan enjoys history, Marx Brothers films, Vietnamese food, cars, and laughing loudly.
Checking our work.
Our team is here for one purpose: to help you buy the best stuff and love what you own. Our writers, editors, and lab technicians obsess over the products we cover to make sure you're confident and satisfied. Have a different opinion about something we recommend? Email us and we'll compare notes.
Shoot us an email