This big guy comes with a smattering of excellent specs, including a quad-core Intel i7 processor, 8GB of RAM, 1TB of hard drive space, a CD/DVD drive, a full-HD touchscreen, and even a fingerprint scanner. For $999, this is a lot. In fact, for the same price, you can get HP's Spectre 13 ultrabook, which has a weaker processor, half the RAM, and a fraction of the storage space—but it's oh-so-portable.
The 17-inch Envy is an absolutely rock-solid machine, but you'll break quite a sweat if you try to lug it around with you. Yes, it's heavy and made from too much plastic. As an at-home computer for the whole family, though? You can't go wrong.
A big-body laptop with all the fixings
HP's 17-inch Envy is the sport utility vehicle of laptops: It's big, and boy is it comfortable.
From a bird's-eye-view, the Envy looks like little more than a big hunk of plastic. HP chose not to dress this portable desktop in a full metal jacket. The cover has a chintzy plastic feel to it, although for $1,000, what'd you expect? The designers clearly cared more about specs than looks when making this Envy model—nothing like the class and solid design you'll find on the HP Spectre 13, for instance.
Lift the cover up and you're treated to a full-sized keyboard, which is a joy to type on. Keys are perfectly sized and offer a satisfying amount of travel, plus there's a number pad on the right side. My only complaint here comes back to quality: Whenever I pressed a key, the base would slightly cave in. I doubt I could break the keyboard from typing alone, but it's not reassuring to see your laptop bend so easily.
Below the keyboard is an ample-sized touchpad with one caveat: It doesn't lie flush with the Envy's base. You could stick a coin underneath the bottom of the touchpad and pry it off—an odd design choice to say the least. This may not mesh well with your kids and their graham cracker crumbs.
HP included a fingerprint scanner on the Envy, and it actually works.
Regardless, this pad works very well. While most companies try to make touchpads silky smooth, HP opted to employ a thinly ridged texture. The result is actually quite pleasant: Your finger can smoothly glide around the surface, but with added control thanks to the ridges. Unfortunately, I had to apply too much pressure when triggering a mouse click.
To the right of the touchpad is a thin black strip that looks like a light. HP included a fingerprint scanner on the Envy, and it actually works. It's a cool addition to any computer, but the software it comes with is confusing—more on that later.
Connectivity options are plentiful on the Envy. Want USB 3.0 ports? This PC has four of 'em. You'll also find a full-sized HDMI output, an SD card reader, and a headphone jack.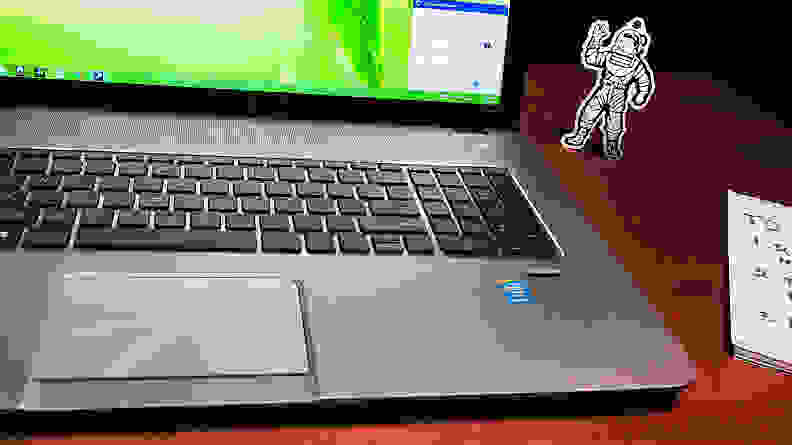 One enticing addition to the Envy is a CD/DVD player. While the world seems to be moving away from physical media, there are still plenty of consumers who buy CDs and DVDs. Sadly, this drive doesn't play Blu-rays, meaning you can't take full advantage of this HP's 1080p screen.
The only thing separating the keyboard from the screen is a Beats Audio speaker. Just like the Spectre 13, the sound quality on the Envy is indeed better than most other laptops. Bass frequencies are easier to hear and it's loud enough to fill a small room. While this Beats-branded speaker is no substitute for a decent 2.1 setup, it sounds good enough for most consumers' needs.
Finally, we have the Envy's 17-inch touchscreen. HP wisely gave this big display a 1080p resolution—you would notice a lack of sharpness if it were any lower. Coupled with a moderately bright screen, users will enjoy this laptop's visual output. Also, feel free to reach out and interact with the Envy's display: Touch controls are accurate and responsive.
If ultrabooks had feelings, they'd be envious.
The HP Envy TouchSmart 17 has a secret weapon: its quad-core Intel i7 processor. For $999.99, this laptop provides more power than most consumers need.
How powerful is it? Let's compare it to the HP Spectre 13, which features a dual-core i5 processor and an identical price tag:
When converting a .MOV file to a .MP4 file, the Envy completed the task in 65.31 seconds. The HP Spectre 13 took over 4 minutes.
When given an Excel spreadsheet with complex formulas, the Envy computed them in just over 4 seconds. It took the Spectre nearly 6 seconds to do the same.
When playing the game Metro: 2033 on high settings, the Envy had an average frame rate of 8.33 compared to the Spectre's 6.59.
HP's desktop replacement is proof that consumers pay more for portability than power. In almost every test, it trounced the scores that ultrabooks achieved. With that said, not everything is better on the Envy.
The hard drive in this laptop is a 1TB model clocked at 5400 RPM. In laymen's terms, it can hold a lot of stuff, but it's extremely slow. Launching an app on this computer therefore takes a bit longer than it does on an ultrabook with a solid-state hard drive. When the Envy finally launches a program, it runs smoothly and quickly, but the time it takes to open that program may prove irritating at times.
HP's desktop replacement is proof that consumers pay more for portability than power.
For a big laptop, it at least gets a respectable amount of battery life. I clocked just over 6 hours while web browsing with a 50% backlight brightness. While almost any current ultrabook will have a longer charge, I can't imagine carrying the 17-inch Envy around and relying on its battery.
And what about WiFi performance? The Envy gets great reception, and can connect to networks on the 2.4GHz or 5GHz spectrum. I was able to achieve speeds greater than 10Mbps while downloading games from Steam—something not every laptop can achieve.
Want security? HP's got it.
The Envy comes with Windows 8.1, which is easy to navigate once you get used to it. While you're free to download programs as you see fit, HP bundled a handful on this PC for you. Joy.
Most apps that come prepackaged on Windows-based laptops are bloatware, or programs that you'll never use. Sadly, many of the apps on this HP fall into that category.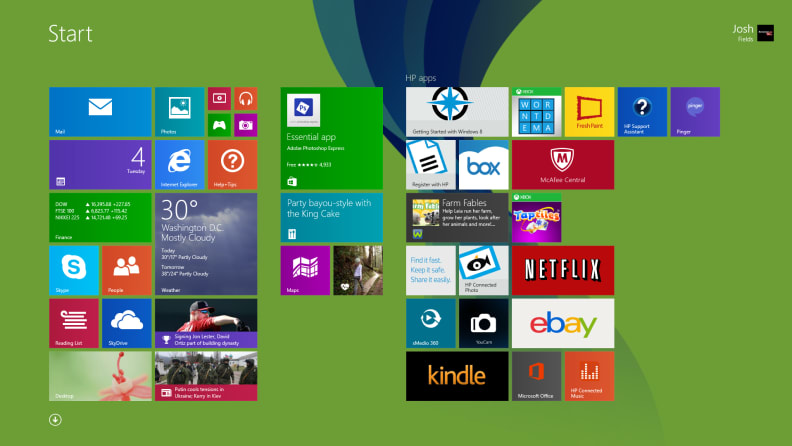 ×
New Gallery
Take the WildTangent Games app, for example. WildTangent is essentially a portal to buy and download video games... all of which I have never heard of. If you're going to play PC games, you're going to use Steam, which has an unrivaled selection. Yes, there are viable competitors to Steam, but WildTangent isn't one of them.
Like the HP Spectre 13, the Envy comes with 50GB of free cloud storage courtesy of Box. If you're familiar with how Dropbox works, then you'll feel right at home with Box. 50GB is a substantial amount of storage, so if you aren't dedicated to other cloud storage platforms, give Box a try.
With SimplePass, you can log into Windows by scanning your fingerprint instead of inputting a password.
Also like the Spectre, the Envy comes with HP Connected Music pre-installed. This used to be HP's proprietary music store, and its interface was terrible. Now when you launch the app, you get a message telling you to download Beats Music—probably due to HP's partnership with Beats. If you're not familiar with Beats Music, it's like Spotify: a subscription-based music-streaming service.
The biggest software contribution to the Envy is SimplePass, the app associated with the fingerprint scanner. With SimplePass, you can log into Windows by scanning your fingerprint instead of inputting a password; it also lets you do the same for websites. In my time with the Envy, the scanner was accurate and a worthwhile feature for safety purposes. The software, though, is a bit confusing.
I was ready to write off SimplePass for website use, but then the issue became clear: SimplePass only seems to work with Internet Explorer, which I never found clearly stated anywhere. Once I figured this out, SimplePass became much more appealing. By scanning your finger at any time, you can bring up a list of websites that you've logged into with the software. This essentially creates bookmarks for any site requiring a password, and is something I could see myself using. And yes, you can have multiple fingerprints added to SimplePass.
Big body, big power—big everything
If you're in the market for a 17-inch laptop, you probably aren't planning on carrying it around wherever you go. The HP Envy TouchSmart 17 is an ideal companion for those types of consumers. Throughout testing, this $999.99 rig surprised me. I didn't expect it to perform as well as it did without a solid-state drive, nor did I think it would have a battery life of 6 hours. For a grand, you're getting a lot of computer—literally.
My only complaints have to do with this HP's overly plastic construction and slow load times. While you can't do a thing about its build quality, the load times do have a light at the end of the tunnel: Once programs finally load, they run flawlessly.
The HP Envy TouchSmart 17 would be an awesome computer for the family—that is, if you aren't sold on the idea of an actual desktop PC. It's powerful enough for the entire household, and it's just portable enough to bring on vacations. This computer is a true crowd pleaser, and for its relatively low price, what more could you ask for?
Meet the tester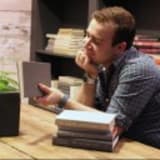 Josh Fields
Staff Writer
@reviewedtech
An enthusiast of all things tech, Josh is one of Reviewed.com's resident television experts. When he's not looking at bright TV screens in a dark room, he's probably reviewing a laptop or finding a new snack at 7-11.
Checking our work.
We use standardized and scientific testing methods to scrutinize every product and provide you with objectively accurate results. If you've found different results in your own research, email us and we'll compare notes. If it looks substantial, we'll gladly re-test a product to try and reproduce these results. After all, peer reviews are a critical part of any scientific process.
Shoot us an email