That's the predicament I found myself in upon receiving HP's ultrabook, the Spectre 13 (MSRP $999.99). I had never seen a "truffle brown" colored laptop before, which is a shame because it exudes elegance and style—not bad for an ultra-compact computer. Aside from looks, the 13-inch Spectre packs a fourth-gen Intel processor clocked at 1.6GHz, 4GB of RAM, a 128GB solid-state drive, and a 1080p touchscreen display.
With specs like these and a pleasing form factor, HP's asking-price of $999.99 seems kind of low—a MacBook Air with those specs (minus a touchscreen) starts at $100 more. During casual use, the Spectre 13 is a great ultrabook for the price, but some issues with sluggish performance stop this device from excelling any further.
Brown is the new black
That truffle brown coloring on the Spectre really needs to be seen in order to do it justice. Depending on how the light hits it, the Spectre can appear purple, blue, or yes, brown. On top of the laptop is HP's logo, which is polished to a mirror-like finish. Seriously, you can check to see if there's anything stuck in your teeth just by glancing at this logo. Fancy stuff indeed.
Once opened, you're treated to the Spectre's biggest surprise: a gigantic touchpad. This thing is massive, and that's a great thing for people like me who primarily use a touchpad for traversing laptops. The middle of HP's pad is smooth and sensitive, while the edges have a rougher texture. Why? HP wants those edges to be used for the gesture controls in Windows 8... even though the Spectre has a touchscreen to accomplish this. Still, I can't complain about more surface area on an otherwise excellent touchpad.
If the touchpad isn't big enough for you, the screen will do. Images are crisp and colors look accurate, plus the actual "touch" aspect works intuitively. This isn't a hybrid laptop/tablet by any means, but if you'd rather control some of Windows 8's features with your fingers, it works very well.
On the top left of the screen, you'll notice a very prominent brand name: Beats Audio. Yes, the good doctor has graced the Spectre with his bass-forward audio thanks to a business partnership with HP. Does this ultrabook sound better than any other? Well, yes. Most laptop speakers suffer from a lack of bass, and while the Spectre's audio didn't blow me away, I could hear lower frequency sounds much better. Not that I go around blasting music from my laptop without headphones, but this feature is a pleasant surprise on the occasions that I do.
On paper, the Spectre's a beast. In real life, though...
I mentioned before that Apple's MacBook Air starts at $100 more than the Spectre's $999.99 price tag. If HP's stylish ultrabook trounced the Air in performance tests, I'd be singing its praises. Unfortunately, that's not the case.
While the MacBook Air is not the greatest laptop ever made, it is a good standard to judge others against. Here is how the HP Spectre 13 compared to Apple's ultra-slim laptop:
When processing a complex Excel spreadsheet, the Spectre took an average of 5.94 seconds. The Air needed 6.94 seconds to do the same task.

When converting a 5-minute .mov video to an .m4v format, the Spectre took an average of 253.98 seconds. The Air did this in just 172.22 seconds.

When applying complex filters to an image in Adobe Photoshop, the Spectre needed an average of 23.22 seconds to finish. The Air completed this task in about half the time: 11.29 seconds.
The Spectre was able to finish our Microsoft Excel test quicker than the Air, but it took much longer to convert a video and apply Photoshop filters. This gives a pretty clear indication of how the Spectre will perform overall: adequately.
Battery life is top-notch on the Spectre.
The biggest issue with the Spectre's performance comes in the form of long load times. Opening programs and system settings took considerably longer than other laptops I've tested. This gives the Spectre an overall less-than-snappy feeling.
At least battery life is top-notch on the Spectre. When browsing the web, expect your battery to last almost nine hours, which is excellent. Battery life will go down quicker when doing other activities like gaming or blasting music from these Beats-branded speakers, of course.
This thing includes Adobe Lightroom for free? Yes, please!
I've already mentioned how the Spectre retails for less than its main rival, the MacBook Air. Some of the software included on this device increases its value even more, too.
HP bundles the current Spectre 13 with the full version of Adobe Lightroom 5, which is a $149 product. Not to be confused with Photoshop, Lightroom is an amazing photo-editing tool that can turn an average picture into a great one. HP gets serious kudos for including this.
Additionally, you'll find the inclusion of 50GB of storage on Box, which is— you guessed it— a cloud-storage platform similar to Dropbox. If you're already a dedicated Dropbox user, then this software won't interest you. If you're new to the whole cloud-storage phenomenon (where have you been?), then you'll want to check Box out.
HP also includes some of its proprietary apps like HP Connected Music, which lets you find music in your own library, buy tracks, and listen to internet radio. If you have Spotify or Beats Music, skip this one.
HP's branded software is largely forgettable.
Then there's HP Connected Drive, which lets you find files that are scattered across your computers and Android devices. HP Connected Photo lets you access your pictures on any device, using Snapfish— a photo-uploading website— as its storage source. Wouldn't it make more sense to use Box for this? Regardless, HP's branded software is largely forgettable.
Lastly, we can't forget about Beats. By opening the Beats Audio control panel, you have access to a number of options: volume control, equalizer, different sound modes, and recording options. These aren't game-changing controls, but the interface is sleek and easy to use. Like I mentioned earlier, though, the Spectre sounds pretty good on its own.
Almost, but not quite
The HP Spectre 13 has the looks, it has the feel, and it even has a killer app in Adobe Lightroom 5, but still can't compete with ultra-portable laptops from Apple and Samsung. Why? Performance.
For an ultrabook that has similar specs to many competitors on the market, it suffers from bouts of slow loading times. This won't be a problem if you only use the Spectre for Gmail and Facebook, but if you want to do anything more intensive? It will slowly eat away at your patience.
If you fall into the Gmail and Facebook-using crowd, though, definitely consider the Spectre, especially at its attractive price of $999.99. I guarantee you'll get complimented on its stellar good looks if you bring this to a coffee shop.
Meet the tester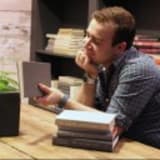 Josh Fields
Staff Writer
@reviewedtech
An enthusiast of all things tech, Josh is one of Reviewed.com's resident television experts. When he's not looking at bright TV screens in a dark room, he's probably reviewing a laptop or finding a new snack at 7-11.
Checking our work.
Our team is here for one purpose: to help you buy the best stuff and love what you own. Our writers, editors, and lab technicians obsess over the products we cover to make sure you're confident and satisfied. Have a different opinion about something we recommend? Email us and we'll compare notes.
Shoot us an email