Equipped with top-tier internals, the Spectre is capable of handling people like me, frazzled folk who operate in a sea of open tabs. In addition to the vibrant touchscreen and generous viewing angles, it also comes with a stylus, which is perfect for professional artists or people who can't stand smudge marks. Though I'm madly in love with this laptop, there are a few drawbacks.
There's no SD card reader, which is strange because it's the perfect machine for photo editing. Though connectivity options aren't terrible, it could be better. The CPU's expiration date, drawing nearer with each passing day, is another concern of mine. Minor nitpicks aside and, depending on how you plan on using the laptop, it's the best 2-in-1 money can buy.


The Spectre x360 comes in a few different configurations. You can chose between full HD or 4K touch displays, 8 or 16GB RAM, and up to a 1TB SSD. For the purposes of this review we tested the revamped 13-inch version with the full HD display and included stylus. There is a 15-inch option that has already been updated to 8th-gen Intel chips; we'll likely review that soon.
The 13-inch, weighing a little under three pounds, might have a small frame, but don't let that fool you. This tiny titan actually delivers one hell of a punch. Under the hood you'll find an Intel Kaby Lake i7-7500U processor, an NVIDIA 940MX Thunderbolt graphics card, 16GB RAM, and 512GB SSD. Here are the specs (in detail) inside our review unit:
CPU: Intel Kaby Lake i7-7500U
GPU: NVIDIA 940MX Thunderbolt
Display: 2-in-1 13.3-inch (1920 x 1080) Tablet Convertible
Memory: 16GB RAM
Storage: 512GB SSD
Accessories: Stylus
Weight: 2.89 lbs
Color: Dark Ash
Maybe you're jonesing for that 4K display. Well, we recommend skipping the 4K upgrade or at least waiting until the price drops. The 4K option adds an extra $200 to the cost. Personally, I was impressed with the image quality on the full HD display, as the colors were super rich. Plus, you'll get better battery life with a full HD screen. A 4K display looks amazing, for sure, but it's a huge power-suck.
You can't beat the active pen support
Unlike the late-2016 model, this version comes with HP's Active Pen. It's not exactly a freebie when the laptop is still over $1,000, but you're still saving somewhere between $50-$100 on what would otherwise be a standalone accessory. I prefer using a pen anyway—and it's great for students taking notes—and it cuts down on the amount of fingerprints and smudges.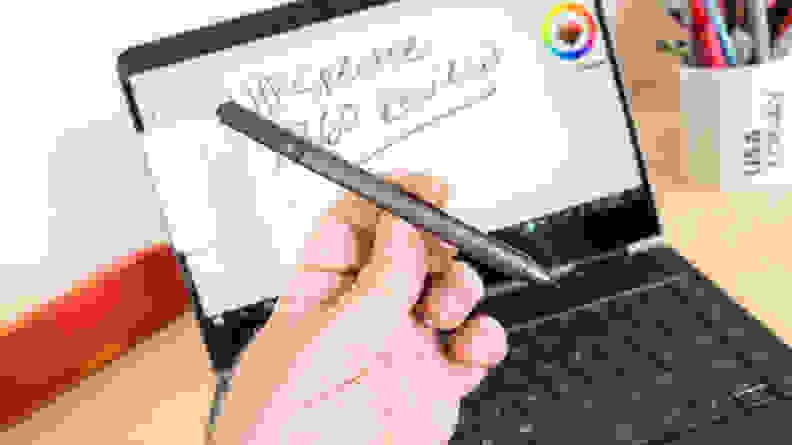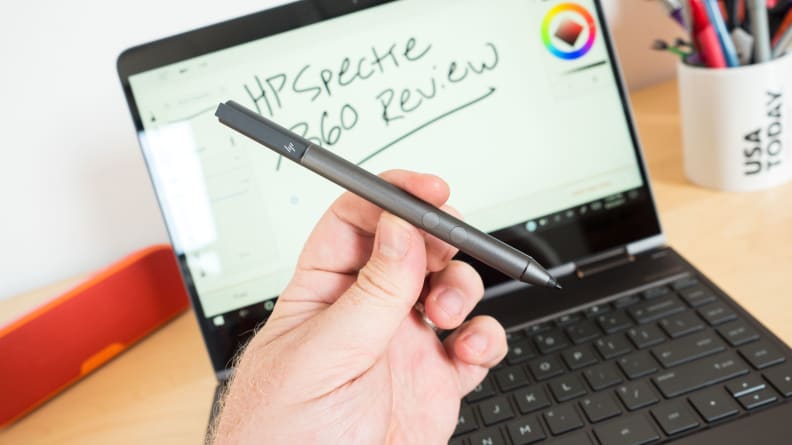 The Active Pen takes a lot of cues from the Surface Pen design. Not only is it slim and lightweight, it feels really natural to use. The thin tip flows beautifully across the screen, too. My writing was very crisp and legible.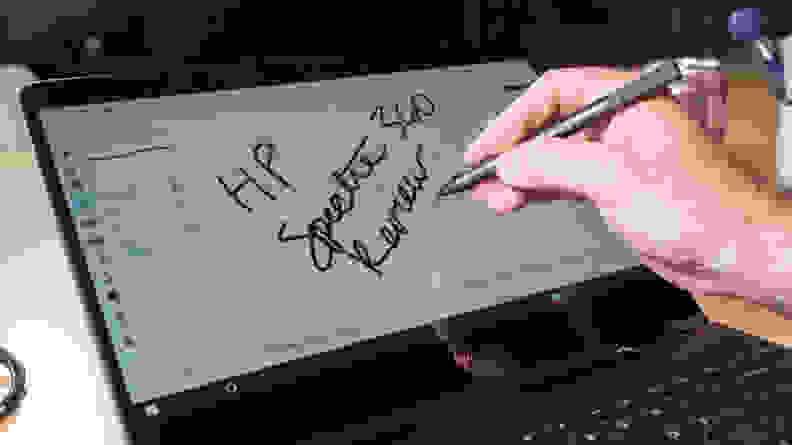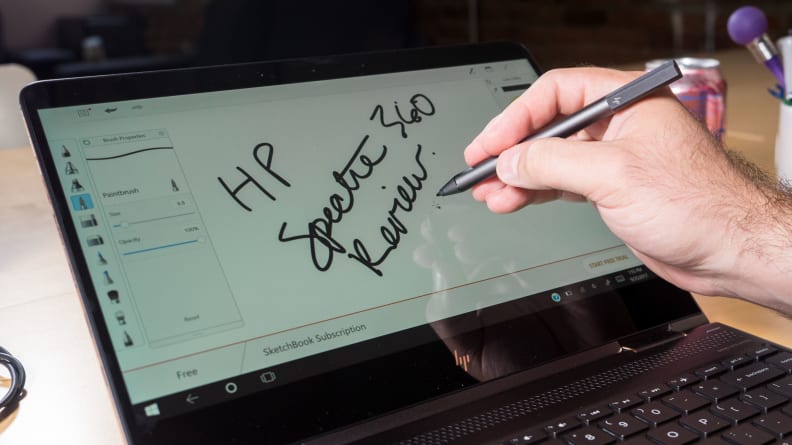 The only downside is that there's no way to anchor the pen to the Spectre. That means you're going to have to either store it in a drawer or stick it in your pocket. It's a bummer, for sure, but it wouldn't deter me from buying it.
The full HD display produces vibrant color and viewing angles are generous
Colors really pop on the Spectre's 1080p display. When I watched the trailer for A Wrinkle in Time, and Oprah looked absolutely fierce in her blue and gold getup. In additional to the array of eye-catching costumes, the different planets—mind boggling as they were—were rich in color as well.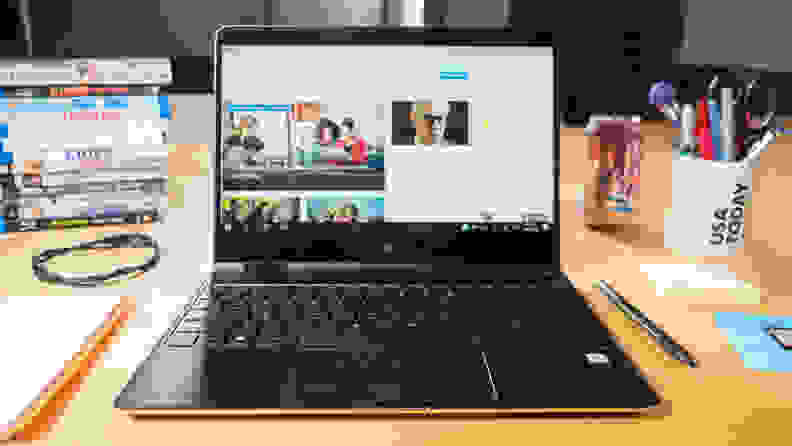 The viewing angles are surprisingly generous, too. I could still read parts of the screen even when leaning pretty far to one side. I didn't have to adjust the laptop much at all, as the viewing field is pretty wide. It's not a 4K TV or anything, but watching videos on this machine is enjoyable enough.
The overall aesthetic is on-point and the machine is super versatile
The dark ash color scheme is lovely. With its near-black keys and gold trim, the stylish design reminds me of Huawei's swanky MateBook X. It's the kind of laptop that turns heads and ignites conversation. I mean, it doesn't just coyly ask for your attention, it demands it, which is something I can get behind. Besides, it really looks and feels like a premium machine too.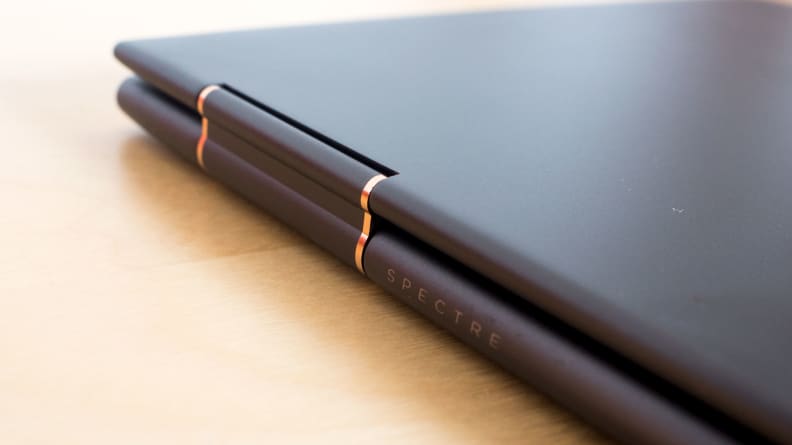 The ability to rotate the screen 360 degrees and use it as a tablet is really cool. I prefer convertible machines because I enjoy curling up on the couch or bed with a laptop. Depending on where I am or what I'm doing, I need the laptop to transform accordingly. I really like the Spectre's tent mode because I watch a lot of YouTube videos and the laptop is perfect for just that. Some people may never use it as a tablet or tent, though, so it may be less of a 'must-have' feature and more of a luxury.
There's no SD card reader
This might be excessively critical of me, but here it goes. Between the superb touchscreen and lightweight stylus, you'd think the Spectre would be the perfect machine for photo editing. But there's no SD card reader, which I find deeply confusing. It's an ideal laptop for artists in particular. That being said, the connectivity options aren't terrible for such a lightweight machine.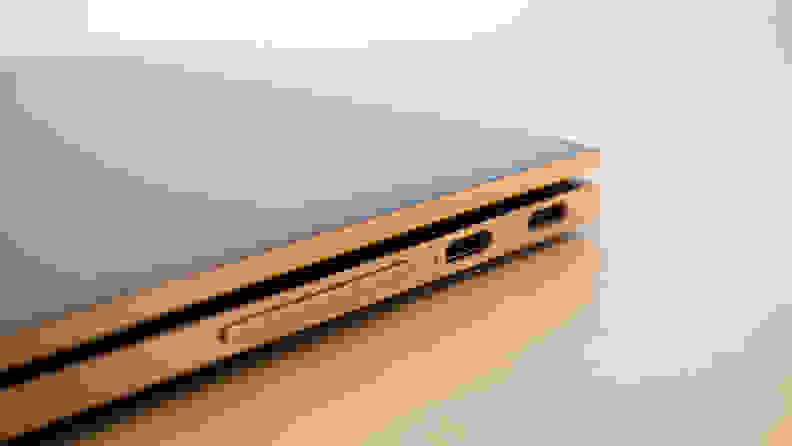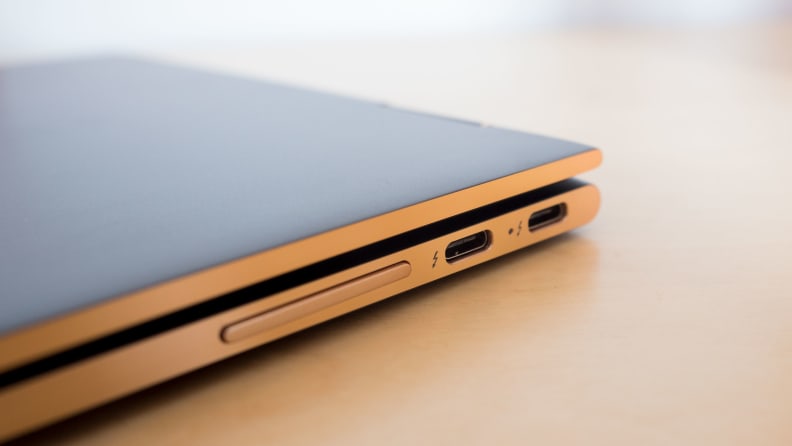 On the right side, you'll find two USB-C ports. One of these ports is used solely for charging. The other side features one USB-A and a headphone/mic jack. The USB-A is unique because most convertible laptops are too thin for these types of ports. There's simply not enough room for them. While it's not a bad selection, I still feel like HP could've really benefitted from an SD card reader.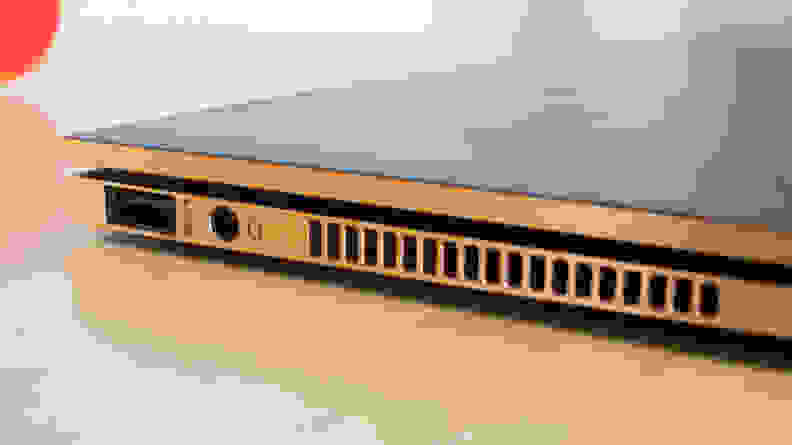 The CPU and GPU are a little behind
Don't get me wrong, the Spectre is one speedy machine. Because I'm a madwoman, I had up to fifteen tabs open at one point and the laptop handled it like a pro. But it's only a matter of time before the Intel Kaby Lake i7-7500U processor and Nvidia 940 MX GPU fall behind.
Nvidia drops new GPUs every six months and 8th generation Intel CPUs are already hitting the market, so it's only a matter of time before this model sees an upgrade; HP has actually already rolled out a 15-inch Spectre x360 with 8th-gen chips, so it could be soon. The model we tested was still fantastic, but if you want the latest and greatest you may be happier if you wait until January to see if a new model drops.
Yes, but it depends on your needs
The Spectre is one of the best 2-in-1's out there. With its killer look and included stylus, HP did an excellent job fine-tuning a nearly perfect machine. The latest model now has everything you'd expect from a top-of-the-line convertible laptop: a 360-degree hinge, a thin profile, a stylish color scheme, and a sharp-looking display. This laptop checks off a ton of boxes. Though I've fallen head-over-heels for this laptop, there's still a couple of misgivings I'd like to address.
This laptop would've been great for photo editing, but there's no SD card reader. This baffles me to no end. While the pen adds a layer of usability to the versatile 2-in-1, the SD card reader would've been the cherry on top. Though it's a zippy machine, capable of handling multiple tasks at once, the CPU is inching closer to its expiration date. Now that 8th generation CPU's are available, I hope to see an upgrade at some point.
In fact, you can already get a 15-inch version that has an 8th-gen Intel CPU. The HP's primary competition, the Dell XPS 13, is also already available with 8th-gen chips in some of the more expensive configurations. It still remains to be seen how much of an upgrade thees early 8th-gen chips actually are, but it's notable.
It really comes down to your needs, though. If you're the type of person that travels a lot, this laptop is already perfect. It's light enough to slip inside a bag and tent mode is perfect for watching movies on a plane. It may very well be the most beautiful laptop I've ever used, but beauty isn't everything. At the end of the day, it's about how you're going to use it.
Meet the tester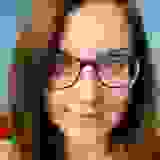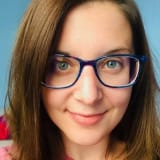 Ashley Barry-Biancuzzo
Editor
@awitchdidit
Ashley Barry-Biancuzzo is a valued contributor to the Reviewed.com family of sites.
Checking our work.
Our team is here for one purpose: to help you buy the best stuff and love what you own. Our writers, editors, and lab technicians obsess over the products we cover to make sure you're confident and satisfied. Have a different opinion about something we recommend? Email us and we'll compare notes.
Shoot us an email