With a 15-inch touchscreen display and a 500GB hard drive, you won't get the portability offered by many ultrabooks—but you will get sheer power. The Flex 15 is also equipped with Intel's latest dual-core i7 processor, 8GB of RAM, and Windows 8. This same setup would cost upwards of $1200 if you opted for an ultrabook with an SSD (solid-state drive).
Yet as much as I love SSDs and the performance enhancements they bring, Lenovo's Flex 15 works admirably without one. It has a sub-par battery and a gimmicky stand feature, but this Flex still offers major bang for your buck—and that makes it stand out.
Great keyboard, good touchpad, lame gimmick
Looking for a super-slim laptop that weighs next to nothing? Look elsewhere: The Flex 15, while not abnormally bulky, is not the thinnest or the lightest laptop by a long shot.
With that said, this Lenovo isn't an ugly device. Its color scheme is really eye-catching: The cover is clad in a matte black finish, while the sides are coated in gray. I know—it's a small detail, but most laptops stick to one color. Thumbs up to Lenovo for the stylish scheme.
Whatever the Flex 15 lacks in portability, it makes up for with its comfortable full-sized keyboard. On the inside, you'll find Lenovo's signature keys, which are curved at the bottom. The addition of the number pad on the right is a welcome sight for number crunchers, and the entire typing experience is a joy.
While the Flex's touchpad isn't nearly as awesome as the keyboard, it's still above-average. Let's start with the good: It's incredibly smooth to the touch, which makes navigation a breeze. My only complaint is that pressing the touchpad causes the laptop's base to bend slightly—a clear sign of cheap construction.
If you have to contend with sunlight on a daily basis, the Flex 15's screen won't cut it.
At least this Lenovo contains a host of connectivity options, including three USB ports, an HDMI output, an SD card reader, and an ethernet jack. Also of note is Lenovo's power input, which charges the Flex very quickly. Can more laptops start doing this?
The touchscreen on the Flex 15 is a slight disappointment, however. With a resolution of 1366 x 768 stretched across a 15-inch panel, the image isn't as sharp as we'd like. My biggest gripe with the screen is its lack of brightness, though. Even when cranked up all the way, this Lenovo looks slightly dim. If you're working in a light-controlled environment, then this isn't an issue. But if you have to contend with sunlight on a daily basis, the Flex 15's screen won't cut it.
To make up for its lack of resolution and brightness, the Flex 15 can do a fun parlor trick with its screen. If you rotate it about 300°, you can put it in stand mode. Yup, that's it: Lenovo lets you use this laptop as a glorified tablet on a stand. I'll pass on this gimmick—the Flex 15 has plenty of other benefits that make "flexing" it irrelevant.
No solid-state? No problem.
For $829.99, the Lenovo IdeaPad Flex 15 packs a lot of power. Its best component is easily a fourth-gen Intel i7 processor, which ran through our tests without a hitch.
Solid-state drives make everything run faster, and surprisingly, the Flex doesn't utilize one.
When running Adobe Photoshop or Microsoft Excel, this IdeaPad proved it could handle the difficult tasks we gave it. Our Photoshop test consists of an image that has many filters added to it. The Flex 15 flew through it. Similarly, our Excel test is a spreadsheet that has numerous complex equations. The Flex 15 ate it for breakfast.
Solid-state drives make everything run faster, and surprisingly, the Flex doesn't utilize one. Instead, it has an old-school disk-based hard drive. These drives are cheap and can't read and write data as quickly as solid-states. Interestingly, the Flex 15 uses the slowest (and cheapest) hard drive available, but you'll only notice its lack of speed when installing and launching programs. Actually running them is a quick affair.
When tested with benchmarking programs, the Flex 15 also proved its worth. Geekbench, which measures raw processor speed, came back with above-average results. Even PCMark, which measures a PC's overall performance, came back with good scores, although minor hard drive slow-downs docked its final tally.
4.5 hours of battery life is lackluster at best.
Not everything is flawless on this Lenovo, though. Graphical performance isn't anything to brag about, but without a dedicated graphics card, that's to be expected. We tested the Flex 15 with both Portal 2 and Metro 2033: It handled the former quite well, but struggled running the more recent Metro 2033. Serious gamers won't be satisfied with the Flex's performance.
Battery life is the biggest issue here. I clocked about 4.5 hours of battery life with casual use, which is lackluster at best. Part of the reason for the dismal performance here goes back to the hard drive: In addition to faster performance, solid-state drives use less power. Since the Flex 15 doesn't have one of these drives, its battery life suffers.
And like many cheaper laptops on the market, this IdeaPad can't connect to WiFi networks on the 5GHz spectrum. This might be a deal-breaker for a few, but most consumers use the standard 2.4GHz WiFi spectrum.
Windows 8 and friends
The Flex 15 comes with Windows 8, Microsoft's hate-it-or-love-it operating system. Whether this is a good thing or a bad thing is entirely up to the consumer. For the record, I think Windows 8 works very well for getting everyday tasks done.
As with almost every other Windows-based computer on the market, Lenovo adds a handful of apps that you will probably never use. Take the Encyclopedia Britannica app, for example. I didn't think Encyclopedia Britannica was still around! The app on the Flex is just Britannica's website with a fancy interface—nothing else, really.
Another head-scratcher is "rara Music." This is a music service like Xbox Music, which comes on every Windows 8 PC. If you want to stream music on your laptop, you have to pay a subscription fee. With Xbox Music, you can either stream music for free with ads playing every few songs, or pay the subscription to take the ads away. Either way, Xbox Music is a much better deal—skip rara altogether.
Zinio features an elegant design that shows free magazine content.
At least Zinio, the magazine reader app, is somewhat useful. It features an elegant design that shows free magazine content. See something you like? Once you access the article, swipe through it using the touchscreen. While Zinio doesn't have a lot of big-name magazines to offer, it does constantly update itself with new content.
Finally, we have the obligatory anti-virus program. The Flex 15 uses McAfee Central, which alerts you about everything. Seriously, this app would pop up during testing and infuriate me to no end. The end result was always the same: The Lenovo was operating just fine and never had any malware problems. Why so persistent, McAfee? Disable this one and save yourself a headache.
If you're near an outlet, this laptop is a shockingly good buy.
One thing I've learned from testing laptops is that consumers pay a premium for portability. You'll pay more for an ultra-slim laptop with low-end specs than you would for a larger laptop that has better internals. Case in point: Lenovo's Flex 15, which is a bit thicker than its ultrabook peers, but has solid performance scores across the board. For $829.99, it's a certified steal.
In this price range, there aren't many true competitors. For $799, you could buy the Sony Vaio Flip 11a, which looks incredible, but is much slower than the Flex 15. There's also the $999 HP Spectre 13, which is another handsome laptop with weaker performance—if you absolutely need portability and battery life, this HP will fit your style better. But if you don't mind a thicker laptop that needs an outlet more often, then you can't go wrong with the Lenovo IdeaPad Flex 15.
Meet the tester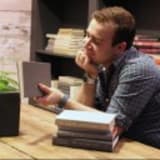 Josh Fields
Staff Writer
@reviewedtech
An enthusiast of all things tech, Josh is one of Reviewed.com's resident television experts. When he's not looking at bright TV screens in a dark room, he's probably reviewing a laptop or finding a new snack at 7-11.
Checking our work.
We use standardized and scientific testing methods to scrutinize every product and provide you with objectively accurate results. If you've found different results in your own research, email us and we'll compare notes. If it looks substantial, we'll gladly re-test a product to try and reproduce these results. After all, peer reviews are a critical part of any scientific process.
Shoot us an email