Pros
Muted color scheme

Good graphics power
It's a good option for the gaming enthusiast on a tight budget, too. In addition to the reasonable starting price, The Legion also packs a good amount of graphics power as well. You'll get consistent performance out of the base model, so long as you don't push it beyond its capabilities. While the Legion, with its subdued look and affordability, has a lot going for it, some compromises had to be made.
The Nvidia GPU is a big power-suck, so you're going to want to keep your eyes peeled for an outlet. The battery life is disappointing but, depending on your needs, it may or may not be a top priority. The Legion also has the most awkward touchpad I've ever used. The odd shape makes it almost impossible to work with. Though it's reasonably priced and offers pretty good performance, we feel there are better options out there.
The Legion comes in a couple of different configurations. The base model ($779.99) features an Intel Core i5-7300HQ CPU, a NVIDIA GTX 1050 Ti GPU, and 8GB of RAM. Not only is it a good option for the budget-conscious user, it's capable of running lightweight AAA titles like Overwatch. While it's plenty powerful for day-to-day tasks and casual gaming, it's not going to be able to handle top-of-the-line games on high settings. I'd recommend opting for the next configuration ($999.99), which has a NVIDIA GTX 1060 3GB GPU and is a decent bump in graphics power. Our loaner has an Intel Core i7-7700HQ CPU, 16 GB of RAM, and a 256GB PCIe SSD. You can check out the full specs below:
CPU: 2.8GHz Intel Core i7-7700HQ
GPU: Nvidia GeForce GTX 1050 Ti
Display: 15.6" Anti-glare LED Backlit Full HD (1920 x 1080) display
Memory: 16GB RAM
Storage: 256 GB SSD
Ports: Ethernet, USB 2.0, USB 3.0, USB-C, HDMI, card reader
Battery: 45Wh Battery
If you're looking for the ultimate gaming experience, the Legion has a high-end model that retails for $1,349.99. This version comes with a 7th-Gen CPU, a 1060 GTX 3GB GPU, either 8GB or 16GB of RAM, and up to 256GB PCIe SSD. This kind of machine is powerful enough to handle virtual reality experiences, which is cool if that's what you're into. Personally, I'd still go for the $999.99 model, as the 1060 GTX 3GB GPU is powerful enough to run more graphically demanding games.
The tamed-down design is an improvement on most gaming laptops
If you're not into the flashy gaming laptop aesthetic, the Legion, with its all-black plastic exterior, is a nice change of pace. It's obviously a gaming laptop due to the shape, but the muted color scheme is more mature. The hood doesn't look or feel cheap either, despite the faux carbon-fiber finish. If you run your hand along it, you'll feel some aesthetic bumps, which I find delightful because I'm sensitive to certain textures. Under the hood is less subdued, though.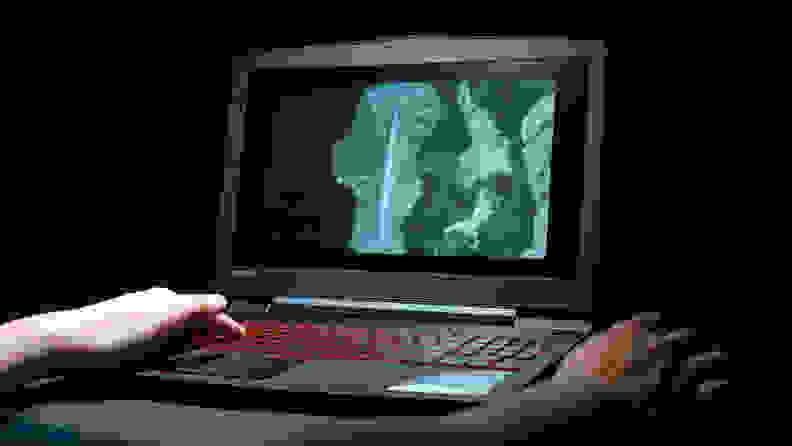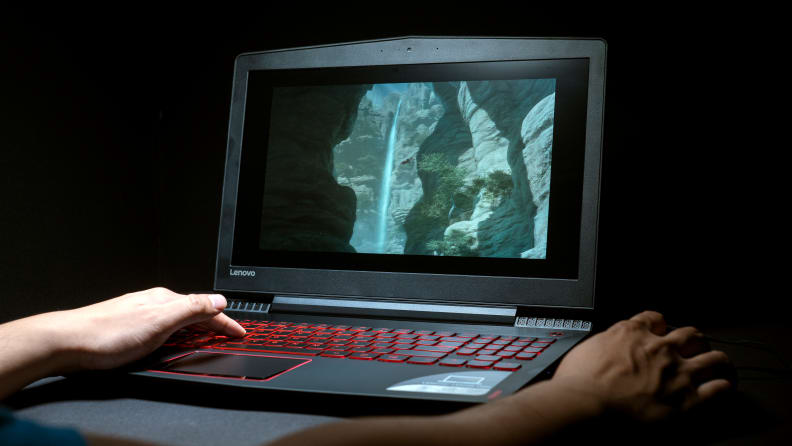 Lifting the lid reveals a red backlit keyboard and a red outline surrounding the touchpad. Personally, the inside aesthetic is a little too "gamer" for me. While there's nothing inherently wrong with red accents against a black shell, a common color scheme among gaming laptops, it may be a problem if you're looking for something a little more sophisticated. Hey, if it's not your cup of tea then it's not your cup of tea. Though the black exterior doesn't draw much attention, the inside bits are a different story.
The (starting) price is right
The base model, which has a starting price of $779.99, is a good option for the budget-conscious user. But since it's equipped with an entry-level GPU, the only games it can realistically handle are lightweight titles like _Overwatch. If you're looking for a powerhouse, I'd suggest the $999 model with the 1060 GTX GPU. That's one of the cheapest ways to get a 1060 GTX GPU. Plus, it's powerful enough to handle high-end games.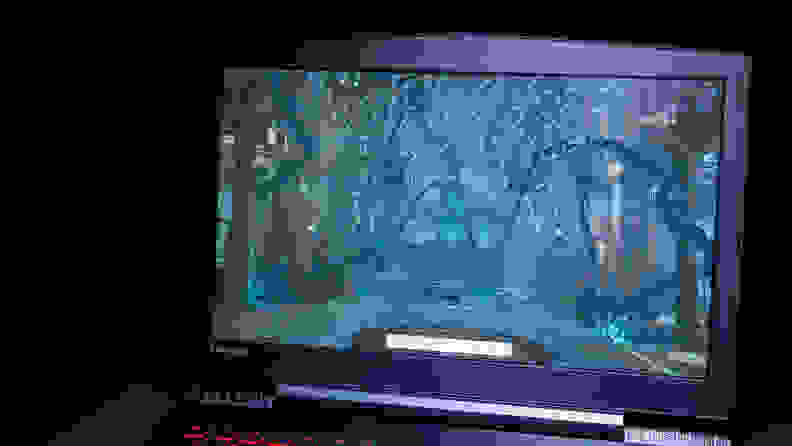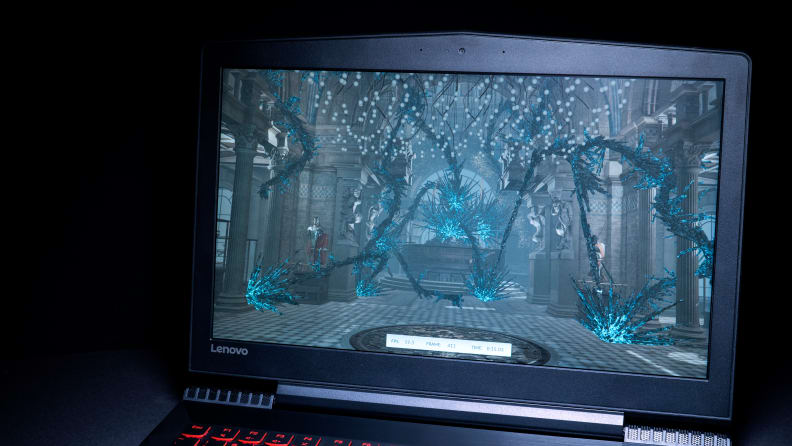 The touchpad is awkward and oddly shaped
The Legion has one of the weirdest touchpads I've ever used. I can't even describe the shape, really. I guess it's more of a reversed trapezoid than a square, which is pretty bizarre. It's almost too angular to function, if that makes sense. Typically, I like it when manufacturers try something different, especially with design, but I found the touchpad to be really annoying. My hand kept bumping into the plastic bits that fill the sides. Also, it's not a clickpad, meaning you have to press actual buttons in order to select things on the screen. It really messed up the flow for me.
The battery life is dreadful
When we put the Legion through our intensive battery test, which cycles through a bunch of power-hungry tasks like running videos and faux Skype calls, it lost its charge in a little over two hours. That's not surprising, given the machine's ability to handle visually-demanding games. It's actually about average. It's disappointing, for sure, but if you're a gamer, battery life may not be a top priority. Like I always say, it really depends on your needs. Do you need a laptop that's powerful but lives on your dorm room desk or do you need something more portable to take to classes? Either way, you're going to want to keep the charger with you.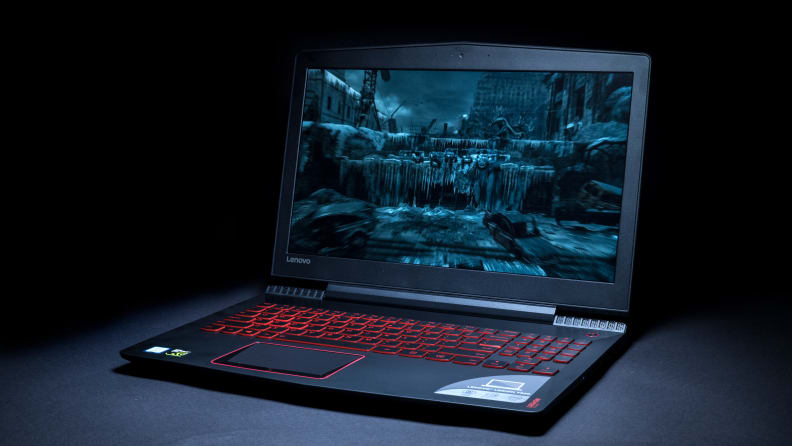 Maybe, but we feel there are better options out there
With its mature look, steady performance, and reasonable price, the Legion has a lot to offer, but we feel there are better options out there. Still, this laptop has a lot going for it. The subdued aesthetic is a nice change of pace, but I wouldn't recommend bringing it to a business meeting. You're also getting the power of a gaming laptop without the flashy aesthetic. When I played Overwatch, I didn't notice any lag or drops in frame rate. While the Legion excels in some areas, sacrifices still had to be made.
The battery life is disappointing, but that's not a total shock. It may not look like a flashy gaming laptop, but, at the end of the day, it's still a gaming laptop, so it uses a lot of power to keep up with those graphically-intensive games. You're going to want to keep the charger on you. The touchpad is also super annoying to use. The angular shape is really difficult to get accustomed to, as my hand kept bumping against the plastic bits that fill the sides.
The Legion is a good laptop for the game enthusiast on a tight budget, but the New Dell Inspiron 7000 Gaming may be a better value. Though we haven't tested this specific laptop, the entry-level model is $949.99 and comes with a 1060 GTX GPU. It's more expensive than the Legion's base model, but you're starting off with more graphics power. Plus, the black-on-black design is gorgeous and better for workplace environments.
Meet the tester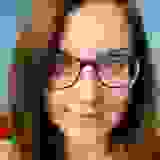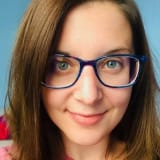 Ashley Barry-Biancuzzo
Editor
@awitchdidit
Ashley Barry-Biancuzzo is a valued contributor to the Reviewed.com family of sites.
Checking our work.
We use standardized and scientific testing methods to scrutinize every product and provide you with objectively accurate results. If you've found different results in your own research, email us and we'll compare notes. If it looks substantial, we'll gladly re-test a product to try and reproduce these results. After all, peer reviews are a critical part of any scientific process.
Shoot us an email