If you haven't bought a laptop in a few years, you may be shocked when you start shopping around: they're gorgeous now, especially if you're buying a high-end machine. The Dell XPS 13, the HP Spectre x360, the Asus ZenBook Deluxe, the Apple MacBook Pro, even the affordable Acer Chromebook—everywhere you look there are thin, aluminum-clad machines with premium finishes.
The 2017 Lenovo ThinkPad X1 Carbon (available at Amazon) is something different. From afar it looks like a skinny ThinkPad, but once you start typing on its pillowy soft keyboard you'll realize just what Lenovo has accomplished. It's thin, light, and powerful, but it sticks dutifully to the look and feel that has defined the ThinkPad line for over two decades—right down to the red Trackpoint in the keyboard's center.
Though it doesn't have many fancy tricks up its sleeve—the Lenovo X1 Yoga will scratch that itch, if you're interested—it ticks every box you could want from a premium, business-class laptop. It is lovely to type on, it has a beautifully responsive trackpad, and it's extremely thin and light for a 14-inch laptop.
For dedicated ThinkPad fans who want a fast, powerful laptop that's just as stylish as the other premium options on the market, the X1 Carbon is a perfect fit.
The Lenovo X1 Carbon (5th Gen) is a flagship-class ultrabook for 2017 that features a 14-inch display and comes in a range of configurations that can be customized as needed. The current starting price is $1,469 before discounts (street prices are around $1,100 depending on sales), though this tends to change. Here are the base specs according to Lenovo:
CPU: Intel i5-7200U (3MB Cache, up to 3.1Ghz)
GPU: Intel Graphics HD 620 (integrated)
Memory: 8GB LPDDR3 1866
Storage: 128GB SSD (SATA3)
Display: 14-inch 1080p IPS Anti-Glare Non-Touch
Ports: USB-C/Thunderbolt 3 (x2), USB 3.0 (x2), HDMI, headphone, microSD, Native RJ45
Battery: 3-cell 57Wh
Color: Black or Silver
Dimensions: 12.7"x8.5"x0.6", 2.49lbs
These specs are fully customizable when you buy directly from Lenovo, though there are a variety available at various retailers. When customizing, you can bump the processor up to an i5-7300U or an i7-7600U, which you'll need to do if you want to go above the 8GB of RAM to max out at 16GB. You can also opt for a 1TB SSD, an LTE-A modem, or a higher-resolution 1440p display for an extra premium.
Our test unit has some of these upgrades, with a powerful i7-7600U processor, 16GB LPDDR3 memory, and a 475GB PCI-E SSD. It has a retail price of $2,299, but is currently on Lenovo's website for a little over $1,700 with discounts.
The ThinkPad DNA is alive and well
I still remember the first time I used a ThinkPad. I was nine and my dad took me to my first computer fair at the Holiday Inn two towns over. Past the racks of Doom bootlegs and PC gear I stumbled on the (I think) ThinkPad 755CD—the first commercial laptop to have a built-in CD-ROM drive—with its signature bright red TrackPoint, so you didn't even need a mouse! My nine-year-old mind was blown.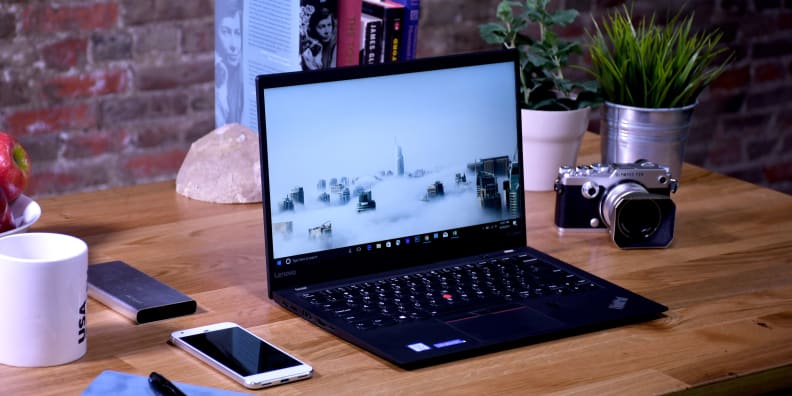 More than two decades later and the ThinkPad design hasn't changed all that much. Sure, you can probably stack three X1 Carbons and it wouldn't be thicker than the 755CD, but you can see the lineage. But while the design cues are friendly and familiar, we've been consistently impressed with how Lenovo has lived up to the ThinkPad line's reputation for durability and reliability.
While it's slim and sleek, the X1 Carbon also feels like a laptop that'll last for years, just like the ThinkPads that came before it.
The keyboard and trackpad are both superb
You'd think that in 2017 we wouldn't have to worry about a laptop manufacturer screwing up something as simple as the trackpad and keyboard, but here we are. The X1's keyboard has a little more travel than most ultrabooks, similar to the MacBook Air and the MacBook Pro prior to last year's refresh. It's pillowy soft, with very discreet switches, so you can type during a meeting without disturbing everyone else in the room.
The trackpad isn't huge since it leaves room for three physical buttons at the top, but it uses Windows Precision drivers. Typically, even with WP drivers it still takes a few weeks (and a few tweaks) to get used to the responsiveness of a particular trackpad, but the Carbon felt great right out of the box. It's not a MacBook, but I'll take an A- trackpad and an A+ keyboard over the MacBook Pro's C+ keyboard and A+ trackpad.
The battery life is excellent, with power to spare
Though there are plenty of powerful laptops out there, and plenty that have great battery life, finding one that combines the two is nearly impossible. The X1 Carbon bucks that trend, with a laptop that can run for a full workday on a single charge despite being slim, powerful, and nearly silent during everyday use.
During a typical workday I can get anywhere from 6-8 hours of challenging work done on a single charge.
During a typical workday I can get anywhere from 6-8 hours of web browsing, photo editing, and editing spreadsheets on a single charge, and I usually keep the screen's backlight near the max. Lowering the backlight will extend the battery life, and it's more palatable here than most laptops: the matte screen fights off reflections well enough that you don't have to crank the brightness just to see what's on the screen.
The X1 Carbon is effortlessly powerful
Our review unit features an Intel Core i7-7600U, which is one of the fastest laptop CPUs around—at least until Intel debuts the 8th-generation chips in a few weeks. Though it's certainly not built for gaming or video editing, it more than held its own in both real-world usage and in our exhaustive benchmarks.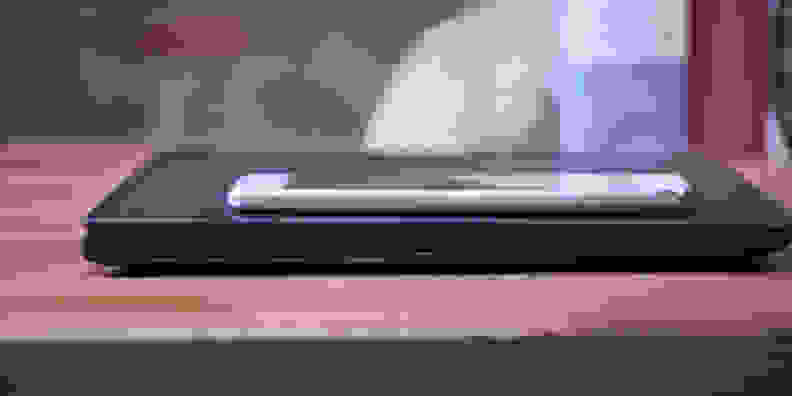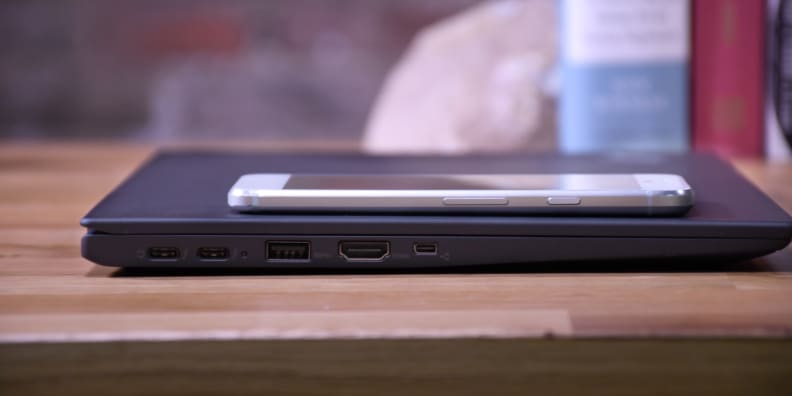 But while I'd expect a top-of-the-line machine like this to feel powerful, I am really impressed with Lenovo's choice of configurations. Though this is a flagship laptop, you can get it starting at just $1,100 (or thereabouts) on sale. The entry-level model gets you the same killer design, and you're only stepping down to an i5-7200U, which is the sweet spot in Intel's 7th-gen lineup if you want affordable performance.
The entry-level model will drop you down to 8GB of RAM and a meager 128GB SSD, though that's enough if you only care about basic tasks. For anyone who occasionally does photo editing or anything a tad more intensive, the next model up has an i5-7300U that is mostly the same, but supports 16GB of RAM and usually comes with a larger 256GB SSD.
The style won't be for everyone
As classic as the ThinkPad look is, it's not for everyone. The all-black, low-profile design language is a nice change of pace, but I personally prefer something like the HP Spectre x360 or MacBook Pro quite a bit more. Sure, everyone's got an aluminum laptop these days, but I just think it looks a bit nicer.
As classic as the ThinkPad look is, it's not for everyone.
That said, the X1 Carbon looks like it means business, and for a certain class of buyer that's important. Especially in certain fields, people are going to judge everything about you—including your laptop. A sleek, all-black number like the X1 Carbon doesn't stick out like a sore thumb.
The lack of a touchscreen option will turn some people off
Personally, I almost never use the touchscreen on a laptop except for occasionally taking written notes or sketching diagrams. On a laptop like the X1 Carbon, the lack of touchscreen support isn't a huge deal to me. But for some people who are used to taking advantage of what a touchscreen can do on Windows, it may be considered a negative.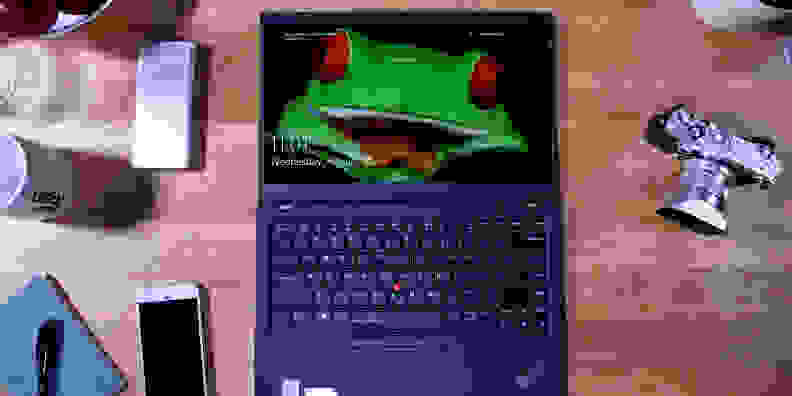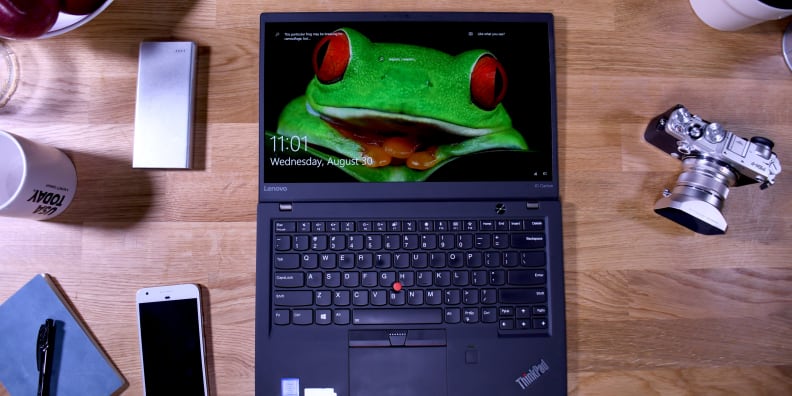 If you like the X1 Carbon but prefer a 2-in-1 design with touchscreen and stylus support, I highly recommend you check out the X1 Yoga. It's designed very similarly overall, but with a greater emphasis on Lenovo's Yoga design DNA than the ThinkPad styling seen here.
The soft cover is nice, but it's a grease magnet
If you're the kind of person who hates fingerprints on your laptop, the X1 Carbon will be a nice change of pace. Instead of the reflective, smooth coatings found on some laptops, it's got a soft-touch coating on the body that is almost rubberized. It doesn't pick up any fingerprints, but it does pick up dust, dirt, and grease from your fingers and palms.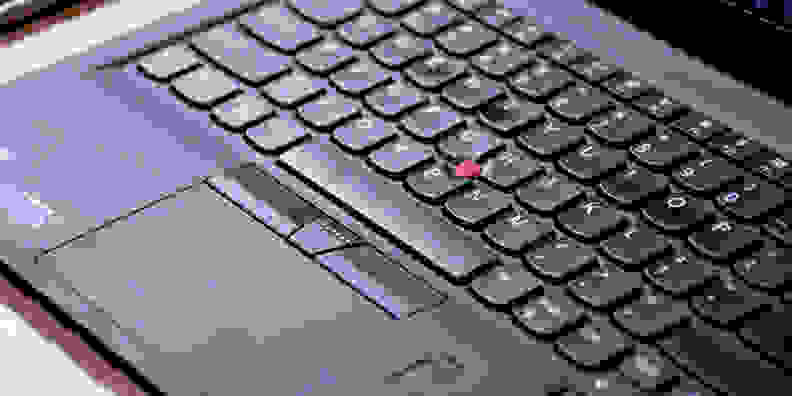 Since the coating is almost entirely matte, it means that these shiny grease spots stand out a bit from the rest. It's only something you'll notice when the light is just right, and it's certainly better than a laptop covered in smudgy prints, but it's not a perfect alternative.
This might be a perfect ThinkPad
The Lenovo X1 Carbon is a very good laptop, but it's also a nearly perfect ThinkPad. While some buyers treat ThinkPad as something staid and boring, there are loads of people who love the line's consistency, durability, and reliability. It's not fancy, and you can bet that's intentional.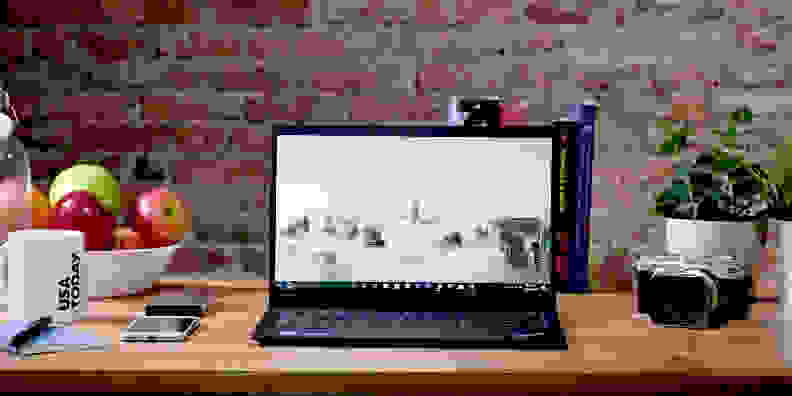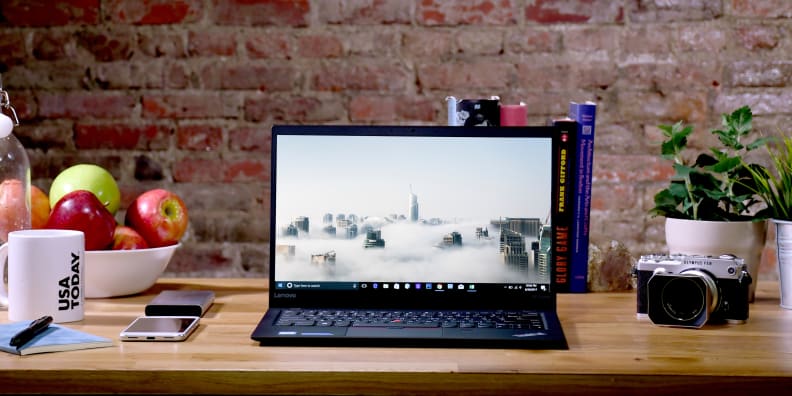 For ThinkPad die-hards, in particular, there is really only one alternative: the X1 Yoga. But while fancy features like an OLED screen, a 360-degree hinge, a built-in stylus, and touchscreen support will appeal to some, the X1 Carbon effortlessly nails the basics. It's thin, light, whisper quiet, powerful, and it's a joy to use day-in, day-out.
And if you want the Yoga, or one of a half dozen other excellent top-tier devices, you should go for it. I personally adore the HP Spectre x360, the Dell XPS 13, the Asus ZenBook Deluxe, and the design quality on the MacBook Pro. They will all turn heads at your office or at your local coffee shop and are especially useful if take advantage of everything they have to offer.
It's not for everyone, but that's kind of the point.
Personally? That's not me. There are maybe two times a month that I will flip a 2-in-1 around to be a tablet, and I almost never touch the screen. (I also don't go in for fancy 3- and 4-finger gestures. Change frightens me.) The X1 Carbon isn't a rebuke of those other laptops—this is still Lenovo after all—but it's a stunning example of just how fantastic it can be when a company keeps things simple and executes to the best of its ability.
It's not for everyone, but that's kind of the point.
Meet the tester TJ Donegan
Executive Editor
@TJDonegan
TJ is the Executive Editor of Reviewed.com. He is a Massachusetts native and has covered electronics, cameras, TVs, smartphones, parenting, and more for Reviewed. He is from the self-styled "Cranberry Capitol of the World," which is, in fact, a real thing.
Checking our work.
Our team is here for one purpose: to help you buy the best stuff and love what you own. Our writers, editors, and lab technicians obsess over the products we cover to make sure you're confident and satisfied. Have a different opinion about something we recommend? Email us and we'll compare notes.
Shoot us an email