2-in-1 computers have seen a sharp rise in popularity in recent years because they offer the flexibility of choosing between a tablet for casual use and a laptop for standard, everyday tasks. But when a 2-in-1 is too much of an ultrabook and not enough of a tablet, something's gotta give.
It's not that the Yoga 900s is a lousy computer. In fact, as far as ultrabooks go, it's an elegantly-designed, competent performer. But folks searching for a truly flexible 2-in-1 would be better off searching elsewhere for a computer that functions better as a tablet, and folks searching for an ultrabook would be better off exploring better, more affordable options.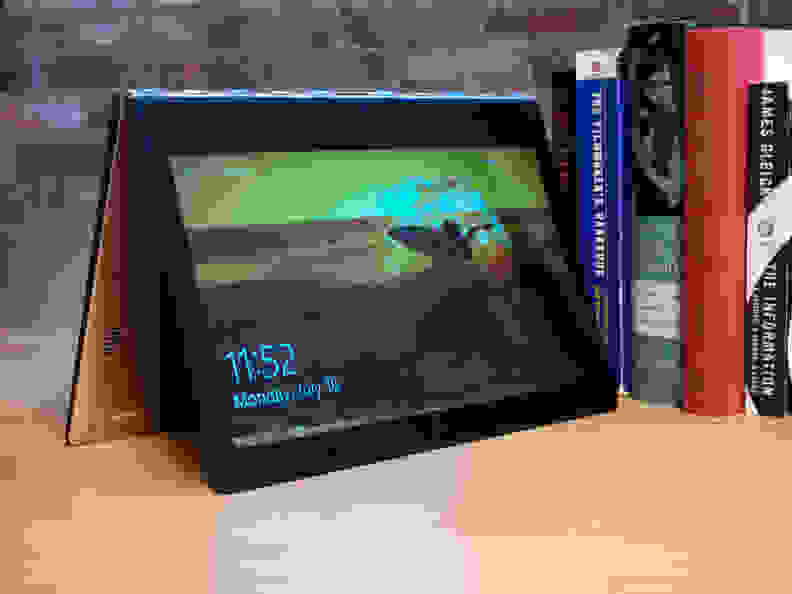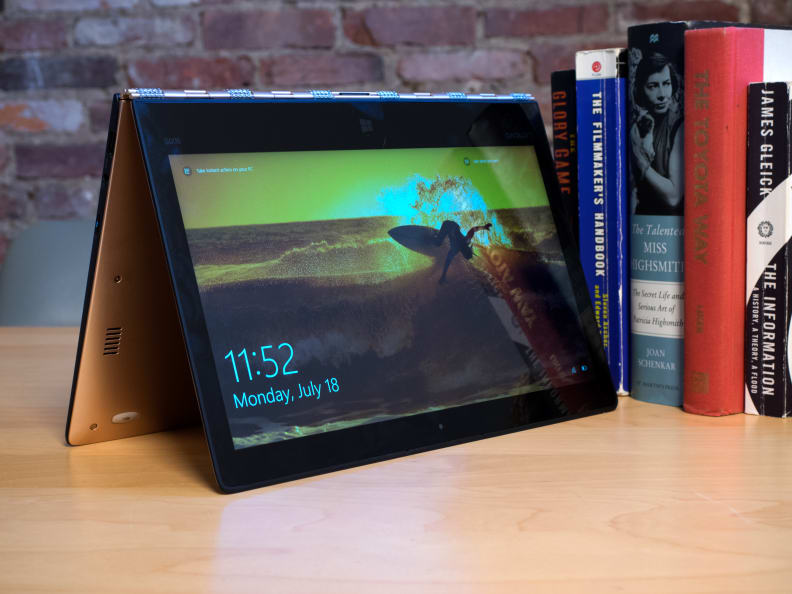 Lightweight and portability aren't the only things Lenovo had in mind when it was piecing together the Yoga 900s; this 2-in-1 is equipped to handle basic, day-to-day tasks gracefully. Below you'll find its specs at a glance.
• Intel Core m5-6Y54 processor
• 4GB LPDDR3 RAM
• 12.5-inch 1920x1080 LED touch display
• 128GB PCIe SSD
• WiFi AC/Bluetooth
• Li-polymer, 4-cell 53Wh battery
Lenovo also offers a version of the Yoga 900s with 8GB of RAM, 256GB of internal memory, and a zippier Intel Core m7 processor for about $100 more.
The 900s wouldn't be much of a 2-in-1 without an optional pen, but unfortunately, users hoping to buckle down and get some drawing done will have to plunk down extra cash for Lenovo's pen. Thankfully, it retails for a modest $39.99 and is readily available via Amazon and Lenovo's website.
A unique, eye-catching design
The Yoga 900s features a handsome watchband-style hinge that looks especially good in Lenovo's all-silver model. Our review unit was the slightly-orange-hued "champagne gold," but the metallic hinge nevertheless stands out on the table where our armada of laptops resides. I especially appreciated the gold-colored accents on the Yoga's keyboard; the entire aesthetic is attractive and well-thought-out.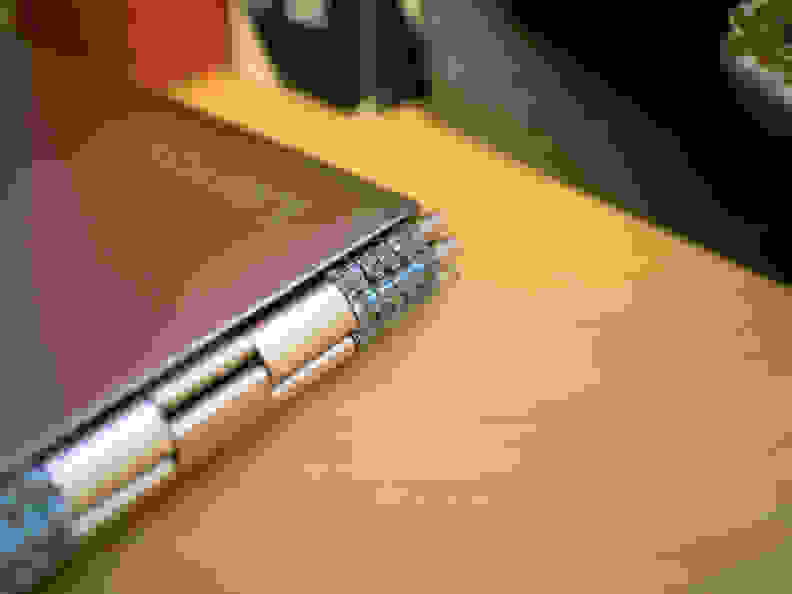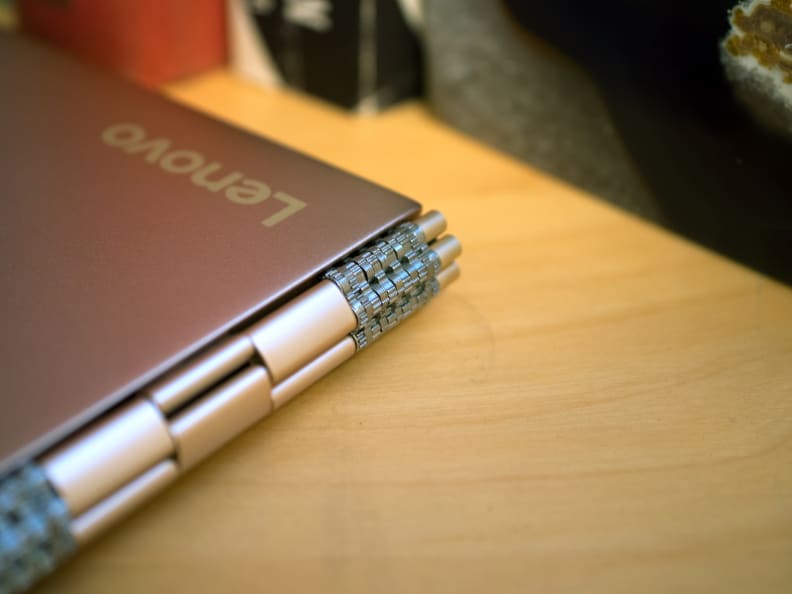 Terrific battery life
Having an ultra-portable computer doesn't mean much if its battery can't hang tough, but thankfully, the Yoga 900s proved itself time and time again in the week I've spent using it. An overnight charge gets me through most of the day, and in our lab test, the Yoga 900s managed over five hours of heavy work via PCMark 8 Home.
In our lab test, the Yoga 900s managed over five hours of heavy work.
Slim and light for maximum portability
When closed, the Yoga 900s is an impressive 12.8mm, which makes it slimmer than most ultrabooks but not quite as slim as 2-in-1s with smaller keyboards, like the Samsung Galaxy TabPro S.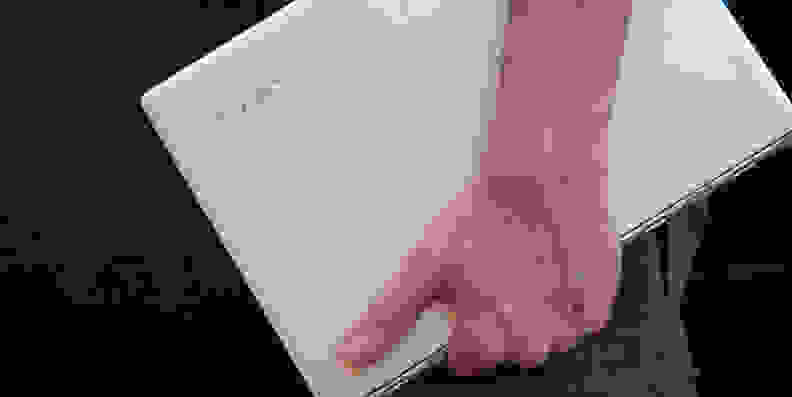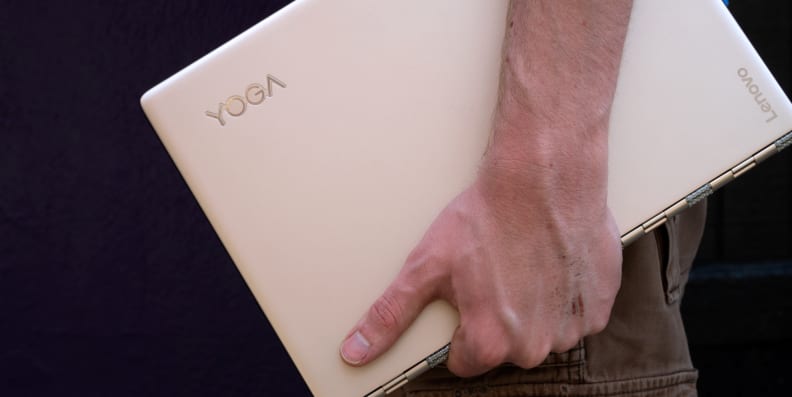 That said, the Yoga's slim profile combined with its featherlight 2.2-pound weight make it an excellent travel companion. Taking it to and from work is a breeze, and converting it in and out of its tablet position is easy as a result of its lack of heft. Compared to the 1.9-pound Samsung Notebook 9 and the similarly-weighted LG Gram 15, the Yoga 900s sits firmly in the leading class for lightweight ultrabooks.
The keyboard and trackpad often feel as if they're working against you.
If you're a right shift key-user like myself, listen up: Yoga 900s's keyboard is probably going to be the bane of your existence, at least for a little while. The right shift key is half the size of the one on the left side of the keyboard, and it's positioned around several other keys of the same size. So basically, get ready to re-wire your brain when it comes to capitalization.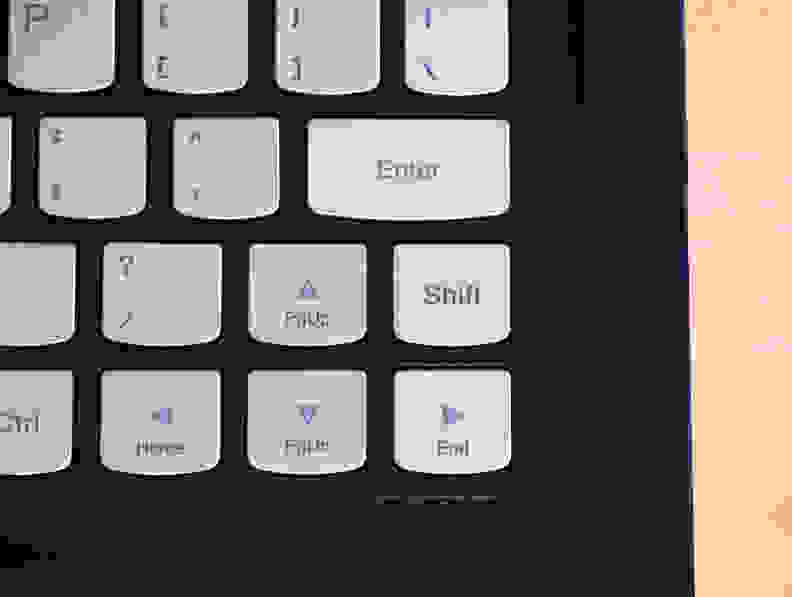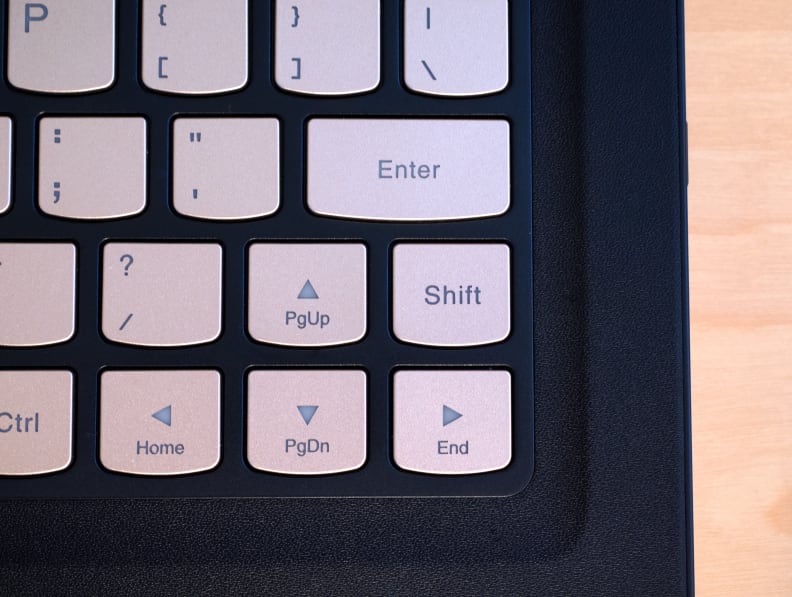 I have to say, after reviewing a couple ultrabooks that didn't feature a backlit keyboard, it feels good to have glowing keys in front of me again. But in practice, I find the Yoga's keys lack the tactile feedback I've come to appreciate over the years—the kind of keys that punch and leave no question as to whether or not they've actually been pressed.
The Jekyll-and-Hyde dynamic is present in the trackpad, too. I'm probably harder to please than most when it comes to the sensitivity of a touchpad since I prefer to rest my thumb on it, but the Yoga 900s is plenty accommodating in this way. Unfortunately, the surface of the trackpad is not quite smooth enough for gestures, drag-and-drops, and precision pointing.
The surface of the trackpad is not quite smooth enough for gestures, drag-and-drops, and precision pointing.
The screen's large bezels and a wide aspect ratio make for a limiting experience.
The bezels above and below the Yoga 900s's display are thick—really, really thick. The resulting aspect ratio is certainly cinematic, but more often than not it feels claustrophobic, especially when using the Yoga as a laptop.
And while the Yoga 900s sports a terrific contrast ratio, I found its colors to be less vivid as those of its competitors, particularly those found on the Surface Pro 4 and on the AMOLED display of the Samsung Galaxy TabPro S.
Despite how gracefully it transforms, it's still a disappointing tablet.
2-in-1 ultrabooks aim to bring some flexibility to the world of portable computing; ostensibly, they're laptops during the workday and tablets when you want a little simplicity.
But I'm going to be completely honest here—I've hardly used the Yoga 900s as a tablet since I started familiarizing myself with it. In fairness, I'm not the type of person who reaches for a tablet when I want to watch Netflix or browse the internet. I suspect people who looking to do some drawing, for example, will find plenty of opportunities to take advantage of the Yoga's backwards-bending display. Propping the Yoga upright on a table or nightstand, too, can be a rewarding use of the design, too.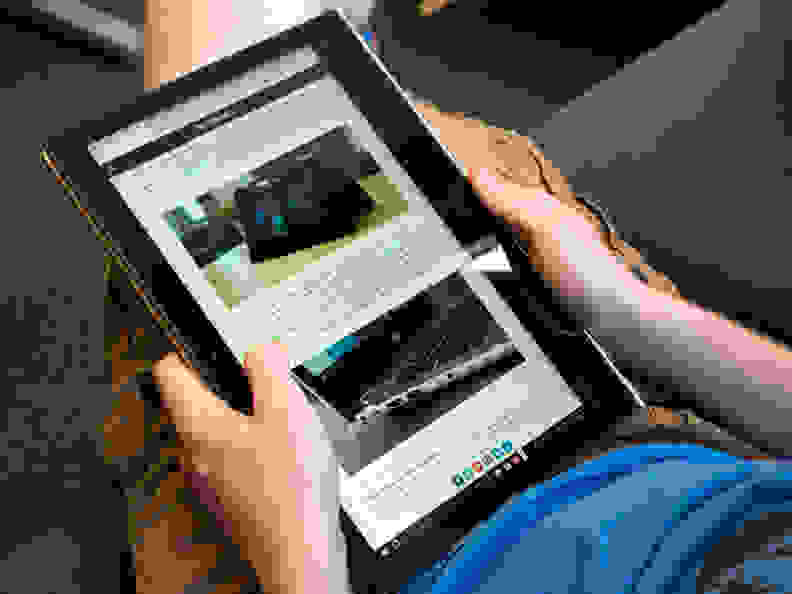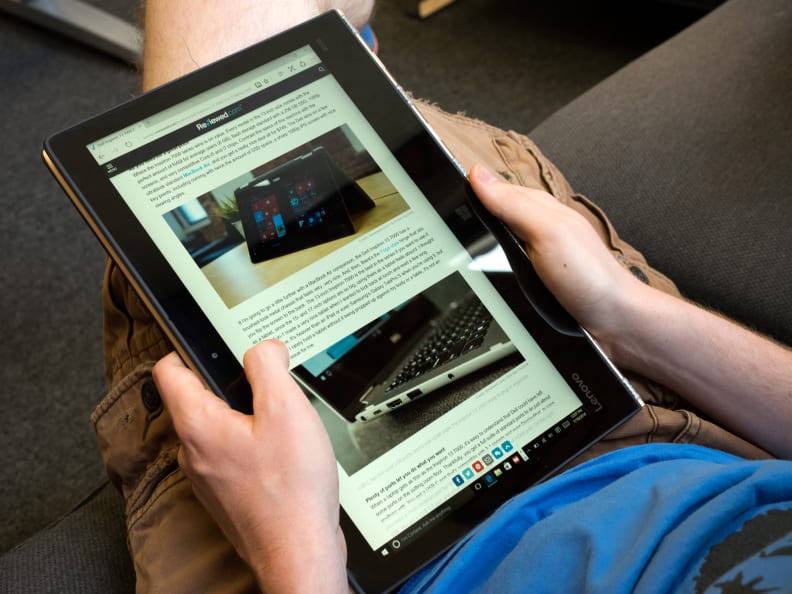 When it comes to my difficulty warming up to the Yoga's tablet functionality, I suspect its chunkiness is a contributing factor. While it's a slim device when closed and stowed, I find it to be considerably thick and difficult to hold for extended periods of time while it's in its tablet mode.
The keyboard automatically shuts off when the display is bent all the way back, so there's no need to fear accidental button presses. At the end of the day, however, it doesn't matter—the mere presence of useless keyboard on the back of my tablet is not something my brain's been able to get used to.
For those looking for a mid-to-upper-range ultrabook in the sub-$1,200 range, you could do a heck of a lot worse than the Yoga 900s. It's not a class-leading competitor, but Lenovo's strapped enough horsepower under the hood of it to satisfy the average user and then some, especially if you happen to spring for the higher-end model powered by the Intel m7 chipset.
But those looking for a mid-to-upper-range 2-in-1 might find that the Yoga 900s offers more of a laptop-driven experience and that its tablet mode is more of a nice-to-have, half-baked feature; essentially, it does half the job a 2-in-1 should do.
It's not a class-leading competitor, but Lenovo's strapped enough horsepower under the hood of it to satisfy the average user and then some.
If the tablet half of the 2-in-1 experience is more important to your needs, the Samsung Galaxy TabPro S scored similarly to the Yoga 900s, and it functions as a tablet better than the Yoga for around $200-$300 less. Its keyboard isn't backlit and it's not as easy to use on your lap, but folks looking for a slimmer, easier-to-use tablet will probably get more out of the TabPro S than the Yoga 900s.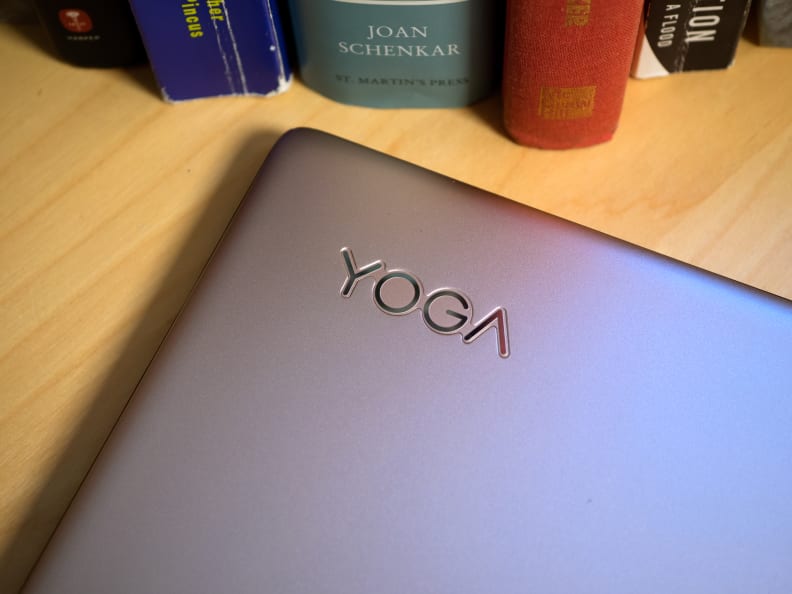 And if you're leaning towards an ultrabook that sits comfortably on your lap and tabletops—something the Yoga 900s does quite well—there are arguably better ways to maximize your dollar. Consider the ultra-lightweight, 13-inch Samsung Notebook 9, which features more memory and a lighter price tag.
I can't say it doesn't get the job done, but I also can't say that it feels like a good deal.
It's also worth noting that the Lenovo Yoga 900—older sibling to the 900s—is currently on sale via Amazon for roughly the same price as the 900s, and it out-specs the 900s in almost every category except battery life. Oh, yeah—and it also has an appropriately-sized and positioned shift key.
The Yoga 900s—while a solid performer—is a bit of a computer without a proper home in the marketplace. Yes, it's lightweight, thin, and features fantastic battery life, but for the price, there are 2-in-1s that function better as tablets and ultrabooks that perform similarly at lower costs.

Meet the tester
Michael Desjardin
Senior Staff Writer
@Reviewed
Michael Desjardin graduated from Emerson College after having studied media production and screenwriting. He specializes in tech for Reviewed, but also loves film criticism, weird ambient music, cooking, and food in general.
Checking our work.
Our team is here for one purpose: to help you buy the best stuff and love what you own. Our writers, editors, and lab technicians obsess over the products we cover to make sure you're confident and satisfied. Have a different opinion about something we recommend? Email us and we'll compare notes.
Shoot us an email