Overview
While this is a great-looking hybrid, don't expect a performance powerhouse. Our Surface Pro review model packs a 3rd Gen Intel i5 processor, 4GB of RAM, and a 128GB solid-state drive. Without any add-ons like a keyboard, this package runs a dollar less than a grand—if you want the most out of this computer, you'll need to spend more.
Design
A tablet, a kickstand, and a pen walk into a bar...
On first glance, the Surface Pro looks like any other generic tablet: a black rectangle with rounded edges. When holding it in a landscape position, there is a Windows button on the bottom of the screen, while the left side is home to a USB 3.0 port, volume rocker, and headphone jack. The top of Microsoft's tablet has a power button, and the right side contains a microSD card slot, a magnetic charging port, and a Mini DisplayPort.
Hey HDMI and VGA port fans: Feeling left out? Microsoft makes a Mini DisplayPort-to-HDMI/VGA adapter, but it'll cost you an extra $40 each. Did you think ports were free?
Credit Microsoft's use of VaporMg for how good the Surface Pro feels.
The Surface Pro feels great to the touch. Credit Microsoft's use of VaporMg, which is a fancy way of saying it uses magnesium to create the cool-feeling exterior. In addition to element 12, you'll find a kickstand on the back of the Surface Pro. While it may seem like a great way to prop the tablet up for watching videos, it's actually essential when using a keyboard attachment.
The front of the tablet is a 10.6-inch, 1080p screen. That gives it a pixel density of about 208 PPI (pixels per inch)—not bad, but not retina-shattering. At least the 10-point multi-touch screen feels responsive, although I rarely had to use more than two fingers for any Windows 8 gestures.
Speaking of the screen, there are plenty of other ways to interact with it. The included Surface Pen writes and erases with Microsoft's OneNote software. The Wedge Mouse is a tiny Bluetooth device, designed with portability in mind. It'll cost you an extra $69.99, but works fairly well. The only problem I see with this mouse is how small it is: After using it for extended periods of time, my hand would start to cramp up.
The touchpads on either keyboard are absolutely horrific.
Then there are the two keyboard options, which Microsoft refers to as "covers." The Touch Cover sells for $119.99 and it's one of the weirdest keyboards I've ever used. The "keys" do not travel, and have no haptic feedback—you simply type on this like you would a tablet's on-screen keyboard. Also, the touchpad on this cover is absolutely horrific. Using the two-finger scroll on a webpage barely works—actually, using more than one finger at a time barely works on this touchpad. No thanks.
The other option is the Type Cover, which actually has keys and feels mostly normal. Remember, this is a keyboard attachment for a 10.6-inch tablet, so it does feel a bit cramped. The touchpad is similar to the one on the other cover, so be prepared for frustration. Still, this is the better keyboard option.
Software
No bloatware? No bloatware!
Microsoft's Surface Pro was designed with Windows 8 in mind. Since this operating system is very touch-centric, it works quite well.
This is Microsoft's baby, so there's no bloatware (random antivirus programs and other software most consumers never use) cluttering up the operating system. There's a camera app, Skype (which is now owned by Microsoft), and a trial for Office. That's really it—Microsoft gives you the freedom to populate the Surface Pro however you want. Since there are tons of actual programs and games to play on Windows 8, that isn't a problem. Just don't use the Windows Store—it's kind of a ghost town.
Performance
Beneath the Surface: Subpar Battery Life, Average Processor
No matter how good a laptop looks, it's still defined by its performance. The Surface Pro shows that it's competent for simple tasks, but can't handle a very big workload.
The results I found are similar to Samsung's ATIV Tab 7's. The Surface Pro's capable Intel Third Gen i5 processor produced fair test results in PCMark, but anything graphic-intensive slows this machine down to a crawl. We use 3DMark Vantage to test graphics, and the Surface Pro was chugging while it ran. For the most part, Microsoft's hybrid is quiet, but give it some graphics to process and the fans will go full-blast.
Anything graphic-intensive slows this machine down to a crawl.
I wouldn't expect a computer like this to run the latest video games, but the Surface Pro could barely run Portal 2—an admittedly aging game. With graphics cranked up all the way, this hybrid clocked less than 30 FPS (frames per second). Compare that to the Samsung ATIV Tab 7, which produced about 46 FPS in the same test.
Battery life is also a letdown. We tested an average battery life of about 4 hours. As a point of reference, anything less than 5 hours is subpar. I hate to bring up Samsung's ATIV Tab 7 again, but that hybrid was able to get over 5 hours.
The Finale
You're paying for good looks, not top-notch performance
The Surface Pro is a hard laptop to recommend. At its core, this is just a $999 tablet. If you want a somewhat decent keyboard attachment, that will cost you another $129. If you want an HDMI output, that's another $40. And while you don't need Microsoft's Bluetooth Wedge Mouse, the touchpads on either of the keyboard attachments are terrible enough to warrant it. Add another $70. You're now looking at a $1,238 laptop.
That kind of price isn't outrageous for a device like the Surface Pro, but it should bring better performance results. With its lackluster battery life and average processor, the Surface Pro would really benefit from a price cut.
Meet the tester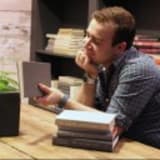 Josh Fields
Staff Writer
@reviewedtech
An enthusiast of all things tech, Josh is one of Reviewed.com's resident television experts. When he's not looking at bright TV screens in a dark room, he's probably reviewing a laptop or finding a new snack at 7-11.
Checking our work.
Our team is here for one purpose: to help you buy the best stuff and love what you own. Our writers, editors, and lab technicians obsess over the products we cover to make sure you're confident and satisfied. Have a different opinion about something we recommend? Email us and we'll compare notes.
Shoot us an email