To some extent, it is. For only $1,299.99, you'll have no problem running the latest PC games on high settings—and with incredibly accurate colors. Unfortunately, its processor struggles a bit with non-gaming-related tasks. Add in the fact that this "laptop" isn't very portable, making this rig more ball-and-chain than boon.
A heavy rainbow loaded with connectivity options
The GX70's most striking characteristic isn't its eye-popping thickness (over two inches), or its comically large screen (17.3 inches); but its rainbow-colored keyboard. From left to right, the GX70's keyboard displayed red, orange, green, and blue underneath—even the number pad. That's right: This laptop is big enough to include a separate number pad. This feature can easily be turned off, although if you're going to light up your keyboard, why not go all out? Regardless of flair, the keyboard is spacious and comfortable to type on.
This laptop became known around the office for its rainbow-colored keyboard.
The touchpad, on the other hand, is not. MSI clearly didn't spend much time on this feature, since gamers tend to use a mouse with a gaming laptop. Compared to everything else on the GX70, though, the touchpad feels out of place. It's tiny and not very responsive, although it does include physical mouse buttons. Using this for extended periods of time will make you crave something better.
As far as ports are concerned, this behemoth has them all: HDMI (full-sized, not mini), VGA, DisplayPort, ethernet, SD card reader, headphone and mic inputs, and five USB jacks—three of which are 3.0. To top it all off, the GX70 has a Blu-ray/DVD drive. You know, for when you get tired of gaming and want to use this laptop's 1080p screen for a movie viewing.
Love it or hate it, Windows 8 is here to stay
The GX70 runs everyone's favorite operating system: Windows 8. All joking aside, Windows 8 is a smooth operator that will run any current PC game, plus it boots up quickly—especially on the GX70's 7200 RPM hard drive. Its Start screen has divided many a PC user, as it is tailor-made for touchscreens, not traditional desktops. Since the GX70 does not have a touchscreen, navigating the Start screen can be slightly more annoying, but who are we kidding: Gamers will be in desktop mode 99.9% of the time.
MSI didn't bundle too much software on the GX70, although its inclusion of Norton's (in)famous anti-virus software frustrated us to no end. Norton likes to pop up at very inopportune times, like during testing or gaming. We get it: Our computer is at risk _unless we use your software_. After deleting every trace of Norton software, our experience with the GX70 became much more enjoyable. #### The GX70 eats games for breakfast As a pure gaming machine, the GX70 is a superb choice. _Portal 2_, while not the most resource-intensive game, runs as easily as MS Paint. We booted up _Skyrim_ on ultra settings (the highest available), and played it without a hitch. MSI delivered on offering us a gaming laptop, even if you won't be carrying this monster around very often. We should also point out that this laptop tested with extremely accurate colors. Yes, frame rate is very important when gaming, but having content look the way it was intended is a nice perk. According to our tests, the primary colors (red, green, and blue) look nearly identical to the HD standard—icing on your _Skyrim_ cake. And while the GX70 (and most laptops) cannot produce deep black levels, it achieved a contrast ratio of 1181:1—impressive for a laptop.
As a pure gaming machine, the GX70 is a superb choice.
For this you can thank the GX70's video card—the Radeon 8970M—for the aforementioned performance. As of this writing, it is one of the most powerful cards available for a laptop. It's processor, however, is a different story. The included AMD quad-core processor—the A10-5750M, to be precise—isn't very impressive. Our software placed this huge honking laptop far behind the much smaller Sony VAIO Fit 15E—which is also lighter in the system resources department. The Sony VAIO even trumps the GX70 while running programs like Excel and Photoshop. The difference isn't huge, but we expected more from a laptop this decked out.
The included AMD quad-core processor isn't very impressive.
Battery life, though, was quite good. If used for casual web browsing, the GX70 will give you just shy of five hours. Running Portal 2 until the battery drained was a different story: The GX70 only lasted for 80 minutes. Still, those 80 minutes were spent making Portal 2 look better than it ever has.
Low on portability, high on gaming performance
The MSI GX70 takes the word "laptop" and makes a mockery of it. You will never, ever use this on your lap, nor will you notice shoddy gaming performance indicative of most laptops. The GX70 is more like a desktop replacement, complete with a full-size keyboard and optical drive. Anything you throw at it, it can handle.
We were a bit disappointed by the GX70's non-gaming performance scores, though. Cheaper (and lighter) laptops performed better with processor-heavy tasks, even if this MSI is no slouch. Still, we can't harp on it too much: For $1,299.99, you'll be buying a laptop that can play any game on the market right now, and make it look impressive. If you're OK with its heft, the GX70 is a solid buy.
Did we mention it has a rainbow-lit keyboard?
Meet the testers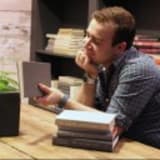 Josh Fields
Staff Writer
@reviewedtech
An enthusiast of all things tech, Josh is one of Reviewed.com's resident television experts. When he's not looking at bright TV screens in a dark room, he's probably reviewing a laptop or finding a new snack at 7-11.
See all of Josh Fields's reviews
Checking our work.
We use standardized and scientific testing methods to scrutinize every product and provide you with objectively accurate results. If you've found different results in your own research, email us and we'll compare notes. If it looks substantial, we'll gladly re-test a product to try and reproduce these results. After all, peer reviews are a critical part of any scientific process.
Shoot us an email