Featuring a slick black and green design, the Razer Blade has the feeling of an imposing laptop. With an Intel Core i7 4720HQ processor, 16GB of RAM, and a NVIDIA GeForce GTX 970M graphics card with an Intel integrated GPU, the Razer Blade is a top-contender when it comes to portable gaming.
But, truth be told, if you're looking for a real beast of a machine that can run even The Witcher 3: Wild Hunt on max settings—this isn't quite it. If you're looking for that you'll probably want a full desktop, which will let you customize and upgrade as games get more intensive. Otherwise, the Razer Blade will give you the performance you need to play most games with the portability required to take them on the road.
Generally speaking, gaming laptops are built to be more powerful than portable. The Razer Blade is nearly 4.5 pounds of components packed into 13.6 x 9.3 x 0.7-inches of sleek, gaming-ready goodness. One of the easiest comparisons to make is to the MacBook Pro with Retina Display (Iris Pro) in terms of form function, in fact it has almost the exact same footprint. While you'll have to compromise somewhat in terms of raw power by going with a laptop, the Razer Blade compromises by making sure the outside looks great.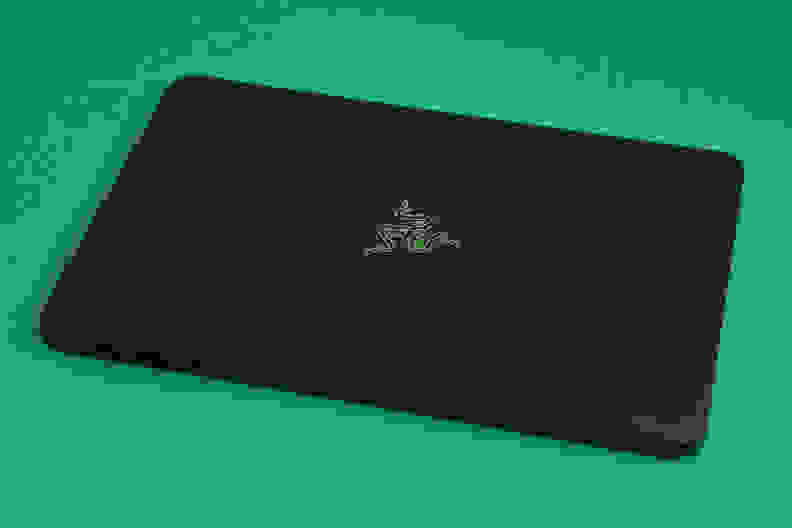 The first thing you might notice is that the back of the aluminum lid features an illuminated logo, but you won't find any white apples here. Instead, two colors dominate the exterior of the Razer Blade, and the glowing green three-headed snake contrasts nicely against the black case. Unfortunately, the case is pretty good at picking up fingerprints and it won't be long before greasy streaks mar your otherwise impressive setup.
All of that black and green is hiding what's inside—some impressive laptop hardware that's built to handle almost any game out there right now. The Razer Blade packs an Intel Core i7 4720HQ processor at 2.6GHz of quad-core power with Turbo Boost speeds up to 3.6GHz. That's paired with 16GB of RAM to make sure it can handle any number of tasks simultaneously. Of course, a gaming laptop is only as good as its graphics card and the Razer Blade benefits from the tag team of a GeForce GTX 970M GPU and an Intel integrated GPU. While most games are going to look great, if you want the most out Grand Theft Auto V or The Witcher 3: Wild Hunt, you're not going to find the power necessary here.
All of that power is used to output to the 14-inch QHD+ touchscreen display. It has a 3200x1800 resolution and a 16:9 ratio. Corner to corner, this screen was built to help make games look great. The screen is also an IGZO display panel, which, according to Razer, is especially well-suited for low response times. Even though it has 10-point multitouch, as a gaming laptop there's hardly a time when you'll want to put your grubby mitts on the screen—unless there are some casual games like Cut the Rope that you want to play. Instead, you'll want to opt for an attachable mouse or stick to the basics and use the trackpad.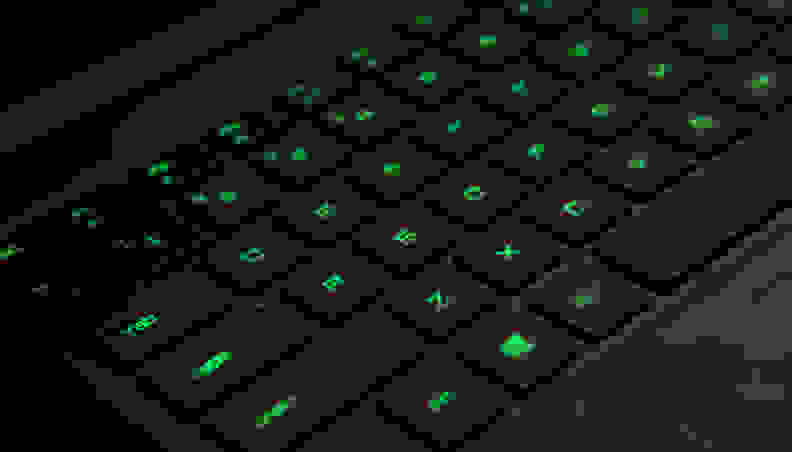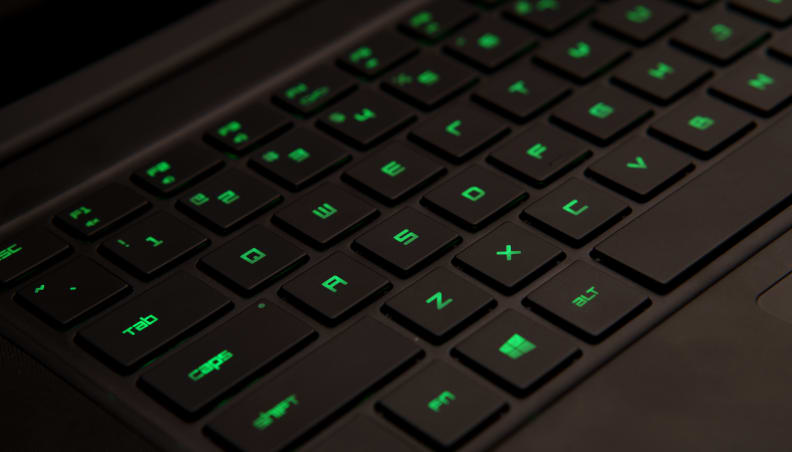 While a mouse might be preferable for some games, the trackpad is still pretty great. I didn't run into any problems while scrolling or navigating and I encountered almost no issues with palm detection. It's a pretty basic thing, but because the trackpad is one of the primary ways you'll interact with your computer, it makes all the difference when it's done right.
Instead of being built-in, there are two separate, physical buttons for clicking. They have a very satisfying click that's closer to what you'd feel with a separate mouse, which is a great feeling on a laptop. But, while the separate buttons are useful on occasion―and the inclusion of a dedicated right mouse button is sublime―they're just so darn small. Maybe I just have big thumbs, but I missed the buttons more than once when I went to click a link or fire in Metro 2033: Last Light.
The other primary input is, of course, the keyboard. The Razer Blade's keyboard has an excellent amount of travel and generous spacing so you won't have any problems sliding between WASD and any macros you set along the number bar. Razer is no stranger to gaming equipment, so the keyboard is equipped with anti-ghosting technology. No matter how many keys you press simultaneously―something plenty of gamers are familiar with―none of them will be lost because your keyboard couldn't keep up. And keeping with the running theme, the backlighting on the keyboard is a bright, neon green.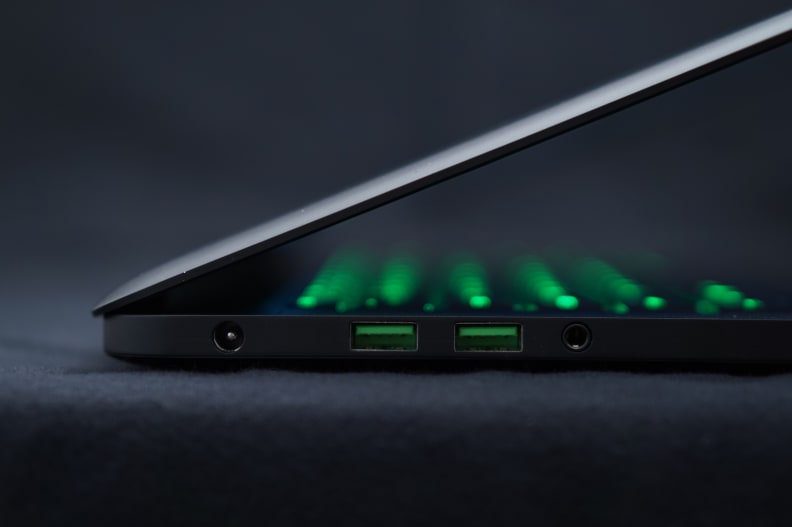 ×
TOOWAH
When it comes to a gaming rig, you want to make sure you have enough ports for any peripherals your game might need. Flanking the system are three USB 3.0 ports, a full-sized HDMI port, and a headset port—that's it. It might not seem like much, but really you don't need much else. The only thing it's lacking is a network port for when you're online and don't want to rely on slower WiFi. Still, that's something that can be solved easily enough with an inexpensive adapter.
Windows 8.1 and the Razer Zone
If you've used a Windows PC sometime in the last couple of years, you more than likely have a pretty good grasp of what to expect. The Razer Blade is running 64-bit Windows 8.1 and, unlike a lot of the other laptops we test, there aren't a lot of pre-installed apps to contend with.
There really is nothing I hate more than opening a brand new laptop and finding a ton of useless apps. At best, these apps do things that Windows already does. More likely, they're a waste of space that you then have to take the time to get rid of. Sure, there are the occasional apps that are definitely worth it, but they're typically few and far between. The Razer Blade eschews this completely. It only comes with a couple of pre-installed apps and they all hover somewhere between useful and downright necessary.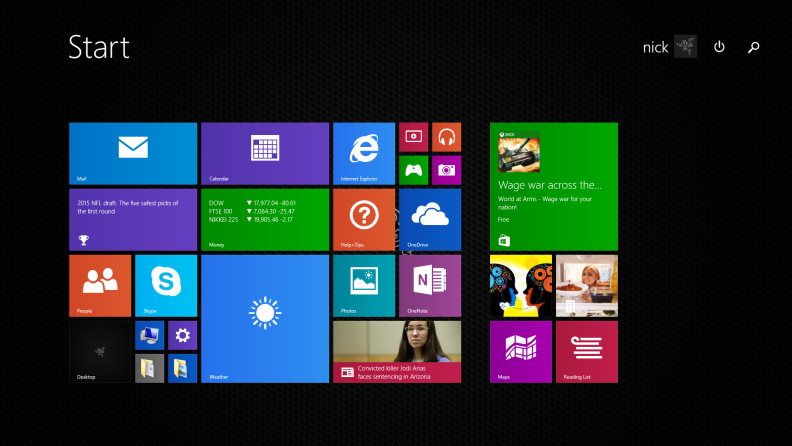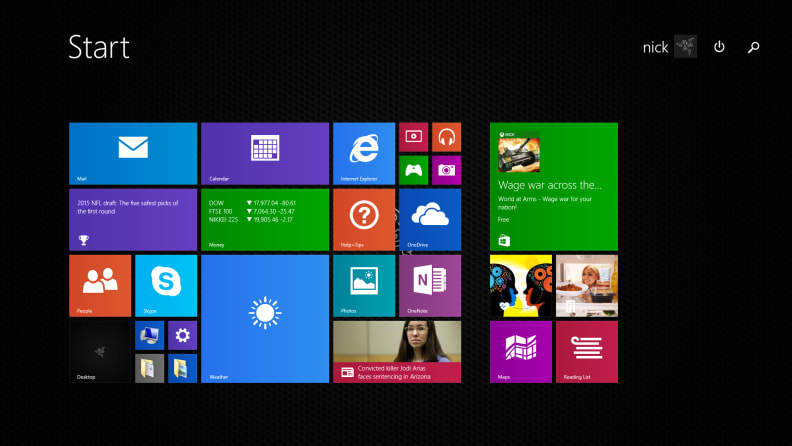 First up is Razer Synapse 2.0. When it comes to your gaming equipment—keyboard, mouse, headset, etc.—you're going to spend a lot of effort fine-tuning your settings until they're in that Goldilocks zone. Synapse 2.0 is an app that lets you rebind controls and assign macros for all of your hardware. Then, all of that information is stored in the cloud so you can access it even if you go to a friend's house and use their rig.
Synapse also tracks a ton of extra data while you game—such as mouse clicks, movement, and keyboard inputs—and gives you the option of generating a heatmap to put some hard data to your in-game actions.
The next piece of included software is NVIDIA GeForce Experience. It's a companion application that is paired with the NVIDIA GeForce GTX 970M graphics card. It's designed to give gamers a direct resource for keeping drivers up to date, automatically optimizing game settings, capturing gameplay video, and streaming to Twitch.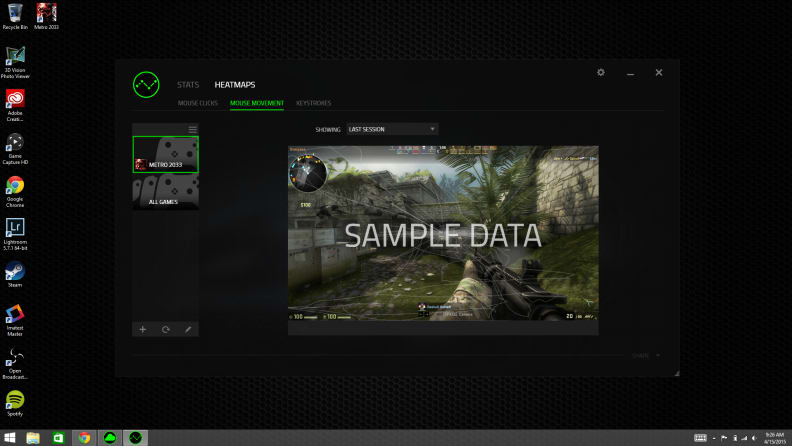 ×
Software
Those last two―capturing gameplay video and streaming to Twitch―are run through the ShadowPlay tab on GeForce Experience. ShadowPlay has four modes with different functions for each. Shadow Mode records up to the last 20 minutes of your game, Manual Mode gives you the control to toggle recording on and off, Combined Mode lets you use both features at the same time, while Twitch Mode―surprise, surprise―lets you stream directly to Twitch so others can tune in and watch you play live.
While most laptops are plagued with bloatware that is more hassle than it's worth, Razer has done its customers a favor by only including two pieces of pre-installed software. And let's face it, if you're looking at picking up a gaming laptop, Synapse 2.0 and NVIDIA GeForce Experience are pretty stellar apps that will definitely come in handy.
At the heart of the Razer Blade is an Intel Core i7 4720HQ quad-core processor clocked at 2.6GHz, with Turbo Boost that can reach 3.6GHz. This processor is going to tear through day-to-day laptop tasks without a hitch and keep going when you log into Steam and start playing your games. All of that is backed by 16GB of RAM so you can run multiple programs without your computer stuttering and sticking you in loading limbo.
But, a gaming laptop is only as good as its graphics. The Razer Blade is running an NVIDIA GeForce GTX 970M with 3GB VRAM in addition to Intel Integrated Graphics, switching between the two on the fly to give you the best possible performance. In our gaming-specific test, we use Metro 2033: Last Light―a particularly punishing game when it comes to graphics―on high settings. Compared to most laptops we test, the Razer Blade passed this test with flying colors, averaging a frame rate of 30fps. But, this isn't an incredible result. There are plenty of other gaming laptops and cheaper, full-sized desktops that will perform much better than this, so keep that in mind if you want your games to look their best.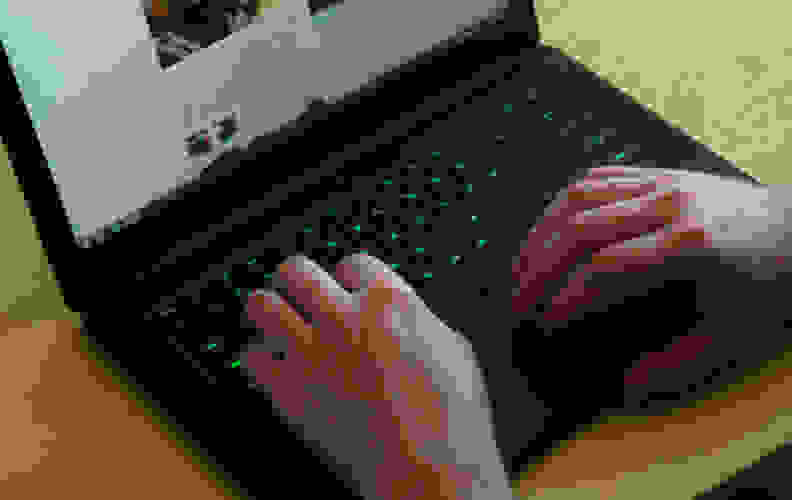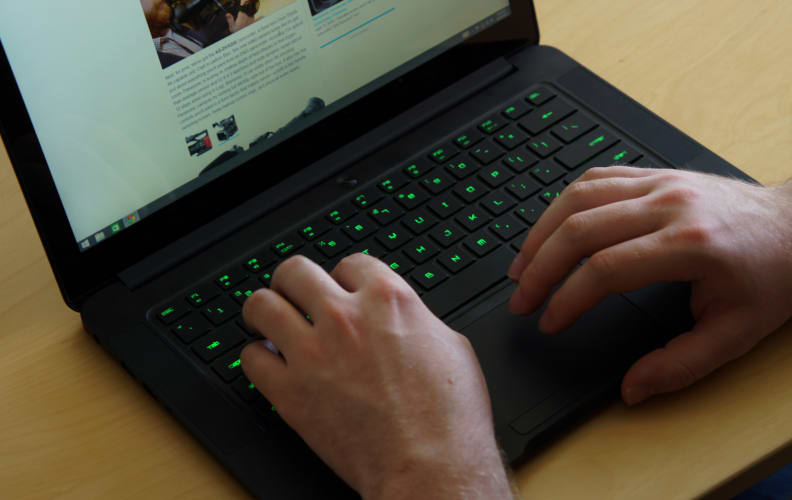 While making sure you can play your games is crucial to a gaming laptop's performance, there are still the little things to consider―like how hot and uncomfortable the keyboard gets after playing for a few hours. Razer uses some clever engineering to direct the heat away from the main touch surfaces―like WASD, the standard movement keys for most games―so your fingers won't get toasty when you just want to play Grand Theft Auto V.
The Razer Blade can sound like an airplane prepping for takeoff.
I put this to the test while playing Metro 2033: Last Light and while my movement controls at WASD never got uncomfortably hot, I still felt the heat. It only took 45 minutes for the space next to the trackpad―right where my palms naturally rest while playing―to get up to 110 degrees. While that's a little too toasty for my taste, it never got to the point of being unbearable. And, to their credit, Razer's claims weren't complete bluster. The WASD keys averaged five degrees cooler than the hottest parts of the laptop.
If this is your first experience with a gaming laptop don't be surprised if your new Razer starts to sound like an airplane prepping for takeoff. Once you start playing more power-hungry games the fans on the Razer are going to kick into high gear and make a lot of noise. Of course you can wear headphones to block the sound of the fans, but if you plan to game in a public space, expect a few sidelong glances.
While it isn't directly tied to the performance of your game, storage is the only customizable option for the Razer Blade—other than the initial question of touchscreen or not. Your options start with a 128GB SSD at the entry-level price and go all the way up to 512GB for an extra $500. That entry level choice shouldn't even really be an option. Once you start installing games and programs that 128GB is going to fill up in no time and you'll be forced to use an external hard drive. We settled for the option right in the middle at 256GB, which was an additional $200. No matter which you go with, the solid-state drive is perfect for booting up your system—and launching games—in no time.
All of that power comes at a price.
All of that power comes at a price. In our intensive battery rundown test—which is designed to drain a battery as quickly as possible—the Razer Blade lasted for right around 2.5 hours. That number might seem low at first, but it's actually right on par for gaming laptops. The MSI GS60 only barely managed to last longer than 2 hours during its test. Just make sure to plug in when you're gaming—unless you just want a quick round of Battlefield 4—and you'll be just fine.
Gaming on the go just got a whole lot sweeter
The Razer Blade QHD+ (2015) has a lot of muscle for a laptop and so it'll handle plenty of games without a hitch. But, it's not the mightiest gaming laptop on the market. It might be better to think of it as an overpowered workstation laptop that can also run games. So why go with this over other, better gaming computers?
Well, you're also getting a relatively slim, lightweight design to go with that power. Moreover, the Blade looks like nothing else out there with its sinister, evil green-on-black color scheme. Of course, it's made of stern stuff on the inside, and you're going to want to be plugged into an outlet when getting in a gaming session.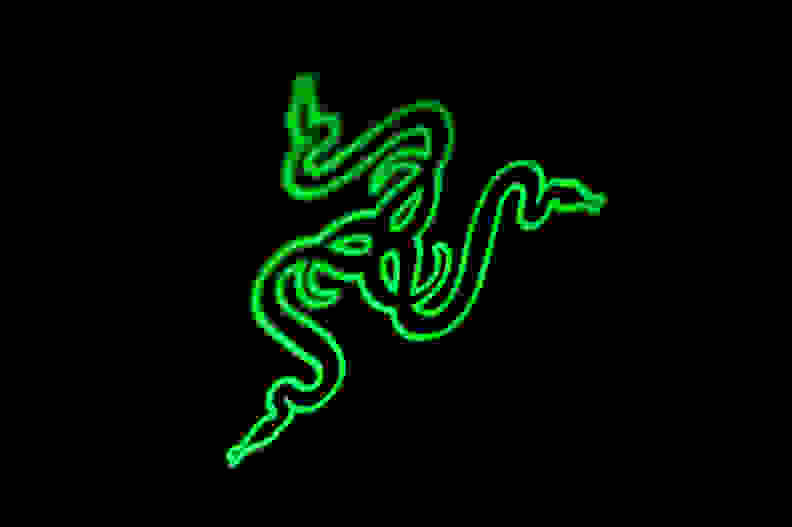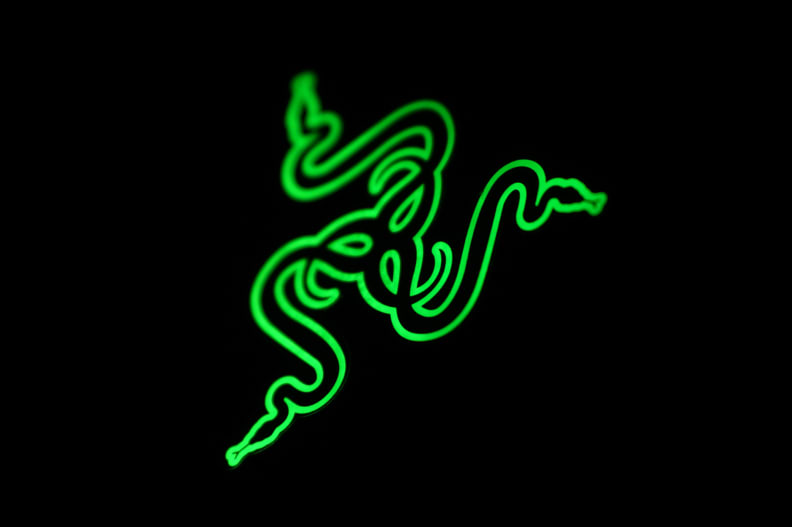 If you like Razer's style but want slightly better all-around performance, we recommend checking out the Razer Blade Pro. While we haven't see the 2015 edition yet, we loved last year's model (MSRP $2,799.99) for its large 17-inch display, programmable hotkeys, and better all-around performance—especially battery life. You can find the 2014 model discounted these days, as long as you're okay living with the older Nvidia 860M GPU.
The new 2015 Razer Blade Pro (MSRP $2,199.99) should be much more powerful, matching this new 14-inch Razer Blade QHD+ (2015) with 16GB of RAM and the Intel i7-4720HQ CPU. It does have a slightly less potent Nvidia 960M GPU—compared to the 970M in the Blade QHD+ (2015)—but it may yet be a better performer for gamers on the go given that it only has to power a 1080p display. We'll know more once we check out the updated Razer Blade Pro later this year.
For a comparably slim yet powerful gaming laptop, you might want to take a look at the MSI GS70 Stealth. We really liked the MSI GS60 Ghost (MSRP $1,699.00) when we reviewed it last year. The Ghost may seem like a bargain compared other gaming laptops, but this is one category that you can see a direct correlation between price and performance. The Ghost found a much better home as a powerful work computer that can handle some games moderately well, but the Stealth seems to be better positioned for the most hardcore gamers.
The blend of performance and design you get in the Razer Blade makes it a great choice.
If you're willing to spend the money, the blend of performance and design you get in the Razer Blade makes it a great choice. Even though it isn't the fastest money can buy, Razer has made smart compromises by making sure the form factor looks great—and boy does it. If you want to play your games wherever you want—and look good doing it—the Razer Blade QHD+ (2015) is a clear winner.
Meet the tester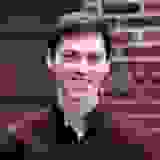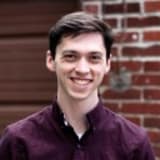 Nick Schmiedicker
Former Managing Editor
@@nschmiedicker
Coming from Buffalo, NY, Nick studied media production and arts journalism. When he's not writing about tech Nick can be found playing video games and keeping up on the latest in pop culture.
Checking our work.
We use standardized and scientific testing methods to scrutinize every product and provide you with objectively accurate results. If you've found different results in your own research, email us and we'll compare notes. If it looks substantial, we'll gladly re-test a product to try and reproduce these results. After all, peer reviews are a critical part of any scientific process.
Shoot us an email