The ATIV Book 9 Lite plays out like a Bizzaro World version of the Book 9 Plus. Yes, they both have 4GB of RAM, but the Lite's is slower. The screen? A meager 1366 x 768 resolution—not even in the same league as the Plus' 3200 x 1800 beauty. And that sleek design? It feels cheap to the touch. Is this really worth $800?
Design & Screen
The low-end of high-def
The ATIV Book 9 Lite's 1366 x 768 resolution screen falls within the definition of high-def, although you might not think so by looking at it. I observed a completely below-average screen: Colors banded on large images and pixels were noticeable, not to mention it was quite dim. Even with a low resolution, I expected better—just look at the Apple Mac Air's 1440 x 900 resolution, which still appears sharp. At least the screen is touch-friendly, right?
On the exterior, Samsung seemingly mimicked the Book 9 Plus' excellent design, but don't be so quick to judge a book by its cover. Or a laptop by its... lid. While I loved the Plus' matte finish, the Lite has a terrible glossy coating on it. Like fingerprints? Then you'll be in heaven with this Samsung.
This is the same pristine typing experience that the more-expensive Book 9 Plus has.
At least the keyboard was left untouched. This is the same pristine typing experience that the more-expensive model has: good spacing and excellent key travel. Sadly, the touchpad did not make the same transition. Whe ATIV Book 9 Lite's device feels cheap by comparison. Gliding your finger across its surface isn't the smoothest experience, which negatively affects its responsiveness. Still, this is better than touchpads found on laptops like the Sony Vaio Pro 13 or Samsung's ATIV Tab 7.
Ports are mostly the same as the ATIV Book 9 Plus. The left side is home to a power input, USB 3.0 jack, mini-HDMI input, and ethernet dongle slot. The right side has a headphone/mic input, a slot for a VGA adapter (sold separately), and a slower USB 2.0 jack.
Performance
Performance this bad shouldn't cost $829.99.
Samsung puts this laptop in its high-end Book 9 series, but the Lite doesn't cater to the same buyer at all. It's lightweight and slim, but performance isn't anything special.
Let's start with the processor, which can take the majority of the blame. Samsung uses a chip simply called "quad-core." Upon further inspection, the display adapter shows up as "AMD Radeon HD 8250." Sure enough, Samsung is using a low-end AMD quad-core processor, clocked at 1GHz. More cores doesn't necessarily equal better performance.
Samsung uses a low-end AMD quad-core processor.
While benchmarks from testing software like PCMark and Geekbench produced middling results, "real life" tests fared much worse. We time how long laptops take to process a complex equation in Microsoft Excel. Typical results average about 6 seconds. The Samsung ATIV Book 9 Lite? 22 seconds.
The same goes for our Photoshop test, where we apply lots of processor-intensive filters to an image. The more expensive Book 9 Plus completed this task in 14.5 seconds. The Book 9 Lite? Over 40 seconds.
The most egregious instance of bad performance happened during our video conversion test. We use an app called Handbrake, which converts a video file from one file type to another. Test results range between 2 and 3 minutes to complete the conversion. Samsung's ATIV Book 9 Lite finished converting an MP4 file to an M4V file in over 6 minutes. Seriously?
Even battery life isn't great. We tested a hair over 5 hours for basic web browsing with the backlight dimmed halfway. Five hours is a decent result, but trails the competition: The Book 9 Plus gets about 9 hours, while the MacBook Air gets around 13 hours.
We tested a hair over 5 hours of battery life.
Results this poor would be easier to swallow on a cheaper machine, but this Lite lives towards the top of Samsung's food chain. Yes, you can still browse websites and make documents easily on the Book 9 Lite, but why not buy a Chromebook or even a Nexus 7 for way less?
Software
Trial software is a no-no on a laptop this expensive.
The software bundled on the ATIV Book 9 Lite is the exact same as the Plus. That means you get some interesting apps, like Samsung's simplistic (yet fun) photo-editing software S PhotoStudio. Using the touchscreen to apply filters and crop images is fun, but don't expect the in-depth tools that Photoshop offers.
Speaking of Photoshop, Samsung has the stripped-down Elements version on the Book 9 Lite... well, sort of. The software is actually a trial version, which is a major tease. I praised Toshiba for offering the full version of Photoshop Elements on its KIRAbook. Why couldn't Samsung do the same?
Even worse: Plants vs. Zombies is included as a trial version, too. Talk about heart-break.
Samsung has some of the best touchpad software I've ever seen, even if its pad isn't the best.
Samsung does have some of the best touchpad software I've ever seen, even if its pad isn't the best in the world. The amount of options for customizing your experience is incredible: scroll speed, click speed, and gestures can all be tweaked. It's surprising that more laptops don't offer touchpad options this thorough.
The Verdict
When price outweighs performance this heavily, consumers should pass.
Samsung's ATIV Book 9 Lite is a disappointment. I had high expectations for this laptop after thoroughly enjoying my time with the higher-end ATIV Book 9 Plus. Unfortunately, the word "Lite" is an understatement. Samsung should have called this the ATIV Book 9 Less.
Performance and screen resolution are below half of what the Book 9 Plus offers. Consumers might be tempted by this laptop's good looks, but buyer beware: You will get burned by the Book 9 Lite's sluggishness and uninspired screen. If you spring for the slightly larger Sony Vaio Fit 15E, you'll actually get a computer that functions pretty well, even if you do shell out an extra $100. Or spend the extra $600 for the excellent ATIV Book 9 Plus. Your choice.
Meet the tester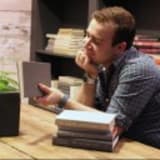 Josh Fields
Staff Writer
@reviewedtech
An enthusiast of all things tech, Josh is one of Reviewed.com's resident television experts. When he's not looking at bright TV screens in a dark room, he's probably reviewing a laptop or finding a new snack at 7-11.
Checking our work.
Our team is here for one purpose: to help you buy the best stuff and love what you own. Our writers, editors, and lab technicians obsess over the products we cover to make sure you're confident and satisfied. Have a different opinion about something we recommend? Email us and we'll compare notes.
Shoot us an email