Thanks to its discrete Nvidia GPU and a beefy, quad-core Intel i7 processor, the Notebook 9 Pro is a laptop that backs up its $1,600 price tag. It's not cheap, but the top shelf components go a long way toward justifying the cost.
The Dell XPS series is still our favorite Windows laptop, but the Samsung has benefits that are undeniably appealing like a great trackpad, a wonderful keyboard, and some of the loudest laptop speakers we've ever heard. It all makes for an incredibly powerful laptop, but one that eats through its battery quicker than we'd like. If you can live with that, the Notebook 9 Pro is ready for anything.
We strive to put every laptop we review through a thorough examination. With the Samsung Notebook 9 Pro this included our usual series of synthetic benchmarks, which test things like gaming prowess, portability, battery life, and general performance.
We also use the laptop to accomplish many of our day-to-day tasks, including writing the review you're reading right now. This gives us a view of not only into the system's peak abilities, but to see how it holds up in real-world use.
For better or worse, Samsung has only made one version of the Notebook 9 Pro available for US shoppers. This unit, which goes by the model number NP940Z5L-X01US, features a Pure Black metal exterior, and the following specs:
•Intel Core i7-6700HQ processor
•8 GB RAM
•256 GB SSD
•Built-in Nvidia GeForce 950M graphics with 2 GB GDDR5 memory
•802.11ac WiFi and Bluetooth 4.1
•4K (3840x2160 resolution) IPS touchscreen
While this ultrabook isn't user-upgradeable, it comes with plenty of power under the hood for some light gaming, batch image editing, some video editing. Far from just being a computer for office work, the Notebook 9 Pro really should have some professional applications. Its "HQ" processor has four cores, meaning it can handle complex tasks like photo and video editing better than lower-end laptops.
The 4K display is also going to suit creative users well, though pushing those extra pixels is likely a big reason why the battery life is such a letdown (which we'll get to in a moment). That is backed up by the use of the NVIDIA GeForce 950M, a mid-range to high-end mobile GPU. It's not the fastest chip NVIDIA makes for notebooks, but it's well above entry-level.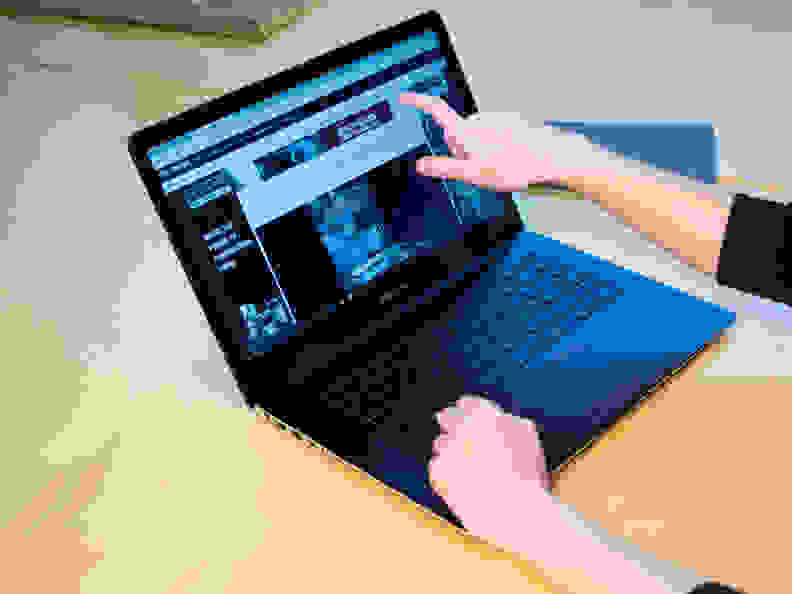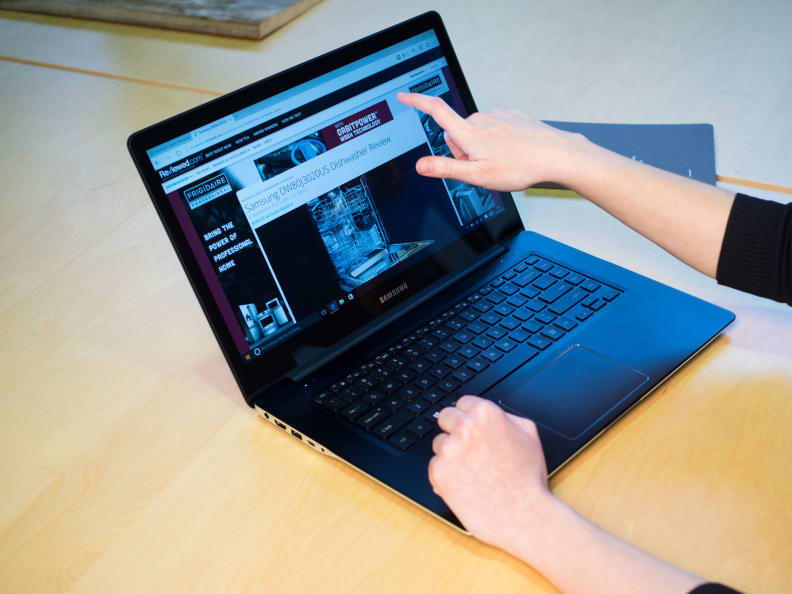 A premium experience worthy of the price
If there's one thing we absolutely love about the Samsung Notebook 9 Pro, it's the computer's design. Carved from an ingot of aluminum, the Book 9 Pro provides you with a big display and an ultrabook-thin body without feeling flimsy. Bigger than most 13-inch ultrabooks, the 15-inch Notebook 9 Pro also provides you with three full-sized USB ports—including a new-fangled USB-C port.
Samsung's put in a wonderful, vivid UHD screen display, one that's touch sensitive to boot.
The keyboard itself is simply fantastic; it's got a relatively short throw, but the keys have a great amount of feedback and there's ample room for your wrists. Anecdotally, I made fewer typing mistakes on this keyboard than the class-defining MacBook Air, which I've always found to have a wiggly, imprecise keyboard.
But, what's that keyboard good for without a great screen for looking at? Thankfully, Samsung's put in a wonderful, vivid UHD screen display, one that's touch-sensitive to boot. Reaching out and touching your laptop is an experience that Windows 10 was built for, and the Samsung Notebook 9 Pro brings that experience to life nicely. The trackpad isn't phoned in, either, utilizing Microsoft's own Precision Touchpad drivers for a smooth, accurate experience.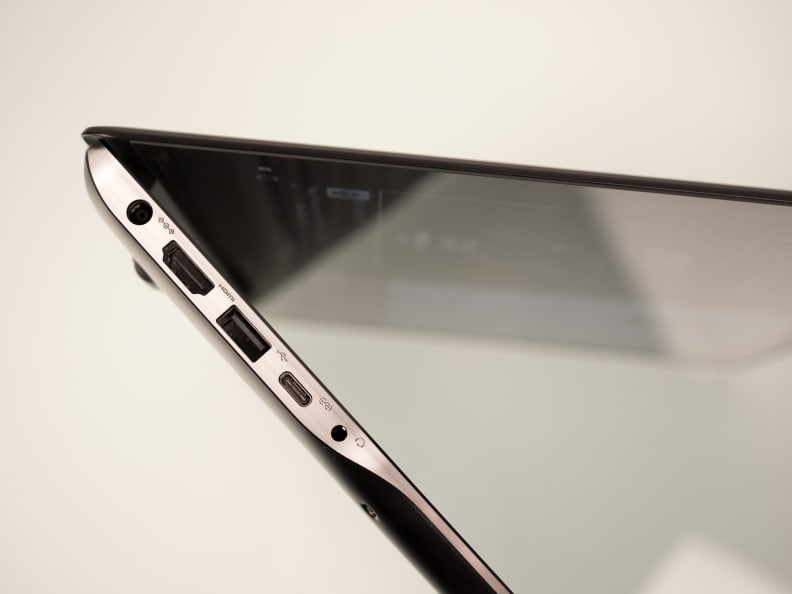 ×
design
Even though this notebook packs a powerful, quad-core processor, we rarely heard the fans kick up during our time using it. Granted, we didn't push it with 3D games or anything super intensive most of the time, but we were impressed that even at idle, the Notebook 9 Pro is basically silent. And that's not to say that this computer's metal exterior gets too hot to handle, either. When I used it on my lap for work, it never made my legs uncomfortable, though it was warm to the touch.
Laptops rarely provide enough oomph with their built-in speakers, mostly because they tend to use small, down-firing speakers. Samsung has packed some of the beefiest built-in speakers we've heard into the Notebook 9 Pro, though, and it can easily fill a moderate-sized room with sound in no time.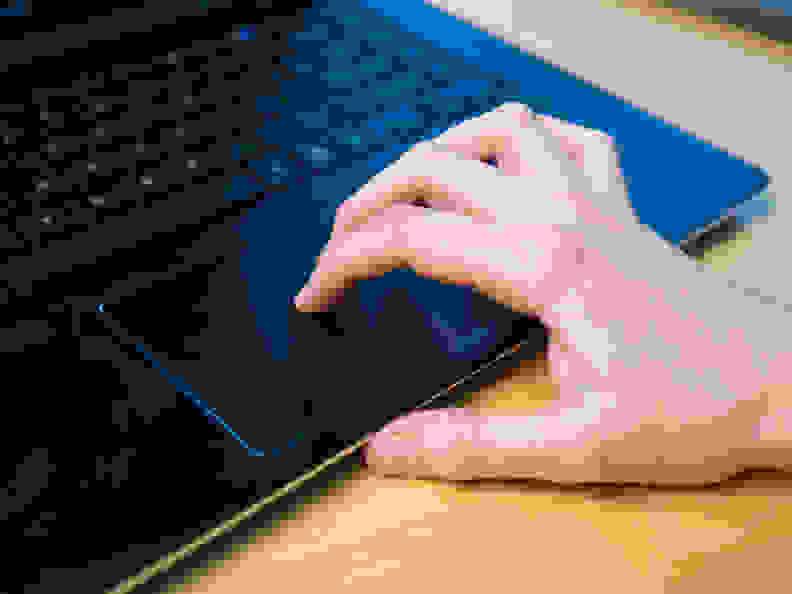 The battery life is rough, but there are other concerns, as well.
As powerful as it is, the Samsung Notebook 9 Pro feels notably underspecced in a few key areas. The processor is great, but the fact that it's only available with 8GB of RAM, a 256GB SATA SSD, and the Geforce 950M mean that it won't quite satisfy the power-hungry users that have been flocking to the top-tier Dell XPS configs. For $1,600 the included specs aren't bad, but without the option to go up or down there are just fewer options than you get with the competition.
Only offering 8 GB of RAM and 256 GB SSD options means the Notebook 9 Pro's just a little underspecced in some key areas.
And while the awesome, bright 4K UHD screen that the Notebook 9 Pro comes with is sharp, it had a tendency to skew certain colors like blue to cyan (which was instantly noticeable on our own homepage). There's an update available that fixes this, but you'll need to run Samsung's own (rather clunky) update software to get it.
There's also the requisite amount of pre-installed software, which isn't a major issue but it still a pain in the neck. The biggest offender was undoubtedly Norton Antivirus, which popped up when we plugged in a USB stick, or whenever we downloaded anything from the internet. We think most people can do just fine with Microsoft's free Defender software, so a quick uninstall of Norton should be your first task after opening the box.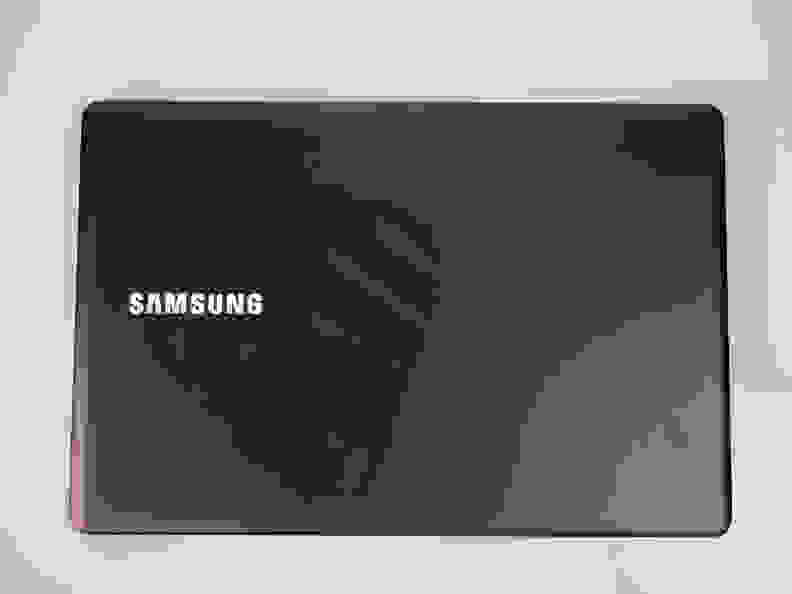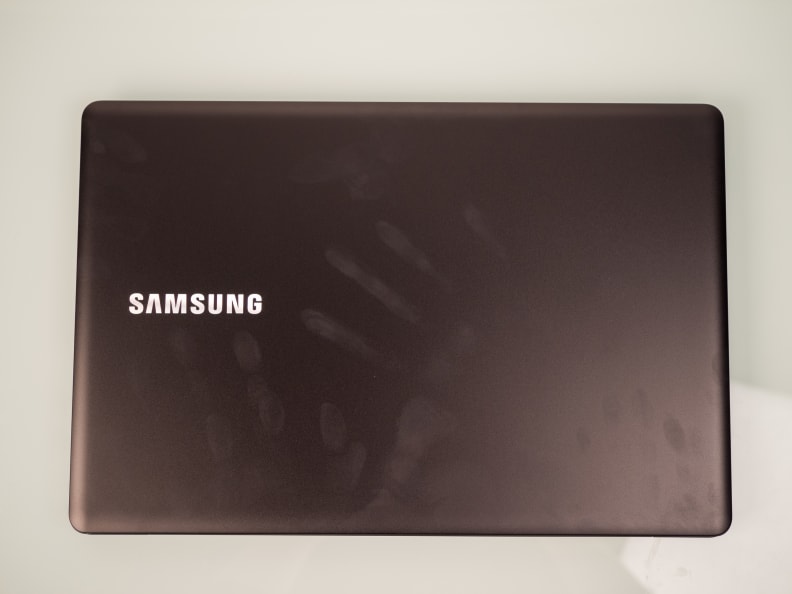 Finally, the Notebook 9 Pro simply has mediocre battery life. We're willing to cut it some slack since it has such an impressive screen and doesn't skimp on its processor, but it's still not going to last a whole work day and you'd be lucky to get a coast-to-coast flight out of it. Using PCMark 8's home battery test, our test unit lasted just 2.08 hours, which is much less than we'd expect from a laptop like this.
Our least important complaint might be that its dark metallic finish collects fingerprints like nobody's business. Even with clean hands, you're bound to smudge up the laptop's exterior in addition to all over the area surrounding the keyboard. Neat freaks need not apply.
If you want a slim, powerful 15-inch notebook, it's hard to do better these days.
With so many premium ultrabooks on the market, the classic 15-inch laptop has become something of a rare bird. In fact, this Samsung model would be one-of-a-kind if it weren't for the excellent new Dell XPS 15 (9550). While we love the Notebook 9 Pro's display, performance is pretty much a wash between the two. That's trouble for the Samsung, since Dell offers a completely configurable laptop so you can pick and choose which components are right for you.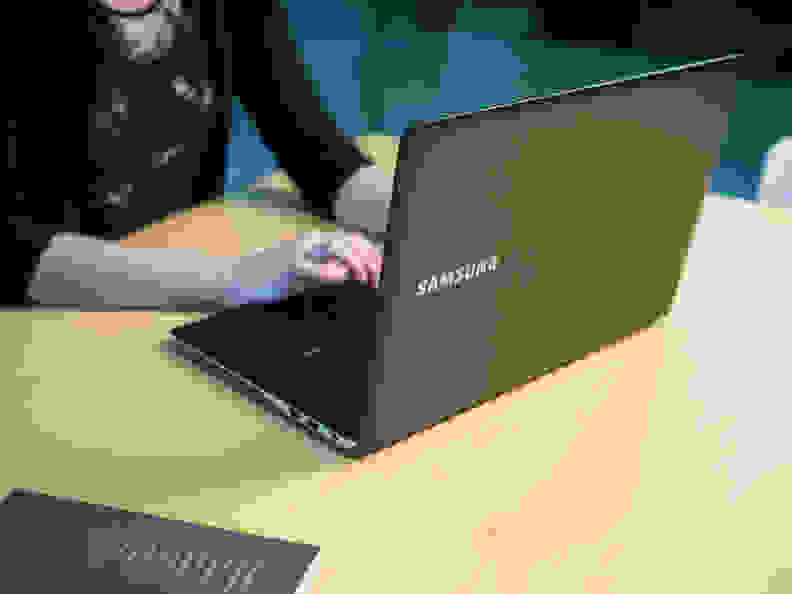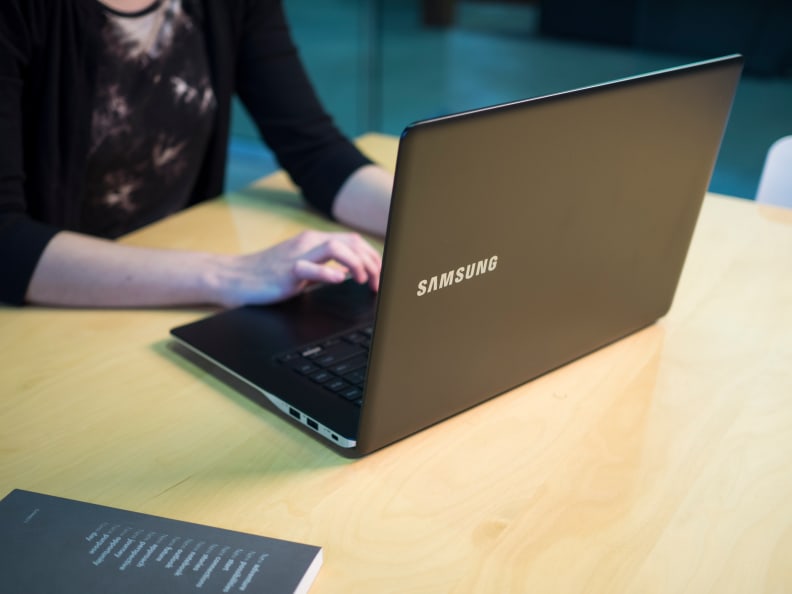 With the Samsung, you have no such luxury. Luckily, the model offered here is at least a good fit for a lot of people. It's powerful, it has a beautiful display, and it's got an extremely nice keyboard and trackpad. It also simply looks fantastic.
While pickier users may want to configure something to better fit their needs, anyone in need of a powerful laptop that can chew through tough tasks without a second thought should give this one a look. You won't want to stray too far from the nearest outlet, but if you've got that covered this laptop will get the job done.
Meet the tester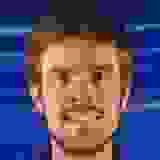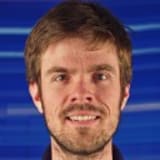 Brendan Nystedt
Contributor
@bnystedt
Brendan is originally from California. Prior to writing for Reviewed.com, he graduated from UC Santa Cruz and did IT support and wrote for a technology blog in the mythical Silicon Valley. Brendan enjoys history, Marx Brothers films, Vietnamese food, cars, and laughing loudly.
Checking our work.
Our team is here for one purpose: to help you buy the best stuff and love what you own. Our writers, editors, and lab technicians obsess over the products we cover to make sure you're confident and satisfied. Have a different opinion about something we recommend? Email us and we'll compare notes.
Shoot us an email