Hybrids in the laptop world are also en vogue, but what exactly is a hybrid laptop? Picture your standard laptop—screen and keyboard—with the ability to remove the screen and use it as a tablet. This concept certainly won't save you any money at your local gas station, but it will give you the luxury to choose from a mouse, a touchpad, or a touchscreen.
Our hybrid du jour is Samsung's ATIV Tab 7 (MSRP $1,199.99). Packing a dual-core Intel i5 processor clocked at 1.7GHz, 4GB of RAM, and a 128GB solid state hard drive, this laptop/tablet/computing device has the makings of a great product. While its lackluster keyboard and frustrating touchpad prevent it from achieving true greatness, the ATIV Tab 7 still manages to be a unique and charming gadget, thanks to its near-perfect implementation of Windows 8.
Despite its overuse of plastic, the ATIV Tab 7 feels solid
Take a look at any Samsung smartphone and the first thing you'll notice is its overuse of plastic—the ATIV Tab 7 is no different. Samsung's hybrid is a completely plastic affair, and this goes for both the tablet and the keyboard; this isn't necessarily a bad thing, though. The tablet portion feels well-built and sturdy, with speakers to the left and right of the screen, a Windows button on the bottom, and heat vents on the back. The ATIV Tab 7 is on the heavier side for a tablet, although as a laptop, it's relatively light.
This is one of the worst touchpads I've ever used.
The included keyboard attachment doesn't feel nearly as solid as the tablet, unfortunately. It's thin and flimsy, and happens to have one of the worst touchpads I've ever used. Pressing the lower-right part of the touchpad triggers a right-click—not the worst feature ever. However, since this is one of the smaller laptop touchpads on the market, you will be accidentally "right-clicking" as your fingers naturally go to this part of the pad. Even worse, you can't disable this feature. At least the keyboard is pretty comfortable, but I still want to give this attachment the Bo Jackson treatment every time I trigger a right-click. Plug a mouse in for this one.
For a tablet, the ATIV Tab 7 has adequate connectivity options. It includes a USB 3.0 port, a headphone input, a micro HDMI output, and a microSD slot. This isn't much for a laptop, though—the keyboard attachment only adds two USB 2.0 ports. At least there is a built-in microphone, plus a 2 megapixel front camera and a 5 megapixel rear camera. Quality is on par with your average smartphone, even if the camera software is capable of taking pics extremely fast. You will look like a weirdo snapping pictures with an 11.6-inch tablet, though.
There is one other thing we should touch on: the included S Pen. Samsung's branded stylus is exactly that, and coupled with an 11.6-inch screen, it isn't as useful as it is on the Galaxy Note line of phones. In other words, your finger will do just fine in most scenarios, unless you really want to write down notes using Samsung's S Note software. I'll stick to Word and Google Drive.
Windows 8 shines on this tablet/laptop hybrid
As a desktop operating system, Windows 8 is often criticized for being too tablet-friendly. Well, here is Windows 8, in all of its tablet-friendly glory. Booting up the ATIV Tab 7 will bring you to the dreaded Start screen, which many Windows fans loathe because it killed off the Start button. The Start screen really is made for tablets: It's easy to scroll through with the flick of a finger, plus the icons for apps and programs are all large enough to touch. Microsoft's on-screen keyboard is also a pleasure to type on, although you won't ever use it when in laptop mode.
Speaking of laptop mode, if you decide to use the ATIV Tab 7 with the keyboard attachment, you can easily enter Window 8's desktop mode, which is aesthetically identical to Windows 7, except for the lack of a Start button. For all of its flaws, this latest version of Windows really shines on the ATIV; it's a hybrid operating system on a hybrid computing device. Brilliant, right?
Samsung includes some of its own software, including the previously mentioned S Note app, Samsung's proprietary camera and media player software, and a QR code reader. None of these apps are incredibly useful, and certainly won't influence anyone to purchase this product.
As a tablet or a laptop, Samsung's hybrid is a surprisingly capable performer
Samsung's ATIV Tab 7 is not a dedicated gaming device, nor is it a graphic designer's dream machine; this is a highly portable computer that excels at everyday tasks. Web browsing, downloading and watching media, writing documents, editing images—these are all functions that the ATIV Tab 7 excels at. That's not to say that you can't play games or edit movie clips, but the Intel i5-3317U processor that this Samsung uses isn't going to set the laptop world on fire.
Performance is surprisingly smooth, though. That dual-core Intel processor, coupled with a speedy solid-state hard drive, produced really impressive test results. The PCMark software, which gauges core performance, scored the ATIV Tab 7 much higher than the MSI GX70 gaming laptop, which runs an AMD quad-core processor, but lacks a solid-state drive. For the average user, this translates to an incredibly quick boot-up time, and lag-free web browsing.
We tested Portal 2 on the Tab 7, and it was able to run on medium settings quite well. There is no dedicated graphics card on this device, although the only tablet that has one is the Razer Edge Pro. The lack of a graphics card will prevent users from playing games on higher settings, but if gaming is that important to you, look elsewhere. As it stands, this is a jack-of-all-trades laptop that does many functions well, plus battery life with the backlight on half-blast will get you over five hours of web browsing. Not bad at all.
An impressive little device that truly "gets" Windows 8
Samsung crafted a rather unique computer with the ATIV Tab 7. You can use it as either a tablet or a laptop, and while it may have its quirks (it's on the large side for a tablet, and its laptop touchpad is awful), this hybrid offers a mostly enjoyable experience.
Gamers, musicians, and filmmakers might want to stay away from this one—it simply doesn't have the horsepower to satisfy your needs. For those who aren't power users—college students, specifically—the ATIV Tab 7 is a terrific machine that utilizes Windows 8 better than most. The tablet experience and traditional laptop experience are equally represented here, and switching between the two has never been easier. Coupled with above-average battery life, this one is a crowd-pleaser.
Meet the tester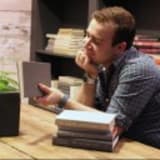 Josh Fields
Staff Writer
@reviewedtech
An enthusiast of all things tech, Josh is one of Reviewed.com's resident television experts. When he's not looking at bright TV screens in a dark room, he's probably reviewing a laptop or finding a new snack at 7-11.
Checking our work.
Our team is here for one purpose: to help you buy the best stuff and love what you own. Our writers, editors, and lab technicians obsess over the products we cover to make sure you're confident and satisfied. Have a different opinion about something we recommend? Email us and we'll compare notes.
Shoot us an email