Laptops
5 Easy Ways to Stay Connected With Family This Christmas
Spend the holidays with your family, even if you're not in the same zip code.

Credit:
No matter how far away you are from your family or how spread out they are, there is no reason you can't all be together this holiday season. Sure, plane tickets can be expensive, but if you're reading this, you have internet access—you have no excuse.
Laptops, tablets, and smartphones often come with a video camera and a microphone built-in, and desktop computer owners can get them as separate accessories. With the right program or app, you can set up group video calls and get everyone in your family connected.
Remember, the internet isn't just a series of tubes filled with cats: for some people, it's the best, cheapest way to share the holidays with long-distance relatives.
Skype
You've probably heard of Skype, which was first released over a decade ago as a free instant messaging client and voice-over-IP service. Its features and capabilities have evolved since then, and now includes live video calls via webcam and voice calls to landlines and mobile phones.
The beauty of Skype is that it works on every device out there. For computers and laptops, there are versions of Skype for Windows, Mac OS X, and Linux; For smartphones, there are versions for Windows Phone, iOS, Android, Blackberry OS, and Symbian.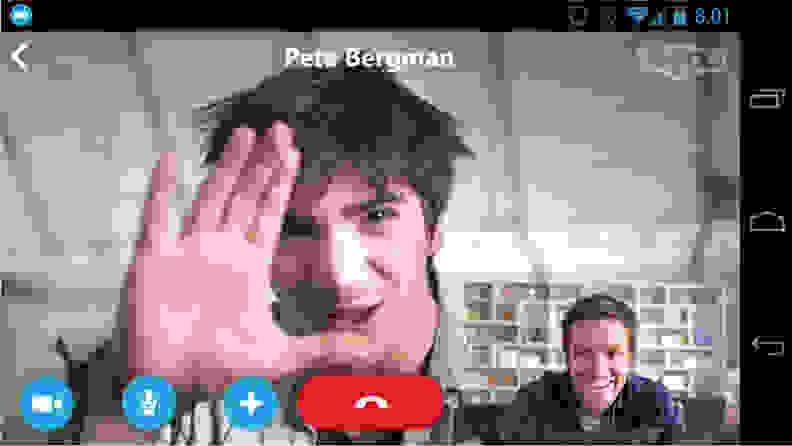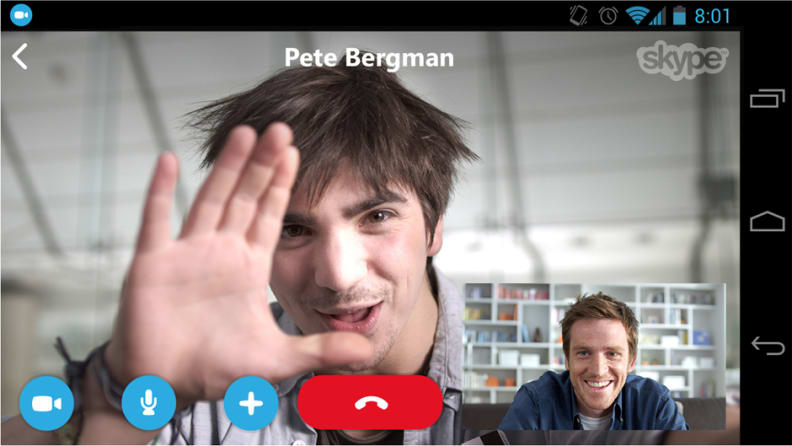 Video calls and voice calls with other Skype users are free, so it's not unreasonable to have everyone in your family install the program on their devices and use it to talk to each other on a regular basis. You can even make calls to landlines and to mobile phones not running Skype, but those aren't free.
You can also pay for Premium service, which gets you access to screen sharing and video calling for up to 10 people. This is useful for videoconferencing across multiple locations, and while that's clearly designed with big, important business meetings in mind, it works just as well for having a giant family get-together.
Note: Facebook offers Video Calling, which is basically a lighter version of Skype embedded into the chat. It only allows for one-on-one calls, though.
Google Hangouts
If you've never heard of Skype, then we hope you at least heard of Google. They're kind of a big deal.
Google Hangouts is an instant messaging and video chat platform. Users of Google services like Gmail probably already know about this—it's basically a combination of and replacement for Google Talk, Google+ Messenger, and the old Hangouts video chat system within Google+.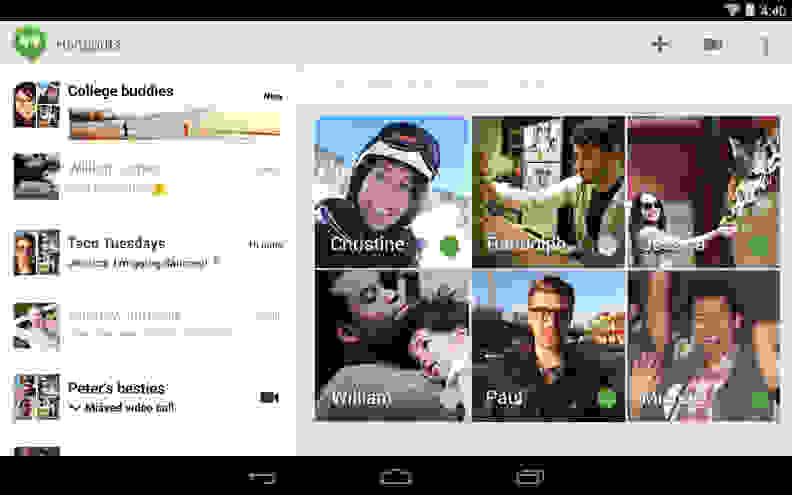 Aside from a very features-laden instant messaging service, which includes cross-device synchronization and chat histories, this new Hangouts also allows live video calls between as many as 10 users. It can be installed as a Google Chrome extension or as an app for Android and iOS, and just like with Skype, all versions can communicate with each other.
The biggest downside to Hangouts is that there's no Windows Phone version. Still, this is an easy-to-use program from a company that most people are already familiar with.
ooVoo
-->
Another program similar to Skype, ooVoo offers free instant messaging, voice calls, and video calls. You can even send files up to 50MB with other users on your ooVoo buddy list. The video calls can support as many as 12 users at a time, which is more than Google Hangouts or Skype.
There are a handful of features you can unlock if you're willing to pay, similar to what Skype offers. For example, you can make phone calls to landlines, share your screen during a video call, or record and store video calls to watch later.
OoVoo is available for Windows, Mac OS X, Android, and iOS. Once again, though, Windows Phone users are out of luck.
Tango
-->
If you have relatives who have enough problems just navigating their smartphones, Tango is a good choice for them. The app prides itself on being simple, which naturally means it's lighter on features than the other apps on this list. Still, it gets the job done.
Tango offers video calls, voice calls, and instant messaging, so all the basics are covered. What sets this program apart is its ease of use: there's no user login or password creation, and it finds other Tango users based on the numbers already in your smartphone's address book. With no hassle at all, you can have grandma's phone ready to Tango, for better or worse.
The app has its limits, though. You can only communicate with other Tango users, and you can only do video calls with one user at a time. Still, this one happens to be compatible with Windows Phone, and also works with Android, iOS, Windows, and OS X.
Viber
-->
If you have a massive family and don't want to see any of their faces, Viber's got you covered. This is another cross-platform instant messaging and voice-over-IP app, but lacks the ability for making live video calls.
Viber's main draw is its sheer capacity: a single group call can handle up to 40 participants. It makes for a family gathering in which it is entirely appropriate to be looking at your phone the whole time.
Viber is also compatible with every computer and smartphone operating system, and with ViberOut, it can also make calls to non-Viber users and landlines (for a fee, surprise surprise).
---
Obviously, none of these apps are as meaningful as being there in person. While these are decent for seeing family members from far away, do yourself a favor and plan your big family gatherings well in advance. Technology may be making the world smaller, but that doesn't mean your heart should shrink with it.
Screenshots via Apple App Store / Google Play Store / Windows Phone App Store
Hero image: Flickr user "clydebentley" (CC BY-NC-ND 2.0)
Up next
Get Reviewed email alerts.
Sign up for our newsletter to get real advice from real experts.