Laptops
5 Secret Weapons to Dominate Fantasy Football
Whether you're a rookie or a pro, these sites will give you an edge.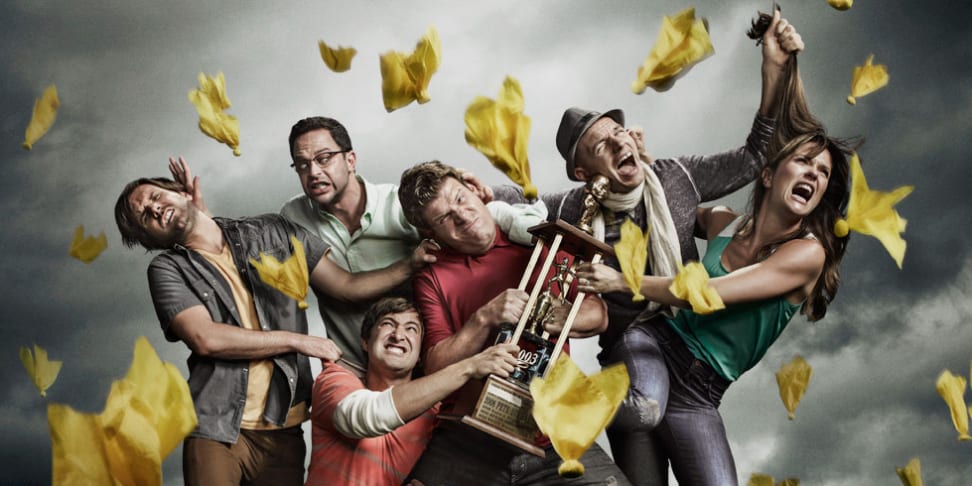 Credit:
Fantasy football is bigger than ever. Everyone and their mother seems to have a team (or three) this year, and it's no surprise. The internet has made it dead simple to sign up, keep up with your favorite players, and learn about the hottest NFL prospects.
Winning at fantasy football requires luck, but it also requires a savvy owner who can grab the next big thing before he strikes it big. Remember Alshon Jeffery's 218 yards and a touchdown in week 4 last year? So does everyone else, and everyone thinks they know who the next Alshon is going to be.
If you want an edge in 2014, you're going to have to dig deeper than ever. Here are five sites that will help you do it.
ProFootballFocus.com
Early in my football writing career, Pro Football Focus was hands-down the best analytic tool in my arsenal. The staff at PFF breaks down game film every week and rates everything from the quality of the blocking by the offensive line to how many yards a running back gets after contact.
PFF's stats go way beyond the official box score, giving you a better picture of how a player actually performed.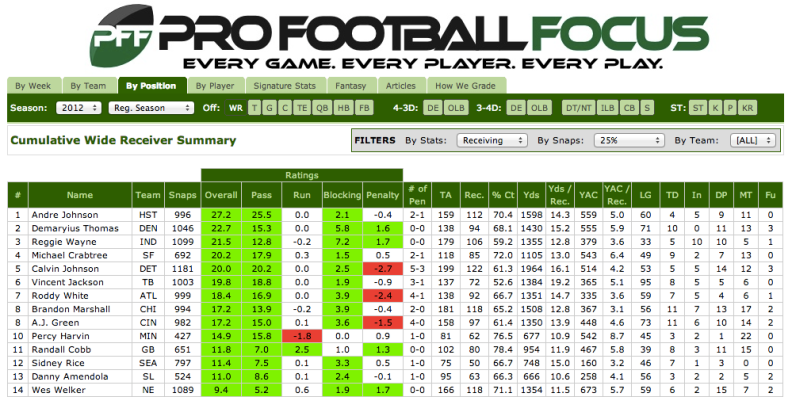 Looking for a running back steal? Bet you didn't know that Andre Ellington—the Arizona Cardinals running back frequently derided for being too small—had more yards after contact per attempt last year than Adrian Peterson and Marshawn Lynch.
Yeah, nobody in your fantasy league will, either.
Fantasy Pros' Draft Wizard
There's no better way to prepare for your fantasy football season than to go through a mock draft. What's a mock draft? Essentially it's a fantasy version of your fantasy draft.
As sad as that sounds when you say it out loud, mock drafts are perfect for fine-tuning your draft day strategy. But what if your mock draft only has 10 players while your actual league has 14? Your real draft could turn out much different.

Football Pros has a ton of guides and articles about fantasy football, but by far the most useful tool on the site is the Draft Wizard. With the Draft Wizard, you can create a fake league—tweaking everything from roster positions, to the number of league members, to your personal draft position—and then lets you conduct a mock draft against a bunch of robots.
In my experience, these robot-aided drafts are representative of how true mock drafts go, anyway, and you get the unique dystopian experience of playing a doubly-fake sporting event with a computer.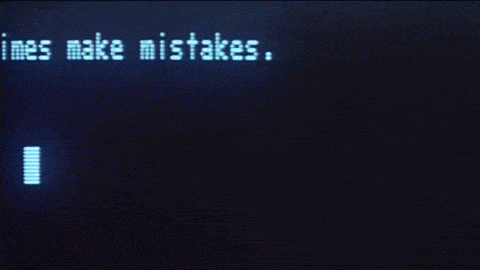 My favorite part of this tool is that you can revert back to a previous pick at any time. Reach for Gronkowski in the third round and hate the choices you're left with down the road? Just rewind to before the Gronk pick and try again.
Advanced Football Analytics
Founded by Brian Burke, an obsessed NFL stat-head who has done work for the New York Times, Advanced Football Analytics provides some of the most useful statistical breakdowns of players in the NFL. Most of the stats at AFA are also available at sites like ESPN.com and NFL.com, but at AFA everything is aggregated in an easily sortable way that the big sites can't match.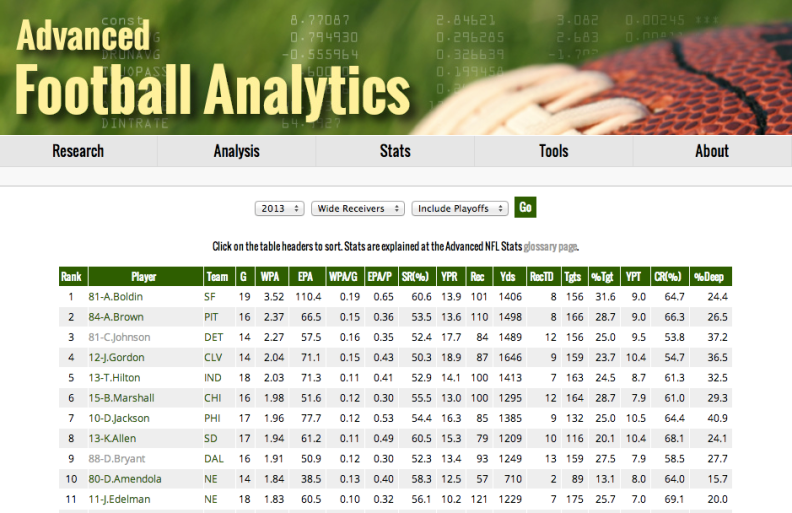 Take wide receivers, for example. Sure, NFL.com will tell you that Dez Bryant had 1,289 yards in 2013, but did you know that he caught only 58.5% of the passes thrown his way last year, and that it was the lowest rate of his career?
Most of the advanced stats at AFA are based on predicting the outcomes of real football games, but the player stats can help you see how well individual players will perform for your fantasy team.
Football Guys' Depth Charts
The Football Guys' website may look like it's straight outta 1998, but it has some of the most up-to-date information you can find about the NFL. It also offers a paid service that includes some of the quickest e-mail alerts around.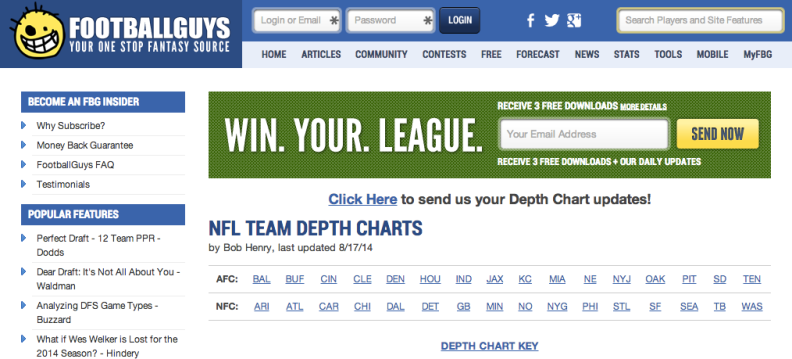 Heading into draft day, you'll really appreciate the constantly updated depth charts for each NFL team. You can instantly see, for instance, that Miami currently has Lamar Miller listed as its starting running back, or that Markus Wheaton is penciled in as Pittsburgh's second starting wide receiver.
The depth charts are even color-coded, so you can see who's starting, who's a specialist, and who's only subbing in due to an injury or suspension. It also lists starters for every position, so you can see who's and isn't healthy at key positions like the offensive line.
Fantasy Pros' ADP Guide
Pretty much every major fantasy football site conducts mock drafts, but the results for each individual site have an inherent bias.
After the first few picks, most people drafting online tend to just pick the highest-ranking player left on the board, but those rankings change from site to site. Participate in a draft at ESPN.com and running back Montee Ball may go 28th overall, while on NFL.com he's a top-10 player.
Figuring out where key players like Ball are going to go in your draft is an essential part of winning at fantasy football.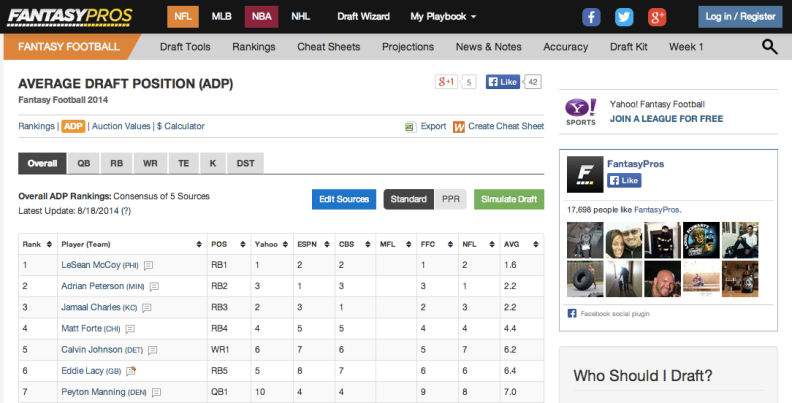 Along with the Draft Wizard, Fantasy Pros has another useful tool for navigating these tricky situations: Average Draft Position (ADP) rankings.
These rankings pull in the current ADP from ESPN.com, Yahoo! Sports, CBS Sports, MyFantasyLeague.com, Fantasy Football Calculator, and NFL.com. You can see the rankings from one site or all of them averaged together to identify where the current groupthink stands on a particular player.
There's no accounting for the taste of your leaguemates, but like all the sites we've covered here, this can give you a real leg up as you prepare for the season.
---
Hero image: FX Productions / 20th Television