Laptops
Are Amazon's favorite products actually worth the money?
Ever wondered what "Amazon's Choice" means?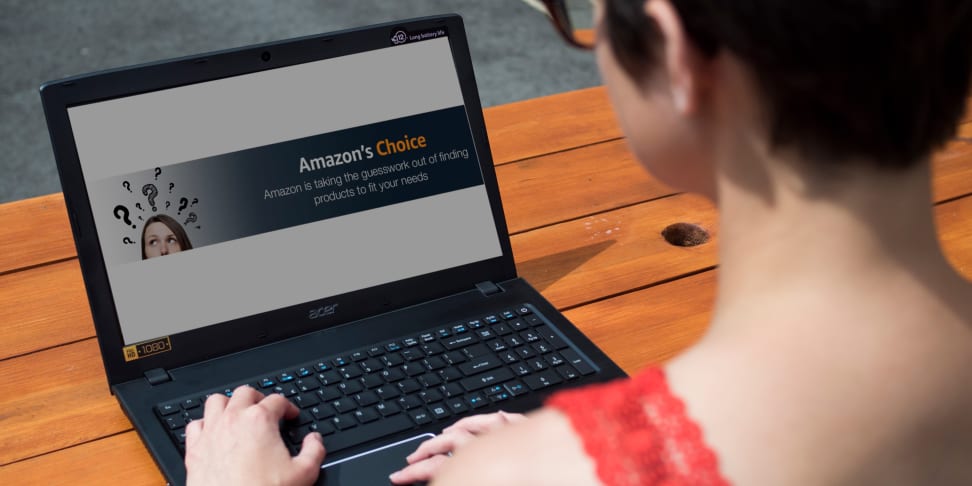 Credit:
Amazon has a category of products it recommends based on rating, price, and availability called "Amazon's Choice." If you haven't noticed the badge on a product's page, you'd be forgiven for missing it. After all, it's easy to get lost in all of the information on any given Amazon page—there's often logos, certifications, different models to choose from, and buttons galore.
We've gone ahead and combed through a host of common products with Amazon's Choice recommendations and plucked out the ones worth paying attention to. As it turns out, Amazon's Choice is often the best choice, too.
Amazon's Choice for laptops
Why it's a good choice: We've covered the Acer Aspire E 15 inside and out and recommended it more times than we can count, but we promise it's for good reason—it's simply one of the most cost-effective laptops in the game right now. The Aspire E 15 is definitely a compromise in terms of performance, but the corners it cuts to save you money won't leave you feeling like you were better off spending the money elsewhere.
And if you're really concerned about the lack of oomph generally associated with a budget-friendly laptop, fear not: upgrading the Acer Aspire E 15 is as easy as adding a stick of ram and a solid-state drive. If you want more information on making the Aspire E 15 a package deal, we've broken down the details here.
Amazon's Choice for TVs
Why it's a good choice: If you're into the idea of owning a curved TV, there's no denying the appeal of this 55-inch 4K TV from Samsung. For about $800, the KU660 will gives you utra-HD resolution, Samsung's user-friendly smart platform, and the reliable performance we've come to associate from Samsung's engineering.
Although we haven't reviewed this particular model, it's reasonable to expect that the KU6600's picture quality is not only worthy of its price tag, but perhaps better than its cost would indicate. You may not be getting the best 4K picture money can buy, but for $800, the KU6600 is a very safe bet. Plus, it might be one of your last chances to get a curved screen, if that's your thing.
Why it's a good choice: If you do happen to be looking for the best 4K picture money can buy, look no further than OLED. This high-end display configuration consistently blows us away in our testing labs, providing the best contrast available and stunning colors to back it up.
The LG B6 has been on the market long enough to see its price come down significantly, which makes it one of the best choices for people looking to graduate to the world of 4K in the classiest way possible. At just under $2,000, this 55-inch B6 will deliver astounding picture quality, LG's bubbly, easy-to-use smart platform, and an ultra-thin panel that will blow away everyone who graces your living room.
Bottom line? There's a reason the B6 took home both our Editor's Choice award and one of our Best of the Year badges in 2016.
Amazon's Choice for monitors
Why it's a good choice: At just one hundred bucks, this 21.5-inch LED monitor from HP is a solid choice for home use.
The HP Pavilion offers both VGA and HDMI support for its thin, medium-sized panel. This HP's also got super-subtle bezels, which makes its viewing area big and immersive.
It's not the sleekest looking monitor on the block, but it offers respectable performance at a competitive price, making it a great choice for people who just want to buy a decent monitor and not think twice about it.
Why it's a good choice: If you're looking for something significantly bigger and cooler-looking, you might consider this $200 LED monitor from LG.
At 32 inches, this monitor is better-suited for home studio or office use, but don't let that stop you if you just want something to play games on.
You'll also get to reap the benefits of split screens, which'll help to organize your cluttered mess of applications and browser windows into separate compartments so you can maximize workflow.
Amazon's Choice for routers
Why it's a good choice: Let's face it—buying a router is no one's idea of fun. This is precisely what makes a new router the perfect candidate for an Amazon's Choice pick. Forget all of the fuss and just buy a reliable, affordably-priced device that's proven to do its job.
The Netgear Nighthawk is only $110, has a name that sounds like a superhero, and supports 12 or more devices, which makes it ideal for your house or apartment.
Netgear's Nighthawk line is one of the most popular for mid-range WiFi routers, and its reliability is one of the biggest reasons for its commercial success. As with all routers, the layout of your home might not be an ideal fit, so be sure to take advantage of Netgear's warranty should you run into issues.
Related Video