Laptops
Hands-On With the Zolt Three-in-One USB Charger
This tiny cylinder can charge three devices from one outlet, including your laptop.
Credit:
If you travel a lot or work remotely, there are probably two things you can't get enough of: internet and electricity. The latter requires countless charging cables for every gadget you own, and even the smallest ones take up precious space in your luggage. This is the problem that the Zolt Charger is trying to solve.
This little octagonal brick is essentially just a single-outlet power supply with three USB ports. One of them supports charging laptops (Macs included), while the other two are useful for anything from GoPros to tablets to e-cig vaporizers. And the best part about the Zolt is that it can charge all three devices at the same time, from the same outlet.
We recently had the opportunity to go hands-on with this gadget and we came away impressed, although we were a bit disappointed by the $99 price tag.
Design
The Zolt is a small, light, octagonal cylinder that comes in purple, orange, and graphite. It's only 3 inches long and 3 ounces in weight, but it has the capability to "intelligently" charge 3 devices, one of them being a laptop.
It comes with a 6 foot long charging cable for laptops, as well as a slew of adapters to fit the numerous laptop charging ports that exist. (Mac users will have to purchase one of Zolt's Mag "L" or Mag 2 cables for $19.99, which is actually a bit cheaper than the Apple equivalent.)
Since only one of the USB ports will work with laptops, the company has designed a special slot in the Zolt above the laptop USB port. Combined with a special protrusion on the Zolt's charging cable, this prevents consumers from trying to charge a laptop off of one of the other USB ports.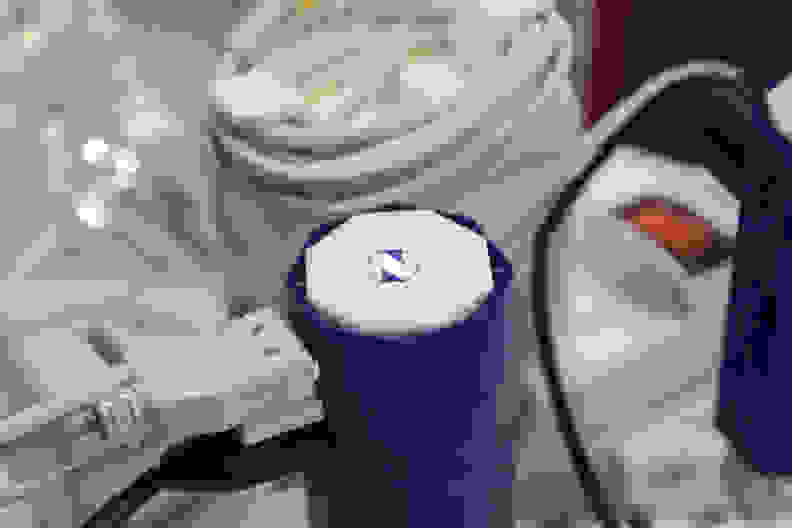 The Zolt is also designed to rotate 90 degrees on its plug base, allowing you to plug multiple Zolts into a power strip without tangling up the wires. Lastly, there's a light in the top of the Zolt, which illuminates when plugged in so you know power is coming through. Zolt claims on its website that it can also function as a nightlight.
×
Design
Usability
The Zolt comes with an array of different adapters for laptops. The company even has a compatibility tool on its website that allows you to check and see if the charger will work with your laptop. As mentioned, the Zolt does work with Macs, but you'll have to purchase one of Zolt's Mag adapters for $20—not a big hassle.
We had a chance to see the Zolt connected to a Windows convertible laptop, a tablet, and and iPhone at the same time, and they all appeared to be charging. It was unclear though how quickly they would charge compared to having their own dedicated connections.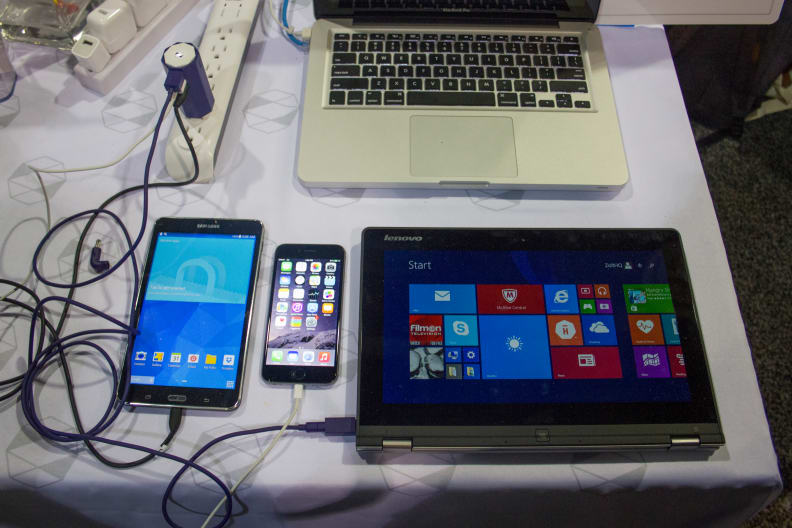 ×
Usability
Conclusion
Overall, the Zolt seems like a great tool for decluttering power strips and untangling some wiry messes. And with most consumers now owning a variety of gadgets—including laptops, tablets, smartphones, and even wearable devices—three USB ports should be plenty to cover your charging needs at any one time.
In the meantime, the Zolt is a pretty good solution to a problem that we all have. But with wireless charging on the technological horizon, only time will tell how long something like this will be viable.
The Zolt Charger is currently available for pre-order ($99.99), and will likely ship this summer.
Related Video