Last year I took up a new hobby: tinkering with the Raspberry Pi, a $35 computer that fits in the palm of your hand.
Despite its tiny footprint, the Raspberry Pi 3 has HDMI, Wi-Fi, Bluetooth, and four USB ports. And though you can turn it into almost anything, the first thing I did with mine was turn it into a simple desktop PC.
All I needed was a few leftover accessories—a spare keyboard and mouse, a microSD card, and an LCD monitor to hook it up to. Installing the Raspberry Pi's version of "Windows" (called Raspbian) was also simple; in less than an hour I had a tiny working PC that I built myself.
It's a perfect project for yourself or any young tinkerer. You can make it even simpler with something like this Vilros Raspberry Pi 3 starter kit. It has everything you need, including a case, tiny stick-on heatsinks (to keep the processor cool), an HDMI cable, and an SD card that has Raspbian pre-installed.
With the kit, just plug everything in and choose "Raspbian" from the list of options the first time. Voila, a fully-functioning computer emerges! The .gif below shows the entire setup process (though it's sped up a bit).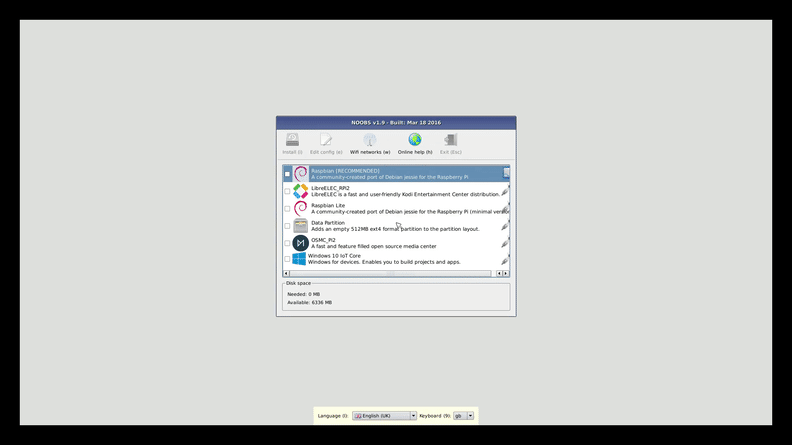 Sure, the Raspberry Pi 3 is far from fast, but you can use it for light web browsing, writing, or as a cheap second computer for your kid's bedroom. Poke around Raspbian and you'll even find Minecraft built right in!
Sure, the Raspberry Pi is far from fast, but it does the trick for light web browsing or writing. It even has Minecraft!
More intensive tasks (like watching HD YouTube videos) can be a bit stuttery, but as a cheap DIY computer it gets the job done. If you're feeling ambitious, you could even step up to the Pi-based Kano computer, which also includes a keyboard and display. Kano's simple design is aimed at attracting the young and young at heart.
Of course, the Pi can also become so much more. There are loads of DIY guides for making the Pi into almost anything you can imagine. The official Raspberry Pi blog has tons of ideas, and you'll find Pis at the heart of many digital DIY projects.
My Raspberry Pi 3 only stayed a normal desktop computer for a bit. I've since used it to turn my stereo into an AirPlay-enabled wireless speaker, a streaming media server, and even a time-lapse camera. Some projects are more complicated than others, but there are loads of simple guides you can follow online.
I even got back into soldering, something I haven't done in years. So I'll warn you now... you might buy a Raspberry Pi as a cheap way to build a PC, but it's a gateway drug into the addictive world of DIY projects.