Laptops
These Smart Glasses are Lenovo's bold entry into enterprise AR for CES
Fashionable XR glasses are closer to reality than you'd think.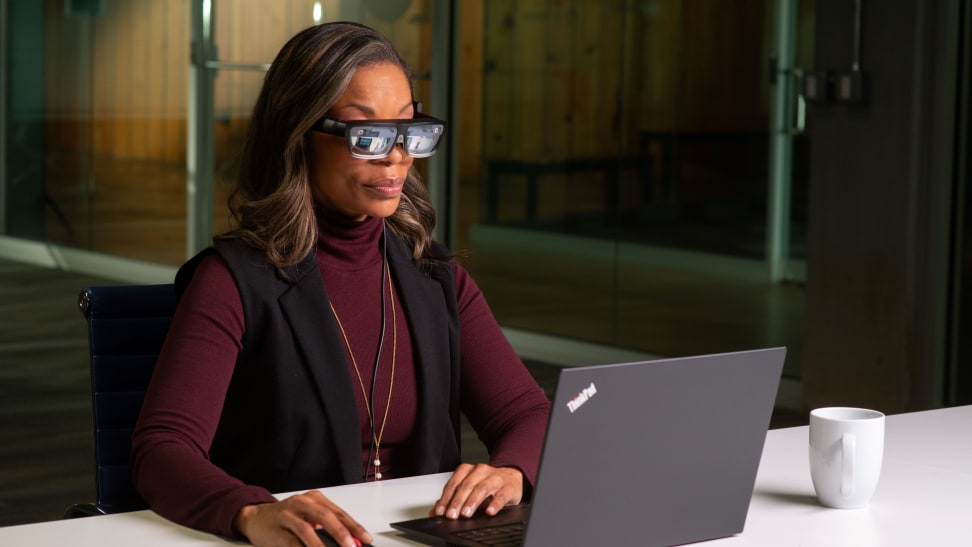 Credit:
Get a sneak peek at the latest trends and have product recommendations delivered straight to your phone. Sign up for text message alerts from the experts at Reviewed.
Virtual Reality headsets are infamous for being bulky and hard to maneuver with. There have been a few attempts at making something more stylish, like the Microsoft HoloLens or Google Glass, but they're few and far between. Lenovo's new ThinkReality A3 smart glasses could breathe fresh air into the enterprise mixed reality industry, providing a lot of the features we've come to expect without much of the bulk at only 130 grams.
For those new to the fantastical world of alternate realities, mixed reality (MR) headsets include virtual reality (VR) and augmented reality (AR) technology. While VR headsets, like the Oculus Quest 2, will completely replace your view with that of a virtual world, AR headsets, like HoloLens, will simply add imagery on top of your natural vision and have transparent lenses to see through. Mixed reality headsets do both: they're essentially VR headsets that feed through imagery of the real-world through a camera on the headset.
From the press release, it seems that the ThinkReality A3 glasses are meant to work more like an external display than like a discrete headset with its own exclusive apps, towing the line between VR and AR with its ability to potentially block out its surroundings. It claims to support up to 5 virtual displays on its 1080P lenses, and it will ship with hand gesture support and six degrees of freedom for tracking movement in all directions. You can also take pictures with its 8 megapixel camera, and of course play back videos and talk to others with an integrated speaker and microphone. These are all features we've grown used to in the MR space, so we're glad to see them on the smart glasses.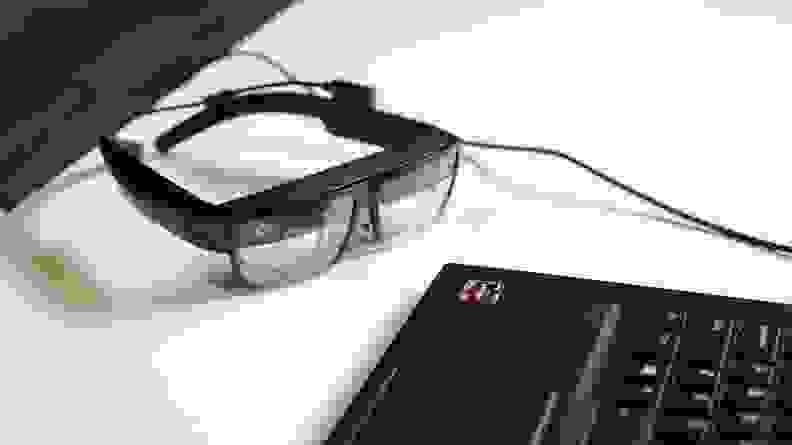 What's really cool about the ThinkReality A3 glasses is that they feel and act like glasses: the frame is foldable, and prescription lens inserts are available. Their software is equally impressive, with object and image recognition, head and gaze tracking, a barcode reader, and HDCP compliance for any proprietary media you may need to watch. Furthermore, it's one of very few headsets that can connect to a smartphone, although that feature is limited to select Motorola phones authorized to run Lenovo's ThinkReality software.
Whether you're using a workstation or a Motorola phone to interface, the headset will need to be tethered via a USB-C cable, which somewhat limits its mobility in the age of wireless headsets. Even so, it's much more ergonomic than other high-fidelity enterprise products, like the Varjo XR3 headset, which provides 70PPD human-eye resolution (the ThinkReality A3 glasses are 45PPD) and a 200Hz display but comes as a standard boxy PC-only headset.
For the lucky few of you who have an enterprise need for VR, the ThinkReality A3 smart glasses will be available sometime in mid-2021. If you're interested in inquiring more, you'll have to contact your local Lenovo sales representative. If you're a curious lay person like me, that means this headset will probably cost thousands of dollars, and you'll have to settle for the more attainable (but still excellent!) Valve Index or Oculus Quest 2.