Laptops
Samsung Chromebook 2 Review
"Budget-friendly laptop" has a whole new meaning
Credit:
If you happen to be a new college student, all fresh-faced and doe-eyed, you probably don't have a lot of money to spend on the latest and greatest new laptop. You just want something you can toss in a bag, run to class, and take notes on. Well, as it always seems to be the case, Google's got your back.
The Chromebooks are a series of laptops that are ultra-portable and run Chrome OS, Google's parsed down operating system that relies heavily on the Chrome web browser to get things done. Be forewarned though, the Chromebooks won't have access to programs like Photoshop or the Microsoft Office Suite. Instead, it's all Google, all the time with apps like Google Docs, Sheets, and Slides baked right into the system.
Samsung's new Chromebook 2 (MSRP: $249.99) updates the previous model with some minor features that addresses some of the problems you didn't even know were there. Don't worry though, you'll still find the faux-leather stitching and slim, ultra-portable frame that impressed your friends the first time around.
While it can't be used to edit photos or movies, this is a laptop that shines brightest with text, both viewing it on a webpage and writing it in documents. In that light, the Chromebook 2 from Samsung gets an A+.
Look and Feel
Small, slim, ready to travel
Samsung's Chromebook 2 features the same faux-leather (complete with stitching) that its predecessor had, with Samsung and Chromebook logos prominently displayed on the cover. It's about the size of a piece of paper, coming in at 11.40 inches wide, 8.06 inches tall, has a depth of .66 inches at its thinnest point, and weighs a cool 2.65 pounds.
In order to get the size down that small, Samsung had to cut down on the number of available ports. This also leads to the tapered look that shows off the slim, lightweight design. On the Chromebook 2, you'll find: a microSD slot, HDMI out, two USB ports (one 2.0 and one 3.0), a headphone jack, and the power input.
The small size won't affect what you find when you open the display. You'll still find a full–size chiclet keyboard inside. The keys, which have a matte coating, don't have the same satisfying click you find on most keyboards. Instead, the response is a little smoother. It might be something you notice the first couple of times you type, but probably not much longer than that and it shouldn't adversely affect your typing speed.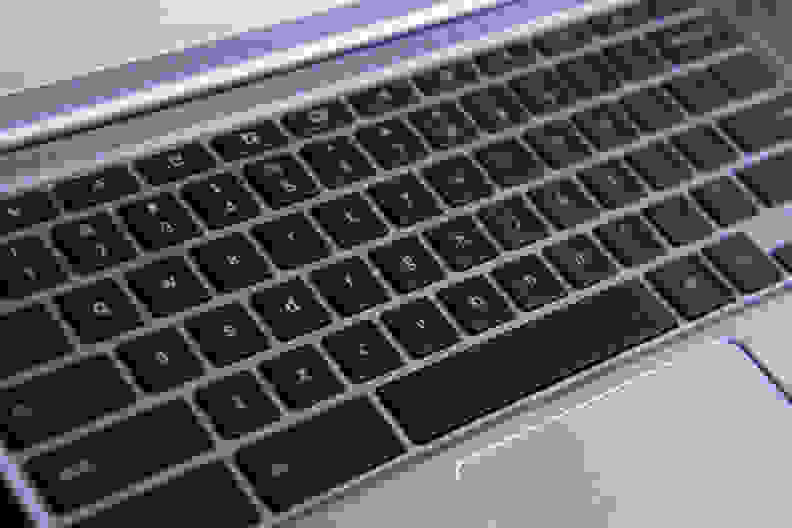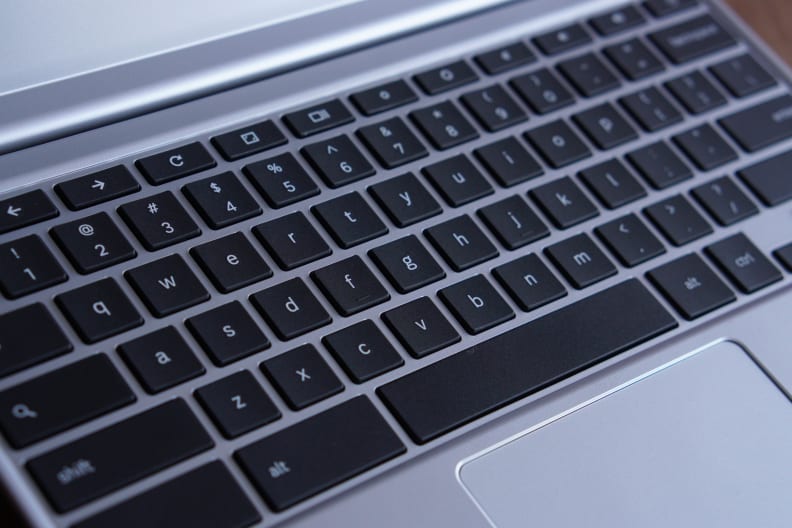 Then there's the screen. The 11.6–inch screen has a resolution of 1366 x 768 and features an anti-reflective coating to, in theory, let you see the panel in direct, bright light—just in case you wanted to work outside in the sunlight. While it's not nearly as reflective outside as other tablets or laptops, the anti-reflective screen doesn't work well enough that you can do all your work from a beach.
Chrome OS
Simple and functional, it's Google
Google debuted its browser-based operating system back in 2009 with one clear goal in mind: simplicity. Chrome OS has gone through some upgrades in the last six years. Now, Google may have finally struck a solid balance between its initial drive for simplicity and higher level of functionality.
Chrome OS is still based around the chrome web browser, but that means the system is hardwired to Google's ecosystem of apps: Google Drive, Docs, YouTube, Gmail, and everything else that can be found in the Chrome Web Store. Samsung's Chromebook 2 also comes pre-installed with two apps: AirDroid Premium and Wunderlist Pro, both of which come with a 1-year premium membership for free.
AirDroid gives you remote access to your Android phone or tablet for both content and phone management. You'll be able to transfer content (files, photos, music, videos) between your computer and phone, as well as send and receive SMS messages, launch a find phone function, control your camera remotely, and more.
Wunderlist is a to-do app that is used to sync multiple lists across multiple devices and can be shared with other people. The pro features include the ability to assign tasks to specific individuals, attach files, as well as a commenting feature.
All of the apps can be found in the bottom left in an app drawer, as well as quick links for certain that are located in the taskbar. The status tray holds network information, a bluetooth toggle, volume and brightness controls, settings, and battery information.
Performance
Perfect for class or travel
As I mentioned above, the screen isn't the best you'll find on the market, but it's good enough to get you through your work without a problem. The Chromebook 2 is not a device you'd want for editing movies or photos on if you're interested in true color accuracy. It'll handle webpages and documents just fine, but anyone who's serious about how thier media looks should know it'll be best for the odd YouTube video rather than a hub for the movies on Google Play.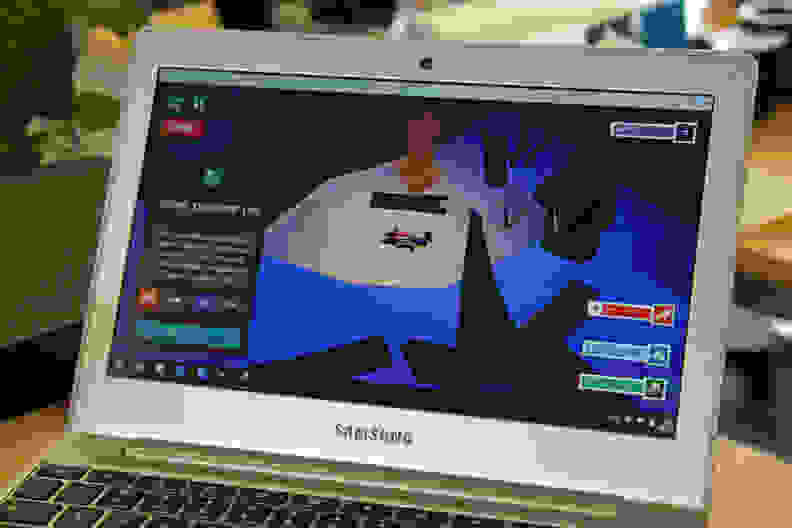 Under the hood, you'll find a scant 16GB of internal storage space. While the microSD slot can bump this up—just like with a cell phone—Google and Samsung are hoping you'll rely on the cloud for most of your storage needs (especially Google Drive).
Google and its manufacturing partners boast load times that are measured in seconds on their high-end Chromebooks. While it's not the fastest on the market, Samsung's Chromebook 2 took on average 10 seconds to go from completely turned off to the login screen. If there's one thing to say about the Chromebooks, they're built for speed.
We used a particularly brutal browser-based test with the screen brightness turned to max and Samsung's Chromebook 2 lasted just shy of six and a half hours. You shouldn't have any problem pushing that a lot longer if you manage the brightness and use your Chromebook for apps like Google Docs.
Other than Google's productivity apps, you'll have access to everything that's available in the Chrome Web Store. This includes plenty of apps and games that will all run without a hitch on the Chromebook 2. Keep in mind, the Chromebooks aren't exactly graphic powerhouses. Any games you do encounter will likely be relatively simple, and might even be flash based and run in the Chrome web browser.
The Verdict
The budget friendly option
If you need only the most basic features of a computer—and don't mind working from the cloud or the fact that you'll be tied to an internet connection to do work—then a Chromebook is probably for you. Especially at their budget-friendly price points.
The Chromebooks have a lot more in common with tablets than other laptops that run Windows. There are only a small amount of apps available—even if they do cover a lot of the important needs like document editing—they rely heavily on the internet to get the most functions, and their small, portable size makes them great for the go.
Be careful though, if you're not already immersed in the Google ecosystem of productivity apps and are used to programs like Microsoft Office and Adobe products, you'd be better off with something like the Microsoft Surface Pro 3 (MSRP: $999.99). It costs a little bit more, but you'll get access to the full Windows operating system in a package that looks like a tablet.
The Samsung Chromebook 2 absolutely gets the job done, and it doesn't look bad doing it. If you don't need too, why spend the extra dough? Instead, put that cash towards your textbooks or student loans and grab your Chromebook. Class is about to start.