Laptops
Can Samsung's Tab S3 compete with the Apple iPad Pro?
This premium Samsung has the iPad and laptops in its sights
Credit: Reviewed.com / Brendan Nystedt
There are a lot of tablets trying to get you to ditch your laptop. Between Microsoft's Surface and the Apple iPad Pro, the 2-in-1 space is bursting at the seams with intriguing picks. That's what makes this new Samsung Galaxy Tab S3 (MSRP $599.99) interesting: can a top-notch Android device play with these well-established contenders?
Well, yes. But, mostly no. In spite of an awesome OLED screen, loud quad speakers, a high-quality S-pen, fast specs, and an optional keyboard cover, Samsung's best falls short.
A device is only as strong as its software, and, at least right now, Android is behind iOS and especially Windows when it comes to giving users a great, productive big-screen experience. Samsung's brought its A-game here, but the Tab S3 is still let down by Android's lack of excellent tablet-sized apps.
About the Samsung Galaxy Tab S3
This Samsung tablet is actually a lot like one of Samsung's phones, just blown up to jumbo size. It has an OLED display, includes an S-Pen, and has a metal and glass body. Samsung only sells one version, with 32 GB of built-in storage and the following specs:
•Qualcomm Snapdragon 820 quad-core processor
•4 GB RAM
•9.7-inch Super AMOLED HDR display (2048 x 1536)
•32 GB internal storage
•WiFi and Bluetooth 4.2
•USB-C port for charging and data
•Fingerprint reader
•Android 7.0
What We Like
You get a pen in the box, expandable storage is standard
I gotta put this front and center: Samsung's Tab has Apple beat in two crucial ways. Not only is the Tab S3 the same price as the 9.7-inch iPad Pro, it also includes Samsung's excellent S-Pen with the tablet for no extra cost. Recall that the vaunted Apple Pencil is a $100 extra, so it's really difficult to grab an iPad Pro that's doodle-ready for less than $700.
What's even better is that Samsung lets you add additional storage with a microSD card, which is something Apple's never offered. So, if that 32 GB starts feeling cramped, you won't need to throw your tablet out and buy a new one—you'll just need to add an inexpensive chip of flash storage to the Galaxy Tab S3's hidden card slot.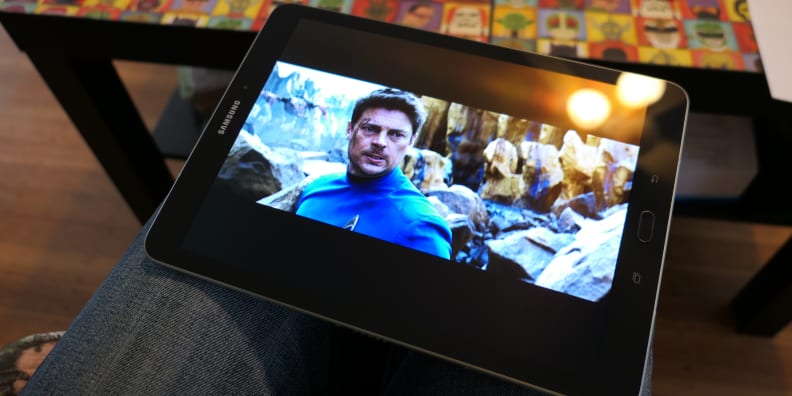 Quad speakers and a dazzling OLED screen make this great for media
What makes this Samsung stand out when compared to some of its competition is the brilliant OLED display. It's also HDR-capable, although we have yet to see HDR content available on the Android platform for streaming.
Accompanying the bright, vivid display are four speakers that pack a surprising punch. Even though they won't replace my headphones for watching movies and listening to podcasts, it met my expectations. Especially when using the Samsung in the kitchen to blast a YouTube video, the Tab S3 sounds bigger than it should.
What We Don't Like
Android's missing tablet touches and mediocre apps mean it's less than the sum of its parts
I spent a lot of time last year grousing about the iPad Pro and how iOS 10 made some tasks frustrating to accomplish than on a Windows 10 or macOS device. Well, even though Android is more open and customizable, and in spite of Samsung's juiced-up TouchWiz skin, it turns out that Google's pride and joy is still far from perfect. At least, still not ready to replace a regular laptop.
Android on a tablet is still undercooked, while the app landscape is underwhelming compared to the iPad
Even though I give Android major, major points for including an accessible file system and decent mouse support—two things iOS has yet to implement—it's far from ideal. My hangups come from the limited number of useful keyboard shortcuts and weird, inconsistent multi-window system.
Sure, this Samsung supports side-by-side apps, but it's tricky to tell which one is active, so I found myself constantly guessing incorrectly after neither app registered my keystrokes. I also was disappointed by how each app had to update for a second between switching apps, leading me to believe that background tasks weren't as active as I'd expect from a laptop.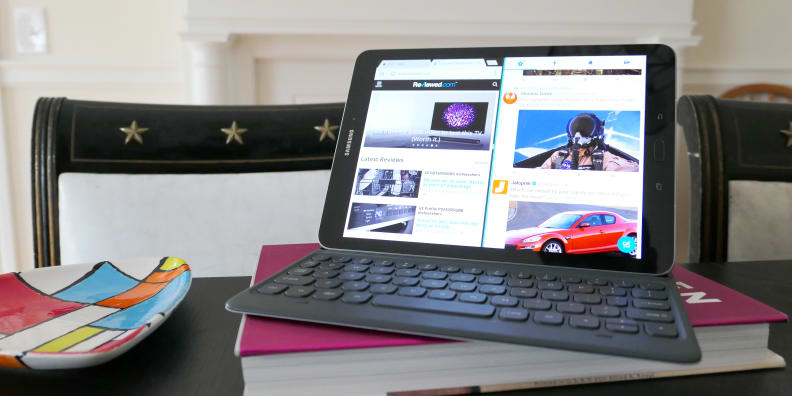 Then there are the glitches that sometimes make the software and apps feel downright unfinished. Sometimes, I'd go into an app or setting, only to find that it was a scaled-up phone app, or that the default for the program insisted the tablet's display is rotated into portrait mode, with no way of moving it back. This was stuff that plagued the iPad when it first launched in 2010, but iOS has awesome tablet-specific apps at this point. It's incredibly disappointing that developers can't be bothered to make tablet-centric versions of their apps for Android. As it stands, there's a ton of wasted potential thanks to apps that use only 2/3rds of the big screen.
The Verdict
A great Android tablet, but it's not an iPad Pro killer
While Samsung has decked this tablet out with its latest features, I think that the Galaxy Tab S3 struggles to compete with the likes of the iPad Pro and Surface devices. For me, the problem still comes down to software, apps, and price. For you, it'll come down to what you plan on using the Tab S3 to do. If you just want a powerhouse Netflix and media machine for the airplane? It's awesome. But, when it comes to getting work done, Samsung hits a lot of the same walls as Apple.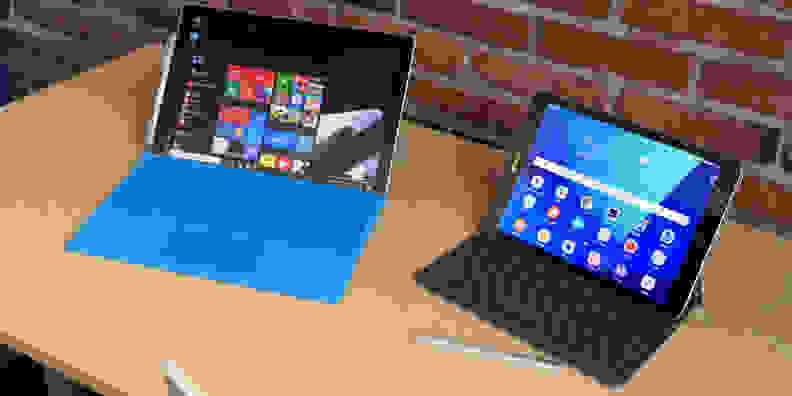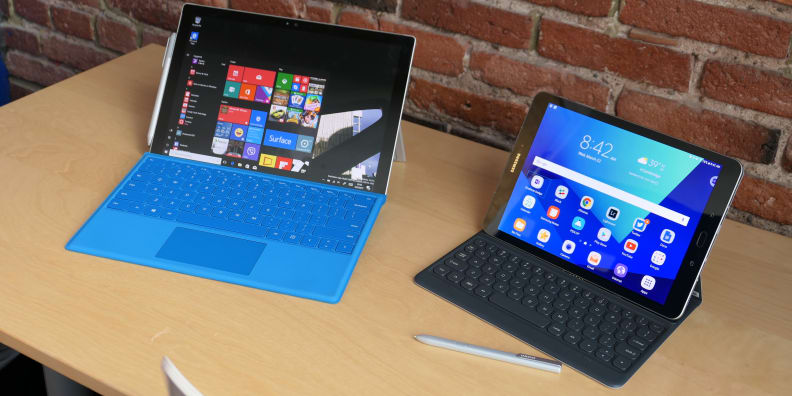 With a Windows tablet like the Surface Pro 4, you get the rich legacy support that you expect from Windows, which means full apps like Photoshop and Lightroom. You can also just use the thing like any other Windows laptop if you need to, which is nice sometimes when working.
This impressive tablet is let down by its software
As much as I can knock the iPad Pro for not quite matching a Mac or PC for utility, the tablet apps on iOS are far, far better than what Android has to offer. Sure, the iPad is still an annoying experience sometimes, but when it works it works. The wide array of apps is also a huge plus in the favor of iOS—Android's smorgasbord of phone apps don't work as well when blown up for the big screen. The iPad Pro still isn't my ideal everyday device, but the software advantage is a big plus in the Apple camp's favor.
As it stands, if you want to replace a laptop, both iOS and Windows offer more devices at a wider array of prices, and with better software than this otherwise promising Samsung can manage.