Laptops
The World's Most Accurate Cat Simulator Gets Even Friskier
Be a cat. Knock things over.
Anyone who owns one knows that a cat's typical daily activities include napping on fresh laundry, coughing up hairballs in hard-to-reach places, and knocking stuff over. Catlateral Damage is a fun, quirky game that focuses on that last part.
Despite mining the same vein of absurdity as recent "simulators" like Goat Simulator and Surgeon Simulator, Catlateral Damage is actually pretty accurate to its source material.
You play as a cat, roaming around a well-furnished, meticulously arranged house. Your goal? To completely wreck the place within a certain time limit. The higher the property damage, the higher your score.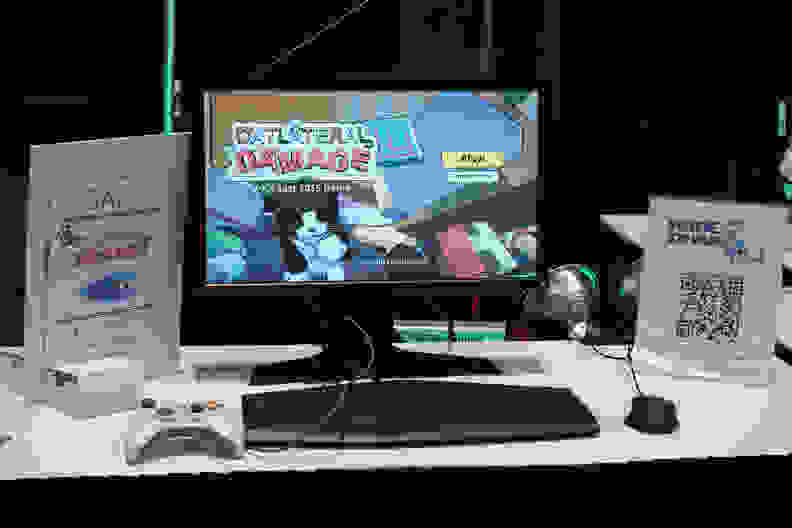 Developer Chris Chung created the game in August 2013, and it's possible you've already heard of or even played the browser version. At PAX East 2015, we went paws-on with the latest build of the game, which Chung and Fire Hose Games are upgrading to a standalone software release.
The most immediate benefit of an installable Catlateral Damage is the ability to play using an Xbox 360 controller. The controls are mapped like a typical first-person shooter, and they're far more responsive than the mouse controls you'd find in a Flash or Unity game embedded in a browser.
It's also clear that the game has come a long way since its initial web release. The increased variety and sheer quantity of stuff you can break were immediately obvious. Flat-panel TVs and paintings hang on the walls, while toy robots, plants, books, DVDs, and other odds and ends sit on shelves, desks, and dressers. All of them, of course, waiting to be destroyed at the swipe of a paw.
Lastly, Chung added features that make the game feel like more of a game, as opposed to just something to do at work when the boss isn't looking. Mission objectives give players more of a sense of direction than "just make a mess," while ability upgrades (higher jumps, a stronger paw swipe), unlockable cats and collectibles, and randomly-generated houses provide incentive to play over and over again.
The installable version of Catlateral Damage is expected to be available for the big three desktop operating systems (PC, Mac, Linux), as well as Ouya and Steam, on March 31, 2015. Pricing is still TBD, but the backer reward levels from the studio's successful Kickstarter campaign suggest that it'll be in the $10 range.
Related Video