Laptops
New Asus Gaming Laptops Are Designed to Dominate
With liquid cooling, these RoG laptops are designed to pwn n00bs.
Credit: Asus
In the past, desktops have always had an advantage over gaming laptops. They simply had more power, could dissipate heat better, and had better peripherals. However, Asus has been steadily closing the performance gap between gaming laptops and their stationary brethren.
At CES 2016, the company announced new Republic of Gamers (RoG) hardware, including two new laptops and an external graphics card dock.
RoG GX7000
The RoG GX7000 is the nerdiest of the new Asus fare. Most of its specs are high-end, but nothing out of the ordinary for a gaming laptop. However, it has an ace up its sleeve—an accessory liquid-cooling dock. When it's attached, the whole unit looks like something out of a sci-fi movie.
It's cool because heat dissipation is has always been a hurdle that laptops just couldn't get over. With this thing, you'll have desktop-like power thanks to the Hydro Overclocking system. And when you're done gaming, you can unhook the GX7000 and have the mobility of a garden variety laptop.
Liquid cooling also makes the GX7000 notably quieter than most hardcore gaming laptops. If you hate dealing with whining fans when you're gaming, the GX7000 can give you some peace and quiet.
The GX7000 will use an Intel Mobile K-Sku processor and a NVIDIA GeForce GTX 980 graphics card. There's a 4K display, but you can also use USB Type-C to output to a 4K monitor.
RoG G752
Want the most premium laptop around? Look no further than the RoG G752. You'll have to pay through the nose, though—the list price is an eye-popping $3,499 for the highest-end model. If you're still reading this, you're probably a pretty hardcore gamer. Rest assured that you're getting plenty for your money.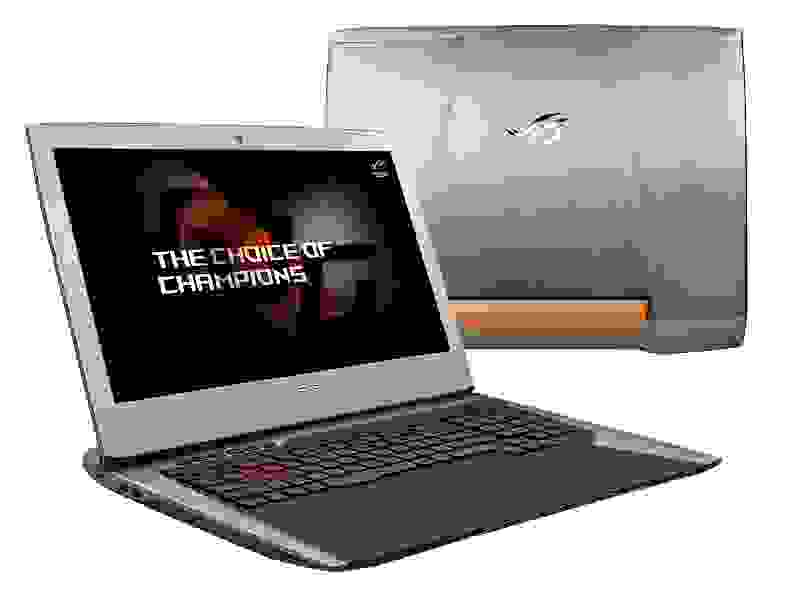 A few of the G752's features might be overkill, like a 30-key rollover limit. Rollover is the amount of keys that can struck at the same time or in rapid succession without overwhelming the computer. You only have 10 fingers, and most game designers are aware of this, so there are no games we are aware of that could require such a high limit. (Maybe Descent 2?)
But the hardware is impressive all around. The flagship model boasts an Intel i7-6820HK processor and an Nvidia GTX 980M GPU, and if you're into really maxing out your specs, you can add up to 64GB of DDR4 RAM. Put those components together and you've got a monster of a laptop, capable of playing virtually any game at its highest settings.
RoG XG2 External Graphics Docking Station
If you have an Asus laptop that isn't cutting it in the graphics department, the XG2 can help. The idea is simple: Hook up a desktop PCI-e card to your laptop and give it a steroid boost.
Details are scarce on how this external graphics card enclosure works, but Asus says it's designed to work with any Asus GeForce or Radeon graphics card. The branded circuit design means you can remove the dock when you're done without restarting.
Related Video