Laptops
HTC Vive completely dazzled me with its new accessories and headsets
This is barrier-breaking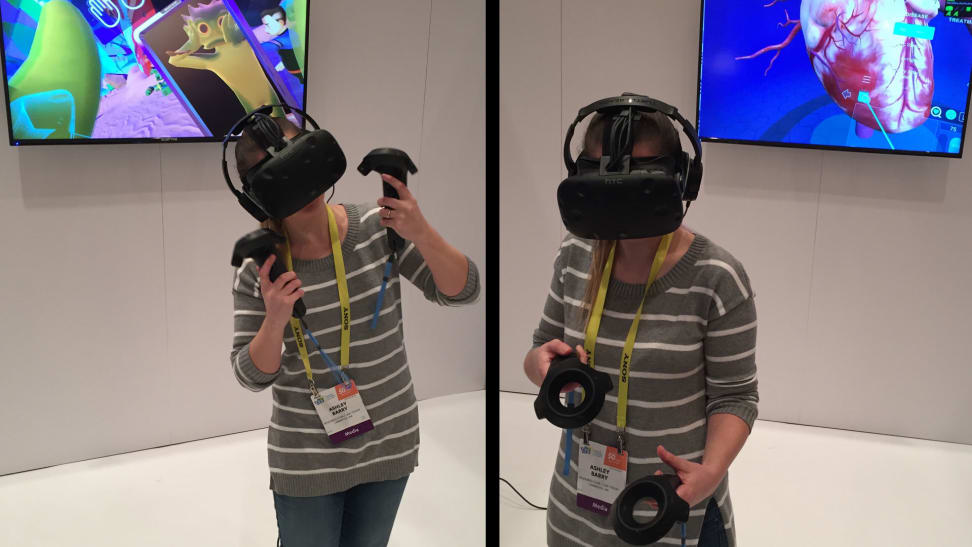 Credit: Reviewed.com / Ashley Barry
The HTC Vive showroom at CES was smaller than I expected but full of people. It wasn't long before I was taken to a small space with white walls and floors. When they strapped the headset to my face and slid the headphones over my ears, the outside world faded away. In just one hour, I unclogged an artery with a stent and explored the ruins of the RMS Titanic. There's a reason why HTC Vive is one of the leading contenders in the virtual reality market.
When they strapped the headset to my face and slid the headphones over my ears, the outside world faded away.
I've tried out a couple of different virtual reality headsets here at CES, but the HTC Vive blew me away, which came as no surprise. I knew I was in for something special when I walked into the demo area. The company also unveiled its impressive lineup of new accessories and headsets. If you're as pumped as I am about the future of VR, well, HTC Vive is really paving the way for new experiences. I don't think you're going to be disappointed.
Vive Tracker
As you know, the wireless trend is blowing up the tech world. Whether it's wireless earbuds or wireless VR headsets, this trend touches almost every kind of tech. As virtual reality grows in popularity, so does the demand for wireless headsets and add-ons. After all, there's nothing more annoying than tripping over cables.
The Vive Tracker is a wireless VR adapter and object tracker. You can either wear the tracker on your wrist like an oversized bracelet or strap it to a video camera for a mixed reality experience. The device basically turns anything into a VR controller, which really opens up a world of possibilities.
Vive Deluxe Audio Strap
The Vive Deluxe Audio Strap is designed with adjustable earphones. Some people prefer those large headphones, but I like to think these are more convenient. This headset also has a sizing dial in the back, meaning you can quickly tighten or loosen the headset depending on the size of your noggin. Comfort is a huge factor for me, so if the headset's weight distribution is uneven, forget about it. Thankfully, this headset is very comfortable. It'll be available in the second quarter of this year.
TPCast
The TPCast is a wireless adapter. The top piece, which looks like a Lego brick, sits atop your head. The cables run out the back of the brick and down into a battery pack. It's not wireless, but you're not tethered to a desktop computer either. The wire is also routed differently through the headset. It goes over your shoulder and not straight down your back. It gives you a little more wiggle room than, say, a standard VR headset. This add-on retails for $249 and will ship in the second quarter of 2017.
Manus VR Glove
The Manus VR glove turns your hands into controllers. I have to say, it's way more responsive than the Leap Motion, which is a hand tracking device that sticks to the front of your virtual reality headset. In the demo, I repeatedly clenched and unclenched my fists. I watched, amazed, as my virtual hands mirrored the same motion. The gloves were tracking my hands in real-time. It was surprisingly intuitive. The glove is currently available to pre-order on the Manus VR website, but a price hasn't been set yet.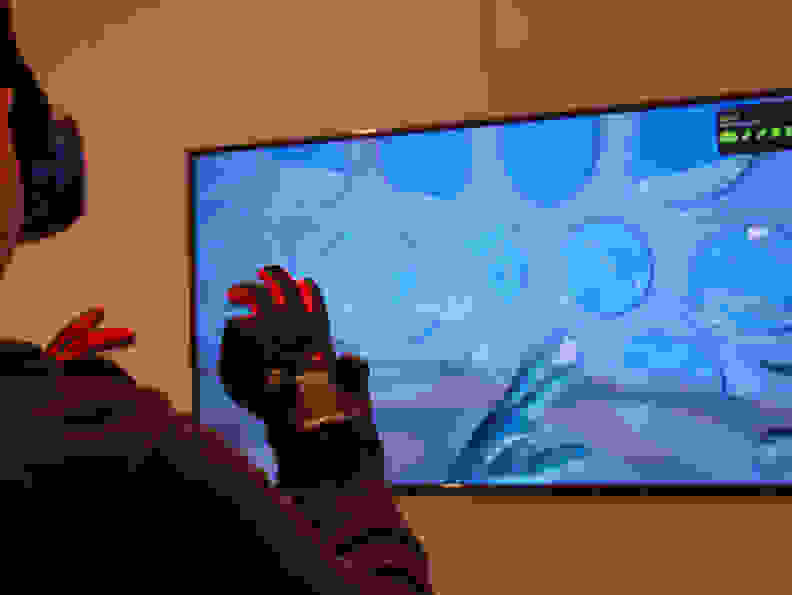 Related Video