Laptops
Touch+ Offers a Clever Twist on Gesture Controls
The computer mouse is officially on the endangered species list.
Credit:
Spare a little pity for the poor computer mouse. Despite years of loyal service, hardware startups have been trying to kill it off and replace it with simpler, more intuitive gesture-based control.
Every potential assassin thus far has taken a different approach. Leap Motion uses in-air gestures. The Fin ring interprets hand movements through a simple ring you wear on your finger. And PointGrab also uses in-air gestures, but imagines a world where every device—even glasses—has the hardware capability to interpret them.
Ractiv is the latest startup to enter the fray, and it offers a unique twist. Its Touch+ device turns any surface, even your keyboard, into a multi-touch controller for your computer.
The product launch video shows off a variety of interesting use-cases. A girl turns her desk into a sketch pad for Photoshop. Two guys use keyboard gestures to play video games. A businessman even circles areas of his slideshow presentation by tracing his finger across a projector screen.
The company says all of the demonstrations in the video are fully functional, not editing magic. Ractiv is betting that multi-touch surfaces will do better than in-air gestures, suggesting that devices like the Leap Motion have the potential to tire out your arms.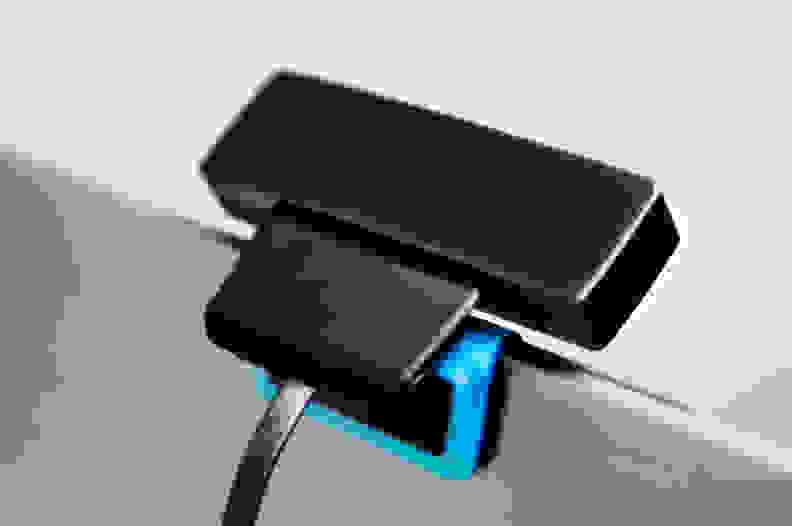 But perhaps the most practical use for the Touch+ will be simply increasing productivity by removing the need to shuffle back and forth between a keyboard and a mouse or trackpad. With the Touch+, your keyboard becomes your trackpad when necessary.
The device itself is a simple rectangle that you magnetically clip onto your laptop screen or place on your desk. It uses two VGA cameras and invisible LED lights to track your hands and fingertips in three-dimensional space. And thanks to the built-in cameras, the Touch+ can even double as a webcam.
At the moment, Touch+ is an alpha product, meaning the company is still improving the product and expanding its functionality. But if you can't wait to give it a try, you can head over to Ractiv's website and order a unit for $75.