Laptops
Asus Vivobook V550CA-DB71T Review
Great desktop replacement, but not for on-the-go.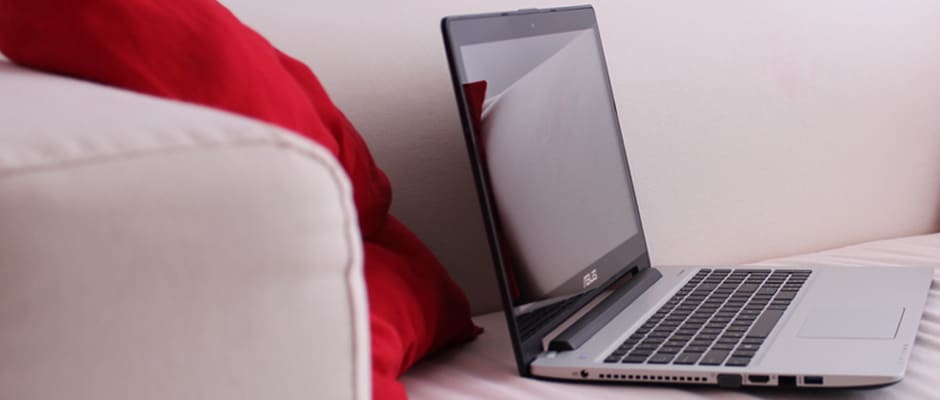 Credit:
Not every laptop needs to be a tiny, lightweight ultrabook with a super-high resolution. To paraphrase Sigmund Freud, sometimes a laptop is just a laptop. Or a computing device that works well and does its best to not frustrate you. One or the other.
Enter the Asus Vivobook V550CA-DB71T (MSRP $899.99). This rig combines a fast Intel Core i7 dual-core processor clocked at 2GHz, 1TB of hard drive space for your legally-acquired media, a solid 8GB of RAM, and a DVD drive.
Before you rush to Amazon, know that this Asus has some serious flaws: a sluggish 5400 RPM hard drive, a measly 1366 x 768 resolution, and pathetic battery life. But this is performance on a budget—something no college student would complain about.
Design & Screen
Plentiful ports, regrettable resolution
Asus' Vivobook isn't a monstrous laptop, but it can't boast the same portability that Toshiba's KIRAbook and Sony's Pro 13 have. With its charger, this 15.6-inch laptop weighs in at a hair under six pounds—not bad, but noticeable when carrying in a messenger bag. If you want a good idea for how thick it is, picture two MacBook Airs stacked on top of each other.
Asus' touchpad is the best I've used on a Windows-based laptop.
Size has its advantages, though. Asus once again delivers a top-notch keyboard, complete with number pad and full backlighting. The chiclet keys are incredibly comfortable, and deliver a satisfying amount of travel when pressed.
The excellence extends to the touchpad, too. Finally, we have a true competitor to Apple's stellar touchpad. The sensitivity and responsiveness on this pad are fantastic—feel free to ditch the mouse for a while. While I still think Apple is the best choice for a touchpad, Asus' is the best I've used on a Windows-based laptop.
The Vivobook's screen is far from the best, though. With a low resolution of 1366 x 768—stretched across a 15.6-inch screen—this laptop doesn't produce the sharpest image. Does that mean content looks terrible? Not at all, but text and images aren't as crisp as they are on a smaller, 1080p screen.
With a low resolution of 1366 x 768, this laptop doesn't produce the sharpest image.
Maybe Asus thought adding a touchscreen to the Vivobook would make up for the low resolution, but I almost forgot the screen was touch-friendly. Since the touchpad is so great, using the screen is an afterthought. In other words, it's a throw-away feature.
We'll definitely keep this Asus' thorough port selection. With three USB 3.0 slots, HDMI and VGA outputs, an ethernet jack, and a DVD drive—remember those?—the Vivobook ensures that you won't face any connectivity issues. Now where's my season 3 DVD of Family Matters?
Performance
An excellent processor can't save this laptop's lethargic hard drive.
Want to know the main difference between a full-size laptop like this Vivobook and super-thin ultrabooks? A solid-state hard drive. These small drives read and write data at incredibly fast speeds, unlike old-school, disk-based hard drives. The Vivobook includes the latter, but it gets worse: Disk-based drives come in different speeds, and this laptop happens to use the slowest possible (5400 RPM).
The Vivobook takes a performance hit from a lousy hard drive.
To the average user, this means hard restarts take a considerable amount of time, as will installing and launching programs. It's regrettable that this laptop takes such a performance hit from a lousy hard drive, but Asus clearly included this piece of hardware to cut costs—sold-state drives are still very expensive.
Despite the lack of a "zippy" feeling, the Vivobook is a competent performer. Processor based tests like Geekbench and 3DMark Vantage showed favorable results; the PCMark test, which includes processor and hard drive performance, tanked. At least playing games was a pleasant surprise. I noticed above-average frame rates and below-average surface temperature while playing Portal 2.
Here's the kicker: When this laptop is plugged into a power source, it functions very well. But when it's unplugged, you're in for a nasty surprise: horrible battery life. I tested under 4 hours of battery life during our web test, which involves turning the brightness down to 50% and reloading a webpage every 2 minutes. Consumers should expect a minimum of five hours for battery life, so calling this result "horrible" isn't an exaggeration.
You're in for a nasty surprise: horrible battery life.
Another blunder is the sound quality on the Vivobook. Asus advertises its SonicMaster technology, which is supposed to produce deeper bass and overall sound clarity. Asus succeeds... when holding the laptop in the air. Since the speakers are located on the bottom, placing the laptop on any surface will produce muddled audio—it sounds downright terrible. If you want to get people dancing, though, just hold this 6-pound laptop in the air for everyone to hear.
Software
Not much extra software is fine with us
Asus delivers a Windows 8 experience with considerably less bloatware—software you don't want—than the competition. The most prominent program it includes is something called Power4Gear Hybrid—a somewhat useless app with a terrible name. Power4Gear Hybrid is a way to adjust simple power settings, like screen brightness and when the display shuts off. This can easily be done by clicking the battery icon on the Windows Taskbar.
There's also Asus Tutor, which teaches users the finer points of Windows 8. This program shows illustrations for getting to Desktop Mode, opening the Charms Bar, and more. If you're a seasoned Windows 8 vet, you'll never open this; for newcomers to the OS, it's worth checking out.
Other Asus apps include WebStorage, which is the company's version of Dropbox, and Asus Instant Connect—a way to tether your phone's internet connection to your laptop. Unfortunately, this software is only compatible with a handful of Android devices from either Asus or Samsung.
Asus delivers a Windows 8 experience with considerably less bloatware.
Last, I need to mention an app called Asus Splendid Technology. It's another poorly-named app, but it's a nifty little tool that allows certain screen adjustments. Not happy with the way your picture looks? Splendid Technology allows you to change the picture mode like a TV or monitor, and even lets you customize the display's color temperature. The normal setting looks fine, but if you want to tweak your laptop, the option is there.
The Verdict
Good as a desktop replacement. Not-so-good as a laptop.
Asus was so close to making a stellar workhorse of a laptop with the Vivobook V550CA-DB71T. It has a great Intel Core i7 processor, 8GB of RAM, 1TB of hard drive space, and a great keyboard and touchpad. Even better, this thing retails for $899. Not bad, right?
Sadly, an unimpressive screen, slow hard drive, and disastrous battery life ruin the Vivobook's chances at being an all-around performer. That's unfortunate because Asus crafted a decent computer.
I hoped this laptop would be a great product for a college student, and while it suffers from portability issues, it can still fill that role. If you don't plan on bringing the Vivobook to more than one class, it's a viable option. Even better—as a desktop replacement, this laptop is a solid bet. You can get your work done and even do a little gaming on this rig, as long as you don't mind the low resolution screen. For $899, this is still a good deal. Just make sure you don't need lasting battery life before purchasing the Vivobook.