Laptops
Asus ZenBook UX305 Laptop Review
Slimmed down so only the best is left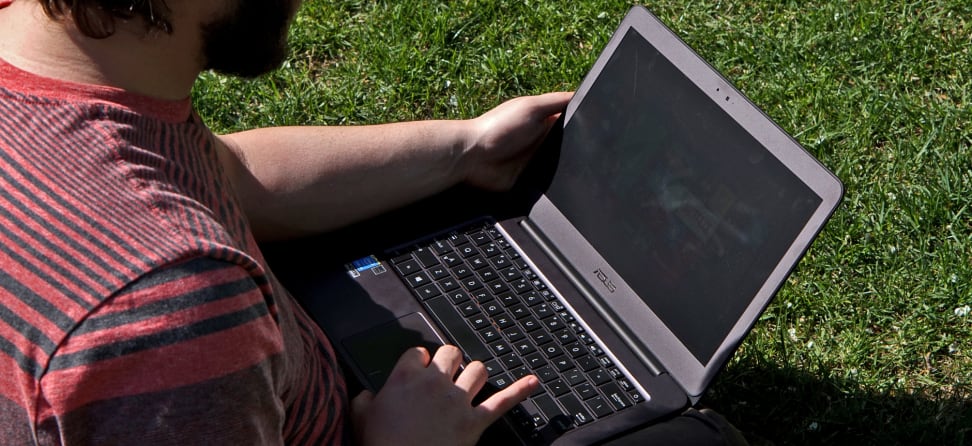 Credit:
For a lot of people, when they hear the term "ultrabook" they think of Asus's ZenBook line. When the ZenBook UX301 launched it joined the ranks of Windows alternatives to compete with Apple's MacBook Air. Although Asus recently released a true successor in the ZenBook UX501, there's also a mid-level, budget-friendly option to consider.
The Asus ZenBook UX305 (MSRP: $699.99) takes full advantage of an Intel Core M processor to prolong battery life and fit the system into a lean, half-inch-thin case. Paired with the processor is 8GB of RAM, a whopping 256GB SSD, and an Intel HD Graphics 5300 GPU. Together they deliver a one-two punch of power and portability for a shockingly low price.
While there's some stiff competition in the budget ultrabook game, the ZenBook UX305 is the Windows laptop for anyone that doesn't need—or want—to spend extra money for more horsepower.
Design
It's impressively thin and has stylish good looks
Comparisons to the MacBook Air are almost inevitable. Elements such as the aluminum case and the large trackpad evoke everything the Air did right. But, the UX305 isn't just a generic ripoff and there's plenty here to elevate it into the upper echelons of 2015 Windows ultrabooks.
One of the first things to catch our eye was how thin and sleek the UX305 is. Its lid has the classic ZenBook brushed aluminum finish, which is done in a radial pattern to emphasize the Asus logo in the center. We received the obsidian stone version for our review—which honestly looks a lot closer to dark purple—but it also comes in white. The UX305's impressive looks are nothing compared to its size. Like other recent ultraportable laptops, the UX305 takes full advantage of its Intel Core M processor to slim down its thickness to a mere half-inch and its weight to 2.6 pounds.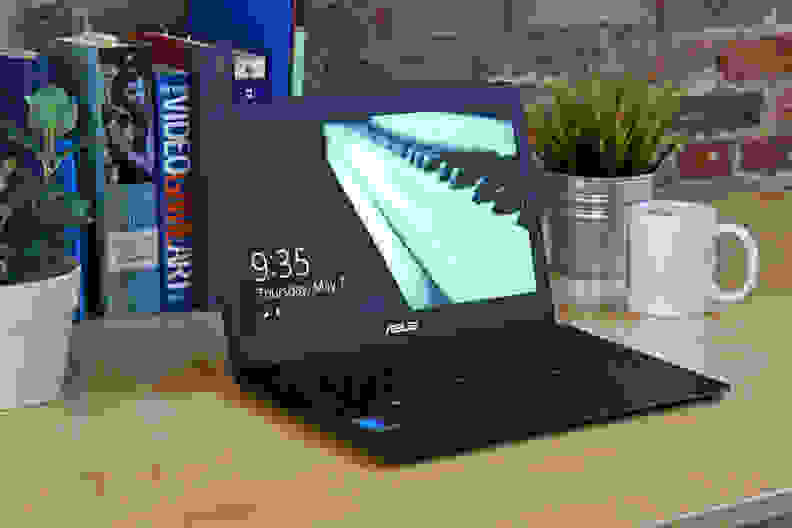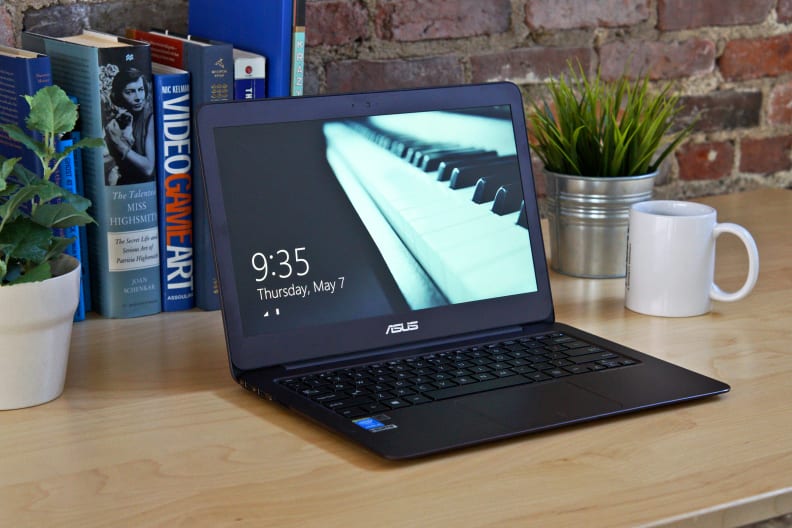 There are only so many ports that can fit in such a small frame and the UX305 falls right in step with other ultraportables. On the sides are three USB 3.0 ports, an SD port, a micro HDMI port, and an audio port for headphones. That was plenty for me to shift to using the UX305 almost exclusively without interrupting my workflow while I reviewed the unit.
Once you finish admiring the outside of the UX305 and lift the lid, you'll be greeted by a 1920x1080 display, a full-size keyboard, and a fairly large trackpad—something you might not expect in such a small case. The deck around the keyboard has a slightly textured aluminum finish that felt great under my palms, while the 13-inch display has a matte coating to cut down on glare and reflection if you take your laptop outside.
The ZenBook UX305's keyboard rests in a slight depression—not unlike the MacBook—with plenty of spacing between the keys and enough travel that typing felt like a breeze. They also produce a similar clacking sound as a desktop keyboard, which is a nice touch not usually found in laptops. Generally speaking, the keyboard is great, but it is diminished by the lack of backlighting. It's a small complaint to make unless you've grown used to typing with illuminated keys.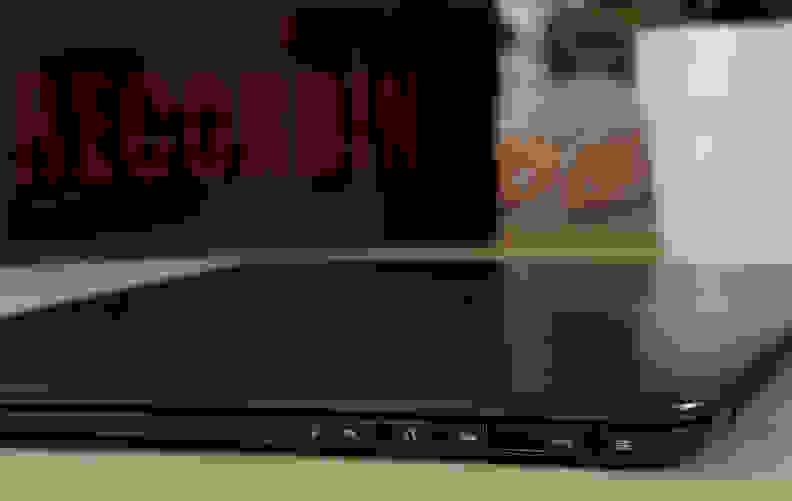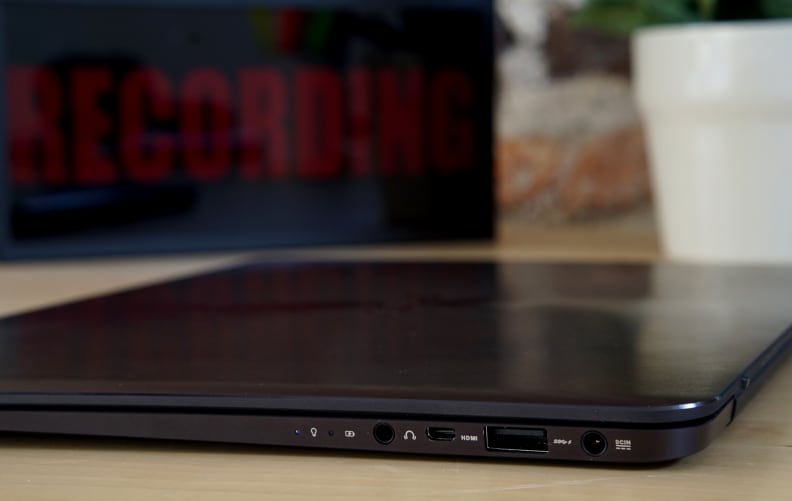 The trackpad takes up a third of the deck and, like the keyboard, has a great sound when it's used. Unfortunately, the trackpad suffers from the same hiccups we've seen on other Windows laptops: scrolling is a little unstable, and was never as precise as what I'd like it to be, which often resulted in me using the arrows keys instead. I was also continuously frustrated by the palm detection, which moved my cursor while I tried to type longer pieces—like this review.
Software
Windows 8.1 with a touch of Asus
The odds are pretty good that you've used a Windows laptop and if so you should have a pretty good picture of what to expect with Windows 8.1. The redesigned start menu is great for laptops that feature a touchscreen—which the UX305 doesn't have—but it otherwise isn't that different from other versions of Windows you may have used.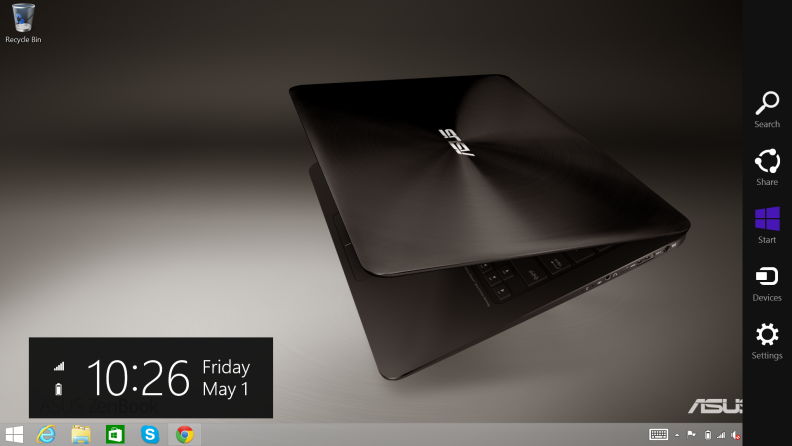 One of the most annoying aspects of booting up a Windows PC is being greeted by a deluge of bloatware—useless or redundant apps that do little but take up space. Different manufacturers take different approaches to this, some bundling only a few programs while others load up your computer before you even have a chance to hit the power button. Asus bundled just enough in the UX305 to be annoying.
However, every piece of bloatware should be considered on a case-by-case basis, as some can be useful depending on your situation. Take iHeartRadio for example, which is included on the UX305. It's a useful desktop streaming music app if you're already a subscriber, but otherwise it's taking up space and therefore can (and should) be deleted. Meanwhile, TripAdvisor, Line, and Music Maker Jam require a membership—and money—to get the most out them. So, unless you're willing to settle for the bare-bones, free experience, they can also go the way of the dodo and be uninstalled.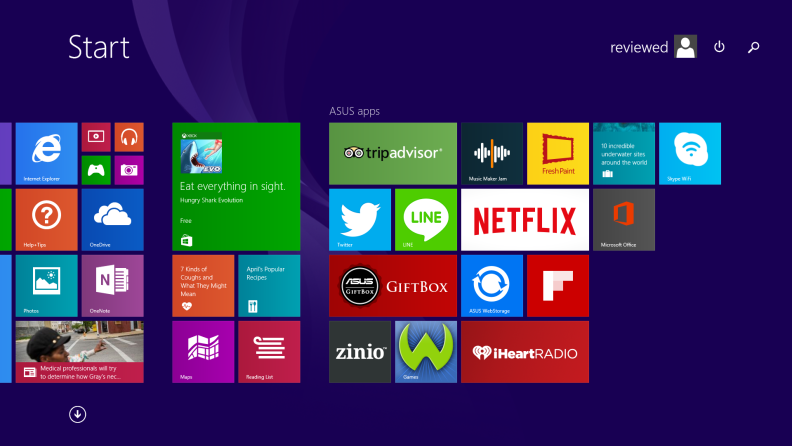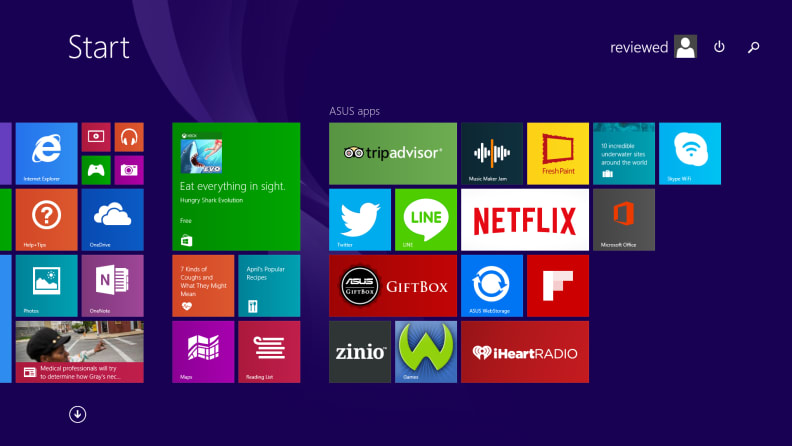 And then there's the Asus branded apps, Webstorage and Giftbox. Webstorage is Asus's in-house cloud storage platform that could arguably be useful if, for some reason, you're against using the much more prevalent and popular options like OneDrive, Dropbox, or Google Drive. Giftbox is a collection of recommended apps for gaming, entertainment, productivity, and the like, which can be useful if you're in the market for such features.
Managing the pre-installed apps on a new device is an unfortunate byproduct of buying a new system. However, if you shop from the Microsoft Store, you do have the option of purchasing a Signature Edition for $778.99, which ditches the bloatware and bundles Office 365 Home with the laptop.
Performance
Practical, but also slightly held back by its size
While some compromises had to be made in order to keep the price low and the size slimmed down, there's a surprising amount going on here. There isn't enough power to really delve into video editing or hardcore video games, but if all you need to do is edit documents, surf the web, and catch the occasional Netflix show, the UX305 is more than enough to handle your needs.
At its center is the Intel Core M processor—with options for either the Core M 5Y10 or the 5Y71—which is perfect for slimming the laptop down to sizes unseen in other PCs. Core M isn't exactly a heavyweight among processors, but you won't have any problems with typical home/office tasks.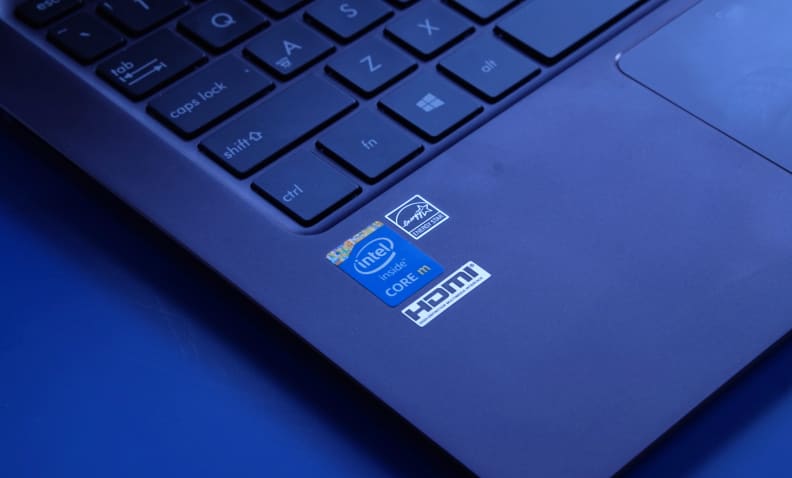 Although you only have the two options for Core M, there is a bit more customization available in the storage space and the amount of RAM. Our review unit came with a 256GB SSD, there are also options for 128GB or 512GB. No matter what you choose, the solid-state drive guarantees snappy read/write speeds and start times. As for RAM, there's an option for 4 or 8GB. We opted for 8GB in our test unit in order to assist with handling multiple programs at once.
The UX305 has one of the better battery life results we've seen.
Core M doesn't draw as much power and so is especially great for improving battery life. Battery life is one of the most important features when buying a new laptop, and ultrabooks have a reputation for some pretty impressive numbers. Our battery rundown test is designed to drain a battery quickly by cycling through a host of typical tasks, like web browsing, photo editing, and video chatting. The UX305 lasted for five hours, which is right on par with some of the best laptops we've seen. For comparison's sake, last year's model, the Asus Zenbook UX301LA-DH71T—which won our 2014 Best Ultraportable of the Year Award—also lasted five hours.
As far as graphics go, the UX305 has an Integrated Intel HD Graphics 5300 GPU. It should go without saying, but being an ultraportable laptop, the UX305 isn't designed with serious gaming in mind. During our test using Metro 2033: Last Light on high settings, the UX305 was only able to output an average of 4.67 frames per second, which renders the game unplayable. While graphically intensive games like Metro 2033: Last Light won't be playable, older or less intensive games—like Portal 2—should run just fine.
Verdict
If you're constantly on the go, the ZenBook UX305 could be your last stop.
The Asus ZenBook UX305 (MSRP: $699.99) is a lean, mean, working machine that seems poised to take on the Dell XPS 13 as the ultrabook to beat for 2015. It's slim, lightweight and still has enough juice that, unless you're planning to edit videos or play some serious games, you won't run into any issues doing your day-to-day work.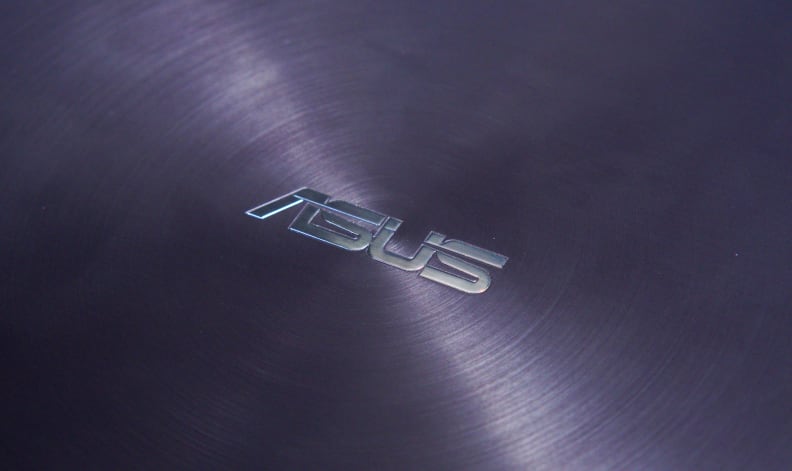 If you need more power to get your work done and are worried that Core M just won't cut it, we'd recommend taking a look at the Dell XPS 13 (MSRP: $799.99, $1,399.99 as tested). It has an almost borderless display, a battery life that lasted 5.5 hours in our test—compared to the UX305's five hours—and features a Core i3, i5, or i7 processor. It's our favorite ultrabook of 2015 so far, and definitely something to keep in mind if you need to balance power and portability.
While we haven't had a chance to put it through its paces yet, the ZenBook Pro UX501 is looking like the true successor to the acclaimed ZenBook UX301. Unlike the UX305, the ZenBook Pro UX501 is stuffed to the gills with beefy components. Powering the laptop is a Core i7 processor, a GTX960 GPU, 512GB SSD, and 16GB RAM. While we won't be able to definitively say how good it is until we get it in to test for ourselves, it certainly seems ready to handle the demand of power-hungry consumers.
If you just need a basic, run-of-the-mill laptop then the ZenBook UX305 is a stellar choice that can do everything you need it to.
If you want extra power you'll have to shell out the extra dough to match it. Instead, the ZenBook UX305 is a more budget-minded option that is perfectly suitable to handle the majority of home/office tasks without trying. That, combined with the UX305's impressively thin, lightweight body, means this is a true winner if you're in the market for a new Windows laptop.